Introduction to Track Racing - What's a Wheelrace? - Introduction to Six Day racing - UCI codes
Revolution Series 5 - NE
Manchester Velodrome, UK, October 23, 2004
Olympic and world champs honoured
A star-studded lineup at Manchester Velodrome
Photo ©: Nick Rosenthal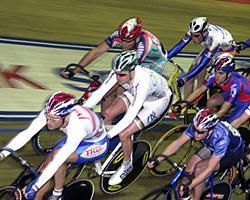 In a sellout event, a full audience packed inside the Manchester Velodrome for the first of the winter 2004/05 Revolution Track Series. All of Britain's world champions and Olympic medal winners were honoured at the event, including those who were not riding (Vicky Pendleton and Brain Steel, for example). Britain's Paralympic cyclists were also honoured.
Olympic pursuit champion Brad Wiggins won the opening scratch race with Chris Hoy winning the sprint. Rob Hayles, who with Wiggins took home bronze in the Madison at Athens, won the points race, while Chris Newton won the four-station pursuit match, and Jamie Staff the keirin.
The apple cart was upset slightly by Ed Clancy and Tom Wight winning the madison kilometre event, but this simply shows the strength of the upcoming talent in the British team, and the fact that they are not overawed by racing against a whole slew of Olympic medallists!
Asked about his future plans, Bradley Wiggins said, "Well, I rather fancy going out for a curry tomorrow night." But he then reiterated plans to concentrate on the road for a year or two, before returning to the track to defend his Olympic gold in Beijing.
Photography
Images by Nick Rosenthal/www.fatnick.com
Results

Elite Devil-Scratch Race
 
1 Bradley Wiggins (Credit Agricole)
2 Rob Hayles (Team Persil)
3 John Blackwell (Team Murphy & Gunn)
4 Ben Hallam (Dataphonics RT)
5 Chris Newton (Team Persil)
6 John Scripps (VC de Londres)
7 Paul Manning (Team Persil)
8 Magnus Backstedt (Alessio-Bianchi)
9 Mike Cubison (J F Wilson Cycles)
10 Malcolm Elliott (Pinarello RT)
11 Mark Colbert (Team Murphy & Gunn)          at 1 lap
12 Geraint Thomas (Wales)
13 Peter Williams (Ellan Vannin CC)
DNF Julian Mortell (National Clarion)
 
Out In Devil
 
Maurice O'Brien (Team Ireland)
Ian Stannard (Dataphonics RT)
Joby Ingram Dodd (Yasumitsu Schlapp)
James Notley (Cyclestore UK)
Ed Clancy (Team Persil)
Bryan Taylor (VC de Londres)
Rob Partridge (Wales)
John Blackwell (Team Murphy & Gunn)
Tony Gibb (Plowman-Craven)
Tommy Evans (Dataphonics RT)
Miceal Concannon (Team Ireland)
Tom Murray (Batley CC)
 
Revolution Sprint Round 1
 
Heat 1
 
1 Barney Storey (VC St Raphael)                 11.356
 Adam Welch (VC St Raphael)
 
Heat 2
 
1 Ross Edgar (VC St Raphael)                    11.825
 Matthew Haynes (City Of Edinburgh)
 
Heat 3
 
1 Craig Maclean (Team Persil)                   12.046
 Jon Norfolk (Yasumitsu Schlapp)
 Ray Clarke (Team Ireland)
 
Heat 4
 
1 Jason Queally (Team Persil)                   11.488
 Matt Crampton (Sportcity Velo)
 
Heat 5
 
1 Jamie Staff (GT)                              12.131
 Jak Kenton Spraggan (Dataphonics RT)
 Malcolm Goggin (Team Murphy & Gunn)
 
Heat 6
 
1 Chris Hoy (Team Persil)                       11.716
 Robin Thompson (Dataphonics RT)
 
Semi Finals (Event 6)
 
Heat 1
 
1 Barney Storey (VC St Raphael)
 Craig Maclean (Team Persil)
 Jamie Staff (GT)
Heat 2
 
1 Ross Edgar (VC St Raphael)
 Jason Queally (Team Persil)
 Chris Hoy (Team Persil)
 
Revolution Sprint Semi Finals
 
Heat 1
 
1 Craig Maclean (Team Persil)                   11.680
 Barney Storey (VC St Raphael)
 Jamie Staff (GT)
 
Heat 2
 
1 Chris Hoy (Team Persil)                       10.943
 Ross Edgar (VC St Raphael)
 Jason Queally (Team Persil)
 
Final
 
1 Craig Maclean (Team Persil)
 Chris Hoy (Team Persil)
 
Revolution Sprint - Final
 
1 Chris Hoy (Team Persil)                       11.233
 Craig Maclean (Team Persil)
 
Future Stars Devil
 
1 Christian Lyte (Sportcity Velo)
2 Adam Blythe (Planet X/ On One)
3 Alex Wise (East Midlands Division)
4 Andy Nightingale (BCF)
5 Kevin Barclay (Edinburgh Racers)
6 Andy Tennant (Bikes 51 RT)
7 Jack Hibberd (West Midlands Division)
8 Matt Winston (VC St Raphael)
9 Steven Burke (North West Division)
10 Jonny Kennedy (Team Chevin)
11 Shane Charlton (Kingdom RT)
12 Steven Rudkin (Liverpool Mercury)
13 Daniel Fernehough (Sportcity Velo)
14 Josh Hargreaves (Sportcity Velo)
15 Mark McNally (North West Division)
16 James Criukshank (Liverpool Mercury)
17 Edward Parker (East Midlands Division)
18 Simon Lewis (VC de Londres)
19 Ross Dingley (West Midlands Division)
20 Joe Troughton (East Midlands Division)
21 Stuart McManus (Scotland)
22 Tony Reidy (Scotland)
23 Jason Kenny (Sportcity Velo)
24 Jonathan McAvoy (North West Division)
25 Mark Bateman (Triangle RT)
26 Steven Adams (East Midlands Division)
27 Stuart Jones (West Midlands Division)
 
Four Station 3km Pursuit Challenge
 
1 Chris Newton (Team Persil)                  3.24.696
2 Bradley Wiggins (Credit Agricole)
3 Paul Manning (Team Persil)
4 Rob Hayles (Team Persil)
 
Girls Future Stars 1 Mile Dash
 
1 Bridie Hindle (Dataphonics RT)
2 Kim Blythe (Planet X/On One)
3 Jessica Varnish (West Midlands Division)
4 Nikki Harris (Pearce Cycles)
5 Eileen Roe (Edinburgh Racers)
6 Anna Blyth (VC St Raphael)
7 Helen Scott
8 Elliw Mostyn (Wales)
9 Alix Chester (Sportcity Velo)
10 Laura Battista (Australia)
11 Sarah Byrne (West Midlands Division)
12 Lorna Marlow (East Midlands Division)
13 Lucy Aires (Sportcity Velo)
14 Kelly More (West Midlands Division)
 
Elite 10km Points Race
 
1 Rob Hayles (Team Persil)                          14 pts
2 Chris Newton (Team Persil)                         8
3 Tom White (Team Persil)                            7
4 Ed Clancy (Team Persil)                            5
5 Bradley Wiggins (Credit Agricole)                  3
6 Malcolm Elliott (Pinarello RT)                     3
7 Geraint Thomas (Wales)                             3
8 John Scripps (VC de Londres)                       1
9 Magnus Backstedt (Alessio-Bianchi)                 0
10 Ben Hallam (Dataphonics RT)                       0
 
Future Stars - 1 Mile Dash
 
1 Steven Burke (North West Division)
2 Jason Kenny (Sportcity Velo)
3 Josh Hargreaves (Sportcity Velo)
4 Adam Blythe (Planet X/ On One)
5 Andy Tennant (Bikes 51 RT)
6 Andy Nightingale (BCF)
7 Simon Lewis (VC de Londres)
8 Edward Parker (East Midlands Division)
9 Christian Lyte (Sportcity Velo)
10 Jack Hibberd (West Midlands Division)
11 Steven Rudkin (Liverpool Mercury)
12 Jonny Kennedy (Team Chevin)
13 Ross Dingley (West Midlands Division)
14 Alex Wise (East Midlands Division)
15 Shane Charlton (Kingdom RT)
16 Joe Troughton (East Midlands Division)
17 Tony Reidy (Scotland)
18 Stuart McManus (Scotland)
19 Steven Adams (East Midlands Division)
20 Jonathan McAvoy (North West Division)
21 Mark McNally (North West Division)
22 Mark Bateman (Triangle RT)
23 Stuart Jones (West Midlands Division)
24 Matt Winston (VC St Raphael)
25 Kevin Barclay (Edinburgh Racers)
26 James Criukshank (Liverpool Mercury)
 
Girls Future Stars 5K Scratch
 
1 Nikki Harris (Pearce Cycles)
2 Eileen Roe (Edinburgh Racers)
3 Bridie Hindle (Dataphonics RT)
4 Helen Scott
5 Jessica Varnish (West Midlands Division)
6 Elliw Mostyn (Wales)
7 Laura Battista (Australia)
8 Kim Blythe (Planet X/On One)
9 Lucy Aires (Sportcity Velo)
10 Kelly More (West Midlands Division)
11 Alix Chester (Sportcity Velo)
12 Lizzie Armistead (Team Chevin)
13 Lorna Marlow (East Midlands Division)
14 Anna Blyth (VC St Raphael)
 
1km Madison Time Trial
 
1 Tom White (Team Persil)                       58.645
 Ed Clancy (Team Persil)
 
2 Bradley Wiggins (Credit Agricole)             58.762
 Rob Hayles (Team Persil)
 
3 Tony Gibb (Plowman-Craven)                    59.077
 Chris Newton (Team Persil)
 
4 Geraint Thomas (Wales)                      1.01.445
 Magnus Backstedt (Alessio-Bianchi)
 
5 John Scripps (VC de Londres)                1.02.118
 Bryan Taylor (VC de Londres)
 
6 Ben Hallam (Dataphonics RT)                 1.03.814
 Tommy Evans (Dataphonics RT)
 
Keirin Heats
 
Heat 1
 
1 Chris Hoy (Team Persil)                       11.708
2 Craig Maclean (Team Persil)
3 Ross Edgar (VC St Raphael)
4 Matthew Haynes (City Of Edinburgh)
5 Adam Welch (VC St Raphael)
6 Jak Kenton Spraggan (Dataphonics RT)
7 Malcolm Goggin (Team Murphy & Gunn)
8 Rob Hayles (Team Persil)
 
Heat 2
 
1 Jason Queally (Team Persil)                   11.503
2 Jamie Staff (GT)
3 Barney Storey (VC St Raphael)
4 Matt Crampton (Sportcity Velo)
5 Ray Clarke (Team Ireland)
6 Robin Thompson (Dataphonics RT)
7 Jon Norfolk (Yasumitsu Schlapp)
 
Minor Final
 
1 Matthew Haynes (City Of Edinburgh)
2 Adam Welch (VC St Raphael)
3 Matt Crampton (Sportcity Velo)
4 Ray Clarke (Team Ireland)
5 Robin Thompson (Dataphonics RT)
6 Jak Kenton Spraggan (Dataphonics RT)
 
Final
 
1 Chris Hoy (Team Persil)
2 Craig Maclean (Team Persil)
3 Ross Edgar (VC St Raphael)
4 Jason Queally (Team Persil)
5 Jamie Staff (GT)
6 Barney Storey (VC St Raphael)
 
Keirin Minor Final
 
1 Matthew Haynes (City Of Edinburgh)            11.546
2 Jon Norfolk (Yasumitsu Schlapp)
3 Matt Crampton (Sportcity Velo)
4 Robin Thompson (Dataphonics RT)
5 Jak Kenton Spraggan (Dataphonics RT)
6 Ray Clarke (Team Ireland)
 
Final
 
1 Jamie Staff (GT)                              11.585
2 Chris Hoy (Team Persil)
3 Ross Edgar (VC St Raphael)
4 Barney Storey (VC St Raphael)
5 Craig Maclean (Team Persil)
 
Girls Future Stars Devil
 
1 Nikki Harris (Pearce Cycles)
2 Kim Blythe (Planet X/On One)
3 Bridie Hindle (Dataphonics RT)
4 Helen Scott
 
Future Stars 6km Scratch
 
1 Steven Burke (North West Division)
2 Ross Dingley (West Midlands Division)
3 Shane Charlton (Kingdom RT)
4 Andy Tennant (Bikes 51 RT)
5 Adam Blythe (Planet X/ On One)
6 Jason Kenny (Sportcity Velo)
7 Daniel Fernehough (Sportcity Velo)
8 Andy Nightingale (BCF)
9 Kevin Barclay (Edinburgh Racers)
10 Tony Reidy (Scotland)
11 Matt Winston (VC St Raphael)
12 Mark McNally (North West Division)
13 Jonny Kennedy (Team Chevin)
14 Mark Bateman (Triangle RT)
15 Steven Adams (East Midlands Division)
16 Stuart Jones (West Midlands Division)
17 James Criukshank (Liverpool Mercury)
18 Jonathan McAvoy (North West Division)
19 Simon Lewis (VC de Londres)
20 Edward Parker (East Midlands Division)
21 Stuart McManus (Scotland)
22 Joe Troughton (East Midlands Division)
23 Steven Rudkin (Liverpool Mercury)
24 Jack Hibberd (West Midlands Division)      at 1 lap
 
Elite 10km Scratch
 
1 Tom White (Team Persil)
2 Magnus Backstedt (Alessio-Bianchi)
3 Malcolm Elliott (Pinarello RT)
4 Bryan Taylor (VC de Londres)
5 Ed Clancy (Team Persil)
6 Bradley Wiggins (Credit Agricole)
7 Ben Hallam (Dataphonics RT)
8 Chris Newton (Team Persil)
9 Rob Hayles (Team Persil)
10 Paul Manning (Team Persil)
11 Tommy Evans (Dataphonics RT)
12 Peter Williams (Ellan Vannin CC)
13 Miceal Concannon (Team Ireland)
14 Rob Partridge (Wales)
 
Future Stars Points After Revolution 5
 
1 Steven Burke (North West Division)                28 pts
2 Adam Blythe (Planet X - On One)                   28
3 Andy Tennant (Bikes 51 RT)                        24
4 Andy Nightingale (BCF)                            21
5 Jason Kenny (Sportcity Velo)                      18
6 Christian Lyte (Sportcity Velo)                   16
7 Shane Charlton (Kingdom RT)                       12
8 Kevin Barclay (Edinburgh Racers)                  12
9 Ross Dingley (West Midlands Division)             11
10 Josh Hargreaves (Sportcity Velo)                 10
11 Alex Wise (East Midlands Division)               10
12 Jack Hibbert (West Midlands Division)             9
13 TBC                                               7
14 Daniel Fernehough (Sportcity Velo)                6
15 Simon Lewis (VC De Londres)                       6
16 Edward Parker (East Midlands Division)            5
17 Jonny Kennedy (Team Chevin)                       4
18 Steven Rudkin (Liverpool Mercury)                 3
19 Tom Reidy (Scotland)                              3
20 Mark McNally (North West Division)                1
21 Mark Bateman (Triangle Rt)                        0
22 James Criukshank (Northwest Division)             0
23 Stuart Jones (West Midlands Division)             0
24 Steven Adams (East Midlands Division)             0
25 Joe Toughton (East Midlands Division)             0
26 Jonathan McAvoy (North West Division)             0
27 Stuart McManus (Scotland)                         0