Introduction to Track Racing - What's a Wheelrace? - Introduction to Six Day racing - UCI codes
Revolution Track Race Series #1 - NE
Manchester Velodrome, November 29, 2003
Close-up treat: Bradley Wiggins and David Millar
Photo ©: Nick Rosenthal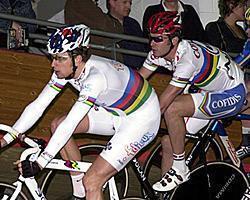 World class in Manchester
By Gerry McManus
Over 3,500 packed into the velodrome in Manchester on Saturday night to witness some of the best cycling talent that Britain has on offer fighting it out for glory on home soil.
A thrilling 14 event series saw races alternating between the elite riders and 'future stars' in the junior ranks.
World time trial champion David Millar (Cofidis) and Ghent 6-day winner Bradley Wiggins (FDJ) headlined the elite start sheet but were in good company with Paul Manning (VC St Raphael), Chris Newton (Corima RT), Rob Hayles (Cofidis) and veteran supremo Malcolm Elliott (Pinarello RT), who took the warmest of the audiences knowledgeable applause. In Millar's recent move to track racing, his adaptation brings thoughts of ducks and water and he duly took first blood in the motor paced 10km event opener. Wiggins led in a chasing field of familiar names.
And so the big names dominated the top places with Wiggins taking victory from Hayles in the Best of British 2,000m pursuit final. There were no upsets here despite the heavy racing schedule the Wiggins has embarked into on the six-day circuit this year. Elliott's time in the heats of 2.20.035 was remarkable in his first comeback year and his face showed the determination that won him stages of the Tour of Spain and may bring him a greater victory tally next year.
James Notley (VC ST Raphael) astounded the bookmakers when he won the Elite Devil Endurance race. Chris Newton had crossed the line first when he rocketed away on the final lap but it had already been adjudged that he was eliminated in the last sprint. Notley's scalps in the final sprint proved to be Millar in second and Wiggins in third and he will not likely forget this race for a while.
The Keirin had few scuffles but one victim of tight racing was Ireland's Ray Clarke who came to Manchester as the 'B' Worlds bronze medallist in the event but a clash of metal and bodies saw his chances of qualification slip away in the early heats. John Norfolk (Yasumitsu Schlapp) won the final from Matthew Haynes (City of Edinburgh) in second.
Meanwhile the future stars were competing in a more open field than their illustrious seniors. Adam Blythe (Sheffield Phoenix) was the most consistent with third place in the 10km scratch race and second in the points event of the same distance.
Back with the big hitters again and former world points champion Newton dominated the same event here winning with 26 points to his nearest rival Brad Wiggins with 14 points. In the evening's finale, after the spectators had been treated to over three hours of spirited racing, Rob Hayles gritted his teeth and held on in the tight sprint to win the 10km scratch event and lapped up the cheers and applause from the audience.
Please sir, can we have some more?
Photography
Click here for a gallery of photos by Nick Rosenthal/www.fatnick.com
Images by Nick Rosenthal/www.fatnick.com
Images by Gerry McManus
Results

10km Motor Scratch Race Elites
 
1 David Millar (Cofidis)                   13.05.795
2 Bradley Wiggins (FDJeux.com)
3 Chris Newton (Corima RT)
4 Rob Hayles (Cofidis)
5 Tom White (VC Des Londres)
6 Tom Smith (CC Cardiff)
 
Future Stars 8km Scratch Race
 
1 Steven Burke (Sportcity Velo)             9.48.638
2 Jon Mozley (Cratoni Racing)
3 Pete Bissell (Team Welwyn)
4 Peter Williams (Ellan Vannin CC)
5 Tom Murray (VS Cycles)
6 Ben Swift (Scunthorpe Poly)
7 Adam Blythe (Sheffield Phoenix)
8 Andrew Nightingale (James Hey RT)
9 Jason Kenny (Sportcity Velo)
10 Andrew Hill (ABC Centreville)
11 Ian Stannard (Team Luciano)
12 Jonny Kennedy (Team Chevin)
13 Tim Willis (Solihull CC)
14 Sam Sturgeon (Evans RT)
15 Stephen Rudkin (Liverpool Mercury)
16 Jos Hargreaves (Eastlands Velo)

Best of British Pursuit challenge 2km Heats

Heat 1
 
1 Rob Hayles (Cofidis)                      2.17.213
2 Bryan Steel (Team Childwell)              2.18.149
 
Heat 2
 
1 Paul Manning (VC St Raphael)              2.17.737
2 Malcolm Elliott (Pinarello RT)            2.20.035
 
Heat 3
 
1 Bradley Wiggins (FDJeux.com)              2.15.502
2 Chris Newton (Corima RT)                  2.17.411
 
Final 3km
 
1 Bradley Wiggins (FDJeux.com)              3.27.095
2 Rob Hayles (Cofidis)                      3.29.181

1km Handicap Heats

Heat 1
 
1 John Blackwell (Ireland)                  1.00.639
2 Bruce Edgar (Dataphonics RT)
3 Tom Smith (CC Cardiff)
4 Paul Helion (Ireland)
5 Ian George (Yasumitsu Schlapp)
6 Malcolm Coggin (Ireland)
 
Heat 2
 
1 Tom Waters (Dataphonics RT)               1.03.063
2 Will Sanderson (National Clarion)
3 Adrian Headerman (Ireland)
4 Matthew Haynes (City Of Edinburgh)
5 Ben Price (PCA Orbea)
6 Peter Jacques (City Of Edinburgh)
 
Heat 3
 
1 Mark Colvert (Ireland)                    1.01.117
2 Ben Hallam (Dataphonics RT)
3 Matt Brammieier (Life Repair RT)
4 Mark Cavendish (Dataphonics RT)
5 James Notley (VC St Raphael)
6 Robin Thompson (Dataphonics RT)
 
Heat 4
 
1 Ed Clancy (Wheelspin Cycles)              1.03.575
2 Julian Mortell (National Clarion)
3 Tom White (VC Des Londres)
4 Geraint Thomas (Cardiff Jif)
5 Matt Crampton (Sportcity Velo)
6 Jon Norfolk (Yasumitsu Schlapp)
7 Willi Carson (Ireland)
 
Final
 
1 John Blackwell (Ireland)                  1.00.931
2 Ben Hallam (Dataphonics RT)
3 Bruce Edgar (Dataphonics RT)
4 Tom Waters (Dataphonics RT)
5 Mark Colvert (Ireland)
6 Ed Clancy (Wheelspin Cycles)
7 Julian Mortell (National Clarion)


Future Stars Devil Endurance
 
1 Peter Williams (Ellan Vannin CC)          7.18.156
2 Adam Blythe (Sheffield Phoenix)
3 Ian Stannard (Team Luciano)
4 Tom Murray (VS Cycles)
 
Elite Devil Endurance
 
1 James Notley (VC St Raphael)              6.54.039
2 David Millar (Cofidis)
3 Bradley Wiggins (FDJeux.com)
4 Chris Newton (Corima RT)

Keirin Heats

Heat 1
 
1 Matthew Haynes (City Of Edinburgh)          12.087
2 Geraint Thomas (Cardiff Jif)
3 Robin Thompson (Dataphonics RT)
4 Ian George (Yasumitsu Schlapp)
5 Malcolm Coggin (Ireland)
6 Mark Cavendish (Dataphonics RT)
 
Heat 2
 
1 Ed Clancy (Wheelspin Cycles)                12.046
2 Matt Crampton (Sportcity Velo)
3 Jon Norfolk (Yasumitsu Schlapp)
4 Peter Jacques (City Of Edinburgh)
5 Mark Colvert (Ireland)
 
Final
 
1 Jon Norfolk (Yasumitsu Schlapp)             11.566
2 Matthew Haynes (City Of Edinburgh)
3 Ed Clancy (Wheelspin Cycles)
4 Robin Thompson (Dataphonics RT)
5 Matt Crampton (Sportcity Velo)
6 Geraint Thomas (Cardiff Jif)


Future Stars 10km Points Race
 
1 Ben Swift (Scunthorpe Poly)                     11 pts
2 Adam Blythe (Sheffield Phoenix)                  8
3 Jason Kenny (Sportcity Velo)                     6
4 Andrew Nightingale (James Hey RT)                5
5 Jon Mozley (Cratoni Racing)                      5
6 Peter Williams (Ellan Vannin CC)                 5
7 Ian Stannard (Team Luciano)                      3
8 Andrew Hill (ABC Centreville)                    1
 
Elite 15km Points Race
 
1 Chris Newton (Corima RT)                        26 pts (18.10.851)
2 Bradley Wiggins (FDJeux.com)                    14
3 Rob Hayles (Cofidis)                             5
4 David Millar (Cofidis)                           4
5 Bryan Steel (Team Childwell)                     2
6 Malcolm Elliott (Pinarello RT)                   1
7 Paul Manning (VC St Raphael)                     0
 
Future Stars 10km Scratch Race
 
1 Jason Kenny (Sportcity Velo)             12.50.717
2 Andrew Hill (ABC Centreville)
3 Adam Blythe (Sheffield Phoenix)
4 Steven Burke (Sportcity Velo)
5 Jon Mozley (Cratoni Racing)
6 Tom Murray (VS Cycles)
7 James Griffin (Yasumitsu Schlapp)
8 Andrew Nightingale (James Hey RT)
9 Ben Swift (Scunthorpe Poly)
10 Peter Williams (Ellan Vannin CC)
11 Pete Wright (Ashfield RC)
12 Tim Willis (Solihull CC)
13 Ian Stannard (Team Luciano)
14 Tony Lock (Interbike RT)
15 Simon Whitfield (Stockton Wheelers)
16 Sam Sturgeon (Evans RT)
17 Stephen Rudkin (Liverpool Mercury)
18 Tom Morris (Condor RC)
19 Kirk Jenns (PCA Ciclos Uno)
20 Sam Thorne (Matlock CC)
21 Pete Bissell (Team Welwyn)
22 Jos Hargreaves (Eastlands Velo)
 
Elite 15km Scatch Race
 
1 Rob Hayles (Cofidis)                     18.28.231
2 Bryan Steel (Team Childwell)
3 Geraint Thomas (Cardiff Jif)
4 Matthew Haynes (City Of Edinburgh)
5 Chris Newton (Corima RT)
6 Ed Clancy (Wheelspin Cycles)