Introduction to Track Racing - What's a Wheelrace? - Introduction to Six Day racing - UCI codes
US Junior Track Championships - CN
ADT Events Center, CA, USA, June 30-July 3, 2004
Main Page Results Previous Day Next Day
Day 2 - July 1
Courtesy of USA Cycling
Elliot Gaunt
Photo ©: Mitch Friedman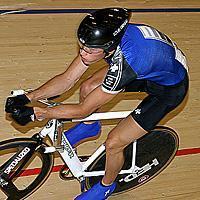 The 2004 USCF Junior National Track Championships continued on Thursday at the ADT Event Center in Southern Calif. where two national titles were on the line along with several qualification rounds and individual events for the younger categories that contributed towards overall omnium points.
The two national championships that were on the line on Thursday were the junior women's 17-18 2km individual pursuit and the junior men's 17-18 3km individual pursuit in which Kimberly Geist (East Coast Velo) and Elliot Gaunt (Main Line Cycling) captured the respective titles.
In the men's competition, Daniel Holloway (Lombardi Sports) posted the best qualifying time clocking a 3:42.248 ahead of Gaunt's 3:42.867. In the final, Gaunt managed to shave nearly a second off his qualifying time, riding a 3:41.496 while Holloway rode a slightly slower 3:42.971 on his way to the silver medal. In the consolation round, Michael Chauner (Rio Grande) bested teammate Chris Ruhl for the bronze medal.
In the women's competition, Geist captured her second national title of these championships. After winning Wednesday's scratch race, she clocked a 2:36.325 in Thursday's individual pursuit to win gold by a margin of over six seconds to runner-up, Natalie Klemko (ABD). In the 3/4 round, Mary Geier (Scarlet Fire) claimed third place ahead of Cassandra Osorio-McKenna (Hot Tubes). Other winners on Thursday included Shane Kline (Salamander Racing) who won the junior men's 15-16 500m time trial to earn first place points towards the overall omnium total.
Also, Alex Coelho won the junior men's 13-14 10km points race, scoring 30 points to second place finisher, Alex Garcia.
In the junior women's 10km points race final, Colleen Hayduk took the win with 23 points from Shelby Reynolds and Mary Costelloe who scored 17 and 13 respectively.
In the remaining finals on Thursday, Benny Swedberg (Rad Racing) took the win in the junior men's 10-12 2km scratch race and Shelby Eck (Lehigh Valley Wheelmen) claimed the victory in the junior women's 10-12 2km scratch race.
Photography
Images by Mitch Friedman Photography
Results
Junior Women 15-16 500m Time Trial Final
 
1 Cindy Lakatosh (Tri-State Velo)               38.777 (46.419km/h)
2 Kim Lafleur (TeamSwift)                       39.002 (46.151km/h)
3 Cristin Walker (NWCC/Alkek)                   40.854 (44.059km/h)
4 Catherine Fiedler (Veloworx)                  41.024 (43.877km/h)
5 Lauren Shirock (Coyote Cycling)               41.413 (43.465km/h)
6 Amara Boursaw (Greggs/Trek)                   41.909 (42.950km/h)
7 Taylor Boglioli (Greggs/Trek)                 42.211 (42.643km/h)
8 Stef Oltmann (Aurora Cycles)                  42.347 (42.506km/h)
9 Megan Cross (NWCC/Alkek)                      42.790 (42.066km/h)
10 Virginia Harris (East Coast Velo)            42.810 (42.046km/h)
 
Junior Women 17-18 2km Pursuit Qualification
 
1 Kimberly Geist (East Coast Velo)            2.35.278 (46.368km/h)
2 Natalie Klemko (ABD)                        2.42.672 (44.261km/h)
3 Cassandra Osorio-McKenna (Hot Tubes)        2.45.910 (43.397km/h)
4 Mary Geier (Scarlet Fire Cycling)           2.46.119 (43.342km/h)
5 Kathleen Ramirez (La Grange)                2.58.333 (40.374km/h)
6 Sarah Levy (Rio Grande)                     3.05.086 (38.901km/h)
 
Junior Women 15-16 5km Scratch Race Final
 
1 Cindy Lakatosh (Tri-State Velo)             7.40.947 (39.050km/h)
2 Catherine Fiedler (Veloworx)
3 Amara Boursaw (Greggs/Trek)
4 Lauren Shirock (Coyote Cycling)
5 Kim Lafleur (TeamSwift)
6 Taylor Boglioli (Greggs/Trek)
7 Cristin Walker (NWCC/Alkek)
8 Stef Oltmann (Aurora Cycles)
9 Virginia Gini Harris (East Coast Velo)
DNF Megan Cross (NWCC/Alkek)
 
Junior Women 13-14 500m Time Trial Final
 
1 Colleen Hayduk (Los Gatos Bicycling )         39.738 (45.297km/h)
2 McHelle Lafleur (TeamSwift)                   41.331 (43.550km/h)
3 Kelly Lafleur (TeamSwift)                     41.491 (43.383km/h)
4 Allyson Brunner (Kenosha Velosport)           42.644 (42.210km/h)
5 Shelby Reynolds (NWCC/Alkek)                  42.683 (42.171km/h)
6 Mary Costelloe (East Coast Velo)              43.136 (41.728km/h)
7 Colleen Gulick (Lehigh Wheelmen Futu)         44.157 (40.764km/h)
8 Lauren Levy (San Diego Bicycle Cl)            49.171 (36.606km/h)
 
Junior Women 10-12 2km Scratch Race Final
 
1 Shelby Eck (Leigh Valley Wheelma)           3.22.561 (35.545km/h)
2 Elissa Stolman (Bay Area Velo Girls)
3 Paulina Lopez (Unattached)
4 Coryn Rivera (Paramount Racing)
5 Kendall Ryan (Scary Fast Racing)
6 Hannah Hayduk (Lehigh Wheelmen Futu)
7 Alyssa Kimura (Red Line)
8 Alexis Ryan (Scary Fast Racing)
 
Junior Men 17-18 Keirin Final Classification
 
1 Ryan Nelman
2 Michael Schnabel
3 Ben Barczewski
4 Spencer Hartfeld
5 Aaron Kacala
6 Carl Boucher
7 Devin Flaherty
8 Richard Schenck
9 Philip Isaksen
 
Junior Men 17-18 3km Pursuit Qualification
 
1 Daniel Holloway (Lombardi Sports/Klie)      3.42.248 (48.594km/h)
2 Elliot Gaunt (Main Line Cycling Cl)         3.42.867 (48.459km/h)
3 Michael Chauner (Team Rio Grande)           3.43.739 (48.271km/h)
4 Chris Ruhl (Team Rio Grande)                3.49.024 (47.157km/h)
5 Kyle Hughes (Canyon Velo)                   3.52.634 (46.425km/h)
6 Richard Schenck (Salamander Racing)         3.53.742 (46.205km/h)
7 Aron Dickman (Echelon Santa Barbar)         3.55.517 (45.857km/h)
8 Chase Renick (Team Swift)                   3.59.660 (45.064km/h)
9 Alex Kinzey (Vortex Cycling Club)           4.04.480 (44.175km/h)
10 Brian Friend (East Coast Velo)             4.06.188 (43.869km/h)
11 Jared Downing (Major Motion)               4.06.745 (43.770km/h)
12 Eric Schoneberger (Echelon Santa Barbar)   4.08.212 (43.511km/h)
13 Matt Cross (NWCC/Alkek)                    4.11.708 (42.907km/h)
14 Nick Vita (East Coast Velo)                4.19.963 (41.544km/h)
 
Junior Men 17-18 200m Time Trial Qualification
 
1 Michael Blatchford (Veloworx/U.S. Nation)     10.773 (66.834km/h)
2 Ryan Nelman (Cody Racing)                     11.183 (64.383km/h)
3 Aaron Kacala (Cody Racing)                    11.426 (63.014km/h)
4 Ben Barczewski (East Coast Velo)              11.465 (62.800km/h)
5 Spencer Hartfeld (Echelon Santa Barbar)       11.893 (60.540km/h)
6 Carl Boucher (Cody Racing)                    11.901 (60.499km/h)
7 Philip Isaksen (Wheelsport)                   13.337 (53.985km/h)
8 Matt Mosby (Los Gatos Bicycle Ra)             13.632 (52.817km/h)
 
Junior Women 15-16 500m Time Trial Final
 
1 Cindy Lakatosh (Tri-State Velo)               38.777 (46.419km/h)
2 Kim Lafleur (TeamSwift)                       39.002 (46.151km/h)
3 Cristin Walker (NWCC/Alkek)                   40.854 (44.059km/h)
4 Catherine Fiedler (Veloworx)                  41.024 (43.877km/h)
5 Lauren Shirock (Coyote Cycling)               41.413 (43.465km/h)
6 Amara Boursaw (Greggs/Trek)                   41.909 (42.950km/h)
7 Taylor Boglioli (Greggs/Trek)                 42.211 (42.643km/h)
8 Stef Oltmann (Aurora Cycles)                  42.347 (42.506km/h)
9 Megan Cross (NWCC/Alkek)                      42.790 (42.066km/h)
10 Virginia Gini Harris (East Coast Velo)       42.810 (42.046km/h)
 
Junior Men 10-12 2km Scratch  Race Final
 
1 Benny Swedberg (Rad Racing NW)              3.20.028 (35.995km/h)
2 Gabriel Alva (Encino Velo)
3 Lawson Craddock (NWCC/Alkek)
4 Jakob Smith (Pista Elite)
5 Davis Mefford (Encino Velo)
6 Dennis Nowak (Vortex Cycling Club)
7 Derek Smith (Encino Velo)
8 Erik Volotzky (Encino Velo)
 
Junior Men 15-16 5km Scratch Race Final
 
1 Cody O'Reilly (Echelon Santa Barbar)        6.45.395 (44.401km/h)
2 Shane Kline (Salamander Racing)
3 Justin Williams (Major Motion)
4 Luke Cavender (Wolverine Sports Clu)
5 Jackie Simes (East Coast Velo)
6 Ricky Cruz (Excel Sports)
7 Joe Perez (Encino Velo)
8 Miguel Chavez (Unattached)
9 Joseph Tokarski (The Woodlands Cyclin)
10 Daniel Hopkins (Beaverton Bicycle Cl)
11 Taylor Brown (Tri State Velo)
12 James Ryan (Los Gatos Bicycle Ra)
DNF Tristin Clark (East Coast Velo)
DNF Matthew Fox (Hayes On Track)
DNF Brett Jacoby (Krank'd)
DNF Emil Marinov (Vitamin Cottage)


Evening session

Women's 17-18 2km Individual pursuit

Ride off for Bronze
1 Mary Geier (Scarlet Fire Cycling)                              2:43.681 (43.988km/h)
2 Cassandra Osorio-Mckenna (Hot Tubes Developmen)                2:45.225 (43.577km/h)

Final
1 Kimberly Geist (East Coast Velo)                               2:36.325 (46.058km/h)
2 Natalie Klemko (ABD)                                           2:42.393 (44.337km/h)

Women's 17-18 2km Pursuit final Classification

1 Kimberly Geist
2 Natalie Klemko
3 Mary Geier
4 Cassandra Osorio-Mckenna
5 Kathleen Ramirez
6 Sarah Levy


Men's 17-18 3km Individual Pursuit

Ride off for Bronze

1 Michael Chauner Team Rio Grande                                3:44.861 (48.03km/h)
2 Chris Ruhl Team Rio Grande                                     3:47.662 (47.439km/h)

Final

1 Elliot Gaunt Main Line Cycling Cl                              3:41.496 (48.759km/h)
2 Daniel Holloway Lombardi Sports/Klie                           3:42.971 (48.437km/h)

Men's 17-18 3km Individual Pursuit final classification

1 Elliot Gaunt
2 Daniel Holloway
3 Michael Chauner
4 Chris Ruhl
5 Kyle Hughes
6 Richard Schenck
7 Aron Dickman
8 Chase Renick
9 Alex Kinzey
10 Brian Friend

Women 13-14 5km Points Race

1 Colleen Hayduk                                                 23
2 Shelby Reynolds                                                17
3 Mary Costelloe                                                 13
4 Colleen Gulick                                                 12
5 Kelly Lafleur                                                  11
6 Lauren Levy                                                    5
7 Allyson Brunner                                                4
8 Mchelle Lafleur                                                -17

Men's 13-14 10km Points Race

1 Alex Coelho                                                    30
2 Alex Garcia                                                    25
3 Daniel Walker                                                  7
4 Afredo Cruz                                                    6
5 Iggy Silva                                                     5
6 Alan Ting                                                      5
7 Njisane Phillip                                                4
8 Ethan Bing                                                     3
9 Parker Craddock                                                3
10 Andrew Harris                                                 0
11 Frank Vita                                                    0
12 Chase Womack                                                  0
13 Richard Suditu                                                0
14 Jeremy Shirock                                                0

Junior Men's 15-16 500m Time Trial

1 Shane Kline Salamander Racing                                  35.53 (50.661km/h)
2 Matthew Fox Hayes On Track                                     36.444 (49.391km/h)
3 Cody O'reilly Echelon Santa Barbar                             36.665 (49.093km/h)
4 Daniel Hopkins Beaverton Bicycle Cl                            36.668  (49.089km/h)
5 David Espinoza JC Investors                                    36.688 (49.062km/h)
6 Justin Williams Major Motion                                   37.182 (48.411km/h)
7 Tristin Clark East Coast Velo                                  37.193 (48.396km/h)
8 Brett Jacoby Krank'd                                           38.027 (47.335km/h)
9 Luke Cavender Wolverine Sports Clu                             38.464 (46.797km/h)
10 Joe Perez Encino Velo                                         38.561 (46.679km/h)
11 Ricky Cruz Excel Sports                                       38.796 (46.397km/h)
12 Joseph Tokarski The Woodlands Cyclin                          38.821 (46.367km/h)
13 Jackie Simes East Coast Velo                                  38.916 (46.253km/h)
14 Taylor Brown Tri State Velo                                   38.919 (46.25km/h)
15 Grant Boursaw Greggs/Trek                                     38.981 (46.176km/h)
16 Ian Crane Rad Racing NW                                       39.379 (45.71km/h)
17 Emil Marinov Vitamin Cottage                                  39.41 (45.674km/h)
18 James Ryan Los Gatos Bicycle Ra                               40.384 (44.572km/h)
19 Joshua Kelley Front Rangers Cyclin                            40.594 (44.342km/h)
20 Travis Burandt Woodlands Cycling Cl                           40.817 (44.099km/h)
21 Benny Volotzky Encino Velo                                    40.828 (44.087km/h)
22 Miguel Chavez Unattached                                      Disq