Introduction to Track Racing - What's a Wheelrace? - Introduction to Six Day racing - UCI codes
Nicole Reinhart Women's Cycling Classic & Tandemonium - NE
Lehigh Valley Velodrome, PA, USA, June 4, 2004
Velodrome opens with a blast
By Jacob Burns
Sarah Uhl (Quark), winner of the 2004 Nicole Reinhart Women's Cycling Classic
Photo ©: Jon Devich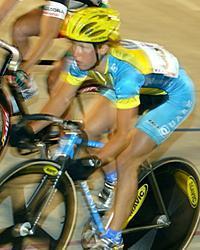 Opening Night of the 2004 Velodrome International Race Season started with a bang with a crowd in excess of 2,000 people and top athletes and great racing. Big winners on the night included the tandem duo of Argentineans Sebastian Alexandre and Veronica Martinez, Jame Carney (Northwestern Mortgage Cycling Team) and Sarah Uhl (Quark Cycling Team).
The feature event for the evening, The Nicole Reinhart Women's Cycling Classic, was eponymously named after the late Nicole Reinhart, a beautiful person and great athlete who tragically lost her life in a racing accident on September 17, 2000. The race featured top talent including Sarah Uhl, Ashley Kimmet (Colavita-Bolla), Joanne Kiesanowski (Colavita-Bolla) and Becky Conzelman (Frisco Cycling Club). Sarah Uhl took first place in the Women's 36-Lap Points Race and the Women's One-Mile Final, winning both by a landslide. Ashley Kimmet was victorious in the Miss-and-Out, edging by Joanne Kiesanowski by a spoke to win the race.
Bobby Lea (Team Fuji) won the Men's Miss-and-Out in a surprising victory over both Jame Carney and Marty Nothstein, who placed second and third respectively after a fierce battle to the finish line. Carney won the Men's 15-Lap Preme Race, after another very close competition with Nothstein. Kyle Wamsley (Team Fuji) owned the Men's Five-Mile race as he flew past other riders with no problem.
The Tandemonium events were fast and competitive, but Sebastian Alexander and Veronica Martinez managed to take the win in the final heat to become the 2004 Tandemonium Champions.
Thousands show to support Nicole Reinhart's memory
By Mark Zalewski in Trexlertown
Marty Nothstein (Navigators Team)
Photo ©: Jon Devich

Jame Carney (Nortrhwestern Mortgage Cycling Team)
Photo ©: Jon Devich

Riders leave a ghostly impression
Photo ©: Jon Devich

A huge crowd, which is something that doesn't happen too often with track cycling in the United States, gathered at the Lehigh Valley Velodrome Friday evening to support the Nicole Reinhart Women's Cycling Classic. The evening featured many of the top American track cyclists racing in numerous events, with the women racing for the largest purse available in North America, but the focus was on remembering Nicole Reinhart and supporting developmental cycling programs.
Mike Reinhart, Nicole's father, is the force behind the event and the foundation in memory of his daughter. "Tonight was overwhelming. It was a great tribute to Nicole and to the spirit of Nicole. We really want to promote what she stood for and really exemplify the sport in a really positive way. Giving scholarships is part of the healing process. We are accomplishing something - we know that Nicole can't accomplish anything anymore, but her name can accomplish a lot. And it's so critical with developmental cyclists to have that help in a real important time, so if we can help put the focus there it's going to really help the sport."
Having the event in Trexlertown was also important to Reinhart. "Nicole always had a great fan base and loved coming here because it was so warm and receptive," said Reinhart. "That is what makes T-town so great!"
Reinhart also explained that the scholarship money the foundation is raising will also honour Nicole's memory. "The college scholarships are really important, because when Nicole was a rider she was going to go to Penn State but it was really expensive. So she moved to California where she could become a resident and go practically for nothing. But we've always thought it would've been nice for her for go [to school] in her hometown. That is one of the things we wanted to do."
And the effects of having that scholarship are already materializing. "Because Penn State, with the track here, always has a men's team, but could never attract the women," said Reinhart. "And now, they have attracted Sarah Uhl. And she is elated to be able to close to home and ride for Penn State."
The foundation is also giving out an additional $8,000 in scholarships to any collegiate cyclist, with the application process beginning that day on the foundation website, www.nicolesbench.com.
Photography
Images by Jon Devich/www.epicimages.us
Results

Women's 36-Lap Points Race
 
1 Sarah Uhl (Quark)
2 Ashley Kimmet (Colavita Olive Oil)
3 Jo Kiesanowski (Colavita Olive Oil)
 
Men's Miss-and-out
 
1 Bobby Lea (Team Fuji)
2 Jame Carney (Nortrhwestern Mortgage Cycling Team)
3 Marty Nothstein (Navigators Team)
 
Women's Miss-and-out
 
1 Ashley Kimmet (Colavita Olive Oil)
2 Jo Kiesanowski (Colavita Olive Oil)
3 Sarah Uhl (Quark)
 
Men's 5-Mile Final
 
1 Kyle Wamsley (Team Fuji)
2 Joey D'Antoni (Cycle de Oro)
3 Jason Snow (Team Fuji)
 
Men's 15-Lap Preme
 
1 Jame Carney (Northwestern Mortgage Cycling Team)
2 Marty Nothstein (Navigators Team)
3 Dan Larson
 
Women's 1-Mile Final
 
1 Sarah Uhl (Quark)
2 Becky Conzelman (Frisco Cycling Club)
3 Ashley Kimmet (Colavita Olive Oil)