Introduction to Track Racing - What's a Wheelrace? - Introduction to Six Day racing - UCI codes
Revolution Track Race Series #2 - NE
Manchester Velodrome, January 24, 2004
The capacity crowd saw a quality field
Photo ©: Nick Rosenthal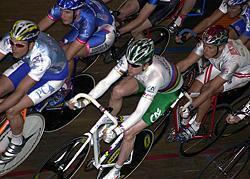 Capacity crowd returns to Manchester
By Nick Rosenthal
The second of the four Revolution track meetings at Manchester Velodrome saw a capacity crowd enjoying a lively evening's racing featuring many of Europe's top riders.
World pursuit champion Bradley Wiggins led the all-star line-up, wearing his new Crédit Agricole strip for the first time. He was joined by fellow six-day riders Jerome Neuville (France), Steven De Neef (Belgium) and Roland Garber (Austria). Britain's other six-day men, Rob Hayles, Tony Gibb and Chris Newton, were also competing.
Wiggins won the first race of the evening, an 8km derny-paced scratch race. Chris Newton, a former world points race champion, duly won the evening's main points race, whilst Wiggins beat Steven DeNeef in a derny-paced pursuit match.
The big surprise of the evening came when John Tamouridis, a member of the visiting Greek track squad, scored an unexpected victory in the pursuit race. On the sprinting side, Britain's Jamie Staff won the Keirin race, beating Barney Storey by the narrowest of margins.
The next Revolution track meeting at the Manchester Velodrome will be held on February 28th.
Photography
Images by Nick Rosenthal/www.fatnick.com
Results

8km Derny-paced Scratch Race
 
1 Bradley Wiggins (Credit Agricole)
 
Points Race
 
1 Chris Newton (Corima RT)
 
Derny-paced Pursuit Match
 
1 Bradley Wiggins (Credit Agricole)
2 Steven De Neef
 
Individual Pursuit
 
1 John Tamouridis
 
Keirin
 
1 Jamie Staff
2 Barney Store