Introduction to Track Racing - What's a Wheelrace? - Introduction to Six Day racing - UCI codes
Rosebery Athletic Club Carnival - NE
Tasmania, Australia, December 20, 2003
Atkins turns back time
From Rod Morris in Rosebery
Matthew Atkins turns back time in the Rosebery Wheelrace
Photo ©: Shane Goss/CN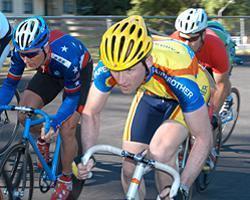 Former Austral Wheel champion Matthew Atkins has turned back the clock to regain peak form on the eve of the Basslink Tasmanian Christmas Carnivals.
Atkins won the 47th annual Rosebery Wheel, emulating the performance of his father Grant and his younger brother Gareth as champions of the West Coast. Grant, who is also the chairman of the Sports Carnivals Association of Tasmania, won the Rosebery Wheel in 1977 and 1979 and Gareth, was successful in 1998 and 1999.
Matthew Atkins was diagnosed with Chronic Fatigue Syndrome four years ago and has only recently been able to overcome the illness and return to the saddle. He won the Rosebery Wheel in fine style, ahead of Launceston based rider Karl Menzies, with reigning Launceston Wheel titleholder Brendan Geale not far away in third place. American Becky Conzleman raised the flag for the female riders, by taking fourth place in the Rosebery Wheel.
Matthew Atkins enjoyed a great day on the West Coast, as he also won the B Grade Scratch, finished second to Ben Price in the 1000 metre Lightning Handicap and claimed third behind American Jame Carney and Matt Goss in the final of the Derby. Another American, Sarah Hammer, scored a classy win in the Invitational Women's Rosebery Wheel, just ahead of former Devonport - now Launceston - rider Belinda Goss. Devonport teenager Natasha Mapley was third after racing against the senior women on restricted Under 17 gearing.
Four scratchmen and six internationals competed at the Rosebery Carnival, which was one of the most successful in recent years. More than once the Carnival has been plagued by wet weather but on Saturday, the sun was beaming for the entire programme, ensuring good racing in humid conditions.
Juniors were well catered for at Rosebery with wheelraces, lightning handicaps and scratch events. Winners of the respective age group Rosebery Wheels included Ben Laskey (Under 17), Clay Murfett (Under 15) and David Lyons (Under 13).
The Rosebery Carnival is the last open meeting before the prestigious and time-honoured Tasmanian Carnivals, which will start at Latrobe on Boxing Day and continue with the Launceston Silverdome on December 28, the two-night Devonport Carnival on December 29-30 and the famous Burnie New Year's Day Carnival. Post Christmas, the carnival action will continue in Tasmania with Hobart (Jan. 4), Mersey Valley (Jan. 11) and St Helens (Jan. 17).
Photography
Images by Shane Goss/Cyclingnews.com/www.licoricegallery.com
Results

Rosebery Wheelrace, 2000m
 
1 Matthew Atkins (150)          2.11.38
2 Karl Menzies (80)
3 Brendan Geale (70)
4 Becky Conzleman (260)
 
Invitation Women's Rosebery Wheelrace
 
1 Sarah Hammer (scr)
2 Belinda Goss (scr)
3 Natasha Mapley (60)
4 Becky Conzleman (scr)
 
Open Lightning Handicap
 
1 Ben Price (70)                1.06.20
2 Matthew Atkins (75)
3 Kevin Belz (30)
4 Ryan Johnson (70)
 
Invitational A Grade Miss & Out
 
1 Darren Young
2 Nathan Clarke
3 Wouter Van Mechlen
 
Rosebery Derby
 
1 Jame Carney                     12.44 (last 200m)
2 Matt Goss
3 Matthew Atkins
4 Wouter Van Mechlen
5 Andrew Loft
6 Gui Nelessen
 
A Grade Scratch
 
1 Jame Carney                   9.32.10
2 Nathan Clarke
3 Karl Menzies
4 Brendan Geale
 
Lap prizes: Matt Goss (2), Brendan Geale (2), Darren Young (1)
 
B Grade Scratch
 
1 Matthew Atkins                6.00.78
2 Ben Price
3 Ryan Johnson
4 Wes Sulzberger
 
C Grade Scratch
 
1 Colin Barnes                  6.00.78
2 Dwayne Smith
3 Matthew Sydes
4 Ty Winduss
 
Junior 1 Lightning Handicap
 
1 Ben Laskey (100)              1.12.04
2 Natasha Mapley (100)
3 Grace Sulzberger (100)
 
Junior 2 Lightning Handicap
 
1 Tom Robinson (scr)            1.17.66
2 Clay Murfett (20)
3 Alex Holden (20)
4 Samantha Hellyer (70)
 
Junior 3 Lightning Handicap
 
1 Jake Laskey (70)
2 Matt Laskey (30)
3 Karissa Ling (50)
4 Jacob Fielding (50)
 
Junior 1 Rosebery Wheelrace
 
1 Ben Laskey (200)              2.32.49
2 Natasha Mapley (200)
3 Grace Sulzberger (200)
4 Jarrod Harman (20)
 
Junior 2 Rosebery Wheelrace
 
1 Clay Murfett (40)             2.41.61
2 Alex Holden (40)
3 Brenden Sutton (100)
4 Samantha Hellyer (140)
 
Junior 3 Rosebery Wheelrace
 
1 David Lyons (70)              1.28.95
2 Jake Laskey (70)
3 Jacob Fielding (50)
4 Karissa Ling (50)
 
Junior 1 Scratch
 
1 Jarrod Harman                 5.26.03
2 John Rayner
3 Ben Fielding
4 Aaron Jones
 
Junior 2 Scratch
 
1 Clay Murfett                  4.45.70
2 Alex Holden
3 Tom Robinson
4 Brenden Sutton
 
Junior 3 Scratch
 
1 Ed Robinson                   4.12.22
2 David Lyons
3 Matthew Laskey
4 Brandon Stewart