Introduction to Track Racing - What's a Wheelrace? - Introduction to Six Day racing - UCI codes
Results & reports from the USA
Promoters wishing to submit results should send them to Cyclingnews
Asheville Mellowdrome Series #10
August 19, 2003
Racing on the river
By Chris Kamm
Andy Applegate fires up the pace
Photo: © Asheville Velodrome Group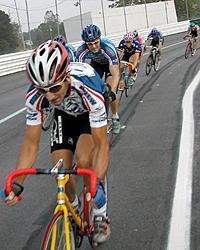 Last Tuesday, August 19, we staged a make-up race to offset the blight to the schedule caused by endless rains in May and June. All the usual suspects turned out, and Lazybones MacCauley spiced the transition laps by bringing a dozen Krispy Kreme donuts for primes.
The 30-lap B Grade Points Race featured the return of Wes Dickson, and he put another notch on his big iron with an easy win. Scott 'The Russian' Rousseau posted an early challenge to Dickson's season long supremacy. But after the midpoint The Russian went down a cylinder and salvaged second position off his early efforts.
The Women's Points Race was a showcase for the first homegrown national champion to come out of the Mellowdrome program. Nancy 'The Dagger' Daigler is now the 35-39 Women's Points Race National Champion, and she continued to run the table in this latest Tuesday-nighter. Her Prestige Subaru teammate, Robin Pace, finished the job with second place, and Cara MacCauley of the Asheville Bicycle Racing Club accounted for the show spot.
The A Grade riders contested the usual distance of 60 laps (30 km), and all breathing stopped in anticipation of another punch up between Randy Parker and Gentleman Joe Coddington. However, Darby Harris and Andy Applegate made like flies in the ointment with an early counterattack that gained 250 meters in quick time. Those two rode like a tandem until Parker gathered in the wind and crossed the gap with alarming ease. The three turned up the wick and finished the one lap gain with little resistance from the main group. Naturally, Parker won out on points over Harris and Applegate, and that left table crumbs for Coddington who took the season points awarded to fourth on the night. The two main protagonists are now neck and neck for the season victory, while Harris has vaulted to their heels with two wins and a second since returning from Ireland.
The Fixed Gear entry sheet was again the longest of all the races, and the field of 19 was split into A and B groups. In the upper half of the draw, The Fletcher Arrow took full advantage of Frodo's absence with convincing wins in all three events. Special K dogged him all the way to finish second for the evening, followed by the Cherry Bomb who nearly absconded with the points race and finished third. In the lower group, DeLux followed the custom of The Russian and Vespa before him with a solid win that will land him back in the A group next week. Co-equal on the highlight reel has to be Jim McMillan fighting tooth and nail, twice from between riders, to win the points race which set him into second place for the night. First timer Lazybones settled comfortably into the mix, and took third... and a donut.
Photos
Images by Asheville Velodrome Group
Results

Fixed Gear Nightly Results
 
A Race
 
8 Lap Scratch
 
1 Brian Pierce
2 Nancy Daigler
3 Michael Koerschner
4 Mike Despeaux
5 Kevin Bray
 
Miss-n-Out
 
1 Brian Pierce
2 Michael Koerschner
3 Scott Langford
4 Mike Despeaux
5 Scott Rousseau
 
15 Lap Points Race
 
1 Brian Pierce
2 Scott Langford
3 Michael Koerschner
4 Mike Despeaux
5 Andy Applegate
 
B Race
 
6 Lap Scratch
 
1 Don Lux
2 Jim McMillan
3 Cara McCauley
4 Steve Miller
5 Janet Trubey
 
Unknown Distance
 
1 Don Lux
2 Cara McCauley
3 Monica Koerschner
4 Steve Miller
5 Jim McMillan
 
12 Lap Points Race
 
1 Jim McMillan
2 Bill McBee
3 Janet Trubey
4 Steve Miller
5 Mike Smith
 
Year Total Omnium Points
 
1 Brian Pierce             50 pts
2 Blair  Hobgood           42
3 Mike Koerschner          25
4 Mike Despeaux            16
5 Scott Langford           15
6 Nancy Daigler            14
7 Don Lux                  14
8 Marc Mullinax            11
9 Scott Rousseau           11
10 Janet Trubey            10
11 Jim McMillan             9
12 Wendy Coin               8
13 Mike Smith               8
14 Doug Graul               7
15 Herb Young               7
16 Bill McBee               7
17 Andy Applegate           7
18 Kevin Bray               6
19 Paul Battenfeld          6
20 Kyle Valenta             4
21 Rostand Smith            4
22 Victor Moore             3
23 Steve Miller             3
24 George Riedesel          2
25 Bob Oast                 2
26 Allan Smith              2
27 Mike Biggs               2
28 Cara McCauley            2
29 Scott Galloway           1
30 Matt Martin              1
31 John Derry               1
32 Monica Koerschne         1
 
Category "A"  60 Lap Points Race
 
1 Randy Parker             44
2 Darby Harris             28
3 Andy Applegate           16
4 Joey Coddington          14
5 Clark Hollins            11
6 Austin Walker            10
7 Michael Koerschne         4
8 Scott Langford            2
9 Michael Davidson          3
 
Year Total Omnium Points
 
1 Joey Coddington          26
2 Randy Parker             26
3 Darby Harris             21
4 Scott Langford            7
5 Jacob McGahey             6
6 Andy Applegate            6
7 Scott Duncan              5
8 Austin Walker             5
9 Chris Sheppard            5
10 Garrett Wonders          5
11 Martin Lawing            3
12 Kent Williams            3
13 Michael Koerschn         2
14 Clark Hollins            2
15 Colin Izzard             1
16 Richard Dunn             1
17 Dave Hensley             1
18 Kyle Valenta             1
 
Category "B" 30 Lap Points Race Nightly Results
 
1 Wes Dickson              31
2 Scott Rousseau           13
3 Shawn Smith              12
4 Jeff Frazer              11
5 Andy Morgan               3
6 Johnny Garrett            3
7 Adam O'Neil               2
8 Stace Horn                1
9 Cara McCauley             1
 
Year Total Omnium Points
 
1 Wes Dickson              47
2 David Forkner            19
3 Cara McCauley            10
4 Scott Rousseau            9
5 Marc Mullinax             8
6 Scott Lowrey              8
7 Jeff Frazer               7
8 Phil Wikoff               5
9 Allison Hardy             5
10 Ray VonDohlen            4
11 Shawn Smith              4
12 Cris Bifaro              3
13 Mark Scholtz             3
14 Jonathan Guffey          3
15 Greg McIntyre            3
16 Andrew Hager             2
17 Jamie Arnold             1
18 Jon Wolfe                1
19 Robin Pace               1
20 Andy Morgan              1
 
Master's (40+) 35 Lap Points Race Nightly Results
 
(Field Combined With "A" Race)
 
Year Total Omnium Points
 
1 Randy Parker             21
2 Clark Hollins            16
3 Paul Wood                14
4 Scott Dunacn             12
5 Dean Lyons                7
6 Richard Dunn              7
7 Kent Williams             7
8 Michael Davidson          3
9 Art Schuster              2
10 Scott Lowrey             1
 
Women's 25 Lap Points Race Nightly Results
 
1 Nancy Daigler            30
2 Robin Pace               16
3 Cara McCauley             8
4 Monica Koerschner         7
5 Allison Hardy             5
 
Year Total Omnium Points
 
1 Nancy Daigler            42
2 Robin Pace               25
3 Cara McCauley            23
4 Patricia Pinner          13
5 Monica Koerschner        13
6 Tanya Nestvogel          12
7 Deborah Elliot            3
8 Monica Curwen             3
9 Jessee Karriker           2
10 Anne Bolyea              2
11 Wendy Coin               2
12 Janet Trubey             2
13 Robin Stalte             1
14 Allison Hardy            1