Recently on Cyclingnews.com
Introduction to Track Racing - What's a Wheelrace? - Introduction to Six Day racing - UCI codes
Results & reports from the USA
Promoters wishing to submit results should send them to Cyclingnews
Washington Madison Championships
Marymoor Velodrome, August 15, 2003
By Alex Andel
State madison champs Alex Andel and Trevor Dixon
Photo: © Hyun Lee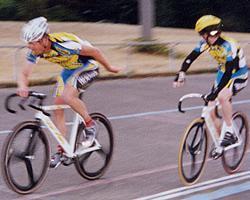 The Madison States race was on my 32nd birthday. I showed up feeling crappy, attributing some of it to getting old. Plus, I actually went home from work early that day due to stomach problems. Then, in warm up, I felt extra slow. Really sluggish. I didn't mention this to Trevor, but I was worried. Once back in the pits, getting ready for the Madison to start, I glanced at my bike. My rear wheel had been rubbing the drop out! Not off to a good start.
With the wheel straightened, I rolled onto the track for official instructions. There were just 5 two-man teams lining up for the 50 lap race. I was riding with my regular Madison partner, Trevor Dixon, as Broadmark. Rich McClung, in his farewell Madison, teamed up with the ever-friendly Mike Eddy. They were the odds-on favorites, even with the chip on Eddy's shoulder slowing him down. Ryan Miller, Prime Alliance, was teamed up with Eric Moen. They would be formidable, as well. A pair of Saturn of Seattle (Tim Slotta and Duke Anderson on one and Turgon Somer and Eric Stuhag the other) teams lined up, to round out the field.
We would sprint every 10 laps for points, double points at the end. The team with the most points would be crowned Madison State Champ. Additionally, any team to take a lap from all the others would be declared winner.
The race started off steadily. The Madison requires a relay-style exchange between the two riders on a team; one rider races while the other recovers, alternating as the race progresses. Ideally, exchanges are made every lap. Exchanges are made by "slinging" your teammate up to speed, effectively transferring energy from one rider to the other. Not always easy, and often kind of sketchy, especially in a crowd.
As the first sprint neared, the pace rose significantly, and with the smooth rolling wheel, I was feeling much better. Three teams, Broadmark, McEddylung, and Prime Alliance slipped off and duked it out. We took second with Trevor's sprint (I'm not sure who won), and the race continued with 4 sprints to go.
The pace stayed very high, maybe 30mph average. As we neared the second sprint, there was a sudden swerve, and a crash. McClung hit the deck; he and Eddy had botched their exchange. He popped right up like any Midwest farm boy should, but it was too late. In a controversial ruling, the official stated that there would be no free lap. I took the sprint narrowly over Ryan Miller, putting us ahead on points, and on equal laps with Miller/Moen. MCEddylung was down a lap, and the Saturn boys were dangling behind, soon to be lapped.
The next sprint came, and we were second again, this time to Mike Eddy's effort. More importantly, though, is that the Prime Alliance boys had folded at our pace, and Broadmark was alone on the lap. However, Mike and Rich had pulled things back together and were riding at the same pace as Trevor and I. We were trading pulls, cruising toward the last two sprints. I was working particularly hard to nuke the PA guys, as they spelled our only competition for the title at this point.
I threw Trevor in as we neared the penultimate sprint and he drove the pace like no 130lb. man should. He showed a clean set of wheels to the rest, and scored our second sprint win of the race. We had one more to go.
Soon, we lapped the PA guys, and they joined the pace making with our McEddylung-Broadmark joint venture. It was getting strategic, although the race was in hand, as everyone wanted that final double points sprint. PA and McEddylung were on even laps, and close on points, the final sprint would mean something for the podium. As the final got closer, the speed increased. Again, PA popped off the pace, leaving Rich and Mike in the catbird seat for second, and the two of us to duke it out for pride at the finish.
With three to go, McClung dialled it up. He was flying. A slight gap grew over Trevor. With two left, he threw in Eddy, Trevor threw me in, the gap stayed the same. Eddy was crushing it, and I couldn't quite close it down. One to go, bell ringing wildly, one more exchange. 35 mph. Rich was in with a clean throw, Trevor in with my hardest swing. The gap, though, was set. McEddylung slid across the line with the final points, PA took third. We were in the middle.
With double points at the end, Rich and Mike had the most points by a small margin. Unfortunately, because they had been ruled a lap down, the final placing was Broadmark first, McEddylung second, PA third, Saturn 1 4th, and Saturn 2 5th.
For me, it was a hollow win. It was cool to be on the same level as Rich and Mike, two very experienced Madison riders. With Rich in his final track race, it would have been an honor to place second. That being said, I'm sure that he hasn't raced for 22 years with second place in mind, so I'll take it. And not a bad birthday present, either.
Photos
Images by Hyun Lee
Results

1 Broadmark Capital Cycling Team (Trevor Dixon and Alex Andel)
2 McEddyLung (Rich McClung and Mike Eddy)
3 Prime Alliance (Ryan Miller and Eric Moen)
4 Saturn of Seattle 1 (Tim Slotta and Duke Anderson)
5 Saturn of Seattle 2 (Turgon Somer and Eric Stuhag)