Introduction to Track Racing - What's a Wheelrace? - Introduction to Six Day racing - UCI codes
Results & reports from the USA
Promoters wishing to submit results should send them to Cyclingnews
NAS-Track series
Rochester Hills, Michigan, August 8, 2003
NAS-Track future racers shine
Ron St. John, Cullen Watkins, Mark St. John (Front row) Jon Hughes, & Rick Denman.
Photo ©: Bob Bruce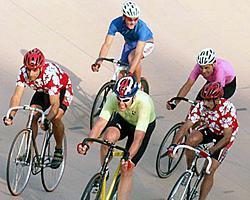 The 15-year-old from Troy teamed with the veteran from St. Clair Shores to win the NAS-TRACK Madison Racing League's first ever "Future" bike race which paired experienced racers with emerging racers for some of the hottest competition on the evening's program at the Velodrome in Bloomer Park in Rochester Hills, Michigan.
With 10 to go in the AA's 20 minute Madison, Luke Cavendar of Troy took a flyer off the front and no one chased him down. Exchanging in and out with partner Mark St. John, Cavendar never let up Attempts to catch the pair were thwarted by ill-timed tactics at the back of the bike race. End Result: A huge victory for Cavendar and St. John, with St. John giving the kid all the credit. "Luke made the great move."
Luke wins!
Photo ©: Bob Bruce

The next event brought out NAS-TRACK's regular stable of racers for a 20 minute Madison that ended in victory for the team of Rick Denman of Los Angeles and Steve Mlujeak of Rochester Hills, in spite of getting beat in the fastest and final sprint of the evening. A spectacular move by Toronto's Rob Good started right after the final bell on the 1/8th of a mile track. With two teams ahead of him, Good was thrown in by partner Rob Akers who, as the workhorse of the team, was coming off a double pull. Fresh, Good rocketed out of the exchange and not only caught the teams ahead but passed them high on the track and beat them right at the line. According to one racer he beat -- Ronnie Sink of Rochester Hills, "It was the best sprint -- ever." Incredibly, he had already raced the earlier AA race and it was good enough to move the Good/Akers combine into second.
Steve Mlujeak (top), & Ray Dybowski
Photo ©: Bob Bruce

Denman and Mlujeak had earned enough points earlier in the evening to need only to finish in the top three. Their combination of skills -- Denman's experience as a six day racer in Europe and Mlujeak's capacity to go long, hard and fast, made the pair unbeatable overall. They finished where they needed to at the last, taking a second to hang onto the lead. Third team in the night's racing was Sink and partner Jon Hughes.
NAS-TRACK Racing continues on Aug. 19 with the start of its first-ever Six Day. Racing begins at 7 p.m. nightly, except on Sunday, Aug. 24th when it starts at 3 p.m. For more information call 248-961-3705 or visit www.nas-track.com
Photography
Images by Bob Bruce
Results
NAS-Track A Race
 
1 Rick Denman (Los Angeles California)/Steve Mlujeak (Rochester Hills MI)
2 Rob Good Toronto (Canada)/Rob Akers (Garden City MI)
3 Ronnie Sink of (Rochester Hills)/Jon Hughes of (Rochester Hills)
4 Andre Champoux (Ypsilanti MI)/Tony Bruley (Rochester Hills)
5 Cullen Watkins (Royal Oak MI)/Mark St. John (St. Clair Shores MI)
 
NAS-Track AA Race
 
1 Luke Cavendar (Troy MI)/Mark St. John (St. Clair Shores)
2 Jan Selow (Sterling Heights MI)/Jon Hughes (Rochester Hills)
3 Nick Lawton (Rochester Hills)/Cullen Watkins (Royal Oak)
4 Rob Good (Toronto)/Christopher Hughes (Rochester Hills)
5 Dave Teal (Toledo Ohio)/Mark Freed (Mt. Pleasant MI)