Introduction to Track Racing - What's a Wheelrace? - Introduction to Six Day racing - UCI codes
US National Track Championships - CN
Lehigh Valley Velodrome, PA, August 26-30, 2003
Main Page Results Previous Day Next Day
Day 3 - August 28: Women 500m TT, Men Points Race
Jonas Carney Wins Big; Witty Stacks Up on Medals
By Jacob Burns
Jonas' jump too strong
Photo ©: Donna Chiarelli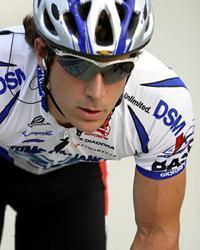 Beautiful weather graced the third night of the 2003 USCF National Track Cycling Championships at the Lehigh Valley Velodrome in Trexlertown, PA. The men's points race was very close with one of the Carney brothers taking the win while in the women's 500 meter time trial Chris Witty showed her potential strength going into 2004.
The men's points race proved to be very dramatic. In the early going Prime Alliance, Ofoto/Lombardi, T.E.A.M. Fuji, and Navigators spread the points across the board with each trying to make a move that would stick, none were successful. At the halfway point Colby Pearce (Ofoto/Lombardi) led but with the top five riders all within five points Colby's comfort range was minimal. With 30 laps remaining Pearce made a decisive breakaway to extend his lead. Jame and Jonas Carney (Prime Alliance) were soon fighting to stay in the race. Jonas took a sprint win and started to put the pressure on Pearce. Then with less than ten laps remaining both Jame and Jonas were able to breakaway leaving Colby in the pack. Going into the final sprint Pearce still held a two point lead over Jonas. On the final lap Jame led his brother around to turn three, and with a strong sprint Jonas held off Gui Nelessen (Sportsbook.com) to take the final sprint and the National Points Race Championship.
In the women's 500 meter time trial, Chris Witty (Team T-Mobile), 2002 speed skating Olympic Gold Medallist, lit the track up with a 36.388 second run. Her strong performance secured her second national championship of the event. Becky Conzelman (Frisco Cycling Club), one of T-town's favorite hometown riders, came within six tenths of a second of Witty's time to take the silver medal.
In the sprint rounds top-seeded riders Stephen Alfred and Giddeon Massie, each a member of the Cody Racing Team, out of Colorado easily moved on to tomorrow night's semi-finals.
Photos
Images by Donna Chiarelli
Results
Men's points
1 Jonas Carney (Prime Alliance)                                      28 pts
2 Colby Pearce (OFOTO-Lombardi Sports)                               25
3 Jame Carney (Prime Alliance)                                       14
4 Kirk O'Bee (Navigators)                                            13
5 Bobby Lea (Team Fuji)                                              13
6 Scott Zwizanski (Team Snow Valley)                                 11
7 Martin Nothstein (Navigators)                                      10
8 Erik Saunders (OFOTO-Lombardi Sports)                               8
9 Guillame Nelessen (Sportsbook.com)                                  8
10 Kenny Williams (Saturn For Seattle)                                8
11 Mariano Friedick (Jelly Belly-Carlsbad Clothing)                   7
12 Curtis Gunn (RCG Productions)                                      5
13 Jason Snow (Team Fuji)                                             3
14 Douglas Beck (Unattached)                                          2
15 Eric Gerolstein (Ford Cycling)                                     2
16 Joseph Dantoni (Cycles de Oro)                                     2
17 Tim Reinhart (Saturn Development)                                  1
18 Kevin Schiller (Anthony's Cyclery)                                 0
19 Marco Aledia                                                       0
20 Mark Gorman (Tri State Velo)                                       0
21 Michael Luther (Colavita-Bola Pro Cycling Team)                    0
DNF Kyle Wamsley (Team Fuji)                                          5
DNF Mike Pudlinski (Team Fuji)                                        0
DNF Christopher Remaly (South Bay Wheelmen)                           0
Women's 500m time trial
1 Christine Witty (T-Mobile)                        36.388 (49.467km/h)
2 Becky Conzelman (Frisco Cycling Club)             36.977 (48.679km/h)
3 Elizabeth Reap (Fuji T.E.A.M.)                    38.387 (46.891km/h)
4 Martha Dunne (Jelly Belly)                        38.629 (46.597km/h)
5 Jamie Pettinato (Gotham Cyclists)                 38.789 (46.405km/h)
6 Lori Nock (Alto Velo Webcor)                      39.639 (45.410km/h)
7 Jilllian Vogtli                                   39.965 (45.039km/h)
8 Cindy Lakatosh (Tri-State Velo)                   40.449 (44.500km/h)
9 Michelle Cassidy (East Coast Velo)                40.805 (44.112km/h)
10 Colleen Hayduk (Vortex)                          41.376 (43.503km/h)
11 Kara Snyder (Vortex)                             42.347 (42.506km/h)
12 Nicole Raspa (Red Lantern Cycles)                43.635 (41.251km/h)
13 Julie Klinger (Tri State Velo)                   44.027 (40.884km/h)
14 Cynthia Bye (Kissena Racing Club)                44.478 (40.469km/h)
Men's sprint
Qualifying
 
1 Stephen Alfred                                    10.807 (66.623km/h)
2 Giddeon Massie                                    10.976 (65.598km/h)
3 Michael Beers (Gotham Cyclists)                   10.987 (65.532km/h)
4 Kevin Belz (Gotham Cyclists)                      11.019 (65.342km/h)
5 Adam Duvendeck                                    11.211 (64.223km/h)
6 Christian Stahl                                   11.254 (63.977km/h)
7 Robert Lindstrom                                  11.260 (63.943km/h)
8 Joshua Weir                                       11.300 (63.717km/h)
9 Eric Degolier (I.S. Corp/Children's Hospital)     11.313 (63.644km/h)
10 Gilbert Hatton                                   11.334 (63.526km/h)
11 Andy Lakatosh                                    11.341 (63.486km/h)
12 Andy Sparks                                      11.441 (62.932km/h)
13 Brent Stein (ESW)                                11.516 (62.522km/h)
14 Ben Barczewski (East Coast Velo)                 11.537 (62.408km/h)
15 Peter Sargent                                    11.538 (62.402km/h)
16 David Wiswell (Gotham Cyclists)                  11.562 (62.273km/h)
17 Eduardo Cocina (Gotham Cyclists)                 11.565 (62.257km/h)
18 Luis Gonzalez (Team Fuji)                        11.640 (61.856km/h)
19 Erik Bonser (East Coast Velo)                    11.656 (61.771km/h)
20 Christopher Minnich (South Bay Wheelmen)         11.692 (61.581km/h)
21 Timo Budarz                                      11.699 (61.544km/h)
22 Mike Schnabel (East Coast Velo)                  11.782 (61.110km/h)
23 Chris Ferris (Unattached)                        12.150 (59.259km/h)
24 George Hebner (Chesapeake Wheelmen)              12.760 (56.426km/h)
 
Round 1 --- Heat 1
 
1 Stephen Alfred
2 Erik Bonser (East Coast Velo)
 
Heat 2
 
1 Giddeon Massie                                    11.779 (61.126km/h)
2 Luis Gonzalez (Team Fuji)
 
Heat 3
 
1 Michael Beers (Gotham Cyclists)                   12.686 (56.755km/h)
2 Eduardo Cocina (Gotham Cyclists)
 
Heat 4
 
1 Kevin Belz (Gotham Cyclists)                      12.355 (58.276km/h)
2 David Wiswell (Gotham Cyclists)
 
Heat 5
 
1 Christian Stahl                                   12.207 (58.983km/h)
2 Peter Sargent
 
Heat 6
 
1 Ben Barczewski (East Coast Velo)                  11.614 (61.994km/h)
2 Robert Lindstrom         
 
Heat 7
 
1 Joshua Weir                                       12.334 (58.375km/h)
2 Brent Stein (ESW)
 
Heat 8
 
1 Andy Sparks                                       11.735 (61.355km/h)
2 Eric Degolier (I.S. Corp/Children's Hospital)
 
Heat 9
 
1 Andy Lakatosh                                     11.449 (62.888km/h)
2 Gilbert Hatton
 
Final 9th-12th
 
9 David Wiswell (Gotham Cyclists)                   12.163 (59.196km/h)
10 Peter Sargent
DNS Andy Sparks
 
1/8 Final Rep 1
 
1 Joshua Weir                                       12.108 (59.465km/h)
2 David Wiswell (Gotham Cyclists)
DNS Cindy Lakatosh (Tri-State Velo)
 
1/8 Final Rep 2
 
1 Robert Lindstrom                                  11.691 (61.586km/h)
2 Andy Sparks
3 Peter Sargent
 
1/8 Final Heat 1
 
1 Stephen Alfred                                    11.840 (60.811km/h)
2 David Wiswell (Gotham Cyclists)
 
1/8 Final Heat 2
 
1 Giddeon Massie                                    11.944 (60.281km/h)
2 Peter Sargent
 
1/8 Final Heat 3
 
1 Michael Beers (Gotham Cyclists)                   11.338 (63.503km/h)
2 Robert Lindstrom         
 
1/8 Final Heat 4
 
1 Kevin Belz (Gotham Cyclists)                      11.617 (61.978km/h)
Rel Andy Lakatosh 
 
1/8 Final Heat 5
 
1 Christian Stahl                                   13.573 (53.046km/h)
2 Andy Sparks
 
1/8 Final Heat 6
 
1 Ben Barczewski (East Coast Velo)                  11.730 (61.381km/h)
2 Joshua Weir
 
Quarterfinal Heat 1 - Race #1
 
1 Stephen Alfred                                    11.360 (63.380km/h)
2 Robert Lindstrom         
 
Quarterfinal Heat 1 - Race #2
 
1 Stephen Alfred                                    11.348 (63.447km/h)
2 Robert Lindstrom         
 
Quarterfinal Heat 2 - Race #1
 
1 Giddeon Massie                                    11.563 (62.268km/h)
2 Joshua Weir
 
Quarterfinal Heat 2 - Race #2
 
1 Giddeon Massie                                    11.907 (60.469km/h)
2 Joshua Weir
 
Quarterfinal Heat 3 - Race #1
 
1 Ben Barczewski (East Coast Velo)                  11.994 (60.030km/h)
Rel Michael Beers (Gotham Cyclists)
 
Quarterfinal Heat 3 - Race #2
 
1 Michael Beers (Gotham Cyclists)                   11.426 (63.014km/h)
2 Ben Barczewski (East Coast Velo)
 
Quarterfinal Heat 3 - Race #3
 
1 Ben Barczewski (East Coast Velo)                  11.384 (63.247km/h)
2 Michael Beers (Gotham Cyclists)
 
Quarterfinal Heat 4 - Race #1
 
1 Kevin Belz (Gotham Cyclists)                      11.372 (63.313km/h)
2 Christian Stahl
 
Quarterfinal Heat 4 - Race #2
 
1 Kevin Belz (Gotham Cyclists)                      11.331 (63.542km/h)
2 Christian Stahl