Introduction to Track Racing - What's a Wheelrace? - Introduction to Six Day racing - UCI codes
US National Track Championships - CN
Lehigh Valley Velodrome, PA, August 26-30, 2003
Main Page Results Previous Day Next Day
Day 2 - August 27: Team Pursuit, Men Kilometer TT, Women Sprint
Jelly Belly strikes pursuit gold; Lea surprises himself; Witty breaks Lindenmuth streak
By USA Cycling
Bobby Lea strikes gold in the kilo
Photo ©: Donna Chiarelli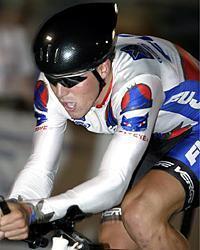 The second night of the 2003 USCF National Track Cycling Championships at the Lehigh Valley Velodrome in Trexlertown, PA played out under a beautiful sky with low humidity and moderate temperature. The fair weather proved to be fast as times in both the men's kilometer and team pursuit were quicker than in 2002.
In the team pursuit final, the Jelly Belly/Carlsbad Clothing team featuring Tyler Farrar, Mariano Friedick, Curtis Gunn, and individual pursuit champion Adham Sbeih proved to be unbeatable after qualifying first this morning. The squad finished four seconds ahead of their qualifying time with a 4:31.889 and a full seven seconds ahead of their final round opponents, T.E.A.M. Fuji, led by the individual pursuit silver medallist, Bobby Lea.
Later in the evening Lea's silver medal streak would come to an end when he struck gold in the men's one-kilometer time trial. Lea surprised even himself when he blistered a time of 1:06.265 ousting 2002 kilometer champion Mike Beers (Gotham Cyclists) along with 2003 Pan-American Silver Medallist Christian Stahl (Cody Racing) and 2000 Olympic Gold Medallist Marty Nothstein (Navigators). Lea said after his emotional win, "My goal is to make the 2004 Olympic Team and every event counts."
The women finished their sprint tournament with a convincing win by Chris Witty (Team T-Mobile). After breezing through her semi-final ride against one of T-town's favorite riders, Becky Conzelman (Frisco Cycling Club), Witty went on to take the sprint win in two rides over defending champion for the past four years, Tanya Lindenmuth (Team T-Mobile).
In her first ride, Witty took Lindenmuth by surprise and sprinted nearly 500 meters to take the win, while in the second ride Witty flew around Lindenmuth going into turn three and won going away coming out of four. In the ride for third place Jennie Reed (Gregg's Cycle/VW) took the win in two rides over Conzelman.
Photos
Images by Donna Chiarelli
Images by Wilson Black
Becky Conzelman
Photo ©: Wilson Black

Men's team pursuit podium
Photo ©: Wilson Black

Bobby Lea winding it up
Photo ©: Wilson Black

Jennie Reed leading out Becky Conzelman.
Photo ©: Wilson Black

Chris Witty overtaking Tanya Lindenmuth
Photo ©: Wilson Black

The women's sprint podium
Photo ©: Wilson Black
Results
Men's kilometer TT

1 Bobby Lea (Team Fuji)                              1.06.265 (54.327km/h)
2 Michael Beers (Gotham Cyclists)                    1.06.726 (53.952km/h)
3 Marty Nothetein (Navigators)                       1.06.915 (53.800km/h)
4 Adam Duvendeck                                     1.06.958 (53.765km/h)
5 Jonas Carney (Prime Alliance)                      1.07.116 (53.638km/h)
6 Christian Stahl                                    1.07.264 (53.520km/h)
7 Tyler Farrar (Jelly Belly-Calsbad Clothing Co.)    1.08.016 (52.929km/h)
8 Erik Bonser (East Coast Velo)                      1.08.086 (52.874km/h)
9 Todd Yezefski (Nerac.com)                          1.08.819 (52.311km/h)
10 Bobby Walthour (Team Walthour)                    1.09.078 (52.115km/h)
11 Andy Sparks                                       1.09.169 (52.046km/h)
12 Eric Degolier (I.S. Corp/Children's Hospital)     1.09.246 (51.989km/h)
13 Charlton Hoag (Liberty Cycle)                     1.11.199 (50.563km/h)
14 Peter Sargent                                     1.11.454 (50.382km/h)
15 Dominic Van Nielen                                1.11.780 (50.153km/h)
16 Stathy Touloumis (Visionquest Coaching)           1.12.014 (49.990km/h)
17 Julian Cushing (East Coast Velo)                  1.12.074 (49.949km/h)
18 Mark Gorman (Tri State Velo)                      1.13.150 (49.214km/h)
19 Devin Flaherty                                    1.13.854 (48.745km/h)
20 Brent Kay (EddieBCycling.com)                     1.15.817 (47.483km/h)
21 George Hebner (Chesapeake Wheelmen)               1.15.918 (47.420km/h)
22 Brian Kennan (Byrne Specialty Gas)                1.16.308 (47.177km/h)
23 Roger Bowersock (Airborne.net)                    1.17.119 (46.681km/h)

Team pursuit
Qualifiers
 
1 Jelly Belly TP                                     4.35.049 (52.354km/h)
  Mariano Friedick (Jelly Belly-Carlsbad Clothing)
  Tyler Farrar (Jelly Belly-Calsbad Clothing Co.)
  Adham Sbeih (Sierra Nevada/Clif Bar)
  Nelson Li (Global Locate)
2 Fuji TP                                            4.39.425 (51.534km/h)
  Bobby Lea (Team Fuji)
  Kyle Wamsley (Team Fuji)
  Tim Reinhart (Saturn Development)
  Colby Pearce (OFOTO-Lombardi Sports)
3 Sportsbook TP                                      4.40.691 (51.302km/h)
  Guillame Nelessen (Sportsbook.com)
  Michael Norton (CRCA-Breitling Tradeware)
  Todd Yezefski (Nerac.com)
  Michael Luther (Colavita-Bola Pro Cycling Team)
4 Cycles de Oro TP                                   4.45.612 (50.418km/h)
  Joseph Dantoni (Cycles de Oro)
  Eric Gerolstein (Ford Cycling)
  BLACK Marcus
  Douglas Beck (Unattached)
5 East Point TP                                      4.47.954 (50.008km/h)
  Christian Blevins (East Point Track Club)
  Steve Hogan (East Point Track Club)
  Tony Scott (Genesis Scuba/FFCC)
  Peter Antonvich (East Point Track Club)
6 Team Rubicon TP                                    5.34.469 (43.053km/h)
  Annette Hanson (Team Rubicon)
  Miranda Moon (Team Rubicon/United Finance)
  Norrene Godfrey (Team Rubicon)
  Cynthia Bye (Kissena Racing Club)
 
Finals
 
Final for 3rd & 4th
 
1 Sportsbook TP                                      4.37.731 (51.849km/h)
  Guillame Nelessen (Sportsbook.com)
  Nathan Rouse (Sprotsbook.com)
  Todd Yezefski (Nerac.com)
  Michael Luther (Colavita-Bola Pro Cycling Team)
2 Cycles de Oro TP                                   4.49.288 (49.777km/h)
  Joseph Dantoni (Cycles de Oro)
  Eric Gerolstein (Ford Cycling)
  Marcus Black (Cycles de Oro)
  Douglas Beck (Unattached)
 
Final
 
1 Jelly Belly TP                                     4.31.889 (52.963km/h)
  Mariano Friedick (Jelly Belly-Carlsbad Clothing)
  Tyler Farrar (Jelly Belly-Calsbad Clothing Co.)
  Adham Sbeih (Sierra Nevada/Clif Bar)
  Nelson Li (Global Locate)
2 Fuji TP                                            4.38.227 (51.756km/h)
  Bobby Lea (Team Fuji)
  Kyle Wamsley (Team Fuji)
  Tim Reinhart (Saturn Development)
  Colby Pearce (OFOTO-Lombardi Sports)
Women's sprint
Quarterfinal Heat 1 - Race #1
 
1 Christine Witty (T-Mobile)                           13.702 (52.547km/h)
2 Martha Dunne (Jelly Belly)
 
Quarterfinal Heat 1 - Race #2
 
1 Christine Witty (T-Mobile)                           13.883 (51.862km/h)
2 Martha Dunne (Jelly Belly)
 
Quarterfinal Heat 2 - Race #1
 
1 Tanya Lindenmuth (T-Mobile)                          14.443 (49.851km/h)
2 Elizabeth Reap (Fuji T.E.A.M.)
 
Quarterfinal Heat 2 - Race #2
 
1 Tanya Lindenmuth (T-Mobile)                          12.412 (58.008km/h)
2 Elizabeth Reap (Fuji T.E.A.M.)
 
Quarterfinal Heat 3 - Race #1
 
1 Jennie Reed (Gregg's Trek/Volkswagen)                12.929 (55.689km/h)
2 Jamie Pettinato (Gotham Cyclists)
 
Quarterfinal Heat 3 - Race #2
 
1 Jennie Reed (Gregg's Trek/Volkswagen)                12.544 (57.398km/h)
2 Jamie Pettinato (Gotham Cyclists)
 
Quarterfinal Heat 4 - Race #1
 
1 Becky Conzelman (Frisco Cycling Club)                19.534 (36.859km/h)
2 Sarah Hammer (T-Mobile)
 
Quarterfinal Heat 4 - Race #2
 
1 Becky Conzelman (Frisco Cycling Club)                16.979 (42.405km/h)
2 Sarah Hammer (T-Mobile)
 
Final for 5-8
 
5 Elizabeth Reap (Fuji T.E.A.M.)                       12.825 (56.140km/h)
6 Jamie Pettinato (Gotham Cyclists)
7 Martha Dunne (Jelly Belly)
8 Sarah Hammer (T-Mobile)
 
Final for 9-12
 
9 Cindy Lakatosh (Tri-State Velo)                      12.940 (55.641km/h)
10 Michelle Cassidy (East Coast Velo)
11 Lori Nock (Alto Velo Webcor)
12 Nelson Li (Global Locate)
 
Semifinal Heat 1 - Race #1
 
1 Christine Witty (T-Mobile)                           12.349 (58.304km/h)
2 Becky Conzelman (Frisco Cycling Club)
 
Semifinal Heat 1 - Race #2
 
1 Christine Witty (T-Mobile)                           12.091 (59.548km/h)
2 Becky Conzelman (Frisco Cycling Club)
 
Semifinal Heat 2 - Race #1
 
1 Tanya Lindenmuth (T-Mobile)                          12.585 (57.211km/h)
2 Jennie Reed (Gregg's Trek/Volkswagen)
 
Semifinal Heat 2 - Race #2
 
1 Tanya Lindenmuth (T-Mobile)                          12.714 (56.630km/h)
2 Jennie Reed (Gregg's Trek/Volkswagen)
 
3rd-4th - Race #1
 
1 Jennie Reed (Gregg's Trek/Volkswagen)                12.608 (57.107km/h)
2 Becky Conzelman (Frisco Cycling Club)
 
3rd-4th - Race #2
 
1 Jennie Reed (Gregg's Trek/Volkswagen)                12.514 (57.536km/h)
2 Becky Conzelman (Frisco Cycling Club)
 
Final - Race #1
 
1 Christine Witty (T-Mobile)                           13.738 (52.409km/h)
2 Tanya Lindenmuth (T-Mobile)
 
Final - Race #2
 
1 Christine Witty (T-Mobile)                           12.233 (58.857km/h)
2 Tanya Lindenmuth (T-Mobile)
 
Final classification
 
1 Christine Witty (T-Mobile)
2 Tanya Lindenmuth (T-Mobile)
3 Jennie Reed (Gregg's Trek/Volkswagen)
4 Becky Conzelman (Frisco Cycling Club)
5 Elizabeth Reap (Fuji T.E.A.M.)
6 Jamie Pettinato (Gotham Cyclists)
7 Martha Dunne (Jelly Belly)
8 Sarah Hammer (T-Mobile)
9 Cindy Lakatosh (Tri-State Velo)
10 Michelle Cassidy (East Coast Velo)