Interbike show -
Las Vegas, Nevada USA, September 25-29, 2006
Main Page Previous Part Next Part
Part 13 - On Show 2006: Interbike, October 4, 2006
By James Huang in Las Vegas, NV
Brooks resurrects B-17 Sprint
Funny, the standard Brooks saddles
Photo ©: James Huang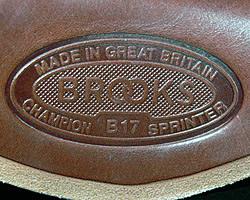 The story goes like this: some Brooks employees found an old saddle mold in a dusty corner of the original (and still active) factory and no one knew exactly what it was for. After digging through some old catalogs, they eventually figured out that they had found the original tooling for the old race-oriented B-17 Sprint model and a "new" saddle was born.
Brooks will offer only 1925 of the so-called B-17 Sprint Limited Edition saddles to commemorate the company's founding in 1925. Each saddle will be individually numbered and will include a certificate of authenticity, a tensioning tool, and leather softener.
In spite of the cache that is associated merely with the rarity of this model, the B-17 Sprint Limited Edition will boast some serious high-performance credibility, and not just because of its narrower shape. Titanium hardware is used all around for reduced weight, including the rails, rear support, tension hardware, and even the nameplate.
In spite of the generous helping of magic metal, the B-17 Sprint Limited Edition is still pretty weighty in comparison to modern stuff, and the heady US$370 retail price will clearly buy a lot of carbon fiber. That being said, though, the Sprint will likely appeal to a different customer for whom the classic styling and custom fit will offer more than enough to offset the extra grams.
Fi'zi:k revamps classic women's saddles, goes all Blin:ky for '07
The new Vitesse saddle features a slightly narrower overall width and flatter top.
Photo ©: James Huang

Fi'zi:k's long-standing Vitesse women's saddle has been redone for the upcoming model with a subtly revised shape that should still appeal to current users who have grown to love the original version. The new Vitesse now features a slightly flatter rear section to reduce soft tissue pressure along with a slightly reduced overall width to provide better maneuverability and reduce chafing. A new Vitesse Tri incorporates some of the features of the popular Arione Tri into the new women's specific shell, with a wider and more heavily padded nose to provide ample cushioning while in an aero tuck. Both of the new Vitesse saddles will also integrate Fi'zi:k's Wing Flex technology.
All of Fi'zi:k's saddles will now also be compatible with the company's exceptionally tidy Blin:k rear LED flasher and clip-on rear seat packs.
Fi'zi:k will also now offer customizable pads for aero bars that use the same material as in its Bar:gel. The new Tri gel:pad will be offered in a variety of shapes and can also be easily cut to fine tune the fit. The new pads will be backed with adhesive and a heavily channeled and relieved upper surface will help provide adequate air flow.
Truvativ does SRM?
Coming soon to a shop near you?
Photo ©: James Huang

Spotted in Trainingpeaks.com's booth this year was a prototype Truvativ Rouleur Carbon crankset that incorporated SRM's power-measuring unit. We couldn't officially confirm the existence of the new crank with the folks at Truvativ, but based on the well-finished look of the supposed one-off, we can't help but wonder if this won't be a standard item in the near future.
As with the standard Rouleur Carbon crankset, the SRM-compatible version utilized the Giga X Pipe external-bearing bottom bracket system, high-modulus carbon fiber arms, and Truvativ's new TNT-coated chainrings. As the Rouleur Carbon uses a separate aluminum chainring spider, we can only hope that the SRM functionality can be retrofitted after the fact as with FSA's new Team Issue crankset.
We have no word on pricing for the Truvativ/SRM crankset, but would expect it to be roughly in line with FSA's version which is to say it'll be way expensive.
Marzocchi returns to its cross country roots
Marzocchi's new Corsa should be its lightest yet
Photo ©: James Huang

Remember those old Marzocchi "XC" air/oil forks that had all those holes cast into the bottom of the lower legs? Those forks don't hold a candle to modern stuff (and those holes didn't exactly do much for chassis rigidity), but they still symbolize Marzocchi's first entries into the mountain bike suspension market back in the early 90s.
Marzocchi acknowledges that heritage for 2007 with its newly revamped line of all-purpose cross-country suspension forks. Thankfully, the holes don't return, but the dependable performance does. Standing atop the range is the new XC 700 SL, a versatile 3.7lbs that offers a maximum of 130mm of travel that is adjustable all the way to 90mm via Marzocchi's handy Air Travel Adjustment (ATA) feature. The new chassis features nickel-plated 32mm butted aluminum stanchions along with a new forged aluminum crown and magnesium lower leg casting. A five-position Terrain Selector Technology dial instantly adjusts compression and rebound damping settings for a variety of conditions.
For the XC-racing set, Marzocchi has launched the all-new Corsa which is said to weigh just 1570g with a full-length steerer tube. The Corsa is limited to just 80mm or 100mm of travel but looks to make few compromises in the name of gram shaving. Chassis rigidity in insured by the 32mm nickel-coated tapered alloy stanchions, beefy forged alloy crown, and cast magnesium lower legs, and there's a full laundry list of tuning options. Marzocchi's Single Function Air chamber offers adjustable air preload as well as independently tunable bottom-out control. The Corsa is also fitted with Marzocchi's five-position TST 5 damper, but a handlebar-mounted remote eases on-the-fly changes.
Photography
For a thumbnail gallery of these images, click here
Images by James Huang/Cyclingnews.com