Interbike show -
Las Vegas, Nevada USA, September 25-29, 2006
Main Page Previous Part Next Part
Part 14 - On Show 2006: Interbike, October 4, 2006
by Laura Weislo in Las Vegas, NV
Carbon goodies for the ladies
The new carbon Giant for women
Photo ©: Laura Weislo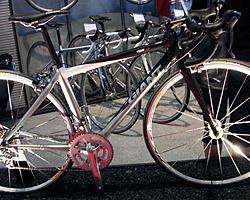 Years ago, I walked into my local bike shop to buy a race bike. I wanted a real race bike: one with high-end components and an aggressive geometry, but also one that would fit. But at my petite size, the smallest bikes either had top tubes that were too long, or a steep seat tube angle and short wheelbase that made the bike twitchy to ride. And everything came with bars that were too wide, cranks that were too long, and saddles that were impossible to ride.
I was lucky enough to have a mechanic who could piece together a bike from an acceptable frameset and some special-ordered women's specific parts, but what about the ladies who don't have this luxury? They used to have to settle for the heavy bikes with low-end components that made up the "women's-specific" offerings. But ladies, you need not suffer any longer! Several bike manufacturers at Interbike were showing beautiful new carbon bikes designed just for the racer-gals!
Giant advised by world champion
Mari Holden, winner of the 2000 UCI World Championship time trial, and silver medalist in the Olympics, is part of Giant's "Ride Society", an advisory council that gives feedback to Giant's bike designers to help refine their women's-specific line. The panel also participates in Giant's online community forum, "Giant for Women", that offers advice to women on riding and bike maintenance. The influence of Holden and pro mountain bike racer Tara Llanes is evident in the new TCR composite w - a true carbon racer for even the tiniest of women. The TCR-W comes in sizes from 2XS with 650mm wheels, and S-XL with 700mm wheels.
The frame's compact geometry provides a shorter standover height, and seat and head tube angles that predict an aggressive but not too twitchy ride in all sizes. The frame isn't just a small version of the unisex frame, but is made especially for lighter riders, and tuned to remain supple at small frame sizes while retaining lateral stiffness. The TCR composite is built up with Shimano short reach STI levers, anatomic bars, and the WTB Deva Team saddle, making the contact points ergonomic for women, but the Ultegra/105 mix is not the top of the line, giving the Giant TCR room to improve.
Scott and the Contessas
Scott's Contessa Plasma
Photo ©: Laura Weislo

Another company being advised by real racing women is Scott. Its line of bikes for women, the Contessa Race collection, has received direction from a host of professional racers, including Kelli Emmett and Cyclingnews diarist Niki Gudex. Gudex designed the paint scheme for the line: a classy black gloss with white and hot pink accents. The most attractive display of Scott's Interbike show was the Contessa Plasma time trial/triathlon bike, which was set in its own well-lit display case.
The Plasma is a new addition for 2007. Scott USA's Adrian Montgomery said they've expanded because of the success of the line, "Last year we had the carbon CR1 built up with Shimano 105, and sold them all in the first month!". The Plasma is built up with full Ultegra components, the new Fi'zi:k Vitesse saddle, and the Profile T2 wing base bar with Cobra extensions in a short reach, making it ready to ride from the showroom floor.
Specialized tops the high end women's market
The Ruby carbon bar
Photo ©: Laura Weislo

Tops in the "bling-bling" department for women was the Specialized display. Not only does Specialized offer a women's version of their top of the line S-works carbon frame, but the S-works 'Ruby' is spec'd out with full Dura-Ace components, Specialized's proprietary integrated crankset (in sizes down to 165 mm), the Jett women's saddle, and Specialized's Ruby carbon bars, which are available in "women's sizes" as small as 38 cm center to center, with a short reach and somewhat shallow drop.
Also in carbon under the Specialized tent was the new Pro Women's road shoe - a shoe as high-end as the most tricked out men's shoe, but in sizes down to 36. Women with tiny feet can now experience the stiffness and increased power transfer of a carbon sole, with a women's specific last. The women's fit features a narrower heel and slightly smaller toe-box, as well as the same M-lock Pro buckle, F.A.C.T. full carbon sole, and Micromatrix upper of the men's shoe.
Orbea and the Diva
Orbea's Diva
Photo ©: Laura Weislo

Another carbon frame just for women comes from Orbea. The ladies get a frame similar to the 'Orca' which features Orbea's new Size Specific Nerve frame design. The composite frame has a unique shape that is purported to allow the same suppleness in the ride of small frames while keeping stiffness in the larger sizes.
The Diva is not simply a smaller version of the Orca in purple and blue, but has its own well balanced geometry. The Diva comes in a 49 cm and 53 cm version, and can be built to order with any range of components. The display models were built with Ultegra or SRAM Rival along with narrow bars, FSA carbon cranks and the Terry Butterfly saddle.
Photography
For a thumbnail gallery of these images, click here
Images by Laura Weislo/Cyclingnews.com