Interbike show -
Las Vegas, Nevada USA, September 25-29, 2006
Main Page Previous Part Next Part
Part 12 - Treading the boards with Cervelo, Corima, DMT & CapoForma.
By Mark Zalewski in Las Vegas, NV
Cervelo keeps on developing
Cervelo's mastermind
Photo ©: Mark Zalewski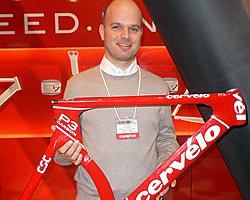 Cyclingnews stopped by the Cervelo booth for a chat with Gerard Vroomen and his latest gifts to light and fast racing machines. He first showed us the P3 track pursuit frame that is simply a track-specific version of the popular time trial frames. Therefore, the frame should do pretty well since riders like Fabian Cancellara and Dave Zabriskie just took first and third in the world respectively on it.
As for the road-specific machines, Cervelo has the R series and Soloist series. The R series is Cervelo's answer for racers that prefer light and stiff in lieu of the aerodynamics that the foundation Soloist series specialises in. The R3 is the bike designed for CSC's spring classics efforts, like Paris-Roubaix. The multishape tubes lead into an oversized bottom bracket for increases stiffness. And the super-small (efficient) rear stays save on a lot of weight.
The SLC-SL,
Photo ©: Mark Zalewski

Vroomen said that the design goals focused on strength first, and that the lightness was more of an after thought -- though a nice one. The R3 SL is the latest in the series where Vroomen said the eight engineers took the standard of strength but found ways to save more weight.
For those that love Cervelo because of their commitment to aerodynamics, but are jealous of the strength and lightness of the R series, Cervelo responds with the SLC-SL. "I still think that a bike can be aerodynamic and still light and stiff," said Vroomen. The SLC-SL has the trademark aero downtube but again uses efficiency in the lay-up process to achieve a light overall frame.
Corima goes cross
As is said, the proof is in the pudding
Photo ©: Mark Zalewski

While known for their light and fast carbon wheels in the disciplines of road and track, French wheel maker Corima has applied their knowledge to the cyclocross wheel. Weighing in at just 590 grams, this tubular cross wheel will certainly be one of the lightest on offer.
DMT, CapoForma
DMT's top-of-the-line shoe,
Photo ©: Mark Zalewski

Upland Sports Group, importer of DMT shoes and CapoForma clothing, showed us new products from each. First, the DMT Mag Force is the latest road shoe from the Italian manufacturer.
The Mag comes from the magnesium sole, which is a cycling shoe first. It offers a stiff foundation at a light overall weight -- lighter and stronger than carbon, according to DMT. A size 41 is reported to weigh in at just 262 grams.
CapoForma has three levels of custom kits available for every team budget in 2007. The construction and materials are quite unique with reverse stitching a highlight of the bib shorts. But inside is an entirely new chamois with multiple layers for comfort.
Photography
For a thumbnail gallery of these images, click here
Images by Mark Zalewski/Cyclingnews.com