Interbike show -
Las Vegas, Nevada USA, September 25-29, 2006
Main Page Previous Part Next Part
Part 11 - Ellsworth goes big, launches Project Pink
By James Huang in Las Vegas, NV
Ellsworth's new Project Pink
Photo ©: James Huang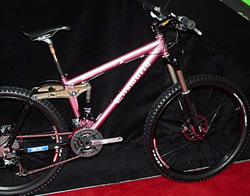 We told you a little while ago about Ellsworth's new Evolve 29er full-suspension bike and Interbike's On Dirt Demo provided a perfect opportunity to test it out for real. Tony Ellsworth described his new baby as a "29 inch Truth" in terms of ride and handling, and a few hot laps on Bootleg Canyon's designated trails largely supported that claim.
Pedaling and bump response was certainly Truth-like, and handling was quick and nimble without being nervous. It seems that 29er geometry is beginning to settle down a bit as the Evolve utilized an increasingly popular 72.5° head tube angle to emulate the trail figures of most 26" bikes. The overall impression of the feel, though, was that the Evolve just handled like a good full-suspension bike, big-wheeled or not. Add in the benefits of the giant 29" hoops and it looks like Ellsworth will have another winner here.
Inside at the expo, Ellsworth also launched a new campaign just in time for National Breast Cancer Awareness Month here in the US. Through the new Project Pink program, any of Ellsworth's mountain bike frames (save for possibly the Scandium-tubed Enlightenment) will be offered in a custom pink anodized finish at no extra charge, complete with a laser-etched ribbon graphic on the top tube. Cancer survivors will also have the no-cost option of having "Survivor" etched on the top tube. Ellsworth will donate a rather generous US$50 for each of the special-edition frames sold to nationally recognized breast and ovarian cancer research foundations.
Rocky Mountain Bicycles lightens up
RMB new Element Team
Photo ©: James Huang

Rocky Mountain Bicycles has produced a completely new Element frame for 2007, along with a lighter and more XC-friendly version of last year's successful Slayer platform. The new Element shares not a single bit with the '06 iteration and boasts a new RMB-designed and Easton-made aluminum tubeset, a substantially beefier chainstay assembly, all-new carbon fiber seatstays, and larger diameter pivots all around.
Touted benefits of the changes include a stiffer and snappier chassis, more precise handling, and better suspension response. Frame weight is claimed to be as low as 5.25lbs for the Scandium-tubed version (3" rear travel); the standard 4" travel Element is barely heavier at just 5.5lbs.
The 6" Slayer now splits in two. The previous version continues on and will wear a more freeride/all-mountain spec while a new Slayer SXC chassis plays more to the long-travel XC crowd. RMB frame designers knocked off a full pound using an asymmetric chainstay assembly, carbon fiber upper stays, and a revised front triangle and linkage. Rear wheel travel remains a generous 6", but the leverage ratio of the linkage has been retuned to provide for better pedaling response.
Foes launches new Curnutt air shock on new XCT 4" bike
At long last, Foes now offers an air-sprung version
Photo ©: James Huang

Long-travel regular Foes Racing introduced a new shorter-travel bike at this year's Outdoor Demo. The new XCT uses a decidedly conventional (for Foes) tubed frame construction utilizing the company's now trademark single-pivot rear suspension. The XCT will be offered in a 5" travel version using the proven Curnutt coil-sprung shock, as well as a 4" version using a brand-new air-sprung Curnutt damper.
The XCT platform will continue Foes' recent trend towards an industry-low 2:1 suspension leverage ratio. Company founder and designer Brent Foes claims the lower leverage ratios not only reduce pedal bob and enhance pedaling efficiency, but also reduces stress on frame members. Additionally, the setup allows for lighter coil spring rates and air pressures (the new Curnutt air shock has a maximum pressure rating of just 75psi), and the long shock strokes move a greater volume of oil for more tuning sensitivity.
Photography
For a thumbnail gallery of these images, click here
Images by James Huang/Cyclingnews.com