Photo ©: Tim Maloney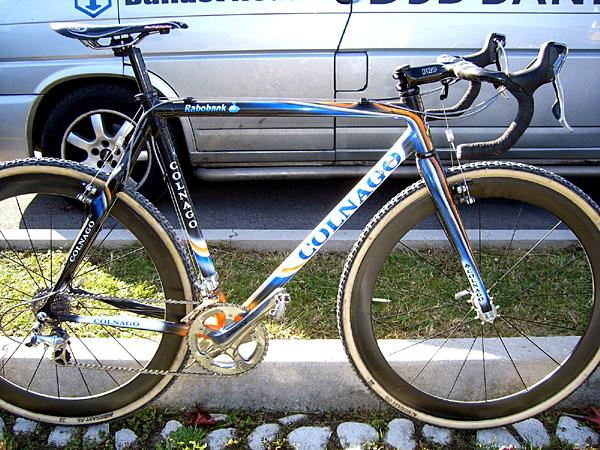 Serious cyclo-cross
By Tim Maloney
Beefy rear triangle of Colnago C50 cross
Photo ©: Tim Maloney

Integrated carbon fibre bar & stem
Photo ©: Tim Maloney

Gronendaal checks out the latest shades
Photo ©: Tim Maloney

Close-up of Spooky prototype cantilever brakes.
Photo ©: Tim Maloney

At 35, Richard Marinus Anthonius Groenendaal is one of the most experienced professional cyclo-cross riders around. Always a mainstay of the Rabobank team, Groenendaal has a World Championship ('99-'00) three World Cup titles ('97-'98, '00-'01, '03-'04) and two Superprestige overall titles in his palmares during a career spanning twelve years. In his home country of the Netherlands, Groenendaal has won an impressive total of 14 national cyclo-cross championships.
Known as a perfectionist in his training and with his equipment, Groenendaal burst on the worldwide 'cross scene over fifteen years ago when he took the Junior World Championship in 1989. The solid Dutch rider from Den Bosch has ridden for Rabobank for almost his entire career - which means that his team bicycle has been Colnago, who has sponsored Rabobank for over a decade.
Although Groenendaal was tied up with his Rudy Project sponsor representative checking out new shades from the Treviso based eyewear firm, his mechanic, cyclocross legend and owner of Dugast tires let Cyclingnews take a close look at Groenendaal's Team Rabobank Colnago C50 Cross. It's different from a road C50, with beefier, larger section tubes in Colnago's patented star shape and a heavy-duty rear triangle and fork with cantilever brake bosses - essential for cyclocross. The rear wishbone and chain/seatstays of Groenendaal's C50 Cross are purpose built for the cyclocross model, as is the fork.
Team component sponsor PRO, designed and marketed by Shimano, provides a sweet pair of integrated carbon fibre handlebars and headset. Although he isn't a tall man, Groenendaal uses 175mm cranks for extra power when he needs it in the mud and on those steep inclines.
Photos
For a thumbnail gallery of these images, click here
Images by Tim Maloney/Cyclingnews.com