Hot fusion
By Anthony Tan
Ryan Cox's Barloworld Cannondale Six13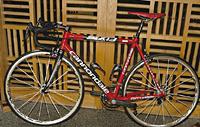 The change in management at Team Barloworld in 2006 not only brought about a new team manager in Claudio Corti, but also a change in bike from De Rosa to Cannondale. For those of you who don't know, Corti used to be the team manager of Lampre-Cafitta and before that Saeco, which first saw the American mark on a first division team in Europe, and it's quite obvious his continued good relations with Cannondale has seen their bikes back in the fold with Barloworld.
We took a close look at Ryan Cox's De Rosa King X-Light around this time last year, which he used to great effect at the Tour de Langkawi, claiming the overall classification ahead of Venezuelan revelation Jose Rujano and team-mate Tiaan Kannemeyer, with his squad also taking out the teams classification. So it was only apt that Cyclingnews sneaked a peek at the defending champ's machine when we came back for the '06 race.
Although Barloworld didn't send a team to Malaysia, the South Africans have long been supporters of the Tour de Langkawi, keen to use their form honed over the European winter in a racing environment. Consequently, a national team of sorts was composed by national selector Tony Harding and spearheaded by Cox and David George, who would go on to win the race.
Mavic's Ksyrium SLs
FSA's very modern-looking, macho stem.

Both the top and down tubes

A closer look at the aluminium Hollowgram Si cranks

The 2006 Six13 takes a leaf out of the Cannondale CAAD8 book

The Fi'zi:k Arione has a very flat profile

Before the race began, Cox told Cyclingnews he'd only done half as many miles in training compared to last year - though it wasn't because of the bike: "I am really getting into my new Six13 and am feeling quite comfortable on it in the past few weeks," he said. "I must say being a climber I do prefer a down sloping bike, but that is my personal preference. The thing is from the De Rosa to the Cannondale is like changing form a BMW to a Mercedes - not really much of a change, as they are both such good bikes to ride."
Rather, the 26 year-old said after winning the event last year, he was aiming to peak later in the season, with his focus directed towards earning a spot on the team at the 2006 Giro d'Italia - that's if his team is selected.
Arriving at the bike tent a day before the race kicked off in KL, we found South African national team mechanic Melvin 'Melly' Claasen busily working on Cox's Six13, who, by default, also works as the Barloworld mechanic when the team's in South Africa.
"Fifteen years on the road. That's a long road!" Melly laughs when I ask him how long he's been in the business.
Last year saw some notable - but maybe not so noticeable - changes to the original Six13: a single-butted aluminium alloy seat tube instead of carbon, but sticking with carbon top and down tubes (along with a hint of boron thrown in the latter, the material claimed to be stiffer under compression); CAAD8 style drop-outs, saving 30 grams; and semi-compact geometry (2cm of top tube slope for sizes 55cm-63cm, and 3cm for sizes 48cm-54cm), designed to save weight and increase stand-over height. The result: a claimed frame weight of 1,190 grams, and when weighed, a total bike weight of 7.51 kilos.
"The specs on this and the De Rosa are quite different. He feels very comfortable on this bike," says Claasen, reiterating Cox's earlier statement. "He says it feels much lighter and more responsive."
Affirms Cox: "The Cannondale is much smoother with it's laidback angles, so it gives a very smooth and soft ride, where the De Rosa is quite steep and harder on the road."
This is interesting. Looking at the specs on their respective Web sites, the De Rosa King X-Light states a seat tube angle of 73 degrees for a 56cm frame (going off the effective top tube measurement), while the Cannondale Six13 lists a 73.5 degreee seat tube angle for the equivalent size frame. Whether the difference then lies in the head tube angle is hard to know, as De Rosa does not list that spec (for the Six13, it's 73 degrees), and there's only a millimetre of difference when comparing chainstay length and bottom bracket height - but front-centre distance (measured from the centre of the bottom bracket to the centre of the front wheel axle) is almost a centimetre shorter on the De Rosa (58.7cm vs. 59.5cm), which could explain Cox's feeling of a cushier ride on his Six13.
Melly adds Cox hasn't made any changes to his critical measurements (although there were differences of a few millimetres when we measured it), with the familiarity of Campagnolo's Record group also there. However, instead of the Campy/Michelin wheel and tyre combo, this year the team will be riding on Mavic wheels complemented by Hutchison hoops. Although it's too early to say how well the rubber rolls, Langkawi being the first race the team are using Hutchisons, the former Ryan is still in two minds about.
"The Mavic wheels are very nice for the flat roads but once again as I'm a climber, I felt the Campag Boras where better on the climbs and very light and stiff," he said.
If anybody thought Cox was being picky, Claasen dispels the notion with his last statement: "These guys are professionals - they don't care what they ride. So long as everything works," he remarks on the typical pro rider's indifference towards their equipment.
Photos
For a thumbnail gallery of these images, click here
Images by Shane Goss/www.licoricegallery.com