Recently on Cyclingnews.com
Project Bike: Cervélo SLC-SL road racer, December 10, 2007
Light meets aero
By James Huang
The first of what we hope to be many Project Bikes, Cervélo SLC-SL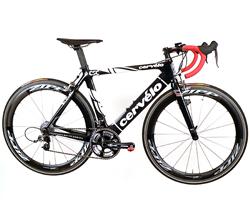 Welcome to the first installment of a new tech category on Cyclingnews, simply called 'Project Bike'. The goal is simple: we choose a particular category of machine (be it time trial, XC Marathon, etc.), select an appropriate frame, and then build it up as we see fit in order to achieve that goal as best as possible. Sometimes there will be a price limit (although more often not) or other restrictions put in place, but for this debut… well, let's just say price wasn't much of an issue.
We decided to start out with an all-around road machine for Project Bike #1, one that was just as capable going up the mountain as it was coming back down. It also had to have versatile handling (sorry, no dedicated crit bikes here), real world durability, and everything had to be reasonably proven and commercially available to the 'average' consumer (no foo-foo bits here).
The choice of frameset was an easy one for us to make. When we spoke to Stuart O'Grady at Interbike earlier this year, the Team CSC rider called his Cervélo SLC-SL "the best bike overall" for its enticing combination of light weight and slippery aerodynamics, and Cyclingnews readers have voted it 'Best Team Bike' two years in a row. With props like that, who are we to argue?
The foundation
The SLC-SL nails the light-and-aero theme

The SLC-SL is an evolution of Cervélo's original Soloist Carbon: it shares the same low speed-optimized aero tubes but shaves off about 200g, yielding a final figure of 980g for our 54cm tester. In spite of the weight loss, Cervélo claims that the lighter SLC-SL is still 5-10% stiffer than the Soloist Carbon in torsional and lateral rigidity. As on some of its aluminum frames, Cervélo employs a 'Smartwall' concept that places more material in specific locations of each tube rather than throughout the entire circumference to preferentially increase rigidity without adversely affecting ride quality or adding unnecessary mass.
Wheels are easily the most critical piece of equipment on a bike after the frame, and we stayed with the Team CSC theme with Zipp's premium all-rounder, the Zedtech Zed4. Our particular Zed4 set shares the same versatile 58mm-deep dimpled carbon fiber tubular rims as on the standard Zipp 404 (Zipp also offers stiffer or lighter options for the Zed4 for those so inclined), but the Zedtech treatment also adds dimpled alloy hub shells, black anodized alloy nipples (a small detail, we admit), and a full ceramic bearing package (because as journalists, we need all the help we can get). In keeping with our light-but-aero theme, we wrapped the Zed4 rims with Zipp's own Tangente tubulars (made by Vittoria), whose dimpled tread supposedly saves up to 3 watts.
Build me up
The SRAM Force rear derailleur

Most of the build kit consisted of SRAM's Force group, which has quickly become one of our favorites for its highly tactile and accurate shifts, powerful brakes, and clever DoubleTap levers. We did, however, fit a set of carbon-specific SwissStop Yellow King pads in the calipers and substitute the SRAM crankset for FSA's new top dog, the K-Force Light. As compared to the comparable SRAM version, the K-Force Light is over 100g lighter and also comes with FSA's excellent hybrid ceramic bearing-equipped MegaExo bottom bracket. We'd already found out for ourselves last year that this bottom bracket delivers real world returns, so we completed our hybrid ceramic bearing package with a pair of SRAM BlackBox rear derailleur pulleys.
We then tapped into FSA for the OS-115 aluminum stem and K-Force carbon handlebar (with FSA's revised deep drop geometry). Contact points were handled by fi'zi:k's Arione saddle and matching Microtex handlebar tape, and we adhered to the Team CSC theme again for the Speedplay Zero Stainless pedals. Finally, we finished things off with the miniscule Cateye Strada Wireless computer and a pair of outrageously decadent Elite Custom Carbon bottle cages.
When we originally set out on this project build, we had hoped to keep things within the UCI-mandated minimum weight limit of 6.8kg (15.0lb). As the build neared completion, though, it became clear that that just wasn't going to happen. Rather than go with heavier parts, we just said 'to hell with it' (actually, it was something a little more colorful) and kept it light; final weight with pedals and all was a wispy 6.6kg (14.5lb), and needless to say, we didn't exactly lose sleep over it. Take that, UCI!
Final estimated cost on our project is about US$10,500. Ouch. We did say from the outset that price wasn't going to be an issue, but damn, that smarts. If you can justify that figure to your better half, you're not only more persuasive than we are, but also our hero. Please be sure to let us know when you hold your next seminar and save us a few seats. We have a big staff.
On the road again… just can't wait to get on the road again… (sing it, Willie!)
FSA's new top-of-the-line K-Force Light crankset

The term 'looks fast standing still' is an admittedly overused cliché, but in this case it simply fits too well not to use it. The blocky graphics, deep tube and rim profiles, and overall purposeful appearance of our red-accented black-and-white project bike certainly look the part of a speedy junkie.
Looks obviously aren't everything, though, and thankfully our first project build has bite to match its bark. Our SLC-SL is impressively svelte, yet also proved to be surprisingly solid. Cervélo's engineers have done good work here, as the SLC-SL frame provides a rigid foundation for our build in spite of the incredibly narrow tube profiles. There is no noticeable bottom bracket sway when you put the power down, and minimal twist up front when cranking out of the saddle. Moreover, the frame tube 'squeeze test' is also sufficiently reassuring should you feel that you just have to overshoot that corner, and at no point during our test period did we feel the bike was overly fragile in any way. So far, so good.
That light-plus-stiff formula yields predictable results in the real world and our SLC-SL project pretty much feels exactly like what you would expect from a 6.6kg bike with 1214g wheels. With all other things being equal, lighter bikes and wheels accelerate better, climb faster, change direction more readily, and stop quicker; there's little arguing with physics. The bike responds smartly when asks to get up and go from a standstill, there's noticeably less mass to lug uphill, and handling is sharp and responsive with quick turn-in and nimble reflexes. Even better.
FSA provides its OS-115 stem

In addition to being light and stiff, though, Cervélo and Zipp also both make rather ambitious aerodynamic claims about our SLC-SL frame, Zed4 wheelset, and Tangente rubber. We can't verify or refute them objectively (and also can't help but wonder what happens the frame's wind tunnel figures when you mount bottles), but there is no denying the fact that our first project bike feels extraordinarily fast on the road. There are few, if any, bikes we've tested in recent memory that can match our SLC-SL project's ability to maintain a healthy pace. Once up to speed, it gives virtually no indication that it wants to slow down and closing down gaps feels startling routine. Yahtzee!
Some of the credit might also go to our ceramic bearing package (because it certainly doesn't go to our fitness). Yes, there has been an awful lot of hype surrounding these little balls of silicon nitride, but we'll be damned if we can't feel the difference ourselves. The drivetrain has an uncannily smooth and effortless quality about it (markedly better than any standard drivetrain we've experienced) and the bike glides along the road in a manner reminiscent of the days when Campagnolo ran its components without proper seals.
The extra length on the fi'zi:k Arione

Yet these things are sealed and are largely impervious to corrosion so they don't require frequent service as a result. If you're a luddite that still misses the days of having to repack your bottom bracket every time your bike goes for a swim, that's fine with us; you can have your zen-like basement bike shop experience but we'd prefer to go for a ride instead.
The rest of our componentry functioned exactly as it should, which is particularly good since we hand-picked them all ourselves. SRAM's Force group continues to provide us with accurate, precise, and trouble-free shifting bike after bike, and the brake calipers are more than up to the task of panic stops or scrubbing off speed while careening down Rocky Mountain descents. We did, however, end up quite happy with our decision to substitute the Force crankset for the new FSA K-Force Light. It didn't give up any noticeable rigidity in exchange for its 100g-plus weight loss and shifted just as well.
Ok, so far we've got 'light', 'stiff', and 'aero', all of which provides a compelling (and fast!) argument for an ultimate road racer. So what didn't we like?
Zipp's Zedtech Zed4 wheelset

As it turns out, all of that performance does come with some sacrifices. The deep-section frame may do wonders for speed (especially as the numbers climb), but has much the opposite effect for ride comfort. Cervélo has worked hard to engineer some cushiness into the design but there's only so much flex you can build into a down tube that is nearly 8cm deep or a seat tube that is roughly half that. Moreover, the bike delivers excellent road feel but is also somewhat lacking in ride quality with a slightly wooden feel that isn't quite as lively as we'd ideally prefer. Swapping the wheelset improved comfort slightly, but bigger impacts still packed a serious kick.
The deep sections on the frame and rims also made for white knuckle stability in strong crosswinds. There's an awful lot of surface area presented to the wind, and the same lack of weight that makes the bike so flickable and nimble also makes it easier to blow around and redirect.
While we're nitpicking, we should also mention that Zipp doesn't equip its Tangente tubulars with any sort of puncture resistant material. Our rear tire proved to be no match for a bit of glass that other models reinforced with Kevlar or Vectran would have shrugged off (thankfully we had a spare). In addition, our snazzy-looking fi'zi:k handlebar tape matched our comfortable Arione saddle perfectly, but the slick texture is a bit too slippery for our liking.
How fast do you want to go?
The K-Force bars also feature

All in all, we'd have to declare our Cervélo SLC-SL road racer project a resounding success. The finished project is light (although too light if you ask Monsieur UCI), stiff, and aero, all while retaining reasonable durability. It also doesn't hurt that it looks good enough to eat (mmm, carbon fiber).
Our Cervélo SLC-SL project bike might not be the best choice for a multi-day event or casual century on rough roads, but to be fair, that wasn't the point. We'll concede that criticism, and maybe we'll tackle that issue in a future edition (did I hear someone say 'Paris-Roubaix'?). However, we're also pretty confident that you'd probably get to the cookies, bananas, orange slices, and Gatorade in the finishing tent aboard one of these earlier than most of your mates. While there are undoubtedly other, equally effective ways of getting the job done, this thing is brutally fast, and in a road race, that's just about all that matters.
Price: US$10,500 (estimated)
Weight: 6.6kg (14.5lb) as tested, with pedals
Pros: Fantastically light, fast, excellent frame rigidity, fast, aero tubes and wheels, fast, real world durability. Did we mention it's fast, too?
Cons: Fantastically expensive, somewhat fragile tires, ride may be too stiff for some
Cyclingnews rating:


More info: www.cervelo.com
Photography
For a thumbnail gallery of these images, click here
Images by James Huang/Cyclingnews.com
Frame: Cervélo SLC-SL
Available sizes: 48, 51, 54 (tested), 56, 58, 61cm
Fork: Cervélo Wolf SL
Headset: FSA Orbit IS
Stem: FSA OS-115
Handlebars: FSA K-Force
Tape/grips: fi'zi:k bar:tape
Front brake: SRAM Force with SwissStop Yellow King Flash pads
Rear brake: SRAM Force with SwissStop Yellow King Flash pads
Brake levers: SRAM Force DoubleTap
Front derailleur: SRAM Force
Rear derailleur: SRAM Force with SRAM BlackBox ceramic bearing pulleys
Shift levers: SRAM Force DoubleTap


Cassette: SRAM OG-1070, 11-26T
Chain: SRAM PC-1090R
Crankset: FSA K-Force Light, 34/50T
Bottom bracket: FSA Ceramic MegaExo
Pedals: Speedplay Zero Stainless
Wheelset: Zipp Zedtech Zed4 tubular with ceramic bearing upgrade
Front tire: Zipp Tangente tubular (first generation)
Rear tire: Zipp Tangente tubular (first generation)
Saddle: fi'zi:k Arione
Seat post: Cervélo carbon
Other: Cateye Strada Wireless computer, Elite Custom Carbon cages