Recently on Cyclingnews.com
On Test: SRAM Force, December 21, 2006
And SRAM makes three
Inside the DoubleTap shifter
Video ©: James Huang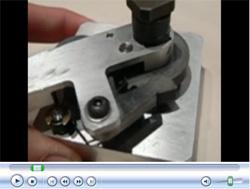 SRAM's new DoubleTap shifter internals are remarkably elegant from a design standpoint, comprising fewer than 30 parts in total. In essence, the system uses two pawls on a spring-loaded ratchet wheel. Lightly depressing the shift lever engages the first of two pawls, which allows the spool to unwind by one tooth and provides a single upshift. However, if the lever is depressed further, a second pawl wedges in beneath the first one and pushes it out of the way before the spool is released, and allows the spool to be wound up up to three teeth at a time for downshifts. This mechanism was named LeapFrog by SRAM early on, and aptly so based on the over/under movement of the pawls.
SRAM's DoubleTap shifter internals are remarkably elegant in design
Photo ©: James Huang

Interestingly enough, the single lever DoubleTap shifter was not the initial concept that SRAM had intended to bring to market. According to Kevin Wesling, whose Advanced Development group was initially tasked with developing the road shifter, SRAM was originally going to introduce a more conventional two-lever setup that was somewhat of a combination of existing Shimano and Campy designs. That configuration apparently wasn't anything groundbreaking, but was deemed adequate to get the company into the road market. "We'll win on personality," was the company's thinking at the time, said Wesling.
However, the self-admittedly "underwhelming" design simply wasn't in keeping with the "home run or strikeout" style of Wesling's design group. The story goes that he and one of his engineers, Brian Jordan, were discussing the situation at a local bar (after hours, of course), and Jordan had an epiphany: "What if we used one lever to do both shifts?"
The shifter is also surprisingly easy to disassemble,
Photo ©: James Huang

Jordan had drawn up the cliché napkin sketch at the bar that day, but there were still many mechanical details to be worked out. The idea immediately took hold within the Advanced Development group, but internally as a company, progress on the first design was well underway so nurturing of the single-lever concept was somewhat necessarily low-key until a functional proof-of-concept could be assembled.
According to Wesling, "The minute it was on a bike, there were people lined up to ride it [on our indoor test track]. The next day I got a call for the first scheduled meeting of the global road group, and it was like, 'We're doing it'. It happened that fast. At that point, we knew we had something really good here."
SRAM officially introduced its new road groups just before last spring's Sea Otter Classic where we gave you some first impressions and details on each component. Cyclingnews Tech Editor James Huang has now put in several months of quality time on SRAM's premier Force components, and it's time to see if the company's first complete road debut has delivered on its initial promise.
SRAM's new Force road group is an impressive debut
Photo ©: James Huang

SRAM took a big gamble when it announced that it would enter the fiercely competitive road componentry market three years ago. After all, the company was already highly successful with its off-road components at the time, and Shimano and Campagnolo already had very competent, well-established, and polished packages on the road. Regardless, SRAM put forth an unprecedented company-wide and global effort to make it happen, and brought not one, but two brand-new complete groups to the table this spring, dubbed Force and Rival.
Both groups are centered about two key bits of new technology. DoubleTap is SRAM's new shifting method where a single lever is used to initiate gear changes in either direction (see sidebar). In a complete departure from existing systems, a short throw of the lever knocks off a single upshift at a time; pushing the lever further moves the chain in the opposite direction up to three gears per swing.
The Force rear derailleur uses a carbon fiber out cage plate
Photo ©: James Huang

Exact Actuation refers to SRAM's proprietary cable pull ratio on the new road rear derailleurs. As with SRAM's 1:1 concept on its mountain bike components, Exact Actuation requires more cable movement per shift than either Shimano or Campy, thus making the system more resistant to maladjustments or contaminated housing. More importantly, though, precisely 3mm of cable movement is required for each shift across the entire cassette range, as opposed to the variable numbers of its competition. While this may seem trivial, it renders completely harmless any variations in derailleur hanger thickness, which is normally specified by component manufacturers within a rather narrowly prescribed range. Given today's unforgivingly narrow 10spd cassette spacing, SRAM claims its Exact Actuation delivers more consistent shifts over the full cassette spread.
SRAM pits its top-level Force group head-to-head against the best that Japan and Italy have to offer. We won't go into too much detail on the specifics of the individual components since we did that already back in March, but SRAM's use of advanced materials such as carbon fiber, magnesium, and forged aluminum help bring the actual weight of our complete Force test group down to a competitive 2114g (when equipped with a compact crankset), about 60g lighter than Dura-Ace and roughly comparable to Campy's newest Record offering. Price-wise, SRAM again makes no illusions as to where it intends its new Force group to sit on the totem pole with a suggested retail of US$1650.
DoubleTapping away
The Force DoubleTap shifters continue the advanced materials theme,
Photo ©: James Huang

The new Force DoubleTap shifter/brake levers are arguably the heart of the new group, not just from a technological standpoint but also because they are the rider's control center of the bicycle. SRAM's engineers did its industrial designers a favor by making the shift mechanism relatively tiny, which not only made the levers about 130g lighter than Dura-Ace, but also allowed for more creative flexibility in shaping the left/right hand-specific levers. SRAM went all-out in terms of ergonomics, with bodies that cant slightly inwards for a more natural wrist angle and brake levers that splay out slightly outwards for easier reach. While their appearance is distinctly unconventional, their fit was anything but as they felt immediately comfortable and remained that way even after several hours.
The DoubleTap shifter internals are surprisingly simple
Photo ©: James Huang

Still, though, the brake levers felt a bit short as compared to the competition, particularly when in the drops. While the length of the carbon fiber lever blades themselves are a near-match to Shimano's rather rangy Dura-Ace levers when measured from pivot axis to lever tip, they fall about 10mm short when measured from the top of the hoods where the base of your palms would lie. This didn't present an issue for the most part, but it does require a bit more care when positioning the levers on bars with more drop.
SRAM also applied some ergonomic thought to the magnesium shift paddles. Instead of arcing orthogonally to the lever bodies, they are offset by about 15° back towards the rider. SRAM claims this geometry better matches your finger's natural movement, and after riding on them long-term, I'll have to agree with them. Overall, the shift paddles return very good tactile and audible feedback that Campyphiles will (probably begrudgingly) find appealing, but their somewhat tinny resonance just doesn't quite sound as good as the company's X.0 mountain bike triggers, likely due to the road shifter's composite, rather than aluminum shell.
"shift_SRAM"
Tucking the shift lever up against the bar while in the drops
Photo ©: James Huang

As expected, there is definitely a learning curve associated with SRAM's novel shifting method, but it's not as daunting as was originally feared. Only a handful of hours are necessary to squelch the inevitable missed shift under casual conditions, but racers will likely want to put in a solid week or two to get their brains thoroughly rewired. The touted "sprint" position definitely works as advertised, and allows for upshifts under full power when hammering in the drops. Casual riders likely won't care much about this feature, but it could prove to be a decisive advantage for racers who frequently find themselves towards the front of the pack as the finish line looms.
SRAM's new Exact Actuation geometry makes for more consistent shifting
Photo ©: James Huang

Both derailleurs utilize stout designs with wide-set pivots, and the rear is graced with a carbon fiber outer cage plate and magnesium inner parallelogram link. Shift performance was simply outstanding both front and rear and the system dutifully rattles off both single and multiple gear changes with robotic precision. SRAM has come a long way with its chainrings, and its new PowerGlide tooth profiling offers up smooth shifts and quiet operation in both compact and standard guise (we tried both). Rear shifting has never been much of an issue with SRAM's extant 9spd road cassettes, but the new OpenGlide geometry manages to improve on that performance when changing between the smaller cogs. It remains to be seen if the removal of an entire tooth on those cogs will factor in to the wear characteristics, but we noted nothing out of the ordinary during our test period.
Technical perfection aside, DoubleTap is not without its idiosyncrasies. If you are already in the largest cog out back and try to shift into the next largest cog (that you don't really have), the result can be an inadvertent upshift, which can be rather disrupting as you're about to pop heading up that 12% grade. Pushing the lever past the upshift point so as to engage the other pawl will avoid that situation, but you do have to be conscious enough to do it. In addition, there is no trim function for the large chainring; instead, SRAM opted for more careful derailleur cage profiling. This is a functionally flawless arrangement, but those users who may try to move the cage ever so slightly inwards may accidentally dump the chain on to the small chainring. Again, 'overshifting' the lever cancels out the problem, but some mental adjustment is needed.
Teeth and spiders
A newly integrated chainring spider makes for a clean appearance.
Photo ©: James Huang

The new Force crankset incorporates a fully integrated carbon fiber spider and aluminum-spined crankarm for the first time in SRAM's history. Only double chainring options are available, but there are one standard and two compact versions offered, one of which includes a summit-crushing 34T. The crankset felt plenty stiff on the road, and the integrated design should eliminate any creaking issues at that (now lost) interface. SRAM logically carries over its GXP external bottom bracket design from its Truvativ division, but the system is in desperate need of a bearing upgrade. The system is very intelligently designed from an engineering standpoint (the bearings can not be inadvertently preloaded), but the advent of high-quality hybrid ceramic bearings only serve to emphasize the excessive levels of drag that exist in the system as it currently stands and we can only hope that an upgrade is pending.
The Force front derailleur uses widely-set cold-forged aluminum linkages
Photo ©: James Huang

SRAM has yet to introduce a proper Force-level cassette; for the time being, both groups made do with a Rival-level model that uses steel cogs, with the largest three mounted on to an aluminum spider for lighter weight and greater rigidity. Only three ratios are currently available, but one offers up an absolutely brilliant 11-26T spread that retains adequately tight spacing yet still delivers a range that real people can actually use. When combined with a compact crankset, there is essentially no loss in top-end over a standard drivetrain, but a very significant gain in low-end. Why other manufacturers have yet to offer something like this is a mystery that will rank just shy of Nessie and Bigfoot since it just makes so much sense. Shimano users will be pleased to hear, though, that SRAM has adopted that company's standard for 10spd cog spacing, and its cassettes are designed to fit on the ubiquitous Shimano 9spd spline pattern.
SRAM's first 10spd chain runs quietly with a narrow 5.9mm width and flush-fit pins. The new PowerLock connector is nearly identical to its current PowerLink and offers the same levels of installation convenience; however, it is not designed to be removed and reused. While this presents a hassle to those that regularly remove their chains for cleaning (or waxing? Does anyone still do that?), it's a relatively small price to pay to retain full pin strength. Personally, I'll take that over a blown chain any day.
Time to stop
Cold-forged aluminum set in a strut-type dual-pivot configuration
Photo ©: James Huang

The Force brake calipers are made of cold-forged aluminum and utilize the currently popular dual-pivot configuration. SRAM also borrows the strut-style arrangement that was made popular by Mavic a few years back, which stiffens up the system while simultaneously trimming a bit of weight (as does the titanium hardware kit). Lever feel was reassuringly solid, and the brakes offers up generous amounts of power and good modulation along with a snappy feel thanks to a powerful return spring.
SRAM's proprietary pad compound is also claimed to deliver nearly equal performance in both wet and dry conditions. However, although the local conditions in Colorado are blissful in terms of offering up copious amounts of sunshine and exceptionally low levels of humidity (along with an occasionally paralyzing lack of air), it also delivers a dearth of moisture so we were mostly unable to verify the pads' wet weather performance over the long term.
Speaking of pads, though, swapping them in or out of their cartridge-style holders is an exercise in patience and frustration. Unlike other designs, the tiny retaining screws are inserted from the top of the holders, not the sides. This provides a sleek and clean look, but it is nearly impossible to gain access to the screws on the front brake without removing the pads entirely. This, unfortunately, then requires one to readjust the pad position, which cancels out much of the advantage of using cartridge-style pads in the first place. SRAM at least equips the pads with concave/convex washers for tilt adjustment, but a centering screw for the caliper is noticeably absent.
Not just one, but two impressive debuts
The SRAM Force hoods are technically only available in black. However, a handful of red and white ones are floating around.
Photo ©: James Huang

As already mentioned, SRAM was delving into unquestionably hostile territory and had little room for error. Thankfully, the new Force group is astonishingly good for a first generation effort (or even a second or third, for that matter), delivering top-level performance and ergonomics along with near best-in-class weights and competitive pricing. Moreover, industry resistance to the new kid on the block seems to be largely nonexistant, as Force is quickly picking up momentum in the form of pro team sponsorships and original equipment spec.
With that being said, while Force is SRAM's self-proclaimed performance chart-topper, its significantly more favorably priced Rival group may very well be the unexpected spoiler in the grand scheme of things. Rival is a whopping US$630 cheaper (that's nearly 40%, folks) yet it differs from Force only in materials and finish, thus delivering virtually identical levels of performance and function. More significantly, its roughly 2200g total group weight only adds about 100g relative to its pricier brother, and is several hundred grams lighter than Shimano's comparably priced workhorse Ultegra group. While it remains to be seen how well either group will perform in the marketplace over the long haul, SRAM's introduction is undoubtedly a technological success. Welcome to the club; we've been waiting for you.
Weight: 2114g (complete group, including 172.5mm arms, 36/50T compact chainrings, and 11-26 cassette)
Price: US$1650
Pros: Unflappable and consistent performance, excellent ergonomics, near best-in-class weight
Cons: some (easily overcome) shifting quirks, too much BB bearing drag
Cyclingnews rating:


More information: www.sram.com
| | |
| --- | --- |
| Component | Weight |
| DoubleTap shifters | 302g/pair, w/o cables |
| Rear derailleur | 178g |
| Front derailleur | 102g (w/integrated 34.9mm clamp) |
| Brake calipers | 273g (pair, w/o mounting nuts) |
| Crankset | 648g (w/ 172.5mm arms, 36/50T compact chainrings) |
| Bottom bracket | 119g |
| Chain | 260g (1090R, w/PowerLock connecting link) |
| Cassette | 232g (11-26T) |
| | 2114g |
Photography
For a thumbnail gallery of these images, click here
Images by James Huang/Cyclingnews.com