Recently on Cyclingnews.com
On test: Cervélo Soloist Carbon, January 17, 2006
The power of one
Cervélo Soloist Carbon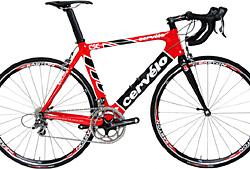 Is your choice of 2005's best team bike and best new product as wonderful as it appears on the surface? Dave Langley finds the Cervélo Soloist Carbon lives up to the hype, and displays his dedication to rigorous bike testing by taking it for a slide down the road too...
"You're not going to want to give that back." Well, yeah, whatever; the Cyclingnews guys say that to all the reviewers, right? In the case of this Cervélo Soloist Carbon, they were dead right.
Hailing from Canada, the Cervélo Soloist Carbon burst onto the scene in early-mid 2005 and has been piloted by what has emerged as the number 1 team in the pro peloton, Team CSC. The Soloist can be looked at as a high-end time-trial machine configured for road use, the result of blending the lightweight features of the Cervélo R2.5 with the aerodynamic features of the original Cervélo Soloist. It is aerodynamically engineered to slip through the air and allow classy riders such as Jens Voigt, or any rider for that matter, to extract maximum gain from their considerable efforts when "up the road".
Set-up
The bottom bracket area

The down tube

The down tube in another view

The head tube

The seat cluster

True Temper's Alpha Q fork

The custom seatpost

Selle Italia SLR-xp

FSA OS140 stem

FSA RD250 bar
Vittoria tyres and Easton wheels

Shimano Dura-Ace transmission and FSA cranks

The bike was kitted out with an Alpha-Q fork; FSA bars (RD-250) and stem (both aluminium); FSA carbon cranks; and Shimano Dura-Ace 10spd STI levers, gears and brakes. The wheels were sensible but fast Eastern Circuits with 24 spokes up front (radially laced) and 28 at the rear (radial on the non-drive side, crossed on the right), shod with Vittoria tyres. Without pedals the rig weighed in at 7.45 kg, and weighed about 8 kg when adorned with pedals, bottle cage, compact pump and saddle bag (plus contents). I'm not a fan of the saddle supplied (Sella Italia SLR-XP), so on latter rides I swapped it with one that better fit my anatomy. The seatpost supplied was the "one-position" version, although there is a version available which contains a flippable saddle clamp, allowing the saddle to be shunted forward a la time trial setup.
Appearance
This is a hot-looking piece of machinery. I'm still a little prejudiced against the compact, sloping top tube frame designs in vogue over the last few years, but my stance is softening now that I've had some time on top of such an exceptional one. Even though the bladed down tube is chunky (to say the least), it doesn't look out of proportion given the oversized nature of the other tubes and stays, and the broad head tube area and massive bottom bracket shell. A closer inspection reveals delicate tear-drop profiles on most tubes (even the seatpost), curvy wishbone stays, and seamless junctions. The cables are also nicely plumbed through the top tube and down tube. Although I've never bought a red frame, I really like the rich cherry red adorning this machine. Even the decals look the part. Everything just looks right.
One comment re appearance concerns the black parts of the frame which, below the lacquer, are simply the raw resin-embedded carbon fibre sheets. The Alpha-Q fork, in contrast, has a cosmetic carbon mesh finish, whilst the FSA cranks and spider have a marbled carbon finish. Some might object to having three different carbon finishes on the one machine. Under direct sunlight at certain angles the raw frame carbon has a somewhat dirty iridescent sheen, allowing the edges of the carbon sheets and bottle cage mounts to be visible through the lacquer. I personally don't think it detracts considerably from the overall aesthetics.
It seems churlish to criticize a purely race-bred bike for a couple of practical points, but the teardrop seatpost makes attachment of a flashing LED light somewhat problematic (while making aligning the saddle a no brainer). Although the Soloist Carbon is hardly intended for commuting, there are many riders out there training in the dark or rolling to and from races in poor light, who might appreciate a convenient attachment point for some sort of light. On a similar vein, the tapering of the handlebars (FSA RD-250) from the stem also makes attachment of computers and lights a little trickier to wangle.
Ride
This is not the first carbon frame I've ridden. I'd clocked about 23,000 km on a Dura-Ace equipped late 90s carbon frame until it (and nearly I) was trashed by a postal worker late for work (the mail never stops, you know). I have recently been riding a mid 90s high-end steel frame with a carbon fork. Compared to both of these bikes the Soloist Carbon is on another level.
This was my first venture with 10 spd Dura-Ace, which was sharp and snappy as expected. I was also impressed with the rigidity of the wheels, when compared to comparatively spoked wheels I have ridden over the last year. Having the "elbowless" spoke heads threaded into the hub body should also help alleviate the likelihood of spoke breakages. The silent freewheel also brought a new level of quiet to my outings. My only gripe with the wheels was the grooved braking surface, which I didn't feel quite yielded the braking power that I was expecting from Dura-Ace calipers. Maybe a different shoe-rim combination would have yielded better braking?
Shifting and wheels aside, the most noticeable improvement displayed by this machine is the distinct lack of flex when out of the saddle. From the bars through to the bottom bracket, it might as well be a single piece of equipment. I was amazed that something so light could be so stiff. When stomping, this level of stiffness results in pure forward motion and a very responsive ride, affording an unparalleled feel for the road. My initial fear was that this would result in an uncomfortably harsh ride, but the plush carbon forks, and swapping to a more sensible saddle, made it a pleasure to ride, even on longer ventures on dead roads.
It is hard to describe how perfectly this bike handles. Out of the saddle you simply drive forward. It yields superb value for effort, particularly noticeable when tapping out a rhythm (or accelerating) on a climb. Hands off the bars it steers absolutely true. When in the saddle, no feature in particular jumps out, apart from the joy of the ride. Everything is so well balanced which is accentuated when carving corners or chicanes. Brings a smile to your face, especially at speed!
Sound wise, the bike failed to develop any creaks, squeaks or groans, although these would normally surface after considerably more than the ~500 km I clocked. However, a disconcertingly high-pitched "ding" (no doubt amplified by the frame) accompanies hitting large corrugations and arose from the chain slapping the chainstay. This makes the frame sound a little fragile. However, although light, the Soloist Carbon is not the lightest of high-end frames on the market, which is actually something I'd find attractive were I buying. Better to go for a stronger, fractionally heavier, frame that can be given some stick.
Speaking of stick, on my last ride before handing it back, I was descending carefully into a local gorge on a wet Sunday morning and suffered the embarrassment of losing the front end on a greasy corner. "Not carefully enough," I hear you say. In my defence I feel compelled to mention that, although I'm not the world's best descender, the corner in question is intermittently frequented by cars towing motorboats which sometimes leak bilge water as they are towed through the bend. Perhaps I simply hit an oily patch? Whilst I lost skin off my elbow and hip (again!) and leather off my shoe, the bike lost metal off the pedal, rear skewer and STI levers. Fortunately, not a lick of paint came off the frame (I was expecting the worst) and the wheels remained true... remarkable given the spoke counts. I completed the ride with everything (bar my body and ego) humming just as it was previously. So, having crashed the thing, I can attest to the frame being far tougher than I would have expected.
Summing up
There is such a stark difference in ride quality between this and anything I've previously ridden. No doubt it is the synergy of multiple otherwise imperceptible improvements and subtleties which give this frame an edge. It makes me realise it would be premature to suggest that the evolution of the bicycle is near it's pinnacle. It is sure to keep revealing new levels of ride and weight in subsequent years, although it is hard to conceive how such improvements might feel until you throw a leg over them. And the price? A little high for me to justify, but not out of reach for many serious amateur punters. Given the ride quality it delivers, I feel it represents reasonable value for money. It doesn't surprise me at all that it was doubly picked in the 2005 Cyclingnews readers' poll for both best new product and best team bike.
Specification
Measured weight: 7.45kg (without pedals)
Frame: Carbon fibre; aerodynamic tube shapes
Frame sizes: 48, 51, 54, 56, 58, 61cm (sloping geometry)
Fork: AlphaQ Sub3
Component group: Shimano Dura-Ace 10 speed; Ultegra chain & cassette
Cranks: FSA SLK MegaExo
Wheels: Easton Circuit
Tyres: Vittoria Diamante Pro Lite
Saddle: Selle Italia SLR XP
Seat post: Cervélo aero carbon - 1-position
Handlebar: FSA HB-250
Stem: FSA OS-140
Headset: Cane Creek IS-2 1 1/8"
Suggested retail price: Approx US$4950
Pro: Fantastic ride quality
Con: Everyone will want one
More information: www.cervelo.com
Cyclingnews rating: