Team Cyclingnews.com - 2005
Team Journal Entry - June 22, 2005, by Glen Chadwick
Tour de Beauce Bell, (2.2) - Canada, June 14-19, 2005
Across the Atlantic
Hi Everyone,
All smiles in Canada
Photo ©: Team CN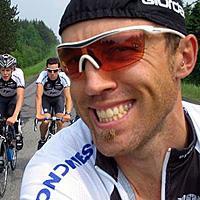 Well we have just returned from Canada and the Tour de Beauce Bell, which turned out to be quite successful! As you will find out in this report. While the results were great, the sun was a bit of a no show! Sorry its a long one but there was lots of action!
The lineup was:
Glen Chadwick - Chady
Cameron Jennings- Wormy
Sven De Weerdt - Bender
Kane Oakley - Munge
Leigh Palmer - Tank
Tom Barras - Rat Boy
Jeremy Vennell - Dag (of a sheep)
Gilbert De Weerdt - Gil
Eddie De Weerdt - Gepetti
Rudy Dubois - Blue Steel
After a quick team presentation we were on our way; the pack took it easy for the first 20km or so which allowed some lads to have some embarrassing spills and allowed a couple of local lads ride off into the distance. The problem with the roads in Quebec is that you can be 5, 6 even 10 minutes up the road and still be seen! Not an advantage at all, Out of sight, out of mind was not working in this race! So after a while the attacks began; mainly it was Navigators versus Health Net, the two rival American teams. Whenever 1 attacked there was always the other chasing! So it was gonna be a matter of getting in the right move that they were gonna be happy with letting go. We all tried our hand at getting into moves and with the weather taking a turn for the worse it was only a matter of time! Finally with 60km to go Tom got into the move of the day, with the rain and the wind playing a vital roll. A few k later I got a good move going but only lasted 10km and as we were caught I threw in another attack thinking I may take some guys with me but nope! As I didn't want to sit up I flicked on the diesel switch and went in pursuit of the break, I could always see them in the distance especially with a bright Mavic spares car in tow! Lucky for me they seemed to be stuffing around a lot and were ever so slowly getting closer. With 20km to go and a hard fought chase I got across to the break. Legs had become a bit tender so all I wanted now was a bit of time up on the peloton. After a few half hearted attacks from the other riders we came to the final 3km which was all down hill in the rain, I decided to ride it from the back of course the carbon wheels weren't pulling me up real quick into the corners! But Tom was up and managed a hard fought sixth while I snuck in 14th, 57 seconds clear of the chasing peloton.
Like a tiger...
Photo ©: Team CN

The Volkswagon - Trek team setting the pace for their team mate in yellow turned out to be their downfall. It was a damn windy stage and by the 100km mark and 2nd KOM I went on the offensive attacking halfway up the climb and with a crosswind was able to get a split in the field. To the bunch's surprise the crosswind was even scarier down the other side. I was very happy to be at the front when the wind hit me. We were travelling over 70-80kph and I nearly ended up in the ditch! You basically had to ride as hard as you could across to the right hand side of the road, then when the powerful gusts hit you, you had enough room to be blown across the road without crashing. Unfortunately some lads weren't that quick in thinking about the situation and in one instant four riders went bush together - race over! After 15km thrashing about the road trying to stay upright we finally changed direction, but it wasn't much better. The nasty crosswind turned into a nasty headwind! One of the toughest courses I have ridden for sure!
After a few groups had managed to come back to the front we had about 30 guys there, including myself and Cam. The rest of the stage was survival of the fittest! After constant attacks Cam and I tried lighting it up - Cam finally got away with 20km to go, which was a brave move considering the conditions, but he was up for the challenge! Navigators chased him but weren't making much progress on the 35-second lead he had! With the final 4km downhill he just needed to hang on till then and it was in the bag! But as the old saying goes "what goes up must come down" or vice versa! We came around a corner back onto a main road and BOOF! There it was; a bloody steep wind on the head with an open climb and poor Cam stuck in the middle! He was caught half way up after an attack was put in and rode home just missing a top 20 and some coin! I managed 8th and no time lost! Unfortunately Kane succumbed to a muscle injury during the stage and had to shut it down!
Kane and Leigh made friends
Photo ©: Team CN

A shortened 180km stage which was brought down to 142km after bad weather and some road works! There were no complaints from the peloton at all! Not much action in this stage - it poured down rain and was cold! The team with the yellow set the pace and it wasn't until the two 3km finishing laps when the party started! There was a 1km climb each lap, and unfortunately Cams chain got jammed and he had to stop to fix it and missed the big split while I stayed up front, making sure not to lose any time on the GC riders!
Wet course with a bit of wind around (sound familiar?) Just tried to limit our losses from the smoking and current Australian Time Trial champ Nathan O'Neill. Normally some of the guys way down on GC can take it easy, but with a time trialist like Nathan in the race they had to give it a bit of stick otherwise not making the time cut and being eliminated from the race was on the cards! All the lads had a good ride; Tom ran into a bit of trouble or should say ran into Cletus the slack-jawed farmer who drove his tractor right out in front of him, forcing him to stop until he was out of his way! I finished in 10th which for me wasn't too bad - I didn't have a fancy bike, just my trusty steed with some Deda clip-ons and a borrowed disk wheel from a generous Jittery Joes manager! Jeremy also pumped out a nice ride, proving his strength and good adaptation to the team. So then it was a quick rest, a shower and a feed and line up for the criterium in the afternoon!
PFK? What happened to KFC?
Photo ©: Team CN

With a break in the weather we made the most of our hour and a half sprint around the streets of St Georges; Tank (Leigh Palmer) found his legs and was up. All the guys were jumping around getting into moves - Worm (Cam) slipped into a good break in the first half but greedy guys kept sneaking across, making the group too big which can work both ways - a big group that works together, or one that is an absolute shambles! Unfortunately Worm was in the latter! Once it was back together, another group went straight away. After another crazy Polish rider chopped me up into a corner I decided to try my pins out and to get the hell out of there and get across to the break. With the help of the lads of course, I got across! We stayed away by 27 seconds and I ran sixth in the sprint! (Yes there were more than six in it.) Sven had a go in the bunch kick for 12th and finished 18th Another good day for the team and our pockets!
Off to Quebec for a circuit race with a 1km climb up through a picturesque village of an old castle. Never had time to take in the views till the stage finished. The idea that the Symmetrics team, who had the yellow jersey, was going to try and control the race, meant that an early break of no threat to them was inevitable! Leigh made the move on the first lap, proving that he had found his tour legs! Once the break had gone it was just a matter of staying up front and watching for an opportunity! That arose as early as the third run up the climb, and when the pace slowed Cam and I didn't. I put in a small surge and with the peloton not reacting gave it a bit more gas. Cam and another lad came with me and were then later joined by Nathan O'Neill and another lad from Finland who didn't take a tap the whole time we were out there! Nathan only needed six seconds and he had the yellow, so I guess he was keen to take it early! But with him there the bunch was never going to rest! We were out there for one lap and then were caught! The bunch got smaller and smaller as the race went on, we kept attacking the peleton but to no avail! It came down to the last lap with the a few lads still up the road in the break we just had to sprint from the bottom of the climb to the top of the hill finish! I crossed in 14th a couple seconds down but still hung onto my 7th overall on GC! Leigh had a good day picking up a few hundred bucks in a prime making his hard day out front worth it!
On the podium next to Ollerenshaw
Photo ©: Team CN

Another circuit race - this time back in St Georges - and there wasn't a cloud in the sky! Yes the sun was shining and we all felt the better for it! Another little climb in the circuit and another early move, but this time not so successful and it didn't last the full distance! Luckily none of us were in it, and by 100km the bunch was getting smaller and smaller with each time over the climb! The pace was heating up every lap, with Health Net putting the pressure on Navigators! They had it under control and with two laps remaining Cam dug in deep to form a four-man group breakaway, with no threat to the Navigators. They managed to get away, and with a bit of cycling politics (one guy snuck away and no one but Cam would chase) Cam stormed through into second on the stage! Great result for the team and Cam showing that his extra sprint work is paying off! Sven also had a good day, sprinting home into 14th! Overall on GC I ended up sixth and Cam 17th.
So that was it - some great results for us and the team, especially after some jokes were made about us being Aussies and not knowing how to ride on the right-hand side of the road? Excuse me people, but we all live in Europe! So after a quick shower and a couple of drinks at our local watering hole, the Rock Café (The boys had to say goodbye to some fans they had acquired during the week) 11 o'clock that night we jumped on a plane and flew back across the Atlantic six and a half hours to Paris and a three hour drive to Belgium! Ahhhh...travelling, ain't it great!
Next up we have a 1.1 tomorrow, or today, or yesterday…! (the 22nd June) Brussels-Ingooigem. I'm sitting that one out and giving my local town kermese a go! Also a bit of a night out on Thursday for Belles birthday! Should be great!
Till next time,
Chady
Photography
For a thumbnail gallery of these images, click here
Images by Team Cyclingnews