Team latest: August 31 - Happy & disappointed by Cameron Jennings
Kicking off with a win
Team Cyclingnews.com – Down Under gets rolling in Belgium
The sprint to the finish, and the team's first win of the season
Photo ©: Team Cyclingnews.com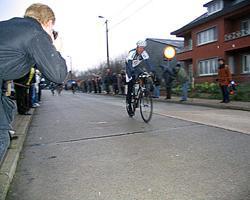 Cyclingnews.com is now a sponsor of a young Division III team based in Belgium. With the aim of providing a platform for young and emerging riders to race at the highest level, Cyclingnews' Jeff Jones provides an insight into your new team.
Finally, after all the snow of the previous weekend in Belgium, the lads could get out and race. So without wasting any time, Australian rider Phil Thuaux kicked off the season for Team Cyclingnews.com – Down Under with a win in the 112km Molenbeek - Wersbeek Kermesse held in Belgium last weekend.
Thuaux is back in Europe as one of the 15 riders in the Division III squad that has been re-launched in Belgium this year as Team Cyclingnews.com – Down Under. The team has secured sponsorship from Belgian companies Ridley Bikes (bicycles), Bioracer (clothing), J-Tech (nutritional products), as well as key support from Frans Hendrickx Transport, a Belgian trucking company.
The team out training
Photo ©: Team Cyclingnews.com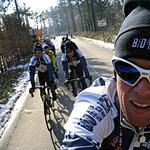 The additional support in 2004 means the team can enter a significantly expanded program throughout Europe as it continues on its mission to provide a launch-pad and development environment for emerging professional riders.
With the addition of riders such as sprinter Hilton Clarke Jr (ex-Team Barloworld) and Eric Lievens (ex-Landbouwkredit-Colnago), team manager Gilbert de Weerdt is very positive about its prospects for 2004.
"We have a very strong team for this year. We have a good mix of sprinters, climbers and strong all-rounders who are all willing to work together," he said. "At this stage of the season, we don't start races with team leaders. If one of our riders gets in a break, then they will all work for him, (but) we have no team leaders right now.
Gilbert De Weerdt and Rudi Dubois - the driving forces behind Team Cyclingews.com
Photo ©: Cyclingnews.com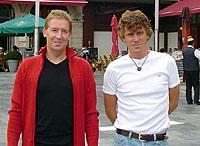 "The good news is we just had our first win of the season. Phil Thuaux won a kermesse from 130 starters," said the delighted manager. "It's not a professional race but you can ask any Belgian here, and they will tell you how hard it is to win one," he said. "We hope this is the start of a really good season."
The team of young Australian, British and Belgian riders is run by two experienced Belgians: De Weerdt is manager while Rudi Dubois directeur sportif. The team has its home base in Booischot, near Antwerp, in Belgium.
It began in 2001 as the amateur squad "Team Down Under" and quickly gained a reputation as one of the better amateur teams in Belgium. Its riders recorded victories in the Antwerpse Havenpijl (1.5), several amateur interclub and kermis races, as well as stages in the Tour of Limburg and Tour of Malaysia, among others. During that time, the team included riders such as the current Australian Road Champion Matthew Wilson (FDJeux.com), Glenn Chadwick, Mark Roland, Paul Redenbach and Ben Brooks (now with Jelly Belly).
The view the rest of the peloton can look forward to - we hope!
Photo ©: Team Cyclingnews.com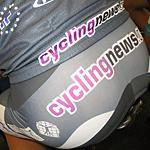 "When we started three years ago the main purpose of the team was to give young Australian riders the chance to come to Europe and race. This way they could gain experience and try to become professional. It was also a good learning school for management and staff," De Weerdt said.
De Weerdt, a former cyclist who is a professional physiotherapist and trainer, said, "After a while we discovered that we had enough management skills to move to a professional level." His partner in team management, Rudi Dubois, is the former PR manager for the Belgian Division I team, Landbouwkredit-Colnago, and has extensive contacts in and knowledge of the sport. Together, they formed D&D Promotion and secured the critical support from the Belgian transport company owner Frans Hendrickx that helped them move the team to Division III, as they felt the results of the amateur team showed enough promise to move into the professional ranks.
Sven De Weerdt and Cody Stevenson
Photo ©: Cyclingnews.com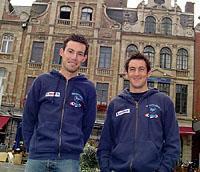 "The riders that we had in our team also had the competence to race at a professional level. The only thing that stopped us was our budget. Therefore we decided to become a Division 3 team," he said.
"Our main goal for this year is to show the world with our results and performances as a team that riders and management are capable of becoming a Division 2 team. We hope to attract sponsor that want to work with us to take us to that level," he said.
"Another goal of the team is to give young riders the chance to races with the professionals so they can grow to be good professional bike riders in the future," he added.
Cameron Jennings at the Herald Sun Tour, 2003
Photo ©: Shane Goss/Cyclingnews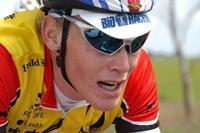 Team Down Under gained Division III status in 2003, and was able to take part in many of the 1.3 and 1.2 professional races in Belgium, such as the GP Jef Scherens, GP Rudy Dhaenens, Schaal Sels-Merksem, Omloop van de Vlaamse Scheldeboorden, Kampioenschap Van Vlaanderen, Nokere Koerse, Dr Tistaert Prijs and GP Pino Cerami, winning the points jersey in the latter, as well as winning the Antwerpen-Tielen and GP du Haut Escaut Hollain (both 1.6 races).
The team is made up of ten Australian, three Belgian and two British riders. In addition to Thuaux and Clarke, the other Australians are David Harrigan, Cameron Jennings, Leigh Palmer (ex-LeMond Fitness-Blender), mountain biker Josh Fleming, Matt Rice, Cody Stevenson, Nathan Russell and 19 year old Robbie Williams (not that one), while Belgians Eric Lievens (ex-Landbouwkrediet), Sven De Weerdt and Andy Maas and Brits Hamish Haynes and Tom Barras complete the roster.
Phil Thuaux at the Australian Open Road Championships
Photo ©: Mark Gunter
"Phil (Thuaux) and Cameron (Jennings) are the climbers in the team, while Hilton (Clarke Jr) and Cody (Stevenson) are the sprinters, while young Robbie wants to learn everything," he joked of the teenager's enthusiasm. "Sven (De Weerdt) and Erik Lievens will be the captains on the road; they know the parcours of the races and where the cobbles are," he said of the all-important local knowledge.
The riders will be astride the new carbon-fibre Damocles bike from Ridley, wear clothing by Bioracer and use nutritional products supplied by J-Tech. Ridley may not be too well-known outside Belgium, but inside that country, it is one the leading brands. This year, Bart Wellens rode a Ridley to first place in the World Cyclocross Championships, while Mario de Clerq followed him across the line, also on a Ridley. At last year's World Road Championships, both the male and female junior world champions, (Holland's Loes Markerink and Kai Reus, respectively) were also on Ridley bikes. (A tech feature on the team bikes is coming.)
Cyclingnews.com involved
A team car you can be proud of
Photo ©: Team Cyclingnews.com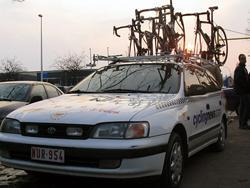 The involvement of this website came about after discussions with team management last year, as the site took an interest in the results of the Division III squad. "We got involved to support a team that had its aim of assisting young riders," said Cyclingnews.com publisher Gerard Knapp. "The team has its origins in Australia, but it was also an opportunity to put something back into the sport at the development level, to help provide a platform for emerging riders.
"With the program they have this year, plus the talented riders on the roster, we're looking forward to reporting on their successes," he added. "For young Australian riders, there is major competition for positions in the AIS [Australian Institute of Sport] scholarship program that's based in Italy, and funded by the federal government. But it's fair to say that the AIS can't offer spots for every talented young Australian rider, and racing in Italy may not suit everyone. Also, the AIS program is only for riders under 23, so we see this team as complementing the AIS program.
"This support is consistent with other activities. In Australia, we are a sponsor of the Tasmanian Institute of Sport (TIS-Cyclingnews.com) cycling squad, as well as a supporting sponsor of the TIAA-CREF - 5280 team in Colorado. Both of those teams are also designed to assist with the development of promising young riders, so that fits well with what we want to contribute to the sport," he added.
See more on the team: