A Cyclingnews special sponsorship feature
Specialized & Cyclingnews "Whose Shoes?" Contest
Specialized Pro Carbon 04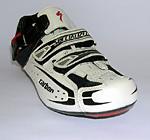 During the 2004 Tour de France, Specialized and Cyclingnews offered an opportunity to win some great new gear. Up for grabs were four pairs of new Specialized Carbon Road shoes.
Readers had to look a photo of a rider's shoes (on the rider and attached to a bike, of course) and then guess the identity of the rider who was wearing the Specialized shoes. In the competition, and if you were right, you were entered to win.
In the third competition, it was Giovanni Lombardi wearing the Specialized shoes and out of the hat came the name of Ramin Bledsoe from Tempe, Arizona. Ramin said, "I have been cycling since I was 15 (started to work in a bike shop) and it has become part of my life (I am now 35).
"I participate in races, promote a few, and officiate in a few every year through my club/team, Arizona State Cycling Team, a USCF, NORBA, and Collegiate group of riders. Even though I work full time as an architect and take a class or two at Arizona State University, I make riding a focus to maintain my sanity, as well as my health. Racing is good for this and I am looking forward to putting the shoes to good use."
The correct answer for competition #3 is C) Giovanni Lombardi.
Previous competitions: Competition #1, Competition #2, Competition #3, Competition #4
Who's wearing these shoes?

A) Mario Cipollini
B) Luca Paolini
C) Giovanni Lombardi
D) Christian Vandevelde