A Cyclingnews special sponsorship feature
Specialized & Cyclingnews "Whose Shoes?" Contest
Specialized Pro Carbon 04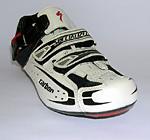 During the 2004 Tour de France, Specialized and Cyclingnews offered an opportunity to win some great new gear. Up for grabs were four pairs of new Specialized Carbon Road shoes.
Readers had to look a photo of a rider's shoes (on the rider and attached to a bike, of course) and then guess the identity of the rider who was wearing the Specialized shoes. In the competition, and if you were right, you were entered to win.
Who guessed it was Christian Vandevelde in the fourth competition? Well, 16 year-old Chris Van Houtte from Auckland, New Zealand, was one and he was delighted to bag a new pair of shoes, given that his current shoes were so badly worn he had trouble finding the size on the soles.
"I have been cycling competitively for about two and a half seasons. I ride for Akarana CC and Auckland grammar School, the latter having a proud cycling history (and it also looking for a sponsor, by the way). This season had been pretty luckless up until now, so I'd like to thank Specialized and Cyclingnews.com for putting these awesome shoes up for grabs. I'm really stoked."
See the mystery rider and who won the shoes in our previous competitions: Competition #1, Competition #2, Competition #3
Who's wearing these shoes?

Rider A) Mario Cipollini
Rider B) Christian Vandevelde
Rider C) Fred Rodriguez
Rider D) Peter Reid