Italia Bici 2004
By Cyclingnews Staff
Following on from our Italia Bici features in previous years, Cyclingnews.com presents the finest Italy has to offer in bicycles and cycling apparel. Each feature presents a leading Italian manufacturer and its 2004 product lines, with special insights into the design and manufacture of their products, including the special input provided by some of the world's leading professional cyclists.
Campagnolo
In recent years Campagnolo has added wheels to its line-up of components, and has created some of the most sought-after high-end wheels available. But Campagnolo quality and technology is also available in wheels the rest of us can afford as Cyclingnews discovered when we visited Campagnolo in Vicenza, Italy.
Scirocco wheel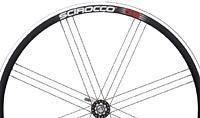 Starting with the ground-breaking Shamal wheels in 1992, cycling aficionados have been choosing Campagnolo's complete wheels for over twelve years and have found that the top quality wheels from the component masters from Vicenza, Italy are everything that's been promised. We visited their factory where Communication Manager Piero Da Rin told us why Campagnolo's wheels match the great reputation of the company's fine components. Certainly one of the most sought-after high end bicycle components introduced last year's bike shows were Campagnolo's incredible Hyperon Ultra carbon fibre clincher wheels at over $US3,000 per pair, but Campagnolo wheels touch many more price and performance levels.
Campagnolo - The real deal in wheels
De Marchi
De Marchi is a company with a strong emphasis on using the latest fabric and insert technologies to make riders as comfortable as possible. But the descendants of founder Emelio De Marchi haven't forgotten the values that got the company started back in the 1920s.
De Marchi's limited edition DS jacket, inspired by the original their granddad knitted up back in the 1950s
Photo ©: De Marchi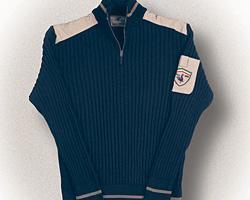 In the late 1920s, when Ottavio Bottechia was riding the unpaved roads of North-eastern Italy's Veneto and Fruili regions, Emelio De Marchi opened his first bicycle store in Congeliano, a pretty town 50km north of Venice. His wife Emma began to sew some bicycle jerseys for friends and club members and soon after WW2, De Marchi expanded this part of his business to open Maglificio Sportivo De Marchi. Over a half-century later, De Marchi is still in business in Congeliano, although Grandfather Emelio might not recognize the high-tech, high-performance cycling wear his two grandsons Stefano and Mauro Coccia turn out every season.
"We're very proud of our legacy here at De Marchi," elder brother Stefano explained. "Our mother, who worked in the original Maglificio Sportivo De Marchi, still comes in and looks after the sample production and makes sure our seamstresses are getting things just right." Over the years, in evolving from a maglificio sportive to a top level cycling wear manufacturer, De Marchi has had much experience in applying the lessons of product development to improve it product.
De Marchi - Back to the future of high-tech cyclewear
Northwave
The Northwave Aerator; waiting for your feet to slip into them
Photo ©: CN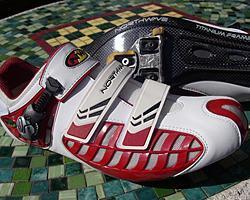 Northwave owner Gianni Piva is still passionate about building great shoes and boots. "Have you seen out new winter shoe?" Piva asked during our recent visit to the Italian cycling and snowboard footwear manufacturer Northwave's brand new purpose built facility in Pederobba, Italy. Mr. Piva was proud and excited to show Cyclingnews his new facility and talk about his bike shoe line on our Italia Bici tour.
"We call this new winter shoe the 'Celsius GTX' and it's the first winter cycling shoe made with Gore-Tex", Piva enthused. "We used the technology and know-how from our snowboard boots to improve winter cycling footwear." Since Northwave burst onto the cycling footwear scene just over ten years ago with it's cross-colour Compact shoes, the Italian firm has shod cycling champions like Mario Cipollini and Paola Pezzo and used them in attention-getting ad campaigns, but first and foremost, Piva always sought to build the best shoes for his brand. Northwave's Compact, Team and Evolution shoes had innovative approaches to technical cycling footwear, echoed in Northwave's latest creation, the Aerator.
Northwave - Innovation by nature
Limar
Navigators Burke Swindlehurst sports Limar's 911 model with 37 vents
Photo ©: CN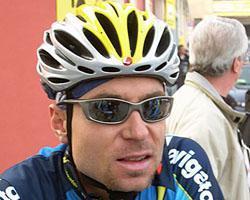 With last year's UCI ruling that the pro-peloton was to wear helmets, a lot of people have started looking closely at what the drop on their head before a ride. Cyclingnews takes a visit to Limar's state-of-the-art manufacturing facility near Begamo, Italy.
Limar, Italy's leading cycling helmet manufacturer has been involved in sponsoring for over a decade and has had their riders win it all; Telekom's Jan Ullrich in the Tour De France and 2000 Olympic Road Race, his teammate Erik Zabel winning Milano-San Remo four times as well as a multitude of other victories in what might be the most successful bicycle helmet sports marketing program ever. But last year, Piero Bionda, Limar's marketing chief explained to Cyclingnews' Italia Bici correspondent, the Italian firm decided to step back from most of their sponsorship efforts. "We had had so much success, we weren't sure what we could do to improve. So we pulled back and kept the one program we really liked: the Navigators Insurance team. The other programs had gotten so expensive and had little return, but with Navigators, they are really nice guys and have a good, up and coming team we are happy to work with."
Limar Helmets: Light, cool and sexy looking
DMT
Petacchi wears DMT shoes
Photo: © Unipublic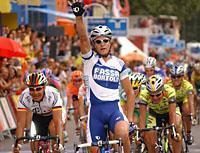 2004 brings some good news for fans of Italian cycling shoes. After years as a cult brand that was difficult to come by in the USA, California's Upland Sports Group will now import and distribute the full line of DMT Road, Triathlon, Mountain Bike, and Spinning shoes in America, as Tim Maloney found out on a visit to the DMT factory in Italy.
Cyclingnews took a recent trip to the DMT factory in Italy, located 20km south of Verona, where we asked Philippe Zechetto, who grew up around his father Federico's DMT shoe factory and today is responsible for DMT's cycling shoes, to tell us about how the Italian company uses the input from their broad array of sponsored riders to make better cycling shoes. "Cycling is very important for us at DMT; we've been making cycling shoes for over 25 years and I really like the sport...I'm a cyclist myself and I'm able to use my own experience in the shoe development process. But the most important part is our experience with professional riders."
DMT:Made in Italy, available in the USA
Colnago
1940: Eight year old Ernesto Colnago on the day of his First Holy Communion
Photo ©: Colnago archives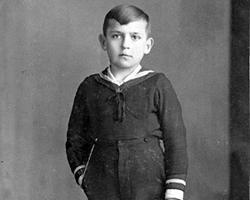 At the end of 2003, Cyclingnews sat down with Ernesto Colnago to discuss his last half century of passion for 'le due ruote' in an exclusive one-on-one interview. Generally considered the world's most accomplished bicycle builder, 71 year old Ernesto Colnago is especially proud of the thousands of races won on his bicycles since 1954.
As 1954 began half a century ago, 21 year old bicycle mechanic Colnago would open his own "officina" (workshop) in Cambiago, Italy, just across from the most popular trattoria in town, "Il du e vint". Like the Wright Brothers half a century before him, Colnago's head was full of new ideas he had developed from almost a decade of working in the Gloria bicycle factory in nearby Milano, as well as racing all over Northern Italy. But since the airplane was already invented, an ambitious young entrepreneur Colnago decided to strike out on his own to focus on building top-level racing bicycles. For as 1954 began, Italy's outlook was increasingly optimistic, although the economic and political situation was still recovering from WW2 and government was unstable. The fate of Trieste was a continued area of conflict with Yugoslavia and the far-eastern area was finally given to Italy in a treaty in October. Alcide de Gasperi, Italy's first post war premier died that year while RAI, Italy's state broadcasting monopoly began regular television service in January.
Ernesto Colnago 50th Anniversary Interview
Previous Italia Bici features
2008
Italia Bici 2008
De Marchi - Innovation and Tradition inspires latest line
Milani - The passion and desire of Milani continues with Natale's son, Celeste.
Selle Italia - New location, new models for 2008
Vittoria Shoes - A true Italian family affair

2007
Italia Bici 2007
Selle Italia - Selle Italia takes Flite again with new Flite saddle
De Marchi - Breaking the rules for cycling clothing
DeRosa - Il Maestro Ugo: Still Motivated To Build Great Bikes
Cytech - Maximum comfort, maximum performance

2006
Italia Bici 2006
Selle Italia - Super saddle maker
De Marchi - Innovation & quality in clothing
DeRosa - Tailor made by Ugo
Cytech - the science of shorts liners
Fi'zi:k - Behind the scenes with Damiano Cunego
Fulcrum - Technology + style in wheels
Battaglin - Over two decades of carbon fiber

2005
Italia Bici 2005
Ernesto Colnago - Inside the Inner sanctum
Wilier Triestina rides again
De Rosa - Straight from the heart
Deda Elementi - Passion + Experience = Innovation

2004
Italia Bici 2004
Campagnolo - The real deal in wheels
De Marchi - Back to the future of high-tech cyclingwear
DMT:Made in Italy, available in the USA
Ernesto Colnago 50th Anniversary Interview
FSA - Pro teams provide input for Full Speed Ahead
Limar Helmets: Light, cool and sexy looking
Northwave - Innovation by nature

2003
De Rosa: The Art of The Artisan
100 Anni Di Corsa: One hundred years and counting
ITM - Italmanubri: High Technology Bike Accessories in the Italian Artisan Tradition

2002
Colnago 2002 - Inside Ernesto Colnago's personal bike museum

2001
DMT Shoes - Polishing the diamond
Limar Helmets - Technology for your head
Colnago - An interview with Ernesto Colnago