First Edition Cycling News, September 30, 2008
Edited by Les Clarke & Paul Verkuylen
Armstrong's Down Under hopes not over
Lance Armstrong was quick to respond
Photo ©: Jon Devich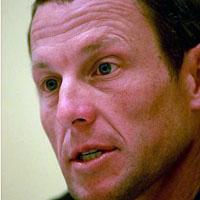 Lance Armstrong's return to the professional peloton in Australia's Tour Down Under has come under question due to an International Cycling Union (UCI) anti-doping rule. Reports that his enrolment in the required out-of-competition testing pool fell just shy of meeting the UCI's rules to compete in the January event were confirmed by Armstrong in a telephone call with several journalists, including Cyclingnews' Laura Weislo, on Monday.
Speaking from the small town of Marfa, Texas, Armstrong confirmed that his official enrolment in the system came August 1, 2008, but that he held a conversation with UCI president Pat McQuaid declaring his intentions "sometime in July". The UCI's anti-doping rules state that any rider coming out of retirement may not resume international competition unless he 'notifies the UCI six months in advance... and is available for unannounced out-of-competition testing at any time during the period before actual return to competition'.
Armstrong's August 1 enrolment would fall two weeks short of six months prior to the January 18 start of the Tour Down Under, preventing him from competing if the UCI were to take a strict interpretation of the rules. Armstrong said he is confused about the UCI's inconsistent application of this rule. "When it comes to sport, you always have rules, and we're not asking for any exceptions. But they don't always apply this rule. We all remember Mario Cipollini coming back at the Tour of California this year. This rule did not apply to him."
He also said he received conflicting information from McQuaid, who informed him the rule would only apply for world championships and Olympic Games.
Armstrong said that he has made himself available to the United States Anti-doping Agency (USADA), and has already been visited by the anti-doping testers sometime at the end of August. He's optimistic that he may still actually be able to race at the Tour Down Under, but admitted he hadn't had time to talk to McQuaid or UCI anti-doping chief Anne Gripper about the situation.
"I'm very excited to come [to Australia] - more importantly than with regards to the comeback and racing, we have a lot of stuff we can do in Australia; with the people, the government and the youth, when it comes to cancer awareness and prevention."
Click here to read the full feature
Rebellin not brilliant despite fourth
By Gregor Brown in Varese
Rebellin finished fourth
Photo ©: Sirotti

Davide Rebellin has explained that he was able to help produce an Italian quinella and finish fourth in the world championship road race last Sunday despite not being in top condition.
"I was not very brilliant. I was up front but I missed a little something," said Rebellin after the race. It was his highest ever placing at the worlds, two spots up from last year's championship in Stuttgart.
Rebellin's teammates Marzio Bruseghin, Gabriele Balducci, Andrea Tonti, Matteo Tosatto and Luca Paolini did the forcing in the early part of the race for team leader Paolo Bettini while Rebellin kicked into action in the race's finale with Ballan and Cunego.
"In the last three laps the true race started," explained Rebellin, winner of multiple Spring Classics and this year's Paris-Nice emerged as a contender after the peloton had captured the day's three-man move. Ballan went to the front on the second half of the Ronchi climb in the penultimate circuit, taking Belgium's Greg Van Avermaet, Breschel, Spain's Joaquím Rodríguez and Germany's Fabian Wegmann with him. Rebellin and Cunego joined the move with Dutchman Robert Gesink, Austrian Christian Pfannberger and Ukraine's Andriy Grivko to set up a thrilling climax.
Rebellin fired twice on the final time up Ronchi but was marked both times. However, his actions weakened the rivals for Ballan's final blow.
"We had a problem with the ear pieces and I could not hear very well, but I knew that we had 50 seconds. We were in three and we had a certain guarantee - Ale, Damiano and me. I told them to give it a go on the climb and for Ale to try on the false flat, and it went well.
"We tried more than one time... 'Ale' is worthy of the win, he did one of his moves."
Bettini officially retired after the race, but Rebellin - two and a half years older than his compatriot - will continue racing. There is no contract in place for 2009 after the departure of Gerolsteiner from its sponsorship role, although reports linked him with Team LPR Brakes earlier this year.
"We wanted to give Bettini a great gift. Me? I will continue to race - I don't know where, but I will continue racing."
Italian boss happy with warriors
By Gregor Brown in Varese
Paolo Bettini speaks with team manager Franco Ballerini
Photo ©: AFP

After guiding his Italian warriors to the world championship win in Varese, Franco Ballerini told Cyclingnews that his charge Alessandro Ballan capitalised on the team's work and won the battle for the rainbow jersey.
"We kept going forward with our strategy and we also mixed the cards. It worked out great in the end. If you want to fight a war you've got to have warriors, who know how to fight a war," said Ballerini following Ballan's triumph.
Italy placed three of its men in the penultimate-lap move of the 260km race. Those riders - Ballan, Damiano Cunego and Davide Rebellin - waged the final battle as defending champion Paolo Bettini followed in a group one minute back.
The team started the race with Bettini as captain after he had announced his retirement the night before. Il grillo was eager to try for a record three consecutive wins in what would have been a fairytale ending to a glittering career.
"When you make a team, there is never a single leader, although we had a charismatic leader," Ballerini said. He downplayed the team had its tactics focused on Bettini, and praised the out-going champion as an example. "I hope in the future we will be able to have [another] one like him. His actions were a great lesson for the national team going forward."
Ballan delivered his killer attack 3km from the line, heading into Varese's centre. Rebellin and Cunego marked Denmark's Chris Anker Sørensen, who pulled for teammate Matti Breschel as Cunego was easily able to clear his rivals in the 12-man group for silver. Breschel took bronze while Rebellin fourth.
"I am so happy for Alessandro and for Damiano. Ballan did something great due to the great work of the team," said Ballerini, before paying tribute to outgoing champion Bettini. "Therefore Paolo decided to stay back and let the others win today. He is a leader who is not egotistical."
Jalabert to replace Moncassin?
Frédéric Moncassin has stepped down as the French national coach, opting to become a director of the recently formed Canadian team Teltek H2O. His decision means France must now fill his position as a national coach, and Laurent Jalabert is tipped to become his successor.
"The federation already asked me in 2004 to be the national coach, but at the time it was a little to early for me," Jalabert told L'Equipe. "The job is interesting, but I have to see if I can combine that with my current activities," he said.
"I see a lot of potential in the French team." Many of France's top professionals have already expressed their support for Jalabert to move into the position.
Cavendish with Columbia until 2011
Sprint sensation, Mark Cavendish has re-signed his current contract with Team Columbia for a further two years, according to Belgian news outlet Sporza. The Brit will now ride for the squad until 2011.
Cavendish had a break through season this year; he won four stages a piece in both the Tour de France and the Giro d'Italia.
Team Columbia was obviously hoping to hang onto the biggest sprinting talent since Tom Boonen. His contract with Columbia includes an option for another season after 2011.
Roulston signs with Cervélo TestTeam
Roulston at this year's Olympics
Photo ©: Rob Jones

After announcing his retirement two years ago and seemingly entering the cycling wilderness, Hayden Roulston has made a return to top-level road competition with the Cervélo TestTeam.
The 27-year-old from Christchurch sited health concerns for an early end to his career in August 2006 but made a stunning comeback to international prominence recently by taking silver in the individual pursuit and a bronze medal in the team pursuit at the Beijing Olympics.
"I'm very pleased to be a part of the Cervélo TestTeam," said Roulston. "The goals of the team fit perfectly with my own objectives for the current season - I'm very happy to be a part of this and excited about the future."
Roulston was New Zealand's brightest prospect in 2003, securing a contract with French outfit Cofidis before heading to Discovery Channel in 2005. Disciplinary issues and a heart condition brought his rise to a standstill in 2006, although despite the time off he managed to become the New Zealand national road race champion that year.
His biggest success to date is as back-to-back winner of the Tour of Wellington and Tour of Southland (2006 and 2'07), and in 2008 he won the UCI's Oceania Tour title.
Florence wants 2013 worlds bid
Having just completed the 2008 world titles in Varese, another Italian city has signalled its intention to host the world championships within the next five years.
Headed up by former pro Michele Bartoli, Florence's bid would mean it's the third Italian city to host the titles in nine years if it is successful. "To hold the world championships in Florence will be a fantastic project, the route would be a celebration of cycling," said Bartoli.
The next three editions of the world titles will be held in Mendrisio, Switzerland; Melbourne, Australia and Copenhagen, Denmark.
McCaughey and WAIS return to Tasmania
Organisers of Tasmania's Christmas Carnivals announced today that current national women's 10km scratch race champion, Laura McCaughey, will return from the US to race at this year's carnivals.
A regular attendee at the carnivals, the Tasmanian won her first national championship this year and was unlucky to miss Olympic selection. In 2008 she has won the Australian National Star Cycling Award and enjoyed successes in the US Criterium Series, including a win in the Iron Hill Twilight Crit.
West Australian Institute Sport cycling head coach Darryl Benson will be bringing a team of up to 20 cyclists to the carnivals, again guaranteeing plenty of competition. In the past West Australians such as talented sprinter Scott Sunderland have featured in the action, and organisers hope this can continue in 2008.
(All rights reserved/Copyright Future Publishing (Overseas) Limited 2008)