News Feature, September 30, 2008
Armstrong's Down Under hopes not over
By Laura Weislo and Cyclingnews staff
Lance Armstrong was quick to respond
Photo ©: Jon Devich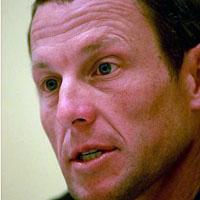 Lance Armstrong's return to the professional peloton in Australia's Tour Down Under has come under question due to an International Cycling Union (UCI) anti-doping rule. Reports that his enrolment in the required out-of-competition testing pool fell just shy of meeting the UCI's rules to compete in the January event were confirmed by Armstrong in a telephone call with several journalists on Monday.
Speaking from the small town of Marfa, Texas, Armstrong confirmed that his official enrolment in the system came August 1, 2008, but that he held a conversation with UCI president Pat McQuaid declaring his intentions "sometime in July". The UCI's anti-doping rules state that any rider coming out of retirement may not resume international competition unless he 'notifies the UCI six months in advance... and is available for unannounced out-of-competition testing at any time during the period before actual return to competition'.
Armstrong's August 1 enrolment would fall two weeks short of six months prior to the January 18 start of the Tour Down Under, preventing him from competing if the UCI were to take a strict interpretation of the rules. Armstrong said he is confused about the UCI's inconsistent application of this rule. "When it comes to sport, you always have rules, and we're not asking for any exceptions. But they don't always apply this rule. We all remember Mario Cipollini coming back at the Tour of California this year. This rule did not apply to him."
He also said he received conflicting information from McQuaid, who informed him the rule would only apply for world championships and Olympic Games.
Armstrong said that he has made himself available to the United States Anti-doping Agency (USADA), and has already been visited by the anti-doping testers sometime at the end of August. He's optimistic that he may still actually be able to race at the Tour Down Under, but admitted he hadn't had time to talk to McQuaid or UCI anti-doping chief Anne Gripper about the situation.
"I'm very excited to come [to Australia] - more importantly than with regards to the comeback and racing, we have a lot of stuff we can do in Australia; with the people, the government and the youth, when it comes to cancer awareness and prevention."
Questions surrounding Armstrong's eligibility weren't worrying South Australian Tourism Minister Jane Lomax-Smith or race director Mike Turtur however, who said today that they were hopeful of a successful resolution to matters emerging overnight.
"While we are awaiting further advice from international cycling and other authorities, we are hopeful that common sense will prevail and Lance Armstrong will race in the Tour Down Under," said Lomax-Smith, who is familiar with last-minute announcements from the UCI. In 2007 her and Turtur were advised just months before the Tour Down Under that the event would be a part of the ProTour calendar this season despite assurances that it wouldn't happen until 2009.
Applying similar logic to the current situation, organisers of Australia's biggest race explained that, "Lance Armstrong's decision to make his comeback in South Australia at the Tour Down Under is an absolute coup and we will do everything we can to make sure that this happens. This is not just about a cycling superstar making a return to his sport, but his visit to Australia will be a huge boost for cancer awareness and community support for research and prevention.
"We are expecting an update in the next few days as we remain in contact with UCI officials and Lance Armstrong's management. In the meantime, we are getting on with our preparations for Lance Armstrong's involvement in the Tour Down Under."
Lance Armstrong was at the 2007 Tour de France
Photo ©: AFP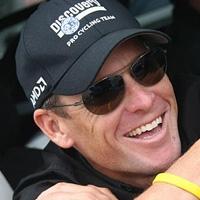 Should the UCI prevent him from racing until February 1, Armstrong said he may have to alter his plans to head to Australia from his family holiday vacation in Hawaii before returning to the USA for a training camp in California ahead of the Tour of California.
"After four or five years off, it would be nice to do a race before Tour of California," Armstrong said. "If it's technically not possible the alternate plan is to do a training camp and Tour of California, but there are always other races. I could do Tour of Qatar..."
Armstrong's 2009 season is still in a state of flux, and he said he needs to sit down with the Astana team's directors and formulate a plan. He said, "I could tell you where I'd like to go. Ideally, I'd race Tour Down Under, go to the camp in California, do Tour of California and Paris-Nice." Armstrong also expressed his desire to race the Giro d'Italia. "Not participating in the Tour of Italy [in my career] is a regret of mine. I would like to do it this year, especially for the 100-year anniversary," he said, but added that this was just "a shell of a plan, not a concrete plan."
When asked if racing the Giro and the Tour de France would affect his goals for the Tour, Armstrong said it is "definitely a departure".
"It depends how you race the Giro. If you go to the Giro and race as hard as you can, you might not recover in time for the Tour," he said, adding that after being away from the sport for so long, he felt he might need to get more time in competition. "Part of this is me needing some more race days than I would normally get in other years."
Armstrong said that he is "probably in much better shape than I ever have been in October." He began training in June for the Chicago Marathon before switching over to the bike in preparation for the Leadville 100 mountain bike race.
"I'm at 168 pounds," he revealed. "Normally I would start the season at about 178 lbs, so I'm a full 10 pounds lighter than that. I would usually start the Tour at 164 lbs. I've done enough training to get my body weight to where it should be."