Rund um die Nürnberger Altstadt - CDM/1.1
Germany, September 14-14, 2008
Main Page Results World Cup standings Stage Details Live report Previous Stage
Stage 2 - September 14: Womens race, 116km
Arndt takes it in solo style
Unstoppable Columbia rider emphatically confirms World Cup
By Ben Atkins
A happy race podium - Holler, Arndt and Wild
Photo ©: CJ Farquharson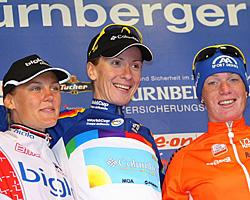 Judith Arndt (Columbia) won the Rund um die Nürnberger Altstadt, the final round of this year's World Cup. The former World champion attacked the breakaway of which she was part with around 14km to go – just before the bell to signal the last of ten 12.9km laps – and soloed away to finish over a minute clear. Swedish sprinter Monica Holler (Bigla) put in a late surge to take the sprint for second over Kirsten Wild of the Netherlands National Team.
"Every win is big!" exclaimed Arndt to Cyclingnews after her victory, but this one is all the more surprising as the flatness of the course lends itself far more to a sprint than a breakaway. As the final round of the World Cup, however – a competition Arndt has already assured victory of – it means that she takes the title in the season long competition by an enormous margin over Susanne De Goede (Equipe Nürnberger Versicherung) and Marianne Vos (DSB Bank).
In the race's midway point a group of 19 riders escaped the peloton, consisting of: Vos and Tina Liebig (both DSB Bank), Charlotte Becker, De Goede and Larissa Kleinmann (all Equipe Nürnberger Versicherung), Arndt, Alex Rhodes and Luise Keller (all Columbia), Jennifer Hohl, Holler and Andrea Thürig (all Bigla), Susane Ljungskog (Flexpoint), Sarah Grab (Specialized Designs for Women), Liesbeth Bakker (Vrienden Van Het Platteland), Karin Aune (Uniqa), Romy Kasper (German National Team), Wild and Chantal Blaak (Netherlands National Team), and Claudia Meyer (Team Stuttgart).
As the race progressed, the group was whittled down to just ten by successive attacks from a number of riders, but none were able to get away until Arndt on the penultimate lap. As a fast finisher, but not as fast as many of the specialists, she felt that some of the names in that group could present problems at the finish, especially after the Columbia team's presence in the front was reduced to two after Keller withdrew. "The group was not really perfect for us because there was Alex [Rhodes] and me in there and Kirsten Wild and Marianne Vos and Suzanne De Goede, so we attacked a lot in the last two laps to get rid of them and it worked."
"When I attacked and was solo it was maybe 2 or 3km until the climb – there was a little climb every lap [the Burgberg] – and I thought that if I make it to the climb and will be still solo on top of the climb and then I have a good chance, and I was so... I mean it was still hard to go to the finish, but then I thought I had a good chance to stay away."
As she makes her break, Judith Arndt (Team Columbia)
Photo ©: CJ Farquharson

"For us as a German team... I mean it was a German World Cup so we really wanted to win. We always want to win, but it's great. There's so many spectators every year here, for a German for sure it's good to win. We really wanted to race positive and aggressive – all of us – and we started on the third lap. There were three of us first in the big group, but then Luise [Keller] had to pull out because she felt a bit sick. Then the situation was not as perfect anymore, but really Alex and me really tried to make the best out of it."
On a course so suited to a bunch finish, one might have expected to see a different Columbia rider on top of the podium. Über-sprinter Ina Teuenberg has been seemingly unbeatable for the larger part of this season, her talents were not called upon today, but Arndt always knew that the team had her in reserve. "I don't know, we have a lot of cards to play," she explained. "It's not such a tough course so any one of us could win, like we are all good riders. It's certainly good to have Ina because we know she is the best sprinter, so we always have this card in the back of our heads. So it's always good to have her on the team."
"If you don't have a sprinter on you team then you really have a problem because you have to attack."
For second placed Holler, this result marks a best ever finish in a World Cup race, and is a welcome boost to the Bigla team who had been so active but with no reward in the previous round in Plouay. "I feel very happy," she told Cyclingnews. "It feels almost like a win for me! Yeah, I really needed that and the team really needed that, so we are very happy and the girls worked really good today."
Once Arndt had gone away alone, Holler was faced with the task of staying with the remainder of the break as they tried to pull her back. "The other girls tried to catch her," she said, "and I just tried to follow the other girls and have enough power for the sprint. But then I thought everyone would catch her, but she also has a really good team – Judith – and they did everything just to slow down, and it wasn't easy to catch her again. She was really strong."
Holler was able to call upon the services of two strong team-mates in the group, which proved a great help to her in staying with the group and being able to launch her sprint at the end. "I had Andrea Thürig and Jennifer Hohl, they were making attacks and tried to go in breaks away and [chased] down the [other] ones so we really tried to stay in the groups when someone went and they worked really good today."
Pressure in the break as the hammer goes down
Photo ©: CJ Farquharson

Things almost went wrong for Holler though, as the two fast Dutchwomen began to pull away in the closing metres. "They started the sprint really early," explained Holler, "actually I had to brake a little bit so they got a gap – Kirsten [Wild] and [Marianne] Vos – and so at first I was a little bit scared that I wouldn't catch them because they are really fast. Then I could catch them again and just pass them, I just gave everything to win the sprint, and I was just thinking: "Aaah! I've got to sprint, I've got to sprint, I really want to win this!" So I really needed this also, it's one of my last races [this year] – it'll just be Toscana and then I go back to Sweden – so it felt really good."
"I was really surprised that she was that strong today," she said of winner Arndt, but she wasn't surprised the German had tried something with all the sprinters present in the break. "I thought she might go – she and Ljungskog – because if they want to win they have to go away, so that was what I was expecting but she was a little bit too strong. So we couldn't catch her again."
Holler's Bigla team-mate Andrea Thürig has spent most of the season in breakaways – usually alongside Swiss champion Jennifer Hohl, who was also present today – the tall Swiss rouleur was very active to the end and almost managed to take a podium spot for herself. "I think there were always attacks and attacks," she said, "and then we were only ten people and then in the end I attacked again and had a gap, but 100 metres before the finish line the sprinters came and sprint[ed over] me and so I got 7th place, and Monica sprinted to 2nd place."
Two riders inside the top ten – and one in second place – is the best result for the powerful Swiss team in a World Cup race this season. "I think so," agreed Thürig, "this group went and this breakaway and I think we did the best of all we took 2nd and 7th place; I think it was good."
The Equipe Nürnberger Versicherung, like Columbia, managed to place three riders in the breakaway, and the race seemed to be going well for the team in its local race. However, the closing stages did not go to plan and they missed out on the podium with Charlotte Becker in fifth and Suzanne De Goede in sixth. Despite this, De Goede was satisfied with her runner-up position behind Arndt in the overall World Cup.
Pre-race temperatures were low and there was a cold wind
Photo ©: CJ Farquharson

"I'm really happy with that," the Dutchwoman old Cyclingnews. "I think we did a – until the last kilometre – we did a pretty good race with the team. We were three in the front and I only made a little mistake in the last corner with the sprint. It was a little bit disappointing but I still had good legs. It would have been nice to finish on the podium of course here in Nürnberg. So I'm really happy with my second place, but for the team of course it would have been nice to have somebody on the podium."
"Yeah, it was really good that we were three in the group of course," she continued, "but as I say of course it's nice to be on the podium, but bad luck, sometimes it works like that. I think Judith was just really strong today also. I think we did a good race with the team, but only the result would have been nicer to be on the podium. But I'm really happy with second place in the overall, of course."
With this victory, Arndt emphatically confirms her world Cup title. Her victory was all but assured after victory in Montreal, but mathematically certain after fourth place in Plouay last month. With such a devastating victory today – on a course not suited to breakaways – the German has showed herself to be one of the strong favourites for the World Championships in two weeks time.
"I feel good, but I don't know..." she said thoughtfully. "It will be different because all the good riders will be there, again it's different teams – everyone is riding with national teams – so you have different circumstances. It's also a hard course I think in Varese. We go to Tuscany [for the Giro della Toscana – Memorial Michela Fanini] now and we hopefully have good weather so we can prepare good, and then we'll see."
"They want to announce [the German team] today, but I think we know already who goes, so we will be a good team."
With her current form though, Arndt looks a strong bet for the title, something she won in 2004, the last time the championships were in Italy – and in an Olympic year; an omen that is not lost on her.
"Yeah, but then I won silver at the Olympics!" she laughed. "I don't know, we will see, I hope it will be better than last year: last year everything went wrong at Worlds, so I hope this year goes better."
Photography
For a thumbnail gallery of these images, click here
Images by CJ Farquharson/WomensCycling.net
Results
1 Judith Arndt (Ger) Team Columbia Women                     3.14.01
2 Monica Holler (Swe) Bigla Cycling Team                        1.02
3 Kirsten Wild (Ned) Netherlands National Team                      
4 Marianne Vos (Ned) Team DSB Bank                                  
5 Charlotte Becker (Ger) Equipe Nürnberger Versicherung             
6 Suzanne De Goede (Ned) Equipe Nürnberger Versicherung             
7 Andrea Thürig (Swi) Bigla Cycling Team                            
8 Alexis Rhodes (Aus) Team Columbia Women                           
9 Susanne Ljungskog (Swe) Team Flexpoint                            
10 Karin Aune (Swe) Team Uniqa                                      
11 Tina Liebig (Ger) Team DSB Bank                              1.14
12 Larissa Kleinmann (Ger) Equipe Nürnberger Versicherung       2.49
13 Chantal Blaak (Ned) Netherlands National Team                    
14 Liesbeth Bakker (Ned) Vrienden Van Het Platteland                
15 Claudia Meyer (Ger) Team Stuttgart                               
16 Romy Kasper (Ger) Equipe Nürnberger Versicherung                 
17 Sarah Grab (Swi) Team Specialized Designs For Women              
18 Jennifer Hohl (Swi) Bigla Cycling Team                       2.53
19 Denise Zuckermantel (Ger) Team Stuttgart                     4.57
20 Marieke Van Wanroij (Ned) Team DSB Bank                          
21 Andrea Bosman (Ned) Team DSB Bank                            8.31
22 Adriene Snijder (Ned) Team Flexpoint                             
23 Nathalie Lamborelle (Lux) Team Uniqa                             
24 Jaccolien Wallaard (Ned) Vrienden Van Het Platteland             
25 Alice Marmorini (Ita) Fenixs                                     
26 Andrea Wolfer (Swi) Bigla Cycling Team                           
27 Martina Zwick (Ger) Team Team Koga-Miyataa-Miyata                
28 Monique Van de Ree (Ned) Netherlands National Team               
29 Kelly Druyts (Bel) Topsport Vlaanderen Thompson Ladies Team      
30 Bettina Kuhn (Swi) Bigla Cycling Team                            
31 Annemiek Van Vleuten (Ned) Vrienden Van Het Platteland           
32 Samantha Galassi (Ita) Fenixs                                    
33 Emilia Fahlin (Swe) Team Columbia Women                          
34 Birgit Soellner (Ger) Team Koga-Miyata                           
35 Elise Van Hage (Ned) Team Flexpoint                              
36 Tine Ghyseinck (Bel) Topsport Vlaanderen Thompson Ladies         
37 Anna-M. Beyer (Ger) Team Stuttgart                               
38 Linn Trop (Nor) Norway National Team                             
39 Elke Gebhardt (Ger) German National Team                         
40 Pelin Cinzin (Aut) Elk Haus                                      
41 Froeydis Waersted (Nor) Norway National Team                     
42 Lisa Brennauer (Ger) German National Team                        
43 Stefanie Degle (Ger) Elk Haus                                    
44 Sjoukje Dufoer (Bel) Topsport Vlaanderen Thompson Ladies Team    
45 Elin Fylkesnes (Nor) Norway National Team                        
46 Rosemarie Mayer (Ger) Team Koga-Miyata                           
47 Martina Ruzickova (Cze) Elk Haus                                 
48 Sandra Dietel (Ger) Team Stuttgart                               
49 Lisa-Marie Degle (Ger) Elk Haus                                  
50 Suzie Godart (Lux) Fenixs                                        
51 Andrea Knecht (Swi) Team Specialized Designs For Women           
52 Marlen Joehrend (Ger) German National Team                       
53 Mirjam Hauser-Senn (Swi) Team Specialized Designs For Women      
54 Manuela Gruenzweil (Aut) Elk Haus                                
55 Kristine Saastad (Nor) Norway National Team                      
56 Carline Woeien (Nor) Norway National Team                        
57 Jana Suess (Ger) Team Koga-Miyata                                
58 Gabrielle Roovers (Ned) Netherlands National Team                
59 Nicole Mader (Ger) Team Stuttgart                                
60 Christina Becker (Ger) Equipe Nürnberger Versicherung            
61 Monika Furrer (Swi) Team Specialized Designs For Women           
62 Daniela Pintarelli (Aut) Team Uniqa                              
63 Stephanie Borchers (Ger) Team Stuttgart                          
64 Martine Bras (Ned) Vrienden Van Het Platteland                   
65 Stephanie Pohl (Ger) German National Team                    8.37
66 Angela Hennig (Ger) Team DSB Bank                                
67 Trixi Worrack (Ger) Equipe Nürnberger Versicherung               
68 Bernadette Schober (Aut) Team Uniqa                              
69 Loes Sels (Bel) Topsport Vlaanderen Thompson Ladies Team         
70 Regina Schleicher (Ger) Equipe Nürnberger Versicherung           
71 Trine Schmidt (Den) Team Flexpoint                               
72 Tanja Hennes (Ger) Team Specialized Designs For Women            
73 Saskia Elemans (Ned) Team Flexpoint                              
74 Anke Wichmann (Ger) Team Columbia Women                          
75 Ina Teutenberg (Ger) Team Columbia Women                         
76 Marit Huisman (Ned) Vrienden Van Het Platteland                  
DNF Evelien Bekkering (Ned) Team DSB Bank                           
DNF Luise Keller (Ger) Team Columbia Women                          
DNF Nadežda Vlasova (Rus) Fenixs                                    
DNF Lena Koeckerling (Ger) German National Team                     
DNF Alexandra Noehles (Ger) Team Koga-Miyata                        
DNF Nicole Heine (Ger) Team Koga-Miyata                             
DNS Emma Pooley (GBr) Team Specialized Designs For Women            

World Cup final standings

1 Judith Arndt (Ger) Team Columbia Women                         365 pts
2 Suzanne De Goede (Ned) Equipe Nürnberger Versicherung          232
3 Marianne Vos (Ned) Team DSB Bank                               182
4 Fabiana Luperini (Ita) Menikini - Selle Italia                 125
5 Emma Pooley (GBr) Team Specialized Designs For Women           117
6 Chantal Beltman (Ned) Team Columbia Women                      114
7 Kirsten Wild (Ned) AA-Drink Cycling Team                       109
8 Charlotte Becker (Ger) Equipe Nürnberger Versicherung          105
9 Marta Bastianelli (Ita) Safi - Pasta Zara Manhattan            101
10 Ina Teutenberg (Ger) Team Columbia Women                      100
11 Susanne Ljungskog (Swe) Menikini - Selle Italia                90
12 Kristin Armstrong (USA) Cervelo Lifeforce Pro Cycling Team     88
13 Kori Kelley Seehafer (USA) Menikini - Selle Italia             87
14 Alex Wrubleski (Can) Webcor Builders Cycling Team              85
15 Luise Keller (Ger) Team Columbia Women                         80
16 Katheryn Curi Mattis (USA) Webcor Builders Cycling Team        75
17 Emma Johansson (Swe) AA-Drink Cycling Team                     71
18 Monica Holler (Swe) Bigla Cycling Team                         71
19 Priska Doppmann (Swi) Cervelo Lifeforce Pro Cycling Team       70
20 Karin Thürig (Swi) Cervelo Lifeforce Pro Cycling Team          65
21 Oenone Wood (Aus) Team Columbia Women                          61
22 Julia Martisova (Rus) Gauss RDZ Ormu                           60
23 Andrea Thürig (Swi) Bigla Cycling Team                         60
24 Rochelle Gilmore (Aus) Menikini - Selle Italia                 57
25 Edita Pucinskaite (Ltu) Equipe Nürnberger Versicherung         55
26 Kimberly Anderson (USA) Team Columbia Women                    53
27 Emma Rickards (Aus) Cervelo Lifeforce Pro Cycling Team         53
28 Christiane Soeder (Aut) Cervelo Lifeforce Pro Cycling Team     53
29 Erinne Willock (Can) Webcor Builders Cycling Team              48
30 Alexis Rhodes (Aus) Team Columbia Women                        48
31 Nicole Brändli (Swi) Bigla Cycling Team                        46
32 Mirjam Melchers-Van Poppel (Ned) Team Flexpoint                44
33 Miho Oki (Jpn) Menikini - Selle Italia                         40
34 Liesbeth De Vocht (Bel) Vrienden Van Het Platteland            40
35 Carla Ryan (Aus) Australian National Team                      39
36 Martine Bras (Ned) Vrienden Van Het Platteland                 39
37 Leigh Hobson (Can) Canada                                      35
38 Diana Ziliute (Ltu) Safi - Pasta Zara Manhattan                35
39 Angela Henning (Ger) Team DSB Bank                             35
40 Linda Villumsen Serup (Den) Team Columbia Women                35
41 Noemi Cantele (Ita) Bigla Cycling Team                         35
42 Jolanta Polikeviciute (Ltu) USC Chirio Forno d'Asolo           34
43 Oxana Kozonchuk (Rus) Menikini - Selle Italia                  34
44 Larissa Kleinmann (Ger) Equipe Nürnberger Versicherung         34
45 Sara Carrigan (Aus) Lotto-Belisol Ladiesteam                   30
46 Loes Markerink (Ned) Team Flexpoint                            30
47 Nikki Egyed (Aus) Vrienden Van Het Platteland                  29
48 Amber Neben (USA) Team Flexpoint                               28
49 Regina Schleicher (Ger) Equipe Nürnberger Versicherung         27
50 Loes Gunnewijk (Ned) Team Flexpoint                            27
51 Julie Krasniak (Fra) France                                    24
52 Anne Samplonius (Can) Canada                                   24
53 Nicole Cooke (GBr) Team Halfords Bikehut                       24
54 Tina Liebig (Ger) Team DSB Bank                                24
55 Karin Aune (Swe) Team Uniqa                                    24
56 Modesta Vzesniauskaite (Ltu) Equipe Nürnberger Versicherung    23
57 Sarah Düster (Ger) Cervelo Lifeforce Pro Cycling Team          23
58 Andrea Bosman (Ned) Team DSB Bank                              23
59 Liesbeth Bakker (Ned) Vrienden Van Het Platteland              23
60 Chantal Blaak (Ned) AA-Drink Cycling Team                      23
61 Sara Mustonen (Swe) Team Cmax Dila                             21
62 Tiffany Cromwell (Aus) Australian National Team                21
63 Grete Treier (Est) Gauss RDZ Ormu                              20
64 Trine Schmidt (Den) Menikini - Selle Italia                    20
65 Iris Slappendel (Ned) Team Flexpoint                           20
66 Irene Van Den Broek (Ned) AA-Drink Cycling Team                19
67 Sofie Goor (Bel) Lotto-Belisol Ladiesteam                      17
68 Joanne Kiesanowski (NZl) Cervelo Lifeforce Pro Cycling Team    17
69 Regina Bruins (Ned) Netherlands                                17
70 An Van Rie (Bel) Vrienden Van Het Platteland                   16
71 Eleonora Van Dijk (Ned) Vrienden Van Het Platteland            16
72 Marit Huisman (Ned) Vrienden Van Het Platteland                16
73 Annemiek Van Vleuten (Ned) Vrienden Van Het Platteland         16
74 Grace Verbeke (Bel) Lotto-Belisol Ladiesteam                   15
75 Lorian Graham (Aus) Vrienden Van Het Platteland                15
76 Gina Grain (Can) Webcor Builders Cycling Team                  15
77 Laure Werner (Bel) AA-Drink Cycling Team                       15
78 Marlijn Binnendijk (Ned) AA-Drink Cycling Team                 15
79 Latoya Brulee (Bel) AA-Drink Cycling Team                      15
80 Adrie Visser (Ned) Team DSB Bank                               14
81 Lieselot Decroix (Bel) Lotto-Belisol Ladiesteam                13
82 Trixi Worrack (Ger) Equipe Nürnberger Versicherung             13
83 Angela Brodtka (Ger) Team DSB Bank                             13
84 Edwige Pitel (Fra) Team Pro Feminin Les Carroz                 13
85 Catrine Josefsson (Swe) Bizkaia - Durango                      13
86 Jennie Stenerhag (Swe) Sweden                                  13
87 Isabelle Söderberg (Swe) Sweden                                13
88 Avalo Lyngbaek (Swe) Sweden                                    13
89 Lang Meng (Chn) Giant Pro Cycling                              12
90 Vicki Whitelaw (Aus) Australian National Team                  12
91 Marina Romoli (Ita) Menikini - Selle Italia                    12
92 Nathalie Bates (Aus) Menikini - Selle Italia                   12
93 Kristine Saastad (Nor) Norway                                  11
94 Fröydis Waerstad (Nor) Norway                                  11
95 Caroline Wöien (Nor) Norway                                    11
96 Elin S. Fylkesnes (Nor) Norway                                 11
97 Bettina Kuhn (Swi) Bigla Cycling Team                          10
98 Veronica Andreasson (Swe) Bigla Cycling Team                   10
99 Lauren Franges (USA) US National Team                           9
100 Zulfiya Zabirova (Kaz) Bigla Cycling Team                      9
101 Sophie Creux (Fra) France                                      9
102 Peta Mullens (Aus) Australia                                   9
103 Serena Danesi (Ita) Top Girls Fassa Bortolo Raxy Line          9
104 Laura Pisaneschi (Ita) Top Girls Fassa Bortolo Raxy Line       9
105 Francesca Tognali (Ita) Top Girls Fassa Bortolo Raxy Line      9
106 Anna Zugno (Ita) Top Girls Fassa Bortolo Raxy Line             9
107 Claudia Häusler (Ger) Equipe Nürnberger Versicherung           8
108 Carly Hibberd (Aus) Australian National Team                   8
109 Helja Korhonen (Fin) Finland                                   8
110 Lotta Lepistö (Fin)  Finland                                   8
111 Riina Miettinen (Fin)  Finland                                 8
112 Anne Rautio (Fin) Finland                                      8
113 Anita Valen De Vries (Nor) Team Flexpoint                      6
114 Tatiana Stiajkina (Ukr) USC Chirio Forno d'Asolo               6
115 Claudia Meyer (Ger) Team Stuttgart                             6
116 Maryline Salvetat (Fra) France                                 5
117 Alison Powers (USA) US National Team                           5
118 Romy Kasper (Ger) Germany                                      5
119 Felicia Gomez (Can) Canada                                     4
120 Monika Schachl (Aut) Team Uniqa                                4
121 Carissa Wilkes (NZl) New Zealand                               4
122 Sarah Grab (Swi) Team Specialized Designs For Women            4
123 Béatrice Thomas (Fra) France                                   3
124 Carlee Taylor (Aus) Australian National Team                   3
125 Monia Baccaille (Ita) Fenixs                                   3
126 Jennifer Hohl (Swi) Bigla Cycling Team                         3
127 Giuseppina Grassi Herrera (Mex) Mexico                         2
128 Tina Mayolo Pic (USA) Vrienden Van Het Platteland              2
129 Denise Zuckermantel (Ger) Team Stuttgart                       2
130 Marie Lindberg (Swe) Equipe Nürnberger Versicherung            1
131 Yong Li Liu (Chn) Giant Pro Cycling                            1
132 Marieke Van Wanroij (Ned) Team DSB Bank                        1