Rund um die Nürnberger Altstadt - CDM/1.1
Germany, September 14-14, 2008
Sprinters gear up for World Cup finale
By Ben Atkins
Marianne Vos (DSB Bank)
Photo ©: AFP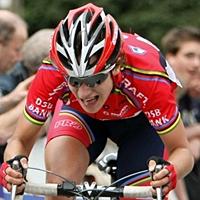 Last year's winner Marianne Vos (DSB Bank) returns to ride her first World Cup round since La Fleche Wallonne in April, which she won, and will once again be among the favourites for victory in this sprinters' classic. Vos spoiled Nicole Cooke's party this time last year by taking the double points on offer, and wrested the World Cup title from the British champion on the last day. The 2006 World champion, and current Dutch champion will be looking to exorcise a few demons after missing the winning break in last month's Olympic games in the build up to the World championships in two weeks time.
The rider to beat though will be Arndt's team-mate Ina Teutenberg (Columbia), second behind Vos last year. The German über-sprinter has been all but unbeatable this season taking any number of victories in both bunch finishes and breakaways. The Columbia team has already secured the World Cup individually through Judith Arndt and in the team classification, and will be out to put on a good show. Arndt herself will want to show off her leader's jersey as much as possible, but any member of the team could show herself including Emilia Fahlin and Luise Keller the Swedish and German champions respectively; the former could also feature in a sprint finish. If the team on the road were not powerful enough, they will be guided form the car behind by 2004 winner Petra Rossner.
Out to deny Vos and Teutenberg will be 2006 winner - and last year's third place - Regina Schleicher who leads the Equipe Nürnberger Versicherung in its home race. The big German outfit has been very much racing in the shadow of its rivals Columbia this season and will look for a strong showing in the town that its sponsor is based. If Schleicher falters, or doesn't have the form, Charlotte Becker or Dutch puncheur Suzanne De Goede will be only too happy to step in to the breach. De Goede is second in the World Cup standings and will be keen to protect that place from Vos and, although she cannot catch the Arndt, she'll surely want to close the gap.
Fourth last year, Rochelle Gilmore (then Menikini-Selle Italia) is missing, but fifth placed Kirsten Wild will be leading a small Netherlands national team instead of her usual AA-Drink team. The big Dutch sprinter is one of the few riders who has consistently pushed Teutenberg close in a number of races this season and this course suits her more than most so she might well beat her today.
Last year's sixth placed Monica Holler (Bigla) will be back and should feature in the closing stages. The young Swede has enjoyed her most successful season to date but has yet to take her first victory of 2008; this could be her chance. As usual the rest of the Bigla team is packed with quality including Nicole Brändli, Zulfia Zabirova, Andrea Thürig and Swiss champion Jennifer Hohl. At least one of those last three has featured in virtually every breakaway this season, but can all be relied upon to work hard for Holler in the final kilometres.
Apart from Arndt (Ronde van Vlaanderen and La Coupe du Monde Cycliste Feminine de Montreal) and Vos (La Fleche Wallonne) the only other winner of a round of this year's World Cup present will be Emma Pooley (Specialized Designs for Women). The British winner is enjoying a few months of top form recently adding a stage and second overall in Tour Cycliste Féminin International Ardèche behind Flexpoint's Amber Neben to her Olympic time trial silver medal. Despite this, Pooley will probably not find the course to her liking and is unlikely to feature in the result.
The race takes the form of ten laps of a 12.9km circuit around the old town of the historic Bavarian city of Nürnberg, as the race's name suggest. This will be one more lap than last year, taking the total race distance to 129km. The only real obstacle in the course is the short climb of the Burgberg after just 2km, but while this may provide the springboard for an early breakaway it has never been enough to prevent a sprint finish, and it's extremely unlikely to do otherwise this time. With the predominantly flat course and all of the top teams packing fast finishers the usual mass charge to the line is almost inevitable.