Rund um die Nürnberger Altstadt - CDM/1.1
Germany, September 16-17, 2007
All or nothing for Cooke and Vos
By Greg Johnson
Nicole Cooke (Raleigh Lifeforce Cration HB) will race for her third World Cup title on Sunday
Photo ©: Régis Garnier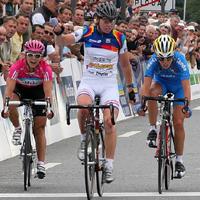 The Women's World Cup final this weekend will be, as it should be, an all or nothing battle between the world's most talented female cyclists. In a promoter's dream scenario this weekend reigning World Cup winner and women's cycling stalwart Nicole Cooke (Raleigh Lifeforce Cration HB) will defend her title with a narrow championship lead over reigning women's road world champion Marriane Vos.
In any other year Great Britain's Cooke would be able to arrive at Rund um die Nürnberger Altstadt knowing her title was done and dusted, however the double points on offer at this year's finale means her Dutch opponent is a serious title contender. While the threat of 20 year-old Vos is very real, the super experienced Cooke has an advantage over her opponent in having races the event three times while Vos will be making her event debut this weekend.
"I've ridden the course three times before so I know what to expect," Cooke told BBC.co.uk. "My rival hasn't ever raced it. I'm happy with my form at the moment, so I'm hoping it can continue and I can get the job done on Sunday.
"It's still mathematically possible for my closest rival to beat me and I still have to keep all my wits about me for a very hard race but I'm prepared for that and I'd much rather be in my situation than hers," she added. "I think until it's over there's going to be a lot of emotion involved in the race trying to get the job done."
Marianne Vos is chasing her first World Cup
Photo ©: Steve McEwen

It will take a Vos victory with Cooke finishing fourth, or worse, in order for the youngster to reclaim the 80 point difference that separates the two for her first World Cup title. A second place could also secure the former cyclo-cross world champion the title, providing that Cooke finishes outside of the top 10.
Behind the leading duo is another pair who will fight for third place between themselves, given the 118 point gap to second place Vos is insurmountable. That battle is between Australia's Oenone Wood (T-Mobile) on 139 points and Italian Noemi Cantele (Bigla Cycling Team) who holds 110 points to her name. Italian women's cycling legend Fabiana Luperini (Menikini-Gysko) could have contended for the third spot, currently sitting in fifth place on 108 points, however she won't contest the World Cup's final round.
The race will be held on the scenic course around the old town of Nürnberg, along the old city walls and in the shadow of its impressive castle. The peloton will make its way around the medieval city that features a torture museum, among other things. It could well feel like torture to those taking part, with the 117 kilometre race featuring nine laps of a 12.9 kilometre circuit.
Regina Schleicher won in Germany last year
Photo ©: Florian Schaaf

While all eyes will be on the World Cup battle between Cooke and Vos, hometown squad Equipe Nürnberger Versicherung could deprive both camps of the victory, with its nine rider lineup including last year's event winner Regina Schleicher, Edita Pucinskaite and Trixi Worrack.
The 143 kilometre men's race will see some of Germany's biggest squads out in force with Gerolsteiner, Team Milram, and Wiesenhof among the list of squads taking part in the UCI 1.1 race.