An interview with Mike Friedman, August 15, 2008
Mike Friedman: A Beijing Meatball
US Olympian Mike Friedman, one-half of the USA's Madison team with Bobby Lea, is excited about going to the Olympics... very excited. Normally racing on the road for the Garmin-Chipotle, he was part of Jonathan Vaughters' track plan since 2006 to get the USA an Olympic medal. Meatball, as he is affectionately known, is not settling for just the Olympic 'experience' – as he told Cyclingnews' North American Editor Mark Zalewski – he wants some hardware too!
Michael Friedman was delighted
Photo ©: John Pierce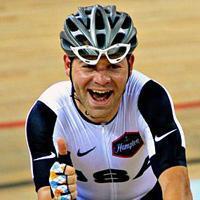 Speaking to Mike Friedman while he sat at the gate at Denver International Airport, it was not difficult to hear the excitement in his voice. The rapid rate of speech alone was enough to think it was Christmas morning at the Friedman house. And in some ways, the presents came early. "We went through processing and we got a Home Depot shopping cart size amount of USA clothing from Ralph Lauren! It's awesome!" (Nice USOC sponsor plug, Mike.)
"It is a dream, it's the whole reason I started cycling again and took a leave of absence from college. And then the whole reason I went with Slipstream because JV wanted to start a track squad that went with the road stuff."
"It's really payback for all the sacrifices I made," he said. "I dropped out of [university] after being there for 3.5 years, near a degree, and it was a big gamble. You never know if you are going to make it, so that is another aspect. And just being away from home and normal things, like having a girlfriend [is impossible], because you are being so selfish to yourself by following a training routine. The lifestyle, living for that moment, and just training and training for it."
"I don't know how a 3km sprint means you can ride a Madison or points race... We might as well had a beer chugging contest – whoever can down three beers and run around in a circle with an egg on a spoon!"
- Mike Friedman gives his thoughts on the US track squad selection
"They seem kinda small now, but if I did not make the team it would have been devastating! I would have been a wreck! I really don't know if I would have handled it right."
But Friedman also said that the payback for sacrifices extends far beyond himself, and includes his family who helped him get to where he is today.
"There is a lot of family strife that comes into play in this one. My cycling has always divided my family a lot. I was always gone. I can remember some large family arguments, both extended and immediate family, about it. But for this to come full circle they can share in this and see that all the hardship we went through as a family has paid off. This is bringing the whole family together. My parents are divorced and never wanted to go to the same races, but this is bringing everyone together and I really like that."
Meatball' Michael Friedman
Photo ©: Brecht DecaluwÚ
And he literally means bringing his family together. "My mother and father are both coming over to watch the Games. Neither of them have ever been out of the country, so I am honoured and excited for them because they get to travel and see something they never have before. And they are going to see a Madison event at the Olympic level. The only other time they might have seen one was when I was an amateur racing in T-town."
"The coolest part about this is that any person who has helped me along the way or been a part of this in any way, shape or form – mentally with a positive word or financially – this is for them! They can be part of it, not being there but knowing someone who is there, this is for them."
Making the team
The process for selecting the US track squad was a contentious issue for many, including Friedman. For the endurance events, four riders were going for two spots and the process was two 3km flying sprints with the top first 500 metre and 3km times automatic and the second (under the standard) as coaches' selection. Bobby Lea set the fastest time for the automatic spot while both Friedman and his best mate/former team-mate Brad Huff (Jelly Belly) met the time standard. Friedman had a faster 500 metre time and ended up with the other spot.
USA's Michael Friedman on the attack
Photo ©: John Pierce

As such, the moment was bittersweet for Friedman, as he and Huff have a relationship akin to the movie Superbad. "It was a really weird trials. Brad is my best friend... he is the only guy, other than my father and brother, that I can say 'I love you!' on the phone! [Danny] Pate thinks Brad and I are like Starsky and Hutch, driving our old Mustangs."
"For Brad it really hurt and I wish he was here. Maybe in 2012 he'll be there. Even still he rode a hell of a trials, only one second off and made the standard. Bobby had five months of training for that specific three kilometres while Brad had a couple weeks and I just came back from Europe. I don't know how a 3km sprint means you can ride a Madison or points race... We might as well had a beer chugging contest – whoever can down three beers and run around in a circle with an egg on a spoon!"
There was some anxiety leading up to the trials with potential for animosity and drama, including a rumour that a rider's family considered suing USA Cycling over the selection of the team. But Friedman said that has not been the case at all.
"I thought there was going to be [animosity] but the four of us going to the trials all knew there were only going to be two of us going to the Olympics. We all worked towards making it happen and we are the first Madison team to go to the Olympics for the US, and we all had a part in that. We all qualified with points somewhere along the way to make it happen. For that we are all connected. Now we have all moved on, and the bottom line is that we are all on the same team."
Not just happy to be there
Mike Friedman in the USA track nationals.
Photo ©: Mitch Clinton

Now that Friedman made it past the hurdle of making the team, he is focused well past just being at the Games. While this is the first time the US has qualified a Madison team, he said the goals are much higher than that. "It's not about me experiencing this so much as it is going there and doing the best I can and hopefully bringing back a medal."
"Honestly, I would not be going to the Games if I didn't think I had a chance to medal," he said. "Sure you go for the experience but I'm 27 and don't want to waste my time. I really think we have a shot at it."
The progression of US track endurance racing has moved quickly, particularly with the exciting and somewhat crazy Madison. "The Madison is a tactical race based on endurance, speed, tactics, wit and technique. You have 16 teams going full bore with hand exchanges, that is 36 guys going crazy over 200 laps. It's a lot to handle!"
"In Sydney [world cup], Colby and I were racing the Madison for the first time, and in Beijing we were sixth, Los Angeles we were fifth. Colby and [Bobby Lea] got second at Copenhagen. At Worlds I was on road form so I was really bad there, but I think we are contenders. And not going in as favourites we won't be watched as much as other teams to we can sneak away and maybe take a lap early."
Sleep high, train low
As Friedman said he entered the trials with complete road form, having competed the week before at Philly Week and the horrendously hot and brutal Philadelphia International. But staying true to his goal of developing USA track racing, Friedman's director sportif Jonathan Vaughters gave him a complete release from racing to focus completely on training for the Olympics.
"Once we qualified for the team we immediately boarded a plane, like two days later, to go to a six-day in Italy. We went to get some racing in on the track and work on hand-exchanges. It was really beneficial for that and because a lot of the guys racing in Italy are the ones we'll be racing against in the games. So it was good to see everybody we will be up against. Before Italy I was coming off road training. Italy started off rough but by the end of the week I was cruising and exchanges were good."
"Since returning from Italy I spent the last month or so at altitude in Colorado, hitting the motor and doing some torque-specific climbing, as well as more than my fair share on the track with Madison efforts. It's 50km long but really you are only racing for 25km because there are two guys racing. So I would motor pace for 35km sprinting for ten laps, it was pretty brutal."
Not only has Friedman trained his legs but also his mind, spending heaps of time alone in the beautiful Colorado Rockies. "Other than that I spent a lot of time up in the woods at 12,000 feet – sleep high, train low. I went up there with Danny Pate's dog Kojak to sleep and come down in the morning. It was great with Colorado's weather. I should have grown a beard!"
But the training has definitely already helped him. "I'm not nervous now like I was at Worlds, probably because I am much more prepared."
A little for the experience
While he said he was not there for just the experience, being at the Olympics is a special thing, and he recognizes that. "It's not a world championships, it only comes once every four years. It is so politically charged, emotionally charged... so many human characteristics involved and it is like becoming part of a new family. Some people work their entire lives for one shot, and some are just not lucky. There are athletes that are amazing and deserve to be here, but for one reason or another... at trials they just weren't on form that particular day."
As such he is planning a few sight-seeing trips with his family. "We'll see the Great Wall and we were invited to the US ambassador to China's house for an after-party."
Actually, Friedman has already rubbed elbows with heads of state, as part of a USOC delegation who visited the White House last month. "You should have seen what happened at the White House!" he said before remember he was on the record.
"Dude, I was in the oval office for half-an-hour just chillin' with the President! Well, me and 16 other athletes. We were around the desk and saw the artwork in the office. He even knew I was on Slipstream, it was unreal! Then we had a rose garden affair and dinner with the President."
Also keeping his usual easy-going attitude towards things, he was actually looking forward to the trans-continental flight to China – mostly because the US softball team was on the same flight. "They were on my bus this morning and we are flying with them. Instead of getting an emergency exit row I made sure to sit next to them, because they are gorgeous! I'm single, I have to roll with it and make Huff proud!"
Photography
For a thumbnail gallery of these images, click here
Images by Mitch Clinton/www.clintonphoto.com
Images by John Pierce/Photosport International
Images by Brecht DecaluwÚ/Cyclingnews.com