Track World Cup 07-08 Round 2 - CDM
Beijing, China, December 7-9, 2007
Main Page Results Previous Day
Day 3 - December 9: Men: Madison, Sprint; Women: Team pursuit, Keirin
Beijing passes the test
Madison winners Jerome Neuville and Christophe Riblon of France.
Photo ©: AFP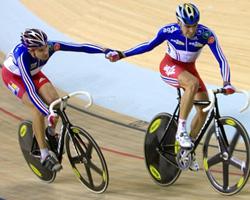 After the final day of competition at Beijing's Laoshan velodrome, both riders and coaches have praised the new venue, giving it a resounding thumbs-up for next summer's Olympic Games. Besides forming part of the UCI Track World Cup calendar and offering important ranking points for world championship and Olympic qualification, the three-day event was designed to test the velodrome's readiness as part of the 'Good Luck Beijing' project - a series of competitions across 42 sports to trial Olympic venues.
"It is a cathedral for cycling," heralded Australian head coach Martin Barras. "They have done an outstanding job on this venue and it is one of the best tracks I have ever seen. Once they complete the additional grandstand seating and fill it with people I think the ambience in here in 2008 will be very, very special."
With four events scheduled on day three, the men's sprint kicked off this morning's session as German Stefan Nimke qualified fastest ahead of Frenchman Kevin Sireau and world sprint champion Theo Bos of Holland. The top 16 qualifiers proceeded through to the knockout stages with Bos eventually coming out on top after defeating another Frenchman, Mickael Bourgain, 2-0 in the final. Nimke took care of Sireau by the same margin to earn bronze while Great Britain's Chris Hoy won the race-off for fifth. Reigning Olympic champion Ryan Bayley failed to make it past the second round after losing to British youngster Ross Edgar.
The weekend's event was designed to ensure all will run smoothly in Beijing next summer.
Photo ©: AFP

Next up was the women's 3000m team pursuit - a new event in the Track World Cup run for the first time last weekend in Sydney. The Ukrainian trio of Svetlana Galuk, Lesya Kalitovska and Lyubov Shulika qualified fastest, over a second quicker than Russia, winners of round one in Sydney. The final saw the same outcome, as despite a problem with the timing system, Ukraine topped the Russians to take gold and bolster their position at the top of the World Cup standings.
In the women's keirin Dutchwoman Willy Kanis produced a wily performance to evade two last lap crashes and take gold from Germany's Christin Muche. Of the four riders who fell, Ukrainian Natallia Tsylinskaya was the quickest to re-mount, and rolled across the line to take bronze. World keirin champion Victoria Pendleton was also brought down in the crash, but walked from the track after a brief medical examination. Not so lucky was Lithuanian Simona Krupeckaite, who was carried away on a backboard and taken to hospital with a suspected arm injury.
The men's Madison
Photo ©: AFP

The traditional Track World Cup finale, the men's Madison, was a star-studded affair with teams eager to score early qualifying points for the world championships and Olympics. Only the top 13 UCI-ranked countries will get a ride in Beijing, with defending champions Australia still to gain a point after a disappointing performance today which saw Allan Davis crash out with a badly bruised right knee.
French pairing Jerome Neuville and Christophe Riblon took the Madison honours after a closely fought contest with Great Britain's Bradley Wiggins and Mark Cavendish, riding for their T-Mobile track team. Both pairs lapped the field but Neuville and Riblon had taken a single point in the first of eight sprints which proved decisive. In turn, Wiggins and Cavendish bettered Ukrainian duo Lyubomyr Polatayko and Volodymyry Rybin courtesy of a better position in the finishing sprint.
The Track World Cup now takes a six week break before rolling out in Los Angeles from January 18-20. The fourth and final event takes place in Copenhagen from February 15-17.
Photography
For a thumbnail gallery of these images, click here
Images by AFP Photo
Images by John Pierce/Photosport International
Results
Men's sprint - qualifying

1 Stefan Nimke (Germany) www.Rad-Net.de                                 10.101 (71.280 km/h)
2 Kevin Sireau (France) Cofidis                                         10.126 (71.104 km/h)
3 Theo Bos (Netherlands)                                                10.131 (71.068 km/h)
4 Mickael Bourgain (France) Cofidis                                     10.141 (70.998 km/h)
5 Chris Hoy (Great Britain)                                             10.166 (70.824 km/h)
6 Carsten Bergemann (Germany)                                           10.207 (70.539 km/h)
7 Gregory Bauge (France)                                                10.252 (70.230 km/h)
8 Ross Edgar (Great Britain) Scienceinsport.com                         10.259 (70.182 km/h)
9 Ryan Bayley (Team Toshiba)                                            10.316 (69.794 km/h)
10 Craig Maclean (Great Britain)                                        10.333 (69.679 km/h)
11 Adam Ptacnik (Czech Republic)                                        10.360 (69.498 km/h)
12 Tim Veldt (Netherlands)                                              10.362 (69.484 km/h)
13 Kazunari Watanabe (Japan)                                            10.386 (69.324 km/h)
14 Ben Kersten (Australia)                                              10.409 (69.170 km/h)
15 Matthew Crampton (Great Britain) Scienceinsport.com                  10.429 (69.038 km/h)
16 Matthias John (Germany)                                              10.449 (68.906 km/h)
17 Adam Duvendeck (USA) Momentum Cycling                                10.452 (68.886 km/h)
18 Michael Seidenbecher (Germany) www.Rad-Net.de                        10.457 (68.853 km/h)
19 Jason Niblett (Australia)                                            10.478 (68.715 km/h)
19 Arnaud Tournant (France)                                             10.478 (68.715 km/h)
21 Lukasz Kwiatkowski (Poland)                                          10.511 (68.499 km/h)
22 Roberto Chiappa (Italy)                                              10.518 (68.454 km/h)
23 Wen Hao Li (China)                                                   10.525 (68.408 km/h)
24 Travis Smith (Canada)                                                10.528 (68.389 km/h)
24 Damian Zielinski (Poland)                                            10.528 (68.389 km/h)
26 Sergey Borisov (Russia)                                              10.542 (68.298 km/h)
27 Tsubasa Kitatsuru (Japan)                                            10.558 (68.194 km/h)
28 Sergey Kucherov (Russia)                                             10.572 (68.104 km/h)
29 Tomas Babek (Czech Republic)                                         10.581 (68.046 km/h)
30 Hassan Ali Varposhti (I. R. Iran)                                    10.590 (67.988 km/h)
31 Lae Sun Choi (Korea)                                                 10.614 (67.834 km/h)
32 Scott Sunderland (Australia) Team Toshiba                            10.619 (67.802 km/h)
33 Alvaro Alonso Rubio (Spain)                                          10.626 (67.758 km/h)
34 Ricardo Lynch (Jamaica)                                              10.646 (67.631 km/h)
35 Jonathan Marin Cermeno (Colombia)                                    10.668 (67.491 km/h)
36 Hodei Mazquiaran Uria (Spain)                                        10.685 (67.384 km/h)
37 Qi Tang (China)                                                      10.687 (67.371 km/h)
37 Giddeon Massie (United States)                                       10.687 (67.371 km/h)
39 Qiming Wang (Hong Kong) Hong Kong Pro Cycling                        10.708 (67.239 km/h)
40 Hersony Canelon (Venezuela)                                          10.730 (67.101 km/h)
41 Yuriy Tsyupyk (Ukraine)                                              10.743 (67.020 km/h)
42 Yahui Gao (Hong Kong) Hong Kong Pro Cycling                          10.753 (66.958 km/h)
43 Vasileios Galanis (Greece)                                           10.760 (66.914 km/h)
44 Denis Dmitriev (Russia) Scow                                         10.769 (66.858 km/h)
45 Yury Karzheneuski (Belarus)                                          10.778 (66.802 km/h)
46 Morne Blignaut (South Africa)                                        10.785 (66.759 km/h)
47 Christopher Sellier (Trinidad &Tobago)                               10.807 (66.623 km/h)
48 Athanasios Mantzouranis (Greece)                                     10.836 (66.445 km/h)
49 Mahmoud Parash (I. R. Iran)                                          10.842 (66.408 km/h)
50 Jae Yeol Ryu (Korea)                                                 10.934 (65.849 km/h)
51 Alexis Sotolongo Franco (Cuba)                                       10.938 (65.825 km/h)
52 Angel Sixto Garcia (Catalunya)                                       10.952 (65.741 km/h)
53 Gabriel Jonasek (Slovakia)                                           10.956 (65.717 km/h)
54 Stoyan Vasev (Russia) Scow                                           10.969 (65.639 km/h)
55 Matej Slivovsky (Slovakia)                                           10.970 (65.633 km/h)
55 Angel Pulgar (Venezuela)                                             10.970 (65.633 km/h)
57 Itmar Esteban Herraiz (Catalunya)                                    11.054 (65.134 km/h)
58 Leonardo Narvaez Romero (Colombia)                                   11.056 (65.123 km/h)
59 Daniel Novikov (Estonia)                                             11.151 (64.568 km/h)
60 Leandro Hernan Bottaso (Argentina)                                   11.225 (64.142 km/h)
61 Jose Alberto Sochon Gudiel (Guatemala)                               11.243 (64.039 km/h)
62 Gabriel Alberto Pellecer Castro (Guatemala)                          11.331 (63.542 km/h)
DNS Josiah Ng Onn Lam (Malaysia)
DNS Andriy Vynokurov (Ukraine)

1/8 finals

Heat 1
1 Stefan Nimke (Germany) www.Rad-Net.de                                 10.454 (68.873 km/h)
2 Matthias John (Germany)

Heat 2
1 Kevin Sireau (France) Cofidis                                         10.793 (66.709 km/h)
2 Matthew Crampton (Great Britain) Scienceinsport.com

Heat 3
1 Theo Bos (Netherlands)                                                11.026 (65.300 km/h)
2 Ben Kersten (Australia)

Heat 4
1 Mickael Bourgain (France) Cofidis                                     10.579 (68.059 km/h)
2 Kazunari Watanabe (Japan)

Heat 5
1 Chris Hoy (Great Britain)                                             10.771 (66.846 km/h)
2 Tim Veldt (Netherlands)

Heat 6
1 Carsten Bergemann (Germany)                                           11.018 (65.347 km/h)
2 Adam Ptacnik (Czech Republic)

Heat 7
1 Craig Maclean (Great Britain)                                         11.124 (64.724 km/h)
2 Gregory Bauge (France)

Heat 8
1 Ross Edgar (Great Britain) Scienceinsport.com                         10.565 (68.149 km/h)
2 Ryan Bayley (Team Toshiba)

Quarter finals

Heat 1
1 Stefan Nimke (Germany) www.Rad-Net.de                                 10.885
2 Ross Edgar (Great Britain) Scienceinsport.com                         REL          10.606

Heat 2
1 Kevin Sireau (France) Cofidis                                         10.756       10.962
2 Craig Maclean (Great Britain)

Heat 3
1 Theo Bos (Netherlands)                                                10.494       10.740
2 Carsten Bergemann (Germany)

Heat 4
1 Mickael Bourgain (France) Cofidis                                     10.765       10.541
2 Chris Hoy (Great Britain)

Semi finals

Heat 1
1 Mickael Bourgain (France) Cofidis                                     10.906       10.453
2 Stefan Nimke (Germany) www.Rad-Net.de

Heat 2
1 Theo Bos (Netherlands)                                                10.435       10.423
2 Kevin Sireau (France) Cofidis

Final

For gold and silver

1 Theo Bos (Netherlands)
2 Mickael Bourgain (France) Cofidis

For bronze

3 Stefan Nimke (Germany) www.Rad-Net.de
4 Kevin Sireau (France) Cofidis

Women's 3000m team pursuit - qualifying

1 Ukraine                                                             3.31.869 (50.974 km/h)
   Svetlana Galuk (Ukraine)			                 
   Lesya Kalitovska (Ukraine)			                 
   Lyubov Shulika (Ukraine)			                 

2 Russia                                                              3.33.153 (50.667 km/h)
   Anastasiay Chulkova (Russia)	                 
   Eugeniya Romanyuta (Russia)	                 
   Olga Slyusareva (Russia)	                 

3 Cuba                                                                3.38.458 (49.437 km/h)
   Yudelmis Dominguez Masague (Cuba)		                 
   Yoanka Gonzalez Perez (Cuba)			                 
   Yumari Gonzalez Valdivieso (Cuba)		                 

4 Italy                                                               3.41.942 (48.661 km/h)
   Silvia Castoldi (Italy)			                 
   Annalisa Cucinotta (Italy)			                 
   Tatiana Guderzo (Italy)			                 

DNS New Zealand
     Catherine Cheatley (New Zealand)
     Joanne Kiesanowski (New Zealand)
     Alison Shanks (New Zealand)

Finals

For gold and silver

1 Ukraine                                                             
   Svetlana Galuk (Ukraine)			                 
   Lesya Kalitovska (Ukraine)			                 
   Lyubov Shulika (Ukraine)			                 

2 Russia                                                              
   Anastasiay Chulkova (Russia)	                 
   Eugeniya Romanyuta (Russia)	                 
   Olga Slyusareva (Russia)	                 

For bronze

3 Cuba                                                                3.35.732 (50.062 km/h)
   Yudelmis Dominguez Masague (Cuba)		                 
   Yoanka Gonzalez Perez (Cuba)			                 
   Yumari Gonzalez Valdivieso (Cuba)		                 

4 Italy                                                               3.37.355 (49.688 km/h)
   Silvia Castoldi (Italy)			                 
   Annalisa Cucinotta (Italy)			                 
   Tatiana Guderzo (Italy)			

Men's Madison - qualifying   

Heat 1          

1 Colby Pearce / Michael Friedman (United States)                 0 pts
 
One lap behind
 
2 Alexey Markov / Mikhail Ignatiev (Russia)                       7 
3 Alex Rasmussen / Michael Morkov (Denmark)                       6
4 Mark Cavendish / Bradley Wiggins (T-Mobile Track Team)          5
5 Danny Stam / Peter Schep (Netherlands)                          5
6 Jerome Neuville / Christophe Riblon (France)                    5
7 Walter Fernando Perez / Juan Esteban Curuchet (Argentina)       5
8 Greg Henderson / Hayden Roulston (New Zealand)                  5
9 Juan Pablo Forero Carreno / Carlos Alzate Escobar (Colombia)    2
10 Cameron Meyer / Zakkari Dempster (Team Toshiba)                1
11 Roland Garber / Andreas Graf (Austria)                          
 
Two laps behind
 
12 Zachary Bell / Martin Gilbert (Canada)                         3 
13 Mariusz Wiesiak / Rafal Ratajczyk (Poland)                      
14 Sun Jae Jang / Jung Hwan Youm (Korea)                           
DNF Martin Liska / Jozef Zabka (Slovakia)                          
DNF Ho Ting Kwok / Kam-Po Wong (Hong Kong)                         
DNF Jorge Soto Perera / Milton Wynants Vazquez (Uruguay)           
DNS Petr Lazar / Alois Kankovsky (Czech Republic)                  

Heat 2

1 Carlos Torrent Tarres / Joan Llaneras Rossello (Spain)       0 pts 
 
One lap behind
 
2 Roger Kluge / Olaf Pollack (Team Focus)                      8 
3 Jonathan Bellis / Ben Swift (Team 100% Me)                   8
4 Robert Hayles / Geraint Thomas (Great Britain)               7
5 Kenny De Ketele / Lljo Keisse (Belgium)                      5
6 Alexey Shmidt / Ivan Kovalev (Moscow)                        5
7 Allan Davis / Luke Roberts (Australia)                       5
8 Lyubomyr Polatayko / Volodymyry Rybin (Ukraine)              3
9 Kazuhiro Mori / Makoto Iijima (Japan)                        2
10 Martin Blaha / Milan Kadlec (Asc Dukla Praha)               1
11 Toni Tauler Llull / Miquel Alzamora Riera (Illes Balears)    
12 Vladimir Shchekunov / Leonid Krasnov (Lokomotiv)             
13 Luis Fernando Sepulveda / Marco Antonio Arriagada (Chile)    
14 Vasyl Yakovlev / Sergiy Lagkuti (Arda Natura Pinarello)      
DNF Mehdi Sohrabi / Amir Zargari (I. R. Iran)                   
DNF Aliaksandr Lisouski / Yauhen Sobal (Belarus)                
DNF Hasin Hua Huang / Po Hung Wu (Chinese Taipei)               
DNS Leif Lampater / Henning Bommel (Germany)       

Final

1 Jerome Neuville / Christophe Riblon (France)                     1 pts
2 Mark Cavendish / Bradley Wiggins (T-Mobile Track Team)            
3 Lyubomyr Polatayko / Volodymyry Rybin (Ukraine)                   
 
One lap behind
 
4 Roger Kluge / Olaf Pollack (Team Focus)                         16
5 Carlos Torrent Tarres / Joan Llaneras Rossello (Spain)          14
6 Colby Pearce / Michael Friedman (United States)                 13
7 Kenny De Ketele / Iljo Keisse (Belgium)                         12
8 Alex Rasmussen / Michael Morkov (Denmark)                        9
9 Greg Henderson / Hayden Roulston (New Zealand)                   6
10 Alexey Markov / Mikhail Ignatiev (Russia)                       5
11 Juan Pablo Forero Carreno / Carlos Alzate Escobar (Colombia)    2
12 Walter Fernando Perez / Juan Esteban Curuchet (Argentina)       1
13 Danny Stam / Peter Schep (Netherlands)                          1
14 Kazuhiro Mori / Makoto Iijima (Japan)                            
15 Jonathan Bellis / Ben Swift (Team 100% Me)                       
 
Two laps behind
 
16 Allan Davis / Luke Roberts (Australia)                           
DNF Alexey Shmidt / Ivan Kovalev (Moscow)                           
DNF Robert Hayles / Geraint Thomas (Great Britain)                  

Women's keirin - first round

Heat 1

1 Victoria Pendleton (Great Britain) Scienceinsport.com
2 Christin Muche (Germany)
3 Elizabeth Carlson Reap (United States) Verducci Breakaway Racing
4 Nancy Contreras Reyes (Mexico)
5 Virginie Cueff (France)
6 Mei Yu Hsiao (Chinese Taipei)
7 Elisa Frisoni (Italy)

Heat 2

1 Anna Blyth (Great Britain)
2 Clara Sanchez (France)
3 Lisandra Guerra Rodriguez (Cuba)
4 Yvonne Hijgenaar (Netherlands)
REL Valentina Alessio (Italy)
DNS Fang Tian (Japan) Giant Pro Cycling
DNS Jennie Reed (United States)

Heat 3

1 Natallia Tsylinskaya (Belarus)
2 Willy Kanis (Netherlands)
3 Oksana Grishina (Russia)
4 Jinjie Gong (Japan) Giant Pro Cycling
5 Miriam Welte (Germany)
6 Wai Sze Lee (Hong Kong)
REL Daniela Grelui Larreal (Venezuela)

Heat 4

1 Simona Krupeckaite (Lithuania)
2 Swetlana Grankowskaja (Russia)
3 Diana Maria Garcia Orrego (Colombia)
4 Lulu Zheng (China)
5 Dana Gloss (Germany) www.Rad-Net.de
6 Huang Ting Ying (Chinese Taipei)
7 Helena Casas Roige (Catalunya)
DNS Lyubov Shulika (Ukraine)

Second round

Heat 1

1 Simona Krupeckaite (Lithuania)
2 Willy Kanis (Netherlands)
3 Victoria Pendleton (Great Britain) Scienceinsport.com
4 Oksana Grishina (Russia)
5 Clara Sanchez (France)
6 Miriam Welte (Germany)

Heat 2

1 Natallia Tsylinskaya (Belarus)
2 Christin Muche (Germany)
3 Swetlana Grankowskaja (Russia)
4 Anna Blyth (Great Britain)
5 Lisandra Guerra Rodriguez (Cuba)
6 Dana Gloss (Germany) www.Rad-Net.de

Final 1-6

1 Willy Kanis (Netherlands)
2 Christin Muche (Germany)
3 Natallia Tsylinskaya (Belarus)
4 Swetlana Grankowskaja (Russia)
DNF Simona Krupeckaite (Lithuania)
DNF Victoria Pendleton (Great Britain) Scienceinsport.com

Final 7-12

7 Anna Blyth (Great Britain)
8 Lisandra Guerra Rodriguez (Cuba)
9 Oksana Grishina (Russia)
10 Clara Sanchez (France)
11 Miriam Welte (Germany)
12 Dana Gloss (Germany) www.Rad-Net.de