First Edition Cycling News, April 14, 2008
Edited by Ben Abrahams
Boonen picks up much needed victory in Roubaix
By Brecht Decaluwé in Roubaix
A second Roubaix cobblestone
Photo ©: AFP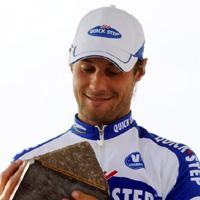 When Tom Boonen crossed the finish line in the Roubaix velodrome for the second time in his career as a winner, a lot of things must have gone through his mind. Until today, the Belgian had struggled to find the winning legs that brought him the legendary treble of the Ronde van Vlaanderen, Paris-Roubaix and the world championships in 2005. A good 2006 also followed with wins in the Tour de France, another Ronde triumph, not to mention a bunch of semi-classics. But 2007 was a much leaner year for the Quick Step star, as even the Tour de France green jersey and two stage victories did little to hide the fact that he couldn't win one of the sport's big Monuments.
For a rider's entire season to be judged on two races during the most important week of the Spring Classics may seem a little unfair, and Boonen's reaction at the finish line was clearly one of relief. "Phew!" he said, "I can go on again for a little while." The 27 year-old had been made to endure weeks of doubting in the media, but answered his critics in style today.
"It's fantastic to win a race under a lot of pressure," he said, "but the only person who didn't need to have doubts was me. Doubts aren't good and today I wasn't in doubt, otherwise you can't win here. Criticism? If I win there is criticism, but also if I don't win, so in the end I shouldn't care about that. I didn't announce [that I would win], I only said that I would be good, but then the question is if that will be good enough to win."
He then explained that he was fed up with the mind games that have been played out in the Belgian press. "By saying that I want to be good in this week I'm not picking up extra pressure, because that pressure would be there anyway. The problem is that if I say that I want to be good, it turns out to be 'Boonen wants to put on a show' in the paper. My words are easily taken as the truth, or more easily changed to make them true," he stated.
"I shouldn't be saying that I will not try to win the Ronde van Vlaanderen and Paris-Roubaix. And if I try - I repeat - try to win them, then that turns into 'Boonen puts all his money on two races', or 'Boonen is a pompous twit'. Going for those two races is just the normal run of affairs, but now everything is considered good again," he said with a sardonic smile on his face. "I won, so ... good.
"These are the two races that I really like," he continued, "and I've never been hiding that. It takes a lot of energy as you have to live and train for it for so long. I've been thinking about these races for almost three months now. I went through all possible scenarios and that's what you think about during the race."
To read the complete feature, click here.
Cancellara graceful in defeat
By Brecht Decaluwé in Roubaix
Cancellara reflects
Photo ©: AFP

After casting doubt on the form of Tom Boonen in the days leading up to Paris-Roubaix, Fabian Cancellara (Team CSC) was happy to admit that the Belgian was the strongest man today, and deserved his second Roubaix victory. "I think you need to win something before you can win a big race," were his words before the race, but Boonen proved that he didn't need wins in the Belgian semi-classics to capture victory in the 'Hell of the North'.
"I'm a little bit disappointed which is normal when you don't win," said Cancellara afterwards. "In the end I can be very happy with a second place in Paris-Roubaix. Besides one or two bad races I have never been bad in Hell. Today I'm satisfied as well, especially if you look at the two other guys in the breakaway, and especially Boonen who demonstrated he was the strongest. Now I'm happy to have a break."
The Swiss had enjoyed the rivalry between himself and Boonen, and was happy to see that both riders lived up to expectations. "If one of us would attack, the other one would chase him down. We were the two big favourites and the fact that we were there in the finale meant a lot to me. It proved that I was 100 percent, which I needed to be up there. In Flanders I wasn't that strong and I made a lot of mistakes, but the team and I reacted in a great way."
Team tactics proved to be all-important when the finale reached its decisive moment with 50 kilometres to go. Quick Step's Stijn Devolder attacked and ended up riding in the front with last year's winner from Team CSC, Stuart O'Grady. It was up to Silence-Lotto to close the gap for Leif Hoste and Johan Van Summeren, and by doing that big guns Boonen, Ballan and Cancellara were offered the ideal platform to jump away when the leaders came back together.
"That's the great thing about cycling," noted Cancellara. "When O'Grady and Devolder were up front, it was up to Hoste and Van Summeren to do the work. That tired them out and then it was up to Tom and me to attack. That's the game and sometimes it works in your advantage, but like in Flanders it might work the other way around as well. It shows that you need a strong team to win a race like this."
Team CSC directeur sportif Scott Sunderland was also satisfied with his team's efforts. "Although we didn't win this year, I still think we rode a great race," Sunderland told Cyclingnews. "Luck wasn't exactly on our side today with Marcus [Ljungqvist] crashing and a very strong Kurt [Asle Arvesen] puncturing at the worst moment when he arrived on the Arenberg.
"Fabian started to cramp after his attack and wasn't able to recover before entering the velodrome. Against a fast Boonen there was no possible tactics. Fabian won a lot already this year, Kurt won a semi-classic... I think team CSC came out to play in all races we started in so far this season. We are satisfied."
Ballan happy with second Roubaix podium
By Gregor Brown in Roubaix
Alessandro Ballan (Lampre)
Photo ©: Roberto Bettini

As a relatively unknown rider, Italy's Alessandro Ballan raced to a third spot on the Paris-Roubaix podium in 2006. Two years on, he was back again, this time after joining the day's power move with Tom Boonen and Fabian Cancellara, both past winners of the cobbled Monument.
Ballan successfully worked with his two companions over the 36 kilometres to the finish and went on to lead out the duo on the Roubaix velodrome. He explained after the race that he was satisfied just to be with the key escape to the finish.
"I thought that it would be hard, because with two riders like that I knew it would be that way," said a tired Ballan metres after finishing. "I worked well with Fabio Baldato in the Arenberg Forest. I left the Forest in fifth or sixth, so it was going very well.
"I followed the right men," he continued. "I had a little bit of fear when Stijn Devolder and Stuart O'Grady went and in the finale I was tired. With the first round of attacks I started to have cramps, so for this reason I am content to just finish on the podium."
Ballan bided his time over the final pavé sectors but did appear to be the weakest of the trio. He confirmed, "The finale was long and hard. Even in our group of three I was having trouble staying on the wheels of Ballan and Cancellara."
Ballan opened up the sprint from the front with 300 metres to the line. "I tried but they were far superior," he said.
With two third places in one of the most respected one-day races, Ballan is even more confident that he can some year win the Queen of the Classics. "I know I can," he said. "Not to forget that the other time I arrived on the podium and this time it was a similar result. I hope to return and do well."
Unlucky Roubaix for Milram
Team Milram were hoping for top-10 finish at Paris-Roubaix, but several crashes involving riders from other teams put an end to their challenge with Ralf Grabsch ending as the team's best placed finisher in 26th, over seven minutes behind the winner. "I was good today, but not good enough," said the German. "Pozzato's crash held me up, and I used up a lot of strength getting back to the peloton. Unfortunately that was when the group with Boonen took off. I kept on fighting and felt good, but didn't have a chance."
Despite the setbacks, team manager Gerry van Gerwen was satisfied with his team's race. "The first half of the race went as planned," he said. "Unfortunately we had some bad luck in the Arenberg Forest, when there was a crash directly in front of Niki, which caused him to lose contact with the peloton. And then Ralf was held up by Filippo Pozzato's crash. That was it for our hopes for a top finish. But I am still satisfied with our aggressive performance."
Valverde building for Ardennes Classics
With the northern Classics all but over after Sunday's Paris-Roubaix, riders' thoughts now turn to the Belgian Ardennes and next Sunday's Amstel Gold race in The Netherlands. This is followed three days later by the La Flèche Wallonne and Liège-Bastogne-Liège on April 27. After placing second behind Damiano Cunego (Lampre) in the Klasika Primavera on Sunday, Alejandro Valverde (Caisse d'Epargne) appears to be showing some of the form which saw him place second in both Flèche and Liège last year.
Speaking at the finish of the Klasika Primavera in Amorebieta, northern Spain, Valverde said: "At less than 10 kilometres to the finish, in the climb to Muniketa, I found myself in the lead together with Cunego. The gap seemed sufficient to go together to the finish but at two kilometres from the line, the Italian refused to take over and remained in my wheel. As a consequence two riders came back from behind at 300 metres from the line: Mikel Astarloza (Euskaltel) and Kjell Carlstrom (Liquigas) and there was no way for me in the sprint.
"I finished second, just like last year, but in 2007 the win went to my team-mate Joaquím Rodríguez," he added. "But we have to consider the positive aspect of the situation because my result today is proof that I have prepared myself well and that is an encouraging prospect for the Classics. On Tuesday I will take part in Paris-Camembert in France and after that I will come back in Spain to train for some days before flying to Belgium."
Rast shows Astana's strength in Turkey
By Jean-François Quénet in Istanbul, Turkey
Gregory Rast (Astana)
Photo ©: JF Quenet

Astana's Gregory Rast won the opening stage at the 44th Presidential Tour of Turkey, after outsprinting Italian Francesco Ginanni (Serramenti PVC Diquigiovanni) in a spectacular opener. However Rast isn't leading the Tour, with the 76.2 km Grand Prix of Istanbul not actually part of the UCI sanctioned Tour of Turkey. The race proper starts today with a 132.7 km stage from Izmir to Kusadasi.
Astana directeur sportif Alain Gallopin noted that separating today's criterium from the stage race was a good call by race organisers. "Otherwise, the overall classification would have been decided today," he said.
Indeed it was very hard terrain leading the riders from the ancient hippodrome where chariot races used to be held during the Byzantine empire down to the Bosphorus Strait and back up towards the famous Blue Mosque in the area of Sultanahmet. Saltanahmet is the most visited in the historical city of Istanbul, a few blocks away from the Grand Bazar.
Cobblestones, uphill and downhill made the race a real spectacle, with the riders also keen to put on a show as they went full-gas from the gun. The Serramenti PVC-Diquigiovanni team showed their motivation early but Astana was prompt to imitate them with Rast taking the initiative after only 10 kilometres.
"When I came here, I didn't know what to expect," the Swiss rider explained. "When I saw the course this morning, I realized it was good for me. The uphill cobblestones made it look like the Tour of Flanders where I finished 13th last week. I understood that I had to catch the attackers from the first lap. As I became a part of the front group, I only had to stay focused and observe my adversaries. I didn't know them really."
The Astana team isn't exactly racing against their usual opponents at the Tour of Turkey. "But people like us here, so we're happy to produce a good show for them," Rast commented. "I was impressed by the very big crowd here today. I don't do this job only for training but mostly for racing and winning as much as possible. Today I've won a nice race."
Gustavo Cesar Veloso from Karpin-Galicia who had finished third in Le Tour de Langkawi in February was Rast's biggest worry. "I reacted very quickly when he attacked with five laps to go," said the former Swiss champion and winner of the 2007 Tour of Luxemburg. "In the final sprint, I didn't have any difficulty for winning. It's great to win."
There should be more to come from Astana during the seven-day Tour of Turkey. "We came with a strong team," Rast added. "Andreas Klöden will like the climbs here. But we have two or three cards to play."
A few bunch sprints are expected too, although today's criterium was a little too dangerous for Alessandro Petacchi who withdrew early after seeing a spectacular crash on the fourth lap. But the Italian fast man from Milram will be determined to win a few stages on the Turkish coast later this week.
Vittel to become official water of the Tour de France
By Jean-François Quénet
Vittel will replace Aquarel as the official water sponsor of the Tour de France, 40 years after the start of the race was held in the spa town in the Vosges region of eastern France. The announcement was made by ASO director Christian Prudhomme in Paris during the congress of the union of French sports journalists (UJSF).
In 1968, Vittel was chosen as a symbolic starting point because of its famous water. One year after the death of Tom Simpson on the Mont Ventoux, the race was nicknamed 'Le Tour de la santé' (the Tour of the health), and was the first one eventual race director Jean-Marie Leblanc took part in.
While it may be a change of brand, the sponsor essentially remains the same since Vittel is also a part of Nestlé Waters. The same company supplied the Tour de France with Perrier from 1923 to 1984 and with Aquarel from 2001 to 2007. "We renew our confidence in the organisers of the Tour de France for their courage and their determination. They are serious in the difficult fight they conduct for a clean Tour de France," said Hubert Genieys, vice-president of Nestlé Waters. "We still believe strongly in the power of the event and the faithful crowd makes our investment worth it."
This is the first sponsorship deal announced by Prudhomme since taking over the reigns from Leblanc as race director. "It's been exactly five years since Jean-Marie approached me for the job," he told his former colleagues from the union he used to be a member of. "Before that day, I never imagined to quit the job of my life, which is journalism. Only because the director of the Tour de France has always been a journalist, I could fit into the job."
Despite all the troubles, the former French Television commentator apparently does not regret his move.
(All rights reserved/Copyright Future Publishing Limited 2008)