News feature, April 14, 2008
Boonen picks up much needed victory in Roubaix
By Brecht Decaluwé in Roubaix
A second Roubaix cobblestone
Photo ©: AFP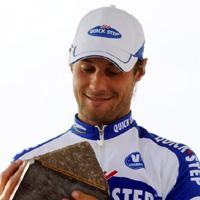 When Tom Boonen crossed the finish line in the Roubaix velodrome for the second time in his career as a winner, a lot of things must have gone through his mind. Until today, the Belgian had struggled to find the winning legs that brought him the legendary treble of the Ronde van Vlaanderen, Paris-Roubaix and the world championships in 2005. A good 2006 also followed with wins in the Tour de France, another Ronde triumph, not to mention a bunch of semi-classics. But 2007 was a much leaner year for the Quick Step star, as even the Tour de France green jersey and two stage victories did little to hide the fact that he couldn't win one of the sport's big Monuments.
For a rider's entire season to be judged on two races during the most important week of the Spring Classics may seem a little unfair, and Boonen's reaction at the finish line was clearly one of relief. "Phew!" he said, "I can go on again for a little while." The 27 year-old had been made to endure weeks of doubting in the media, but answered his critics in style today.
"It's fantastic to win a race under a lot of pressure," he said, "but the only person who didn't need to have doubts was me. Doubts aren't good and today I wasn't in doubt, otherwise you can't win here. Criticism? If I win there is criticism, but also if I don't win, so in the end I shouldn't care about that. I didn't announce [that I would win], I only said that I would be good, but then the question is if that will be good enough to win."
"This time the explosion of emotions after the finish line was bigger. It was a long time since I won a race of this calibre."
- Boonen said his second Paris-Roubaix was tougher than the first.
He then explained that he was fed up with the mind games that have been played out in the Belgian press. "By saying that I want to be good in this week I'm not picking up extra pressure, because that pressure would be there anyway. The problem is that if I say that I want to be good, it turns out to be 'Boonen wants to put on a show' in the paper. My words are easily taken as the truth, or more easily changed to make them true," he stated.
"I shouldn't be saying that I will not try to win the Ronde van Vlaanderen and Paris-Roubaix. And if I try - I repeat - try to win them, then that turns into 'Boonen puts all his money on two races', or 'Boonen is a pompous twit'. Going for those two races is just the normal run of affairs, but now everything is considered good again," he said with a sardonic smile on his face. "I won, so ... good.
"These are the two races that I really like," he continued, "and I've never been hiding that. It takes a lot of energy as you have to live and train for it for so long. I've been thinking about these races for almost three months now. I went through all possible scenarios and that's what you think about during the race."
Boonen blasts away
Photo ©: AFP

Back in 2005, Boonen powered past George Hincapie and Juan Antonio Flecha in a virtually identical three-man sprint in the Roubaix velodrome. But asked to compare his victory of three years ago with that of today, Boonen rated this latest triumph as more satisfying. "There were two other riders today and I think these guys are a level higher than Flecha and Hincapie. We rode with an average of 43.5 km/h, and I believe this edition was a tougher race than back then."
After the finish line Boonen crashed into the arms of his brother and was clearly ecstatic about his win. "This time the explosion of emotions after the finish line was bigger. It was a long time since I won a race of this calibre," he said.
"Today I think I rode the perfect race. We made few mistakes and in the finale we ended up riding in the front with the strongest men of the race. When I attacked I didn't feel like being the strongest man of the three. But as we were getting closer to the finish that feeling tilted towards confidence, and in the end I wasn't at all scared to show up on the velodrome with these guys.
Dusty but delighted
Photo ©: AFP

"From the Carrefour de l'Arbre onwards, I did all I could to get them under control," he explained about his tactics. With Alessandro Ballan and Fabian Cancellara he had two very strong riders accompanying him, but Boonen played down that they were still as strong as many were thinking.
"They were dead tired. Cancellara had cramps up to his ears, and Ballan was happy that he wasn't dropped on the Carrefour de l'Arbre. If you know that, you need to be a realist and not the smart-ass that attacks them. Imagine going all out and Cancellara manages to stay on your wheel, then you end up risking losing it anyway. Once we were on the track it was easy because we were with the three of us; everybody was on the podium, which makes them keen to keep riding.
"In the end I'm very happy that I won, because of the victory. Not because some people were starting to fear for my career. Now I will cherish this victory and I hope that everybody in Belgium is as happy with it as I am."