Experienced Rebellin ready for Ardennes and beyond
Sunday in Valkenburg, Italy's Davide Rebellin proved he was on target for his beloved Classics of the North: Amstel Gold, Flèche Wallonne and Liège-Bastogne-Liège. Gregor Brown of Cyclingnews talked with the 36 year-old about the Ardennes and his plans for the future, which includes hopes of Worlds gold.
Davide Rebellin explaining to Cyclingnews his compassion for the Ardennes classics.
Photo ©: Brecht Decaluwé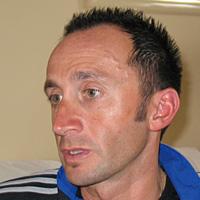 Even if the rider known as 'Tintin' did not capture the 43rd Amstel Gold on Sunday he did issue a threat that he is on form to potentially blast his rivals in Wednesday's Flèche Wallonne or, more importantly, Sunday's Liège-Bastogne-Liège. And the thing is, Rebellin has the relaxed demeanour that will carry him calmly to the arrivals in Huy and Ans.
The relaxedness comes from his win in the Tour du Haut Var and, greater still, Paris-Nice. He slipped the dagger quickly into his opponents when he struck in the prestigious French race's penultimate stage, 206 kilometres to Cannes. "Normally, Paris-Nice serves for preparation – the best preparations for arriving at the Ardennes Classics on form. Maybe my condition arrived a little early this year, and I found myself in a position to win the race," he stated with some modesty at the team's headquarters for the Ardennes Classics, in Belgium's Riemst.
"I never have won that race, it is surely a great race to win."
-Rebellin emphasised that the Paris-Nice victory made him calm for the classics.
In 2007, he was close to winning, but he was out-classed by Alberto Contador (who, you may remember, went on to win the Tour de France). This year, Rebellin did not disappoint, and it was he who out-classed with ease – namely over Rabobank's Robert Gesink.
"I never have won that race, it is surely a great race to win," added Rebellin. "Now, I am able to come here to the classics a lot calmer and this will allow me to race even better. You make fewer mistakes this way – when you are always on the hunt and worried for wins you can feel the pressure and you become nervous."
Rebellin powers to Cannes, with the 2008 Paris-Nice on the line
Photo ©: Roberto Bettini

Even though Rebellin does not get as nervous as some of the first-year professionals, he explained that "There is always a bit of nervousness, even if it appears that I am not nervous. A bit of tension is normal. If everything is going well then you are calmer. Moreover, inside I know that I have already accomplished some good things in my career and this allows me to approach the races with a kind of tranquillity."
Rebellin did not feel all that calm with only a slight advantage heading into the final stage of the 'Race to the Sun' – a stage that finished close to his home base in Monte Carlo. "There is always the worry of a mechanical or a crash. However, you have to always stay concentrated and that equally applies to these races [Ardennes Classics - ed.] here. You have to focus and remind yourself to stay at the front and out of trouble.
"The pressure is still the same," he responded to the suggestion that winning outside of his home country might be easier. "These are big and respected races, so to be here you feel the pressure."
The Ardennes Classics
Rebellin responded to the pressure well, which is thanks to the confidence of being a past winner. He blasted all pundits in 2004 when he did what no on had ever done before him – topping the podium in every one of the three Ardennes races. Further, he put paid to naysayers that say he is over the hill when he went over up the Mur de Huy first last year to win Flèche Wallonne. In addition to the win atop of Huy, he finished second in the Amstel gold and fifth in Liège-Bastogne-Liège.
"I will try to win one, for sure. Liège is maybe the most important and the hardest of the three; if I had the chance and select, it would be Liège, but I would really take any of them," Rebellin continued in his quiet voice. In addition to his 2004 win, there were memorable battles in 2000 (won by Paolo Bettini) and 2001 (Oscar Camenzind) when he finished third and second, respectively.
Fortunately, he has a second card to play in the form of team-mate Stefan Schumacher. The German won Amstel Gold in 2006 and finished in the second group this year, benefitting Rebellin's bid for victory.
His attack in Amstel was brought back
Photo ©: Roberto Bettini

"It is good that we have Schumacher to help play the role of two captains. Last year, he was still a little unknown and was able to play his cards in the right way. This year will be different because he is better known and the race will be following both of us. So we have to be attentive when and where we go – move in the right moments. ... I know that having someone like Schumacher in the team is very helpful."
The duo completed the most nervous of the three races, Amstel Gold, and Rebellin is looking on to the next two objectives. "There are two races left and I hope to win one of them," he explained after crossing the line in Valkenburg.
The races are Flèche Wallonne and Liège-Bastogne-Liège. "It is a little less hard, a shorter race," Rebellin said of Wednesday's 199.5-kilometre run from Charleroi to Huy, in the French-speaking part of Belgium. "However, the finish is the hardest. In the last years, I raced always waiting for the finale on the Huy. Like last year, it went well, there was an escape, but then we caught them a little before the arrival. I risked it a little, but I was able to come through and win.
Davide Rebellin
 
Born: August 9, 1971
San Bonifacio (Verona), Italy
Resides: Monte Carlo, Monaco
 
Teams
2002-2008 Gerolsteiner
2000-2001 Liquigas-Pata
1998-1999 Polti
1996-1997 Française des Jeux
1996      Polti
1995      MG-Technogym
1992-1994 GB-MG
Gerolsteiner sponsorship
German water company Gerolsteiner is set to leave the sport of cycling at the end of 2008. Team General Manager Hans Michael Holczer is searching for a replacement sponsor and Davide Rebellin is not concerned for his 2009 plans.
"We don't know yet if Hans will be able to find a sponsor or not, I hope he can because I would like to finish my career with him. It does not give me pressure. I think that I can find a team even if a sponsor to replace Gerolsteiner does not materialise, but I am only thinking of racing right now."
'Tintin'
The Italian is known as 'Tintin' among fans and riders in the peloton – a name that came about due to his hair gel more than his affection for the cartoon character. "It happened a few years ago because my hair was like his. I like the cartoon, but above all it was because of my hair.
"You want to be careful or you will arrive at Liège worn out; however, if all goes well and the team brings me to the finale in the front – without me spending a lot of energy – then I will do everything to win."
He continued by describing the oldest of cycling's Classics, "Liège is the hardest of them all because it is long and the race evolves via natural selection. If you are well and you are going strong, it is easier to win.
"Escapes sometimes make it to the finish, but it is a race that is usually decided thanks to the number of favourites contending. There are usually four or five top level riders and their teams will work together to control the race up until la Redoute." This year, he counts the likes of Alejandro Valverde (Caisse d'Epargne), Fränk Schleck (Team CSC), Thomas Dekker (Rabobank), Cadel Evans (Silence-Lotto) and Amstel Gold's winner, Italy's Damiano Cunego (Lampre).
(For more on the Amstel Gold and the Ardennes Classics, read Rebellin arrives calm for a nervous Amstel Gold.)
Summer
Rebellin will take a small break before beginning his summer season with the Giro d'Italia, a race where he captured his first big professional win. He won the 1996 Giro stage seven in Monte Sirino and spent six days in the race leader's maglia rosa; it will surely be on his mind when this year's stage five passes by the location in southern Italy its way to Contursi Terme.
Rebellin enjoyed the last day of Paris-Nice in yellow
Photo ©: Roberto Bettini

"I have won Classics, but the first important win was in the 1996 Giro, winning the maglia rosa with the stage," Rebellin proudly recalled of the moment 12 years ago. He relinquished the pink top to Pavel Tonkov, who went on to win that year's race.
He will line up in the 2008 event, starting May 10 from Palermo. "I will try to have a result. I will try to win a stage in the first week, and then we will see how I am going. It is a period where my best condition will have already passed, and it will be hard to maintain a high level of racing over 20 days, but we will see how it goes."
Cyclingnews recently talked to Andy Schleck and the young Luxemburger suggested that the first week of the Tour de France would be suited to Davide Rebellin; however, the older and more experienced rider shrugged off the race, preferring to wait another year before returning.
"Normally, I will ride the Giro, and, in fact this year I will do that and then take a break," he responded. "After that, I will start to prepare for the Olympics. I won't do the Tour this year; however, next year I will because it starts from Monte Carlo, where I am living."
It the Olympics proposal that hits on the subject of what is left for Rebellin to target in his last two years. "I would say that the race I am missing is the Giro di Lombardia, where I finished second in 2002. And then the Worlds, that is the race I would like to win. Milano-Sanremo means a lot to me and I would love to win it, but it is not one-hundred percent adapted to my characteristics," he argued.
Davide Rebellin during the Worlds road race in Stuttgart
Photo ©: Roberto Bettini

In the past, Rebellin was involved in a World Championships selection fiasco that had him considering racing for another country. Those times have passed and he gets along well with the Italian national selector, Franco Ballerini, but will Rebellin have his chance to win the race – this year in Varese, Italy, September 28 – when there are the likes of Paolo Bettini and Damiano Cunego gunning for the title?
"We see when we get there who is going the strongest. Last year, Bettini was going strong so we did our best to work for him," Rebellin responded, content with his work he did last year in Stuttgart as part of the squadra azzurra.
"If this year I am going strong then we would be able to race for me. The Varese course is hard; at the end, whoever is at the front will be the ones who are going strong. There could be me or there could be Cunego, we will have to wait and see. And even last year, if Bettini was not going well I would have been able to ride my own race."
For the Olympics road race, August 9 in Beijing, the Italian team selection will be even more difficult to make for Ballerini. "There will be five and the selection is hard in Italy because there are so many strong riders," Rebellin continued. "We will have a hard time controlling the race with only five riders. However, we still don't know who Ballerini will select."
He is anxious to race in China, but realises the conditions will be tough. He noted last year's trial run of the course, the Good luck Beijing Invitational, "The problem was the heat and also the smog, above all, for the breathing. The two factors together make it a problem to breathe. This makes the race even harder; the course is already hard enough."
Giro d'Italia, Olympics and World Championships aside, Rebellin had to focus on the coming Ardennes races, and so we left the rider to get about with his business – which will likely conclude with him on the top of the podium in Huy or Ans.
Photography
For a thumbnail gallery of these images, click here
Images by Brecht Decaluwé/Cyclingnews.com
Images by Roberto Bettini/www.bettiniphoto.net