Latest Cycling News for May 12, 2006
Edited by Jeff Jones
Lampre-Fondital meets expectations in TTT
Lampre-Fondital
Photo ©: Roberto Bettini

Damiano Cunego's Lampre-Fondital team acquitted itself well in Thursday's Giro team time trial between Piacenza and Cremona. The boys in blue and fuchsia finished eighth, 1'04 behind Team CSC - a gap that they had predicted before the race.
"We knew that we should have to play in defence," said team manager Giuseppe Saronni. "We hoped to limit the gap to 40-45 seconds, we got 20 seconds more: that is not a problem. We have to consider that we arranged a team perfect for the climbs, and other teams have cyclists that are perfect for the time trial. We will see the results at the end of the Giro."
Wielinga out
Quick-Step's Remmert Wielinga didn't start in the team time trial, as he was suffering from fever. After the team transferred to Italy on Wednesday evening, Wielinga had breathing problems, and woke with a sore throat and stomach pain. "I thought it was a cold, and it didn't seem too bad," he told ANP. "But during the course of the morning, it kept getting worse."
Wielinga said that he had no strength to ride, then he lay in bed for several hours with fever. "This can happen to anyone, but it's of course really a pain."
Giro diary watch: Three rest days in a row?
The Gerolsteiner riders were nervous going into the team time trial. Not only did they have the leader's jersey, "We had never before ridden a team time trial with this group of riders," noted Ronny Scholz. And it didn't quite go according to plan for him. "After 2 km I rode into a pothole and my saddle slid down. It was a lot harder to ride in this position than in my usual position." (ronnyscholz.de)
His teammate Robert Förster says that his teammates infected him with their nervousness before the start but that he soon discovered that he was in good form. "It was a really good time trial - and I don't say that very often...but it really was fun." (radsport-news.com)
"A team time trial - that the is the discipline that everybody, except maybe Jens Voigt - wants to have behind them as quickly as possible," says Rabobank's Grischa Niermann, who was satisfied with his team's 14th position. He also shared some more of Voigt's philosophy: "According to the theories of my aforementioned colleague Jens Voigt, we actually have three rest days in a row. Yesterday the real rest day, today the team time trial - with 9 riders on a team and 35 km, that makes 4 km in the wind per rider, so that's a rest day - and tomorrow a flat-as-a-pancake sprinter stage, which is also a rest day even though it is 225 km long. That's all according to Jens Voigt, who, by the way, I greatly admire for his morale and attitude!" (grischa-niermann.de)
Landis visits teammates at the Giro
Phonak's Tour de France captain Floyd Landis paid a visit to his teammates at the Giro d'Italia. Four of Phonak's Giro riders are part of the 12 man Tour team as well: Victor Hugo Peña, José Enriqué Gutierrez, Martin Elmiger and Axel Merckx, and Landis wanted to see how they were going in the first week of the Giro.
Team manager John Lelangue is determined to give Landis the best possible environment in which to prepare for the Tour. Landis will take part in various training camps in addition to the Dauphiné Libéré, while Lelangue will look after the organisational concerns. "If we manage to work with even more concentration and focus than last year, and we're able to implement what we've learned from the first two Tour appearances, then we'll have done everything possible, and then anything will be possible athletically as well," said Lelangue.
An interview with Baden Cooke
Finding top gear again
It's been quite some time between drinks for Unibet.com rider Baden Cooke. After the highs of the 2003 Tour de France, the Australian has found wins hard to come by, something he's aiming to rectify. Cyclingnews' Shane Stokes found out more during Ridley's media day at the Zolder racetrack.
Baden Cooke
Photo ©: Shane Stokes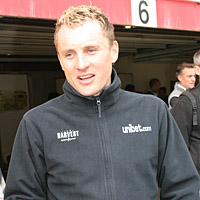 Baden Cooke took the maillot vert as best sprinter in the 2003 Tour de France, but since then he's found it tough to reach quite the same heights. A leg injury was partly to blame, but a re-motivated Cooke seemed to be back on the right track late in 2005 and early in 2006 when he won two stages of the Herald Sun Tour and triumphed in the Grand Prix Ouverture La Marseillaise.
At the end of last season Cooke changed teams from Française des Jeux to Unibet.com. Although moving from a ProTour team to a Continental Professional outfit, he maintained hope that the team would make it to at least one of the Grand Tours, ideally the Tour de France. However, when the wildcards were announced for the Giro, Vuelta and Tour, Cooke and the rest of the Belgian squad were shocked to discover that their ticket to ride had been lost along the way. They had been overlooked for each of the three races.
The 27-year-old had gone into the season with a different focus, though, and while he was still very disappointed, his new approach softened the blow slightly. Like sprinters such as Sean Kelly and Johan Museeuw before him, he was aiming to convert that fast-twitch final-kilometre horsepower into classics strength. Cooke had certainly shown in the past that he was more than just a galloper, winning races such as the Tro Bro Leon, Herald Sun Tour and a sixth place overall in the Tour de l'Avenir.
He worked hard during the winter, and while it didn't quite pay off with a classics win, Cooke posted several solid results which suggest that he's got a future in this discipline. After taking 10th in the Grand Prix E3 as a warmup to the bigger races, he was 14th in Gent-Wevelgem, 17th in Paris-Roubaix and 21st in the Tour of Flanders.
Click here for the full interview
WADA considering banning altitude tents
By Jeff Jones
The World Anti-Doping Agency is considering banning altitude tents, devices used by athletes that create hypoxic (low oxygen) conditions in order to stimulate the production of more red blood cells. Such devices are "probably contrary to the spirit of the sport," according to WADA's ethics committee, and they will be one of the subjects of discussion at WADA's upcoming meeting on May 13-14 in Montreal.
In a pre-meeting briefing, WADA president Dick Pound said, "We have an interesting discussion forthcoming with respect to the whole issue of hypoxic chambers and the whole concept of artificially induced hypoxic conditions. This has been an issue that has gone back and forth in the sports community and the business community for a number of years.
"Our medical authorities agree that the creation of these conditions can be performance enhancing. Our ethics and education committee has concluded that the use of these devices is probably contrary to the spirit of sport, and it will be up to the executive committee to decide how it wants to proceed with it.
"If the executive committee wants to get further input on it, I think one of the possibilities will be to add this to the draft list that will be circulated with respect to 2007. As you know, that is a list that is widely circulated for consultation, reaction and response to something in excess of 1500 stakeholders and others involved in laboratory work and so forth, so we'll get additional input on that before deciding definitively in September whether or not it goes onto the list."
Currently, many of the top professional cyclists use altitude tents, which up until now have always been legal. Training and living at altitude is also legal, and presumably will remain so. But if WADA does decide to ban hypoxic tents, then it will have to consider the issue of enforcing the ban. Bedroom raids or an honesty system, anyone?
Philly-week gets new sponsor life
By Mark Zalewski, North American editor
Slowly but surely, the now Triple Crown of Cycling, commonly referred to as Philly-week, is taking shape for 2006. A new title sponsor, Commerce Bank, was announced on Thursday and fills a major financial hole left by former sponsor Wachovia. The new sponsorship will run for at least four years and joins the state in supporting the three race venues in Lancaster, Reading and Philadelphia.
As previously reported on Cyclingnews, the UCI status of the new race in Reading is still unknown and not having the USPRO championship is affecting participation by ProTour teams, having a title sponsor will ensure the money is there to support all of the events.
"We congratulate Commerce Bank for stepping in to help preserve this great community asset," said Pennsylvania Governor Edward G. Rendell. "Thanks to Commerce Bank's support, this series of outstanding pro cycling races will continue to excite fans from across our state and the nation and benefit the region's local economy in many ways."
"On behalf of Pro Cycling Tour, we can candidly say that without our Governor's leadership in recognizing the importance of this event to the region and to the country, we would not be able to boast that Pennsylvania is the epicenter of American pro cycling," said Threshold Sports CEO David Chauner.
Quick Step to Volta a Catalunya
Quick.Step-Innergetic has named its squad for the Volta a Catalunya ProTour race, that runs between May 15-21. Filippo Pozzato will be at the helm, supported by, Hubert Schwab, Bram Tankink, Guido Trenti, Kevin Van Impe, Cedric Vasseur, Davide Viganò and Geert Verheyen. The team's sports directors will be Luca Guercilena and Wilfried Peeters.
Barloworld looking forward to Peace Race
The Giro d'Italia is underway but there are plenty of other races keeping Team Barloworld busy in Europe. One of the most prestigious and fascinating is the Peace Race that starts on Saturday, May 13 in the Czech Republic and ends on May 20.
Before the fall of the Berlin wall, the Peace Race was considered the most important race of the season for the amateur riders of the Eastern Bloc. Following the changes in the world and the changes in cycling, the race is now considered an prestigious event for talented young riders.
Team Barloworld intend to be in the thick of the action and directeur sportif Valerio Tebaldi will have a strong team in the race, with Giosue Bonomi, Felix Cardenas, Giampaolo Cheula, Ryan Cox, Mads Christensen, Rodney Green, Jeremy Maartens and Tom Southam wearing the Team Barloworld red jersey. The team will hoping to do well in single stages and in the overall classification.
Wiesenhof-Akud for the Peace Race
Austrian Gerhard Trampusch will be leading Team Wiesenhof-Akud when the Peace Race (Friedensfahrt) starts Saturday in his native land. Trampusch is the team's leading candidate for a podium place, but are also counting on Torsten Schmidt and Lars Wackernagel, who won the first stage of the race in 2004 and wore the leader's jersey for three days. The team is also looking for sprinter Steffen Radochla to do well in the sprint stages. "The race will be hard because the Pro-Continental teams - like us - will be looking to stand out. Everyone will be going all out from the first meter," said directeur sportif Jochen Hahn.
Wiesenhof-Akud for the Friedensfahrt: Tim Klinger, Steffen Radochla, Torsten Schmidt, Corey Sweet, Lubor Tesar, Gerhard Trampusch, Lars Wackernagel.
USA Mountain Bike Nationals move to Sonoma
USA Cycling has announced that Infineon Raceway in Sonoma, California will host the 2006 USA Cycling Mountain Bike National Championships, July 13-16, as part of the Infineon Technologies Cougar Mountain Classic.
Originally planned for the following weekend, the 2006 USA Cycling Mountain Bike National Championships have been moved up one week after a record amount of snowfall forced the event's relocation from Mammoth Mountain last month.
Initially designated as the fifth round of the 2006 National Mountain Bike Series, the event has been removed from the series calendar and will no longer factor into the overall series standings. Instead, the event has been designated as the stand-alone, American-only national championship for all levels and disciplines of mountain biking.
"Infineon Raceway is one of a handful of established venues capable of hosting a national championship-caliber event in a short amount of time," commented Steve Johnson, chief executive officer of USA Cycling. "We had hoped to maintain the original date that was designated for our national championships, but ultimately a decision had to be made so that we can move forward with the organization of an event consistent with the level of quality that our membership has come to expect. After discussions with several potential venues, it was determined that Infineon Raceway on the new date provided the best-possible scenario."
Previous News Next News
(All rights reserved/Copyright Knapp Communications Pty Limited 2006)