News feature, May 2, 2006
Threshold faces final hurdle for Philly series
Bills paid, UCI approval awaits but ProTour teams stay away
By Mark Zalewski, North American Editor
Chris Wherry (Health Net) wins the last USPRO championship to be held in Philadelphia in 2005. Now riding for Toyota-United, Wherry is expected to defend his title this year.
Photo ©: Jon Devich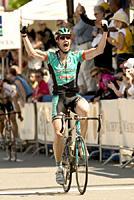 Since the completion of last year's USPRO championship, various events have cast doubt on the future of the Philadelphia race series that had traditionally hosted the race. First came the sudden loss of the race sponsor after more than twenty years of consistent sponsorship. Then came complaints that teams were not being paid on time by race organisers Threshold Sports, which had the potential to stop the 2006 event from happening at all as UCI and USA Cycling regulations stop a promoting company from running a race if it still owes teams from the previous year. Finally, the loss of the USPRO race made many people think that Philly was done for.
Nevertheless, Threshold Sports has always maintained that the series would happen this year, and things definitely looked rosier after the recent announcement that the state of Pennsylvania would kick-in $400,000.
USA Cycling's Chief of Staff Sean Petty told Cyclingnews that as far as he could see, this years races were good to go. "We have, as far as we know, the teams have been paid... the UCI has been paid and we have been paid," said Petty. "You hate to see [payment problems] because it's been a great race with good organization. But it was important to get the teams paid as well. Now that we are there we can hopefully move ahead in a positive direction."
Threshold's CEO Dave Chauner told Cyclingnews that the problem was merely a misunderstanding. "[The payments] were completed before the end of last year," Chauner explained. "There were a couple of cheques that came back to us because we had the wrong address. It took us a while to find teams. The cheques kept coming back from different addresses. I saw the email a few days ago that the teams finally got them. It's so ridiculous, they make it look like it is our fault."
But with the bill payment hurdle apparently passed, another comes up. "What we have to do now is get the Reading race on the UCI calendar," said Petty. "We were waiting until we got all the payments in to make the request. And this late you never know. We have Trenton in there now but we waited to make the request from the UCI until everything was paid. If it does, the question then is what category is it?"
ProTour teams such as Davitamon Lotto will be absent this year.
Photo ©: Russ and Nancy Wright

The Reading race Petty refers to is a new race in the three-race series that will replace the Trenton, NJ race. "The addition of Reading is going to be exciting," said Chauner. "It's going to be a seventy-five mile race on a tough course with the last lap sending the guys up Mt. Penn, which is a real legendary mountain right in the middle of Reading. The whole city is coming out. The three event series with the triple crown we want to establish and grow over the next few years."
However, if the UCI does not allow the Reading race onto the UCI calendar, the ProTour teams will not be allowed to race it. "If they don't have the classification, Lancaster and Philly are still a 1.1 and you can have ProTour teams," Petty explained. "The other one, technically you could not, even with a 1.2 or less. So we will make our appeal to the UCI but new races added this late are tough and we have a bit of a challenge."
But Chauner is not daunted by this possibility. "I know it has been applied for but we haven't heard the final word yet. We are going to run the race, pay the prize money and have a good one! UCI or no UCI, we run bike races. ProTour or no ProTour, it doesn't matter to us. We are running good bike races that are exciting and challenging."
Lancaster and Philly are still guaranteed to be UCI rated, but without the USPRO on the line for the first time, it remains to be seen what this will do to the actual racing. Chauner believes it will actually enhance it. "I think it is going to be really good, because there aren't going to be competing interests among the American teams. I think everyone is going to race for the win instead of letting guys go because there is not an American in the group. I think it is going to be more competitive and easier to follow."
On the other side of the coin, not having the national championship jersey on the line could affect the participation of some top European teams. Historically these teams have come partially because of the incentive to give their U.S. riders a chance to bring their national jersey back to the European peloton, as well as garnering exposure in the North American market. With the announcement Friday of the participating teams, that effect is perceivable. Only two ProTour teams, CSC and Saunier Duval-Prodir, are making the trip across the pond. Further, the only American-registered ProTour team, Discovery Channel, is not participating.
Discovery Channel will also skip Philly, citing European commitments
Photo ©: Don Varley

"Due to our Pro Tour commitments at races like the Dauphine and Tour de Suisse, and the removal of the USPRO Championships in Philadelphia we have decided to forego the Philly week races," said team director Johan Bruyneel. "However, the team does plan on participating in the USPRO Championships in Greenville, South Carolina in early September."
Nonetheless, a few positive changes are coming this year. Women's racing will be expanded into a triple crown as well. "We are doing women's races in both Lancaster and Reading this year," Chauner said. "We are establishing a triple crown concept for them as well. They are going to be doing criteriums in Lancaster and Reading. There will also be USCF criteriums there too and run concurently with the pro men's races."
In addition, Chauner says a new major sponsor will be announced in the weeks leading up to the race. This could potentially bring the race back to the stability it enjoyed for more than two decades. "I think they are on the right track," Petty said. "Hopefully that event turns out well. They have a long history of paying their bills and this is certainly unusual for Threshold."
Participating teams
UCI foreign teams: Barloworld; Belgian National Team; Caico Pro Cycling Team Prodir - Saunier Duval; Team CSC; Team Sparkasse
UCI America Professional and Continental Teams: AEG Toshiba-JetNetwork; Colavita Olive Oil-Sutter Home Wines; Health Net presented by Maxxis; Jelly Belly; Jittery Joe's - Zero Gravity; Kodak Gallery.com-Sierra Nevada; Navigators Insurance; Nerac / Outdoorlights.com; Priority Health; Rite Aid; Successfulliving.com; TargetTraining; Team Monex; Team TIAA - CREF; Toyota - United; VMG Racing.