The bikes of Hell: After Roubaix, April 14, 2006
The post-Roubaix wash and brush-up
So what happens when it's race over? Well, apart from handing out a few medals and a wad of cash, there's the not so glamorous job of cleaning all those mud-encrusted bikes after six and a half hours in the saddle. Outside the Roubaix velodrome, Cyclingnews' Anthony Tan put on his Wellingtons and went trudging around the pits, seeing how it's done well and done fast.
George Hincapie's steerer
Photo ©: Mike Carrucan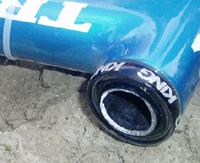 Thankfully for the wrenchers, it was a relatively clean Roubaix; mild weather characterised the entire race, with not a drop of rain. Still, when one's ridden more than 50 kilometres of pavé, dust, dirt and grime has a way of finding itself in the most intricate of places, and with everything bar the bottom bracket exposed to the elements, both frames and components will take a hiding. [cue whip sound]
One team area where the mechanics - and all the other team staff - were clearly not very happy was the Discovery Channel camp. Not surprisingly, the aura was rather subdued after two podium places were taken away from them. Some say three - up until 30 kilometres to go and with three Discovery riders in a very select group, George Hincapie was looking like finally realising his dream of victory at Paris-Roubaix. But at that point, his steerer tube appeared to shear straight off, and Hincapie was left holding the bars but not the bike.
We asked Scott Daubert if he knew exactly what happened and if the bike was around to take a look, and he said: "I have as much idea as you do - only from what I've seen from the television. And even if the bike was around," added Daubert rather tensely, "I wouldn't be able to show you."
However, a couple of days later Cyclingnews reader Mike Carrucan sent us a pic he'd managed to take of Hincapie's broken steerer. You can clearly see that it's aluminium, as Daubert mentioned before the race, and not carbon as some people have speculated. You can also see that it has broken immediately below the stem clamp.
| | |
| --- | --- |
| Leif Hoste's Discovery Channel Trek | 'The active suspension is very good,' |
| 44/53 front chainrings. | Tom Boonen's |
| Boonen spends plenty of time | Unibet.com's mechanics |
| A stable of cleaned | There's that seat cluster again; |
| Now that's what | This Roubaix |
| Mavic's neutral spare bikes | The Saunier Duval-Prodir mechanics |
| Blasting the chainrings. | Blow-drying places |
That tends to support the team's contention that the failure was a result of Hincapie's earlier crash. A crash impact on the handlebar could weaken or even crack the steerer at this point, whereas you'd expect a 'just riding along' failure to occur lower down the fork at the highly stressed area just above the crown.
One thing that performed up to scratch, though, was the S.P.A. suspension. Lief Hoste told Cyclingnews, "The active suspension is very good. You don't feel it, but can see that it works while you ride behind someone. The team and the manufacturer do everything to give us the best material available. This is not only for Paris-Roubaix; in time trials, we also have the best bikes possible."
First, we made a brief stop at the Quick.Step pits, where one of the mechanics was already hosing down their Time bikes less than 15 minutes after the finish.
Pressurised hoses with the generator coming from inside the team bus is the way to go nowadays, it seems; as we walked over to the Gerolsteiner camp to check out Frank Høj's machine, the Bouygues Telecom mechanic was effortlessly taking off the grease and grime from Anthony Geslin's Time.
So what's the best way to clean a dirty bike? It appears the most common procedure was to rinse first, soap and brush second, then rinse again. Once this is been done and the bikes are left to dry, a number of mechanics took to the bikes with the air-pressure hose used to pump up wheels, blow-drying areas prone to rust or which may gather moisture.
In the post-race press conference, last year's winner Tom Boonen admitted he 'cracked' after being caught behind a crash late in the race and having to chase back on, and that he should have gone with Cancellara earlier on when he still had the legs. So it wasn't a case of his custom-built Time Roubaix Special not being good enough that was looking in pretty good nick when we saw it, which at least gave the manufacturers a sigh of relief.
Breaking the norm, the Belgian Unibet team were doing things somewhat more traditionally with their Ridley bikes: a big bucket of soap and water, a heavy-duty paintbrush to clean the grit embedded in the chainrings, and no fancy aprons.
By the time Cyclingnews arrived at the Rabobank bus - less than one hour after the finish - all the C-50s had been thoroughly cleaned and were drying off in the late afternoon sun. Not so for Aurélien Clerc's Phonak BMC, which happened to be the final bike requiring a hose-down before being put away for another year; it was nice to see a bit of mud on the frame, but again, most of these post-race bikes were still surprisingly clean.
Truly embracing the modern age, Saunier Duval-Prodir used a low pressure hose to spray on their soap & water mixture, while a high pressure hose blasted everything non-permanent off. The mechanics' suits were equally in line with the times, and the grey/black theme could get them a part as an extra in the next Star Wars film. Last, our final stop saw us at the compound of Pro Continental outfit Agritubel; again, a high-pressure water jet demonstrated how much easier life can be in these sorts of situations.
Photography
For a thumbnail gallery of these images, click here
Images by Mike Carrucan
Images by Anthony Tan/Cyclingnews.com