The bikes of Hell: George Hincapie's Discovery Channel Trek Paris-Roubaix special, April 8, 2006
Shock treatment
One of the few riders that has some chance of stealing glory away from Belgian cycling god Tom Boonen is a 32 year-old from South Carolina, USA, by the name of George Hincapie. In recent years, his Discovery Channel team has given Jungle George every opportunity to try and win a race he's long dreamed of winning. This includes his Trek prototype - Cyclingnews' Anthony Tan spoke with one of Trek's leading men, Scott Daubert, asking him what has been done to give Hincapie the winning edge.
George Hincapie's Trek Paris-Roubaix special.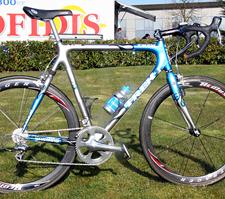 Cyclingnews: George was riding a frame with suspension in last year's Roubaix, so have you made any modifications for this year's race?
Scott Daubert: The system is the same, so it's the SPA technology and Trek's performance advantage technology; the only change that we've made from '05 to '06 is that we've allowed for a little bit more tyre clearance, so they can run a larger tubular tyre. But the system itself and the geometry is the same, last year [compared] to this year.
CN: The tyre clearance being the distance between the seat tube and the rear wheel?
SD: The tyre clearance as it passes through the seat stays is our biggest concern. So this is what Shimano call their 57mm brake set, which is their long reach brake set; it's an Ultegra level caliper both and rear - it has a longer reach, so you can move the mounting system farther away from the wheel axle to give a little bit more tyre clearance.
CN: Some riders are still going with cantilever brakes, so what's your opinion on that?
Hincapie's Trek

The S.P.A. (Suspension Performance Advantage) elastomer shock

Something borrowed

Bontrager accessories

Brake hoods sit high

The most controversial item

14 gauge bladed spokes

The massively oversized

A 12-23 rear cluster

Hutchinson's 23mm Carbon Comp tubulars.

Shimano's 57mm long-reach Ultegra-level brake calipers

Trek's BuzzKill bar plugs

Attraction speaks louder than words

SD: The Discovery riders haven't requested that, so I guess they feel like there's no need. One reason to go to cantilever brakes is for more tyre clearance, but we've achieved that with this system, so a normal long reach Shimano caliper has given us enough tyre clearance.
CN: Has George asked for any particular requests?
SD: The one particular request is that he's asked to ride these wheels; these wheels are not typical for cobbled races - especially for Roubaix, where the terrain is really, really rough - but he's looking to ride a wheel that's a little bit lighter and accelerates a little bit quicker. He did his testing last week and this week, and he feels comfortable with the Aeolus 5.0.
CN: So he's already used these in Flanders?
SD: Yeah and [Gent] Wevelgem. And yesterday on the reconnaissance, they rode for three hours on the cobble sections. Actually, we were stopped on the side of the road watching the team go by, all seven riders, and as George went by, he said: 'I'm hitting every hole, I'm trying to break them'; he was actually trying to tear them up!
CN: It looks like he's also going with 23mm tyres - that again would be a controversial choice with your Belgian mechanics?
SD: This may not be his race wheelset, this may be something he's riding on today and the Roubaix tyres are actually in the truck; this tyre is actually a hybrid Hutchinson tyre that normally runs at 26 millimetres.
CN: Is the suspension able to be locked out?
SD: You can make it so it actually has travel so it's making it feel like the bike is suspended, but the way this bike is set up is to reduce the amount of vibration that the riders are feeling, which is really fatiguing. So what we've done here is to make the rider feel less fatigued at the end of the race by trying to isolate some of that vibration.
CN: So the suspension is working all the time, then?
SD: That's right - you can't lock it out. One of the difficulties that Trek has with this is that it's always working, yet the rider can't perceive that it's working on the flat section, so they're bouncing along [the cobblestones] and they say they can't feel it, but it's there and working. It's different to being on a mountain bike where you can squish it and you can feel it working, so it's a hard sell for Trek. But the time the riders feel it is late in the race when they feel less fatigued, because it's actually reducing all that vibration - when George came back from yesterday's ride, he said he the bike didn't feel any different, but he said, 'I felt fresher, my hips and lower back are okay, I'm not fatigued.' It's working, it just takes a longer period of time to feel less fatigued; it's really subtle.
CN: What is the amount of travel within that small shock absorber?
SD: You can get 12 millimetres, so just less than half an inch, but the way it's moving here, I would say not more than a maximum of four millimetres. You have enough deflection in the padding of your seat, or you run the tyres at five and a half or six bar, you're going to get as much deflection doing that, so the bumper is really isolating and eliminating that vibration [at that point of the frame].
CN: It looks like George is also running a double wrapping of bar tape?
SD: It's a new Trek product called Isogel; the person you need to speak to is right here [Trek product manager Matt Brest]. It's actually a single roll with some gel underneath.
CN: So Matt, obviously the impetus behind this was to reduce as much vibration as possible, so what have you done to get it to this stage?
Matt Brest: It's an elastomer gel that we've moulded in the shape of the bar, and gives three quarters' coverage around the bar's diameter. You can also cut it to different lengths, so that's unlike some other similar types [of bar gel], so it will never burst. In addition to the BuzzKills at the end of the bars, it's all designed to eliminate those high frequency vibrations.
CN: The elastomer runs along the length of the bar, then?
MB: There's two pieces per side. What's nice about this is that it doesn't add a huge amount of bulk to the bars - you get some of those double-wrapped bars and it can actually fatigue your hands more, because you don't have a good grasp on it.
CN: These plugs that you call Buzz Kills, what do they do specifically and how?
MB: It's kind of hard of see, but this special Krayton rubber that we use has a suspended aluminium rod running through it, and when the vibration hits, the weight starts to activate and cancels out that wave, so it eliminates those high frequency vibrations.
CN: What have the riders said - have they noticed the difference?
MB: They love it. Some were actually using it last year; it's six to eight grams heavier than normal, but when they still want to use it, that's a good sign they really like it. When Roger Hammond broke his thumb and was riding last year, he had a pre-production prototype to help him through the race.
CN: So that's everything then, Scott?
Scott Daubert: One thing I forgot to tell you about is that George is running with a different fork; it has a longer axle to crown dimension, and it has a longer rake than the normal Bontrager Race Lite fork.
CN: Is this something new you'll bring into the Trek line?
SD: No, it's actually from Bontrager's Satellite line, almost from their commuter level, but it has dimensions that are appropriate for Roubaix. It's an in-house made fork, made at Trek from OCLV carbon, it's just on a different model bike.
CN: Is it a steel steerer?
SD: No, it's aluminium; it's been blasted then anodized black.
CN: But the frame is essentially a Trek 5200, then?
SD: It's a 5200 platform that we make and do what we make and call a prototype for Roubaix. But it's still entirely Trek, handmade in Waterloo, Wisconsin, but just using bits and pieces from other bikes that we make.
CN: Is George's normal bike still a Madone 5.9?
SD: The normal bike the guys are riding this year are the Madone 5.9 SL, so it has the round tubes, OCLV 110 carbon fibre, and the Race XXX Lite fork - that's their normal fighting equipment. And these wheels he would normally race in stage races or other one-day races, but he's also going to race these in the Roubaix classic tomorrow. There's a lot of cool technology, but everybody's still pointing at the wheels, saying, 'Wow, what are you thinking?' like I said, he was trying to hit as many holes as he could during testing, but he had no issues.
CN: Well, time will tell, won't it?
SD: Time will tell - tomorrow's the test!
CN: There's also the obvious question of what's it like without Lance, and because of George's apparent desire to target general classification in the Grand Tours; obviously he's taking the classics very seriously and he's in the form of his life, but are the Grand Tours still in the back of his mind?
SD: I really don't know what's in George's head, and our focus this week has purely been the Classics, so I wouldn't even know how to answer that.
CN: What about the ambience within the team without Lance - has there been any noticeable difference?
SD: Y'know, up till now, it's been the same as it has in years past; within this team, the Classics team, the focus is on these races, and Lance hasn't always been at the Classics. So I can't really say there's a difference this year versus other years, because this is very much normal as Lance doesn't normally come to these races. So ask me in July and I'll tell you if it's different. (smiles)
Editor's note: George Hincapie's Paris-Roubaix ended some 45km from the finish when the fork on this bike snapped. The team said it believed an earlier crash damaged the fork and the subsequent repeated pounding eventually caused it to break.
Photography
For a thumbnail gallery of these images, click here
Images by Anthony Tan/Cyclingnews.com