104th Paris-Roubaix - PT
France, April 9, 2006
Main Page Results Live report ProTour standings
The mean machine takes first Roubaix win for CSC
Boonen finally beaten; Hincapie's hopes snap with steerer tube
By Hedwig Kröner and Jeff Jones in Roubaix
Fabian Cancellara (CSC)
Photo ©: AFP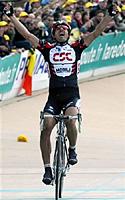 An outstanding time triallist got the better of all other favourites at Paris-Roubaix today: After an attack placed at the right moment, Fabian Cancellara beat his fellow favourites in one impressive final solo effort. With 19 kilometres to go, the tall Swiss shattered the World Champion's hopes of a 'double triple', and everybody else's, too.
In a chaotic finale, three riders were disqualified for a 'race incident' - a railway crossing, which later blocked Tom Boonen et al., had already turned to red lights as the two Discovery riders Hoste and Gusev, as well as Davitamon's Van Petegem crossed it. And Discovery's George Hincapie received the worst fate of all: his steerer tube snapped with 45 kilometres to go, and the American ended up on the side of the road, unhurt but crying as he saw the lead group drive away.
"I'm so happy, I can't find the words to describe it," said Cancellara after the podium celebration, carrying the famous Paris-Roubaix cobble in his hands, and barely able to keep his eyes dry. "The last time I felt this way was when I won the Tour de France prologue, but I can't find the words. I believed in myself from the start, and I think I was probably the best rider here today. I felt that the others were in difficulty, so I waited for the right moment to attack - Gusev was in my wheel though, and I knew I had to shake him off it to get to the velodrome on my own. I want to give a big thanks to my team; it wouldn't have been possible to win without them."
Fabian Cancellara (CSC)
Photo ©: AFP

Team director Scott Sunderland was also very emotional, as he told Cyclingnews. "I told him to wait a little bit longer but he wanted to go for it, so I said OK. Sometimes you can't hold him back - you feel it as a rider, too; you can't always make your DS happy, you have to go with your gut feeling, too. He's got a great feeling for the race itself."
What should have been Quick.Step's masterpiece started with a hiccup: the World Champion was isolated after the first big selection was made in the Arenberg forest. While Discovery had three riders in the front group, and other squads were also present with two riders each, Boonen found himself alone in the leading group. At first, Quick.Step DS Wilfried Peeters ordered his riders to chase back on to the leaders around Boonen, but after talking to last year's winner on the batphone, the Belgian team changed its mind.
"It could have been the same for us," Sunderland commented. "We were lucky to have Lars there too, and Discovery had three there, before they unfortunately lost Hincapie. The more teammates you got, the more help you have, so yes, maybe they lost the race there."
Tom Boonen (Quick.Step) and Fabian Cancellara (CSC)
Photo ©: Sirotti

Tom Boonen ended up second, thanks to the disqualifications, but said, "I'm not happy with it. It was not deserved, I was dropped. I wasn't as super as I was last week in the Ronde, but good enough to win. I spent too much energy unnecessarily. I nearly crashed and felt cramp after that. I'm choked with dust. It was stressful all the time.
"I'm not disappointed: It's good that everyone realises that I'm not a robot. Losing can be a better lesson than winning."
Leif Hoste (Discovery Channel) was definitely not happy with the commissaires' decision to disqualify him. "This is ridiculous. They had 15 km to tell us, but no-one did that. The crossing closed just before we got there. They should have said something to us in the race, but not after. It's definitely against the sprit of the race. What can you do? Protest against the UCI? I don't think that it will do anything."
When asked about the disqualification of his riders, Johan Bruyneel (Discovery) told Cyclingnews afterwards, "I don't know what happened as I didn't see it. But it's definitely unacceptable for a race like Paris-Roubaix to be decided on a railway crossing. There should be enough parcours alternatives for the finale. A race like Paris-Roubaix doesn't deserve (an incident like that). It's unacceptable in professional sport."
A spokesman for organisers ASO admitted to Cyclingnews that, "It's an unpredictable accident de la course. The race was 15 minutes ahead of schedule and usually, we plan the route by considering the train schedule. But it was unpredicted that the race would be so fast."
How it unfolded
The peloton in action
Photo ©: Sirotti

194 riders left the confines of Compiegne at 10:50am, under sunny skies and moderate winds blowing from the northwest - conditions that would accompany them all the way to Roubaix. Thierry Marichal (Cofidis) didn't start, suffering from stomach problems. Earlier in the morning, 29 riders from Liquigas, Gerolsteiner, Team LPR and Saunier Duval were blood tested, with all being declared fit to start.
As usual, it was a fast getaway and Marc De Maar (Rabobank) and Tristan Valentin (Cofidis) had the honours of initiating the attacks after 17 km, followed by Stephan Schreck (T-Mobile). But everything came to naught with a healthy 47.1 km covered in the first hour. The problems for Discovery Channel began early with George Hincapie crashing after 31 km. He returned to the peloton, shaken more than anything else, but it was not to be his day.
The break that stuck eventually came after 62 km, when Joost Posthuma (Rabobank), Nicolas Portal (Caisse d'Epargne), Stephan Schreck (T-Mobile) and Dmitri Konyshev (LPR) accelerated away, building a lead of 20 seconds. After 85 km, a chase group formed with Marco Righetto (Liquigas), Stephane Berges (Agritubel) and Iker Flores, who trailed the four leaders by 50 seconds through Busigny.
By the time the race reached the first of 27 sectors of pavé at Troisvilles (km 97), the four leaders had 1'20 on the three chasers and 2'05 on the bunch. Frank Hoj (Gerolsteiner) attacked the peloton and managed to bridge up as far as the chase group, but got no further. At the halfway point (km 130), the gap between the peloton and the lead break was up to 4'48, before T-Mobile, Discovery, Davitamon and Quick.Step began to work to close it down. But Davitamon lost one rider when Tom Steels crashed and broke his collarbone after clipping De Jongh's wheel after 127 km.
The inevitable race for position before the Arenberg Forest (km 163) started, and that spelled doom for the four chasers and also cut down the leaders' advantage rapidly. In front, Portal crashed on a sharp right hander and had to chase back on, while in the peloton, Sebastian Minard (Cofidis) crashed in exactly the same place. Gent-Wevelgem winner Thor Hushovd (Credit Agricole) was also having problems, puncturing twice and taking himself out of contention.
Quick.Step in particular made the most out of the race to the Arenberg, but maybe gambled too much on Tom Boonen. By the time the bunch reached the Forest, it was less than a minute behind the four leaders. Tom Boonen led the way onto the feared 2.4 km sector, with Hincapie, Steegmans and Cancellara all well placed. Then the CSC man took over and he was first to sweep by Posthuma, Schreck and Portal.
Fabian Cancellara (CSC)
Photo ©: Sirotti

By the end of the sector, the damage had been done and 17 riders were left in front: Van Petegem, Steegmans (Davitamon), Hincapie, Gusev, Hoste (Discovery), Cancellara, Michaelsen (CSC), Boonen (Quick.Step), Wesemann, Schreck (T-Mobile), Guesdon, Eisel (FDJ), Posthuma, Flecha (Rabobank), Portal (Caisse d'Epargne), Ballan, Franzoi (Lampre). Boonen was surprisingly alone, and although his Quick.Step teammates mounted a serious chase behind to try to get Pozzato up front, it was to no avail, and the captain was left to fend for himself.
Early breakaways Schreck and Posthuma were the first to be dropped from the lead group, then Franzoi, and then Portal yo-yoed off the back on every cobbled section before eventually losing the group. In front, Flecha was particularly aggressive, putting in numerous accelerations on the cobbles to try to tire the others out.
Lars Michaelsen did a ton of work for his team leader Cancellara over many of the next sectors of cobbles, while Boonen looked to be riding a smart race and was never out of the top six. Discovery was the only team with three up front: Hincapie, Hoste and Gusev, and the cards were definitely in their favour for a while.
A distraught George Hincapie (Discovery)
Photo ©: Sirotti

On sector 11 with 57 km to go, Flecha put in a strong acceleration that succeeded in gapping Wesemann and Steegmans, who were fraying at the edges. On the 3 km sector 10 at Mons-en-Pévèle (km 47), Cancellara attacked, causing more pain behind. Then came the disaster for Discovery: George Hincapie's aluminium steerer tube broke and he was left riding rudderless on the cobbles. He crashed on his right side, and although comparatively unhurt, had to watch the race go away without him. His Paris-Roubaix dream was over for another year.
There was no waiting around either. Flecha and Boonen upped the tempo, before Cancellara, Ballan and Van Petegem reacted. At the end of the sector, Flecha was off the back with Hoste, Gusev and Eisel, chasing the other four. They were able to return just after sector 9, and there were eight leaders: Van Petegem (Davitamon), Cancellara (CSC), Ballan (Lampre), Boonen (Quick.Step), Gusev, Hoste (Discovery), Flecha (Rabobank) and Eisel (FDJ).
On the pave at Cysoing (km 230), Gusev tumbled on a corner, bringing Ballan down as well. Both riders were able to rejoin the break, although Gusev took the longest time to do so. He managed it just before Camphin-en Pévèle (sector 5, km 239), and straight away took the lead. The others let him go, but Cancellara saw his chance and powered across to the Russian, the pair opening up a 10 second gap at the end of the cobbles.
Fabian Cancellara (CSC)
Photo ©: Sirotti

Cancellara kept powering in front as he reached the Carrefour de l'Arbre, and with a strong ride on the sharp cobbles, he dropped Gusev for good. The break had split behind with Hoste and Van Petegem joining Gusev, and Boonen, Flecha and Ballan chasing another 10 seconds behind. Cancellara was now on his own and headed for victory, with his main opponent being possible misfortune.
The Swiss was lucky today though: he reached a train crossing at 10 km to go with a 30 second lead over the three chasers. But when they got there, the barriers had already come down to signal a train coming. They ducked through them and continued chasing, losing 10 seconds, but ultimately their positions in the race after the commissaires disqualified them. Boonen's group had to wait anyway, as the train was already upon them, but technically they went through when the barriers were lowered too - albeit after the train had passed.
A sprint for second place that wasn't
Photo ©: Sirotti

It was clear at this stage that Cancellara wasn't going to be caught. He pushed his advantage even more - out to a minute - over the final 10 km, and entered the hallowed Roubaix velodrome to a huge cheer with enough time to celebrate as he did his one and a half laps of the track. He finished even before the next trio came in, and was already savouring the biggest win of his life in the centre of the velodrome when Hoste beat Van Petegem for second, with Gusev taking fourth. Boonen comfortably won his group sprint for fifth ahead of Ballan and Flecha, but had no idea that the positions would change later.
Less than 10 minutes after the race, the judges' decision became known: Hoste, Van Petegem and Gusev were all disqualified for running the barrier, meaning that Boonen was elevated to second and Ballan third. None of them were particularly happy with the outcome, but that didn't take anything away from Fabian Cancellara, who was by far the best man in the race today.
Photography
For a thumbnail gallery of these images, click here
Images by AFP Photo/Franck Fife
Images by Fotoreporter Sirotti
Images by Régis Garnier/www.velofotopro.com
Images by Brecht Decaluwé/Cyclingnews.com
Images by Hedwig Kröner/Cyclingnews.com
Images by Junko & Miwako Sasaki
Pre-race pics
For a thumbnail gallery of these images, click here
Images by Anthony Tan/Cyclingnews.com
Images by Brecht Decaluwé/Cyclingnews.com
Images by Hedwig Kröner/Cyclingnews.com
Images by Anthony Tan/Cyclingnews.com
Results
1 Fabian Cancellara (Swi) Team CSC                                6.07.54 (42.239 km/h)
2 Tom Boonen (Bel) Quick Step-Innergetic                             1.49
3 Alessandro Ballan (Ita) Lampre-Fondital                                
4 Juan Antonio Flecha (Spa) Rabobank                                     
5 Bernhard Eisel (Aut) Française des Jeux                            3.25
6 Steffen Wesemann (Swi) T-Mobile Team                               5.35
7 Frédéric Guesdon (Fra) Française des Jeux                          6.31
8 Bert Roesems (Bel) Davitamon-Lotto                                 6.44
9 Christophe Mengin (Fra) Française des Jeux                             
10 Staf Scheirlinckx (Bel) Cofidis, le Credit par Telephone          6.45
11 Pedro Horrillo (Spa) Rabobank                                     6.49
12 Erik Zabel (Ger) Team Milram                                          
13 Steven De Jongh (Ned) Quick Step-Innergetic                           
14 Leon Van Bon (Ned) Davitamon-Lotto                                    
15 Filippo Pozzato (Ita) Quick Step-Innergetic                           
16 Aart Vierhouten (Ned) Skil-Shimano                                    
17 Baden Cooke (Aus) Unibet.com                                          
18 Martin Elmiger (Swi) Phonak Hearing Systems                           
19 Lars Michaelsen (Den) Team CSC                                        
20 Marco Serpellini (Ita) Unibet.com                                     
21 Anthony Geslin (Fra) Bouygues Telecom                                 
22 Marcus Burghardt (Ger) T-Mobile Team                                  
23 Mathew Hayman (Aus) Rabobank                                          
24 Roger Hammond (GBr) Discovery Channel Pro Cycling Team                
25 Jimmy Casper (Fra) Cofidis, le Credit par Telephone                   
26 Kurt-Asle Arvesen (Nor) Team CSC                                      
27 Enrico Poitschke (Ger) Team Milram                                    
28 Henk Vogels (Aus) Davitamon-Lotto                                     
29 Arnaud Labbe (Fra) Bouygues Telecom                                   
30 Ralf Grabsch (Ger) Team Milram                                        
31 Allan Johansen (Den) Team CSC                                         
32 Nico Mattan (Bel) Davitamon-Lotto                                     
33 Jérémy Hunt (GBr) Unibet.com                                          
34 Marco Milesi (Ita) Liquigas                                           
35 Kevin Hulsmans (Bel) Quick Step-Innergetic                            
36 Nicolas Portal (Fra) Caisse d'Epargne-Illes Balears                   
37 Marc Wauters (Bel) Rabobank                                           
38 Andy Flickinger (Fra) Bouygues Telecom                                
39 Christophe Laurent (Fra) Agritubel                                    
40 Frank Hoj (Den) Gerolsteiner                                          
41 Aivaras Baranauskas (Ltu) Agritubel                                   
42 Andreas Klier (Ger) T-Mobile Team                                     
43 Marcus Ljungqvist (Swe) Team CSC                                      
44 Servais Knaven (Ned) Quick Step-Innergetic                            
45 Alessandro Cortinovis (Ita) Team Milram                               
46 Martin Müller (Swi) Team Milram                                       
47 Jean-Patrick Nazon (Fra) AG2R Prevoyance                              
48 Jimmy Engoulvent (Fra) Credit Agricole                                
49 Bradley Wiggins (GBr) Cofidis, le Credit par Telephone                
50 Imanol Erviti (Spa) Caisse d'Epargne-Illes Balears                    
51 Vicente Garcia Acosta (Spa) Caisse d'Epargne-Illes Balears            
52 Wilfried Cretskens (Bel) Quick Step-Innergetic                        
53 Cédric Coutouly (Fra) Agritubel                                       
54 Wim Vansevenant (Bel) Davitamon-Lotto                                 
55 Paolo Fornaciari (Ita) Lampre-Fondital                                
56 Enrico Franzoi (Ita) Lampre-Fondital                                  
57 Nick Nuyens (Bel) Quick Step-Innergetic                               
58 Sébastien Hinault (Fra) Credit Agricole                               
59 Kévin Van Impe (Bel) Quick Step-Innergetic                            
60 Marc De Maar (Ned) Rabobank                                       7.24
61 Gert Steegmans (Bel) Davitamon-Lotto                              9.32
62 Laszlo Bodrogi (Hun) Credit Agricole                             10.53
63 Jan Boven (Ned) Rabobank                                         11.18
64 Tomas Vaitkus (Ltu) AG2R Prevoyance                              13.13
65 Sebastian Langeveld (Ned) Skil-Shimano                           15.58
66 Matthew Wilson (Aus) Unibet.com                                       
67 Vicente Reynes (Spa) Caisse d'Epargne-Illes Balears              16.44
68 David Kopp (Ger) Gerolsteiner                                    19.07
69 Robert Hunter (RSA) Phonak Hearing Systems                       19.20
70 Gustav Larsson (Swe) Française des Jeux                               
71 Erki Pütsep (Est) AG2R Prevoyance                                     
72 Yuri Metlushenko (Ukr) Team L.P.R.                                    
73 Heinrich Haussler (Ger) Gerolsteiner                                  
74 Matthew White (Aus) Discovery Channel Pro Cycling Team                
75 William Bonnet (Fra) Credit Agricole                                  
76 Luciano Pagliarini (Bra) Saunier Duval-Prodir                         
77 Koen De Kort (Ned) Liberty Seguros-Würth Team                         
78 Peter Wrolich (Aut) Gerolsteiner                                      
79 Aaron Kemps (Aus) Liberty Seguros-Würth Team                          
80 Koldo Fernandez (Spa) Euskaltel-Euskadi                               
81 Piet Rooijakkers (Ned) Skil-Shimano                                   
82 Hervé Duclos-Lassalle (Fra) Cofidis, le Credit par Telephone          
83 Sjef De Wilde (Bel) Landbouwkrediet-Colnago                           
84 Christophe Agnolutto (Fra) Agritubel                                  
85 Florent Brard (Fra) Caisse d'Epargne-Illes Balears                    
86 Ludovic Auger (Fra) Française des Jeux                                
87 Andoni Aranaga (Spa) Euskaltel-Euskadi                                
88 Rony Martias (Fra) Bouygues Telecom                                   
89 Mathieu Claude (Fra) Bouygues Telecom                                 
90 Maarten Tjallingii (Ned) Skil-Shimano                                 
91 Markel Irizar (Spa) Euskaltel-Euskadi                                 
92 Kevin Neyrinck (Bel) Landbouwkrediet-Colnago                          
93 Mauro Da Dalto (Ita) Liquigas                                         
94 Stéphane Berges (Fra) Agritubel                                       
95 Franck Renier (Fra) Bouygues Telecom                                  
96 Tristan Valentin (Fra) Cofidis, le Credit par Telephone               
97 Bas Giling (Ned) T-Mobile Team                                        
98 Laurent Mangel (Fra) AG2R Prevoyance                                  
99 Paul Martens (Ger) Skil-Shimano                                       
100 André Korff (Ger) T-Mobile Team                                      
101 Gilles Canouet (Fra) Agritubel                                       
102 Joseba Zubeldia (Spa) Euskaltel-Euskadi                         19.32
103 Mikhaylo Khalilov (Ukr) Team L.P.R.                                  
104 Dimitri Konyshev (Rus) Team L.P.R.                              19.36
105 Rik Reinerink (Ned) Skil-Shimano                                19.38
106 Jurgen Van Loocke (Bel) Landbouwkrediet-Colnago                      
107 Daniele Righi (Ita) Lampre-Fondital                                  
108 Stefano Zanini (Ita) Liquigas                                        
109 Matthé Pronk (Ned) Unibet.com                                   30.56
110 Angel Gomez (Spa) Saunier Duval-Prodir                               
111 Erwin Thijs (Bel) Unibet.com                                    34.34
112 Aurélien Clerc (Swi) Phonak Hearing Systems                          
 
Time cut (hors delai)
 
HD Kenny Robert Van Hummel (Ned) Skil-Shimano                            
HD Marco Righetto (Ita) Liquigas                                         
HD Lenaïc Olivier (Fra) Agritubel                                        
HD Martin Pedersen (Den) Team CSC                                        
 
Disqualified
 
DSQ Peter Van Petegem (Bel) Davitamon-Lotto                              
DSQ Vladimir Gusev (Rus) Discovery Channel Pro Cycling Team              
DSQ Leif Hoste (Bel) Discovery Channel Pro Cycling Team                  
 
Did not finish
 
DNF Iker Flores (Spa) Euskaltel-Euskadi                                  
DNF John Gadret (Fra) AG2R Prevoyance                                    
DNF Renaud Dion (Fra) AG2R Prevoyance                                    
DNF Carlos Zarate (Spa) Saunier Duval-Prodir                             
DNF Francisco Ventoso (Spa) Saunier Duval-Prodir                         
DNF Sebastian Siedler (Ger) Team Milram                                  
DNF Geoffroy Lequatre (Fra) Cofidis, le Credit par Telephone             
DNF Thierry Marichal (Bel) Cofidis, le Credit par Telephone              
DNF Aaron Olsen (USA) Saunier Duval-Prodir                               
DNF Peter Mazur (Pol) Saunier Duval-Prodir                               
DNF Charles Dionne (Can) Saunier Duval-Prodir                            
DNF Yohann Gene (Fra) Bouygues Telecom                                   
DNF Sébastien Minard (Fra) Cofidis, le Credit par Telephone              
DNF Sébastien Chavanel (Fra) Bouygues Telecom                            
DNF Unai Uribarri (Spa) Euskaltel-Euskadi                                
DNF Iban Mayoz (Spa) Euskaltel-Euskadi                                   
DNF David Herrero (Spa) Euskaltel-Euskadi                                
DNF Alberto Ongarato (Ita) Team Milram                                   
DNF Alexandre Usov (Blr) AG2R Prevoyance                                 
DNF Masahiro Shinagawa (Jpn) Skil-Shimano                                
DNF Michele Maccanti (Ita) Team L.P.R.                                   
DNF Mattia Gavazzi (Ita) Team L.P.R.                                     
DNF Giairo Ermeti (Ita) Team L.P.R.                                      
DNF Gene Michael Bates (Aus) Team L.P.R.                                 
DNF Johan Verstrepen (Bel) Landbouwkrediet-Colnago                       
DNF Jean Paul Simon (Bel) Landbouwkrediet-Colnago                        
DNF Filip Meirhaeghe (Bel) Landbouwkrediet-Colnago                       
DNF Mathieu Criquielion (Bel) Landbouwkrediet-Colnago                    
DNF Andy Cappelle (Bel) Landbouwkrediet-Colnago                          
DNF Luis Pasamontes (Spa) Unibet.com                                     
DNF David Boucher (Fra) Unibet.com                                       
DNF Benoit Sinner (Fra) Agritubel                                        
DNF Nicola Loda (Ita) Liquigas                                           
DNF Francesco Failli (Ita) Liquigas                                      
DNF Daniele Colli (Ita) Liquigas                                         
DNF Christophe Riblon (Fra) AG2R Prevoyance                              
DNF Simone Cadamuro (Ita) Team Milram                                    
DNF Stephan Schreck (Ger) T-Mobile Team                                  
DNF Matteo Bono (Ita) Lampre-Fondital                                    
DNF Tom Steels (Bel) Davitamon-Lotto                                     
DNF Gregory Rast (Swi) Phonak Hearing Systems                            
DNF Uros Murn (Slo) Phonak Hearing Systems                               
DNF Ryder Hesjedal (Can) Phonak Hearing Systems                          
DNF Fabrizio Guidi (Ita) Phonak Hearing Systems                          
DNF Bert Grabsch (Ger) Phonak Hearing Systems                            
DNF Luke Roberts (Aus) Team CSC                                          
DNF Christian Müller (Ger) Team CSC                                      
DNF Michael Rich (Ger) Gerolsteiner                                      
DNF Sebastian Lang (Ger) Gerolsteiner                                    
DNF Sven Krauss (Ger) Gerolsteiner                                       
DNF Thomas Fothen (Ger) Gerolsteiner                                     
DNF Joost Posthuma (Ned) Rabobank                                        
DNF Benjamin Noval Gonzalez (Spa) Discovery Channel Pro Cycling Team     
DNF Guennadi Mikhailov (Rus) Discovery Channel Pro Cycling Team          
DNF Stijn Devolder (Bel) Discovery Channel Pro Cycling Team              
DNF Claudio Corioni (Ita) Lampre-Fondital                                
DNF David Loosli (Swi) Lampre-Fondital                                   
DNF Carlos Abellan (Spa) Liberty Seguros-Würth Team                      
DNF Bram Schmitz (Ned) T-Mobile Team                                     
DNF Andre Greipel (Ger) T-Mobile Team                                    
DNF Francis Mourey (Fra) Française des Jeux                              
DNF Lilian Jegou (Fra) Française des Jeux                                
DNF Christophe Detilloux (Bel) Française des Jeux                        
DNF Aleixei Markov (Rus) Caisse d'Epargne-Illes Balears                  
DNF José Cayetano Julia Cegarra (Spa) Caisse d'Epargne-Illes Balears     
DNF Eric Berthou (Fra) Caisse d'Epargne-Illes Balears                    
DNF Yannick Talabardon (Fra) Credit Agricole                             
DNF Mark Renshaw (Aus) Credit Agricole                                   
DNF Cyril Lemoine (Fra) Credit Agricole                                  
DNF Thor Hushovd (Nor) Credit Agricole                                   
DNF Ivan Santos (Spa) Liberty Seguros-Würth Team                         
DNF Eladio Sanchez (Spa) Liberty Seguros-Würth Team                      
DNF Jose Joaquin Rojas (Spa) Liberty Seguros-Würth Team                  
DNF Allan Davis (Aus) Liberty Seguros-Würth Team                         
DNF Assan Bazayev (Kaz) Liberty Seguros-Würth Team                       
DNF George Hincapie (USA) Discovery Channel Pro Cycling Team             

ProTour standings
1 Tom Boonen (Bel) Quick Step - Innergetic                            129 pts
2 Alessandro Ballan (Ita) Lampre-Fondital                             105
3 Fabian Cancellara (Swi) Team CSC                                     84
4 Alessandro Petacchi (Ita) Team Milram                                72
5 Antonio Colom Mas (Spa) Caisse D'epargne-Illes Balears               71
6 Filippo Pozzato (Ita) Quick Step - Innergetic                        70
7 George Hincapie (USA) Discovery Channel Pro Cycling Team             60
8 Samuel Sanchez Gonzalez (Spa) Euskaltel - Euskadi                    59
9 José Angel Gomez Marchante (Spa) Saunier Duval - Prodir              53
10 Floyd Landis (USA) Phonak Hearing Systems                           52
11 Thomas Dekker (Ned) Rabobank                                        51
12 Francisco Javier Vila Errandonea (Spa) Lampre-Fondital              48
13 Alejandro Valverde Belmonte (Spa) Caisse D'epargne-Illes Balears    46
14 Thor Hushovd (Nor) Credit Agricole                                  44
15 Leif Hoste (Bel) Discovery Channel Pro Cycling Team                 42
16 Jörg Jaksche (Ger) Liberty Seguros - Würth Team                     40
17 Luca Paolini (Ita) Liquigas                                         35
18 Bernhard Eisel (Aut) Française Des Jeux                             32
19 David Kopp (Ger) Gerolsteiner                                       30
20 Juan Antonio Flecha Giannoni (Spa) Rabobank                         30
21 Patrik Sinkewitz (Ger) T-Mobile Team                                30
22 Peter Van Petegem (Bel) Davitamon-Lotto                             30
23 Paolo Savoldelli (Ita) Discovery Channel Pro Cycling Team           30
24 Alberto Contador Velasco (Spa) Liberty Seguros - Würth Team         29
25 Oscar Freire Gomez (Spa) Rabobank                                   29
26 Danilo Napolitano (Ita) Lampre-Fondital                             26
27 Frank Schleck (Lux) Team CSC                                        25
28 Michael Boogerd (Ned) Rabobank                                      25
29 Leonardo Bertagnolli (Ita) Cofidis, Le Credit Par Telephone         23
30 José Azevedo (Por) Discovery Channel Pro Cycling Team               22
31 Paolo Bettini (Ita) Quick Step - Innergetic                         21
32 Steffen Wesemann (Swi) T-Mobile Team                                20
33 Frédéric Guesdon (Fra) Française Des Jeux                           15
34 Miguel Angel Martin Perdiguero (Spa) Phonak Hearing Systems         15
35 Stefano Garzelli (Ita) Liquigas                                     15
36 Erik Dekker (Ned) Rabobank                                          15
37 Ivan Basso (Ita) Team CSC                                           15
38 Karsten Kroon (Ned) Team CSC                                        15
39 Bert Roesems (Bel) Davitamon-Lotto                                  10
40 Cadel Evans (Aus) Davitamon-Lotto                                   10
41 Pietro Caucchioli (Ita) Credit Agricole                             10
42 Allan Davis (Aus) Liberty Seguros - Würth Team                       9
43 Erki Pütsep (Est) Ag2R Prevoyance                                    5
44 Christophe Mengin (Fra) Française Des Jeux                           5
45 Martin Elmiger (Swi) Phonak Hearing Systems                          5
46 Andreas Klier (Ger) T-Mobile Team                                    5
47 José Luis Rubiera Vigil (Spa) Discovery Channel Pro Cycling Team     5
48 Andrey Kashechkin (Kaz) Liberty Seguros - Würth Team                 5
49 Erik Zabel (Ger) Team Milram                                         4
50 Davide Rebellin (Ita) Gerolsteiner                                   3
51 Thomas Voeckler (Fra) Bouygues Telecom                               3
52 Markus Zberg (Swi) Gerolsteiner                                      3
53 Joaquin Rodriguez Oliver (Spa) Caisse D'epargne-Illes Balears        3
54 Bobby Julich (USA) Team CSC                                          3
55 Staf Scheirlinckx (Bel) Cofidis, Le Credit Par Telephone             2
56 Christopher Horner (USA) Davitamon-Lotto                             2
57 Matteo Carrara (Ita) Lampre-Fondital                                 2
58 Thomas Danielson (USA) Discovery Channel Pro Cycling Team            2
59 Evgeni Petrov (Rus) Lampre-Fondital                                  2
60 Sylvain Chavanel (Fra) Cofidis, Le Credit Par Telephone              2
61 Jens Voigt (Ger) Team CSC                                            2
62 Riccardo Ricco (Ita) Saunier Duval - Prodir                          2
63 Joost Posthuma (Ned) Rabobank                                        2
64 Robbie Mcewen (Aus) Davitamon-Lotto                                  2
65 Kurt-Asle Arvesen (Nor) Team CSC                                     1
66 Fabian Wegmann (Ger) Gerolsteiner                                    1
67 Sandy Casar (Fra) Française Des Jeux                                 1
68 Juan Jose Cobo Acebo (Spa) Saunier Duval - Prodir                    1
69 Francisco José Ventoso Alberdi (Spa) Saunier Duval - Prodir          1
70 Stefan Schumacher (Ger) Gerolsteiner                                 1
71 Jérôme Pineau (Fra) Bouygues Telecom                                 1
72 Bradley Mcgee (Aus) Française Des Jeux                               1
 
Teams
 
1 Team CSC                                                             95 pts
2 Discovery Channel Pro Cycling Team                                   93
3 Gerolsteiner                                                         93
4 Quick Step - Innergetic                                              91
5 Rabobank                                                             85
6 Phonak Hearing Systems                                               82
7 Lampre-Fondital                                                      80
8 Davitamon-Lotto                                                      78
9 T-Mobile Team                                                        77
10 Liberty Seguros - Würth Team                                        73
11 Caisse D'epargne-Illes Balears                                      73
12 Française Des Jeux                                                  67
13 Team Milram                                                         66
14 Credit Agricole                                                     63
15 Cofidis, Le Credit Par Telephone                                    62
16 Saunier Duval - Prodir                                              44
17 Euskaltel - Euskadi                                                 43
18 Bouygues Telecom                                                    38
19 Liquigas                                                            27
20 Ag2R Prevoyance                                                     26
 
Nations
 
1 Italy                                                               312 pts
2 Spain                                                               277
3 Belgium                                                             213
4 United States Of America                                            119
5 Switzerland                                                         112
6 Germany                                                             109
7 Netherlands                                                         108
8 Norway                                                               45
9 Austria                                                              32
10 France                                                              26
11 Luxembourg                                                          25
12 Australia                                                           22
13 Portugal                                                            22
14 Kazakhstan                                                           5
15 Estonia                                                              5
16 Russian Federation                                                   2