Herald Sun Tour - 2.1
Australia, October 9-15, 2005
Main Page Results Overall standings Previous Stage Next Stage
Stage 4 - October 12: Mitchelton Winery - Marysville, 172.6km
What a difference a day makes
By John Trevorrow in Marysville
Baden Cooke (Francaise des Jeux)
Photo ©: Mark Gunter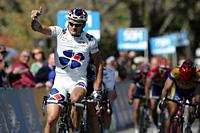 After his disqualification in Shepparton, Baden Cooke was picking up his ball and going home. Next day in Marysville he is celebrating his birthday with a brilliant win, beating Poland's Artur Krzeszowiec and HLP/Bicycle Superstore's Karl Menzies.
Cooke's Francaise des Jeux teammates, who kept the breakaways within reach all day, controlled the 172 km stage from Mitchelton Winery to Marysville. The race all came together in the final five kilometres and Cooke was too fast and too powerful in the last uphill 200 m to the line. The team mightn't have given him a birthday present in the morning, but they certainly delivered it in the afternoon.
"The boys really turned themselves inside out today," an ecstatic Cooke said. "It was a really tough finish and they all excelled and really dug deep. It was a great team effort. It doesn't make up for the terrible decision of yesterday and I certainly dedicate this win, not only to my teammates, but to the commissaires. This is for them.
"I thought I'd gone too early and I thought I was too over geared as well as it was fairly steep up there, but I just kept labouring on and luckily no-one came around." Cooke added. "I was so angry after the disqualification, especially when the officials would just not listen to reason. I said to the guys, let's just get out of here. But, once I calmed down I thought I have to think of my teammates who have travelled around the world, as well as Michael Hands, who has put the race together, and especially the sponsor, Jayco Caravans, who does so much for cycling.
The break away
Photo ©: Mark Gunter

"Anyway it got us all a bit fired up and angry and the guys just controlled the race perfectly. But you know I still can't believe that these guys can make a decision from a front on shot filmed 200m ahead that does not show the distances between the riders. Can you imagine the officials in the Melbourne Cup making a decision without seeing if there was actually any interference? Not only that, all of the main players in the bunch said that I was well clear and had nothing to do with the fall. Even Josh Collingwood, who started the proceedings after his crash, said I had nothing to do with it."
Sean Sullivan, Savings & Loans, still holds the leader's yellow jersey on the same time as his teammates Josh Collingwood and Russell Van Hout. "Today was good for us, as Cookie obviously wanted to win and his FDJ team controlled the race which made it much easier for us," Sullivan said.
When asked how he felt his chances were in the all important time trial on Friday, he was more concerned at the challenges around Healesville. "Tomorrow is tough day and this is a quality field, so we've got a lot to worry about before Friday. If the three of us are still in contention at the start of the time trial, then one of us can win. All three of us time trial well and although we're not noted climbers we are all going well.
Sean Sullivan (Savings and Loans)
Photo ©: Mark Gunter

"We all get on real well and although we race on different teams normally, we have gelled real well in this race. Although there have been some complaints about the results and things, the race has been great. The accommodation and food has been first class and the change to one stage a day is spot on."
Hilton Clarke holds a one point lead over Cooke in the battle for the green sprinters' jersey and both agreed that it will likely be decided on Saturday in Lygon St. "Cookie will keep going for the stages and I will go for the intermediate sprints," Clarke said. "There are not a lot of points up for grabs and not much difference between the bonuses for the sprints and the stage finishes. It should go right down to the wire," Clarke said.
Photography
For a thumbnail gallery of these images, click here
Images by Mark Gunter/www.pbase.com/gunterphotograph
Images by Shane Goss/www.licoricegallery.com
Results

1 Baden Cooke (Aus) Française des Jeux                      4.16.04
2 Artur Krsezowiec (Pol) Amore & Vita                              
3 Karl Menzies (Aus) HLP/Superstore                                
4 Simon Clarke (Aus) VIS Jayco                                     
5 David Mc Cann (Irl) Ireland                                      
6 Huub Duyn (Ned) Netherlands                                      
7 Henk Vogels (Aus) Davitamon-Lotto                                
8 Matthew Goss (Aus) Australia                                     
9 Chris Jongewaard (Aus) Savings and Loans                         
10 Bernard Sulzeberger (Aus) Cyclingnews.com-Fondriest             
11 Taiji Nishitani (Jpn) Japan presented by Latrobe City           
12 Eugene Moriarty (Irl) Ireland                                   
13 Sean Sullivan (Aus) Savings and Loans                           
14 Kazuya Okazaki (Jpn) Japan presented by Latrobe City            
15 Joshua Collingwood (Aus) Savings and Loans                      
16 Masahiro Shinagawa (Jpn) Shimano                                
17 Simon Gerrans (Aus) AG2r Prévoyance                             
18 Peter Hatton (Aus) Australia                                    
19 Brett Lancaster (Aus) VIS Jayco                                 
20 Ashley Hutchinson (Aus) Australia                               
21 Dainius Kairelis (Ltu) Amore & Vita                             
22 Jonas Ljungblad (Swe) Amore & Vita                              
23 Russell Van Hout (Aus) Savings and Loans                        
24 Nicolas Portal (Fra) AG2r Prévoyance                            
25 Matt Lloyd (Aus) VIS Jayco                                      
26 Jai Crawford (Aus) HLP/Superstore                               
27 Shinichi Fukishima (Jpn) Bridgestone Anchor                     
28 David McKenzie (Aus) HLP/Superstore                             
29 Nick Gates (Aus) Davitamon-Lotto                                
30 Johnny Hoogerland (Ned) Netherlands                             
31 Ben Brooks (Aus) Jelly Belly - Pool Gel                         
32 Glen Mitchell (NZl) HLP/Superstore                              
33 Mateusz Mroz (Pol) Amore & Vita                                 
34 Aaron Strong (Aus) MG Xpower p/b Bigpond                        
35 Cameron Jennings (Aus) Cyclingnews.com-Fondriest                
36 Mathew Rex (Aus) Australia                                      
37 Evan Oliphant (GBr) Recycling.co.uk/Litespeed                   
38 Dominique Perras (Can) HLP/Superstore                           
39 Kirk Albers (USA) Jelly Belly - Pool Gel                        
40 Aliaksandr Kuschynski (Blr) Amore & Vita                        
41 Kristian House (GBr) Recycling.co.uk/Litespeed                  
42 Darren Lapthorne (Aus) MG Xpower p/b Bigpond                    
43 Erki Putsep (Est) AG2r Prévoyance                               
44 Ben Greenwood (GBr) Recycling.co.uk/Litespeed                   
45 Josh Marden (Aus) Colnago - Caravello                           
46 Trent Wilson (Aus) Colnago - Caravello                          
47 Glen Chadwick (Aus) Cyclingnews.com-Fondriest                   
48 Floris Goesinnen (Ned) Netherlands                              
49 Johnny Clarke (Aus) VIS Jayco                                   
50 Robert Tighello (Aus) Colnago - Caravello                       
51 Yoshiyuki Abe (Jpn) Shimano                                     
52 Conor Murphy (Irl) Ireland                                      
53 Takashi Miyazawa (Jpn) Bridgestone Anchor                       
54 Jeremy Venell (NZl) Cyclingnews.com-Fondriest                   
55 Kimmo Kananen (Fin) Amore & Vita                                
56 David Kemp (Aus) VIS Jayco                                      
57 Cody Stevenson (Aus) Cyclingnews.com-Fondriest                  
58 Tommy Evans (Irl) Ireland                                       
59 Jason Phillips (Aus) Davitamon-Lotto                            
60 Wesley Sulzberger (Aus) AG2r Prévoyance                         
61 Andrew Roche (Irl) Ireland                                      
62 Caleb Manion (Aus) Jelly Belly - Pool Gel                       
63 Richard England (Aus) HLP/Superstore                            
64 Mitchell Docker (Aus) AG2r Prévoyance                           
65 Kane Oakley (Aus) Cyclingnews.com-Fondriest                     
66 Mark Renshaw (Aus) Française des Jeux                           
67 Ashley Humbert (Aus) Française des Jeux                         
68 George Bunt (Aus) Colnago - Caravello                           
69 Richard Moffatt (Aus) Française des Jeux                        
70 Brice Jones (USA) Jelly Belly - Pool Gel                        
71 Tomoya Kano (Jpn) Shimano                                       
72 Ryan Sullivan (Aus) Davitamon-Lotto                             
73 Shaun Higgerson (Aus) MG Xpower p/b Bigpond                     
74 Kacper Sowinski (Pol) Amore & Vita                              
75 Brad Norton (Aus) VIS Jayco                                     
76 Wouter Mol (Ned) Netherlands                                    
77 Peter Dawson (Aus) Australia                                    
78 Yukiya Arashiro (Jpn) Japan presented by Latrobe City           
79 Yusuke Shimizu (Jpn) Bridgestone Anchor                         
80 Yukihiro Doi (Jpn) Shimano                                      
81 Shinri Suzuki (Jpn) Bridgestone Anchor                          
82 Peter McDonald (Aus) Colnago - Caravello                        
83 Troy Glennan (Aus) MG Xpower p/b Bigpond                        
84 Mitsunari Mitaki (Jpn) Japan presented by Latrobe City          
85 Peter Mueller (Aus) Savings and Loans                           
86 David Harrigan (Aus) Colnago - Caravello                        
87 Makoto Iilima (Jpn) Japan presented by Latrobe City             
88 Peter Milostic (Aus) Davitamon-Lotto                            
89 Domenico Passuello (Ita) Amore & Vita                           
90 Kazuhiro Mori (Jpn) Japan presented by Latrobe City             
91 Yoshimasa Hirose (Jpn) Shimano                                  
92 Andy Naylor (Aus) HLP/Superstore                                
93 Robert McLachlan (Aus) MG Xpower p/b Bigpond                    
94 Fabrice Jeandesboz (Fra) Française des Jeux                 0.24
95 Jarron Poad (Aus) MG Xpower p/b Bigpond                         
96 Alex Candelario (USA) Jelly Belly - Pool Gel                    
97 Bradley Mills (Aus) Davitamon-Lotto                             
98 Takumi Beppu (Jpn) Japan presented by Latrobe City              
99 Matty Rice (Aus) Jelly Belly - Pool Gel                         
100 Sean Finning (Aus) Australia                                   
101 Phil Thuaux (Aus) HLP/Superstore                               
102 Hilton Clarke Jnr. (Aus) VIS Jayco                             
103 Nick Sanderson (Aus) Davitamon-Lotto                           
104 Matt Wilson (Aus) Française des Jeux                           
105 Kieren Cameron (Aus) Française des Jeux                        
106 Andy Flickinger (Fra) AG2r Prévoyance                          
107 Christophe Oriol (Fra) AG2r Prévoyance                         
108 Shaun Snodden (GBr) Recycling.co.uk/Litespeed                  
109 Stuart Shaw (Aus) MG Xpower p/b Bigpond                    0.40
110 Dean Downing (GBr) Recycling.co.uk/Litespeed                   
111 Bertil Klootwijk (Ned) Netherlands                             
112 Anthony Challinor (Aus) Savings and Loans                      
113 Rhys Pollock (Aus) Recycling.co.uk/Litespeed                   
114 Joshua Wilson (Aus) AG2r Prévoyance                            
115 Koji Fukishima (Jpn) Bridgestone Anchor                        
116 Andrew Mc Quaid (Irl) Ireland                                  
117 Russell Downing (GBr) Recycling.co.uk/Litespeed            1.26
118 Freddy Bichot (Fra) Française des Jeux                         
119 Gordon McCauley (NZl) Colnago - Caravello                  1.51
120 Adrian Laidler (Aus) Savings and Loans                     2.04
121 Tony Mann (Aus) MG Xpower p/b Bigpond                      2.28
122 Danny Pate (USA) Jelly Belly - Pool Gel                   10.59
123 James Meadley (Aus) Colnago - Caravello                        
124 Daniel Newham (Aus) Cyclingnews.com-Fondriest                  
125 Steven Cunningham (Aus) Savings and Loans                      
126 Masamichi Yamamoto (Jpn) Shimano                               
127 Stephen Wooldridge (Aus) Australia                             
128 Michael Sims (Aus) Davitamon-Lotto                             
129 Paul Healion (Irl) Ireland                                     
130 Jason McIntyre (GBr) Recycling.co.uk/Litespeed                 
131 Thijs Poelstra (Ned) Netherlands                               
 
Mountains
 
KOM 1
 
1 Russell Downing (GBr) Recycling.co.uk/Litespeed                 5 pts
2 Makoto Iilima (Jpn) Japan presented by Latrobe City             3
3 Stuart Shaw (Aus) MG Xpower p/b Bigpond                         1
 
KOM 2
 
1 Makoto Iilima (Jpn) Japan presented by Latrobe City             5 pts
2 Koji Fukishima (Jpn) Bridgestone Anchor                         3
3 Stuart Shaw (Aus) MG Xpower p/b Bigpond                         1
 
Sprints
 
Sprint 1
 
 
1 Hilton Clarke Jnr. (Aus) VIS Jayco                              3 pts
2 Stuart Shaw (Aus) MG Xpower p/b Bigpond                         2
3 Alex Candelario (USA) Jelly Belly - Pool Gel                    1
 
Sprint 2
 
1 Hilton Clarke Jnr. (Aus) VIS Jayco                              3 pts
2 Stuart Shaw (Aus) MG Xpower p/b Bigpond                         2
3 Koji Fukishima (Jpn) Bridgestone Anchor                         1
 
Teams
 
1 Savings and Loans                                        12.48.12
2 Amore and Vita                                                   
3 Australia                                                        
4 Victorian Insitute of Sport Jayco                                
5 HLP/Superstore                                                   
6 Ireland                                                          
7 Netherlands                                                      
8 AG2R Prevoyance                                                  
9 Cyclingnews.com                                                  
10 Davitamon-Lotto                                                 
11 Japan Presented byLatrobe City                                  
12 Recycling.co.uk/litespeed                                       
13 JellyBelly-Pool Gel                                             
14 FDJ                                                             
15 Shimano                                                         
16 Colnago -Caravello                                              
17 MG Xpower Presented by Bigpond                                  
18 Bridgestone Anchor                                              
 
Generral classification after stage 4
 
1 Sean Sullivan (Aus) Savings and Loans                    10.58.43
2 Joshua Collingwood (Aus) Savings and Loans                       
3 Russell Van Hout (Aus) Savings and Loans                         
4 Simon Gerrans (Aus) AG2r Prévoyance                          0.01
5 David McKenzie (Aus) HLP/Superstore                          0.05
6 Dominique Perras (Can) HLP/Superstore                            
7 Jeremy Venell (NZl) Cyclingnews.com-Fondriest                0.07
8 Simon Clarke (Aus) VIS Jayco                                 0.12
9 Brett Lancaster (Aus) VIS Jayco                                  
10 Mark Renshaw (Aus) Française des Jeux                       0.14
11 Takashi Miyazawa (Jpn) Bridgestone Anchor                   0.16
12 Glen Mitchell (NZl) HLP/Superstore                          0.17
13 Karl Menzies (Aus) HLP/Superstore                           0.18
14 Glen Chadwick (Aus) Cyclingnews.com-Fondriest               0.34
15 Nicolas Portal (Fra) AG2r Prévoyance                            
16 Peter Hatton (Aus) Australia                                0.37
17 Henk Vogels (Aus) Davitamon-Lotto                           0.39
18 Ben Brooks (Aus) Jelly Belly - Pool Gel                     0.40
19 Caleb Manion (Aus) Jelly Belly - Pool Gel                       
20 Dainius Kairelis (Ltu) Amore & Vita                             
21 Evan Oliphant (GBr) Recycling.co.uk/Litespeed               0.41
22 Matt Lloyd (Aus) VIS Jayco                                  0.43
23 Nick Gates (Aus) Davitamon-Lotto                                
24 Baden Cooke (Aus) Française des Jeux                        0.44
25 David Mc Cann (Irl) Ireland                                     
26 Ashley Humbert (Aus) Française des Jeux                     0.45
27 Yukiya Arashiro (Jpn) Japan presented by Latrobe City       0.46
28 Johnny Hoogerland (Ned) Netherlands                         0.50
29 Wesley Sulzberger (Aus) AG2r Prévoyance                     1.01
30 Mitchell Docker (Aus) AG2r Prévoyance                           
31 Hilton Clarke Jnr. (Aus) VIS Jayco                          1.03
32 Matthew Goss (Aus) Australia                                1.04
33 Peter Dawson (Aus) Australia                                    
34 Bernard Sulzeberger (Aus) Cyclingnews.com-Fondriest         1.05
35 Cameron Jennings (Aus) Cyclingnews.com-Fondriest                
36 Aliaksandr Kuschynski (Blr) Amore & Vita                    1.08
37 Johnny Clarke (Aus) VIS Jayco                               1.10
38 Trent Wilson (Aus) Colnago - Caravello                      1.15
39 Makoto Iilima (Jpn) Japan presented by Latrobe City         1.17
40 Yoshiyuki Abe (Jpn) Shimano                                 1.20
41 Alex Candelario (USA) Jelly Belly - Pool Gel                1.31
42 Bradley Mills (Aus) Davitamon-Lotto                         1.34
43 Kacper Sowinski (Pol) Amore & Vita                          2.34
44 Shaun Higgerson (Aus) MG Xpower p/b Bigpond                 2.49
45 Shinri Suzuki (Jpn) Bridgestone Anchor                      2.50
46 Jarron Poad (Aus) MG Xpower p/b Bigpond                     2.59
47 Peter Mueller (Aus) Savings and Loans                       3.01
48 Kane Oakley (Aus) Cyclingnews.com-Fondriest                 3.08
49 Mateusz Mroz (Pol) Amore & Vita                             3.11
50 David Kemp (Aus) VIS Jayco                                  3.13
51 Ryan Sullivan (Aus) Davitamon-Lotto                             
52 Peter Milostic (Aus) Davitamon-Lotto                            
53 Jonas Ljungblad (Swe) Amore & Vita                          3.14
54 Richard Moffatt (Aus) Française des Jeux                    3.15
55 Aaron Strong (Aus) MG Xpower p/b Bigpond                    3.16
56 Darren Lapthorne (Aus) MG Xpower p/b Bigpond                    
57 Robert McLachlan (Aus) MG Xpower p/b Bigpond                    
58 Shinichi Fukishima (Jpn) Bridgestone Anchor                 3.17
59 Peter McDonald (Aus) Colnago - Caravello                    3.18
60 David Harrigan (Aus) Colnago - Caravello                        
61 Kazuya Okazaki (Jpn) Japan presented by Latrobe City        3.20
62 Masahiro Shinagawa (Jpn) Shimano                            3.23
63 Matt Wilson (Aus) Française des Jeux                        3.39
64 Kristian House (GBr) Recycling.co.uk/Litespeed              3.45
65 Stuart Shaw (Aus) MG Xpower p/b Bigpond                     3.56
66 Koji Fukishima (Jpn) Bridgestone Anchor                     3.57
67 Andy Flickinger (Fra) AG2r Prévoyance                       4.31
68 Russell Downing (GBr) Recycling.co.uk/Litespeed             4.41
69 Huub Duyn (Ned) Netherlands                                 4.42
70 Christophe Oriol (Fra) AG2r Prévoyance                      4.50
71 Matty Rice (Aus) Jelly Belly - Pool Gel                     4.56
72 Nick Sanderson (Aus) Davitamon-Lotto                        4.59
73 Freddy Bichot (Fra) Française des Jeux                      5.11
74 Jai Crawford (Aus) HLP/Superstore                           6.23
75 Sean Finning (Aus) Australia                                6.48
76 Robert Tighello (Aus) Colnago - Caravello                   7.11
77 Wouter Mol (Ned) Netherlands                                7.13
78 Ashley Hutchinson (Aus) Australia                           7.31
79 Mathew Rex (Aus) Australia                                      
80 Cody Stevenson (Aus) Cyclingnews.com-Fondriest              7.32
81 Kirk Albers (USA) Jelly Belly - Pool Gel                    7.34
82 Richard England (Aus) HLP/Superstore                        7.38
83 Ben Greenwood (GBr) Recycling.co.uk/Litespeed               7.39
84 Floris Goesinnen (Ned) Netherlands                          7.44
85 Rhys Pollock (Aus) Recycling.co.uk/Litespeed                8.19
86 Bertil Klootwijk (Ned) Netherlands                          8.24
87 Shaun Snodden (GBr) Recycling.co.uk/Litespeed               8.48
88 Andy Naylor (Aus) HLP/Superstore                            8.59
89 Chris Jongewaard (Aus) Savings and Loans                    9.28
90 Artur Krsezowiec (Pol) Amore & Vita                         9.38
91 Kimmo Kananen (Fin) Amore & Vita                                
92 Domenico Passuello (Ita) Amore & Vita                           
93 Brad Norton (Aus) VIS Jayco                                 9.40
94 Jason Phillips (Aus) Davitamon-Lotto                            
95 Eugene Moriarty (Irl) Ireland                               9.41
96 Tommy Evans (Irl) Ireland                                       
97 Andrew Roche (Irl) Ireland                                      
98 Troy Glennan (Aus) MG Xpower p/b Bigpond                    9.43
99 Yusuke Shimizu (Jpn) Bridgestone Anchor                     9.44
100 George Bunt (Aus) Colnago - Caravello                      9.45
101 Kazuhiro Mori (Jpn) Japan presented by Latrobe City        9.47
102 Yukihiro Doi (Jpn) Shimano                                 9.50
103 Tomoya Kano (Jpn) Shimano                                      
104 Yoshimasa Hirose (Jpn) Shimano                                 
105 Kieren Cameron (Aus) Française des Jeux                   10.06
106 Josh Marden (Aus) Colnago - Caravello                     10.15
107 Mitsunari Mitaki (Jpn) Japan presented by Latrobe City    10.17
108 Dean Downing (GBr) Recycling.co.uk/Litespeed              10.22
109 Fabrice Jeandesboz (Fra) Française des Jeux               10.36
110 Joshua Wilson (Aus) AG2r Prévoyance                       10.41
111 Danny Pate (USA) Jelly Belly - Pool Gel                   12.06
112 Gordon McCauley (NZl) Colnago - Caravello                      
113 Phil Thuaux (Aus) HLP/Superstore                          13.16
114 Taiji Nishitani (Jpn) Japan presented by Latrobe City     13.36
115 Conor Murphy (Irl) Ireland                                13.48
116 Jason McIntyre (GBr) Recycling.co.uk/Litespeed            14.14
117 Anthony Challinor (Aus) Savings and Loans                 16.08
118 James Meadley (Aus) Colnago - Caravello                   18.41
119 Brice Jones (USA) Jelly Belly - Pool Gel                  18.47
120 Erki Putsep (Est) AG2r Prévoyance                         19.07
121 Andrew Mc Quaid (Irl) Ireland                             19.31
122 Takumi Beppu (Jpn) Japan presented by Latrobe City        19.51
123 Steven Cunningham (Aus) Savings and Loans                 20.27
124 Stephen Wooldridge (Aus) Australia                        20.33
125 Daniel Newham (Aus) Cyclingnews.com-Fondriest             20.34
126 Adrian Laidler (Aus) Savings and Loans                    20.42
127 Thijs Poelstra (Ned) Netherlands                          20.46
128 Tony Mann (Aus) MG Xpower p/b Bigpond                     21.51
129 Paul Healion (Irl) Ireland                                27.47
130 Michael Sims (Aus) Davitamon-Lotto                        29.49
131 Masamichi Yamamoto (Jpn) Shimano                          29.59
 
Mountains classification
 
1 Makoto Iilima (Jpn) Japan presented by Latrobe City             8 pts
2 Joshua Collingwood (Aus) Savings and Loans                      7
3 Peter Hatton (Aus) Australia                                    5
4 Matt Lloyd (Aus) VIS Jayco                                      5
5 Russell Downing (GBr) Recycling.co.uk/Litespeed                 5
6 Dainius Kairelis (Ltu) Amore & Vita                             3
7 Koji Fukishima (Jpn) Bridgestone Anchor                         3
8 Ryan Sullivan (Aus) Davitamon-Lotto                             2
9 Stuart Shaw (Aus) MG Xpower p/b Bigpond                         2
10 Dominique Perras (Can) HLP/Superstore                          1
 
Sprint classification
 
1 Hilton Clarke Jnr. (Aus) VIS Jayco                              9 pts
2 Baden Cooke (Aus) Française des Jeux                            8
3 Simon Gerrans (Aus) AG2r Prévoyance                             6
4 Dainius Kairelis (Ltu) Amore & Vita                             6
5 David McKenzie (Aus) HLP/Superstore                             6
6 Gordon McCauley (NZl) Colnago - Caravello                       6
7 Karl Menzies (Aus) HLP/Superstore                               4
8 Chris Jongewaard (Aus) Savings and Loans                        4
9 Stuart Shaw (Aus) MG Xpower p/b Bigpond                         4
10 Matt Lloyd (Aus) VIS Jayco                                     3
11 Artur Krsezowiec (Pol) Amore & Vita                            3
12 Matthew Goss (Aus) Australia                                   3
13 Johnny Hoogerland (Ned) Netherlands                            3
14 Kimmo Kananen (Fin) Amore & Vita                               3
15 Andy Naylor (Aus) HLP/Superstore                               2
16 Richard England (Aus) HLP/Superstore                           2
17 Peter Dawson (Aus) Australia                                   2
18 Paul Healion (Irl) Ireland                                     2
19 Sean Sullivan (Aus) Savings and Loans                          1
20 Russell Van Hout (Aus) Savings and Loans                       1
21 Kazuya Okazaki (Jpn) Japan presented by Latrobe City           1
22 Alex Candelario (USA) Jelly Belly - Pool Gel                   1
23 Koji Fukishima (Jpn) Bridgestone Anchor                        1
 
Team classification
 
1 Savings and Loans                                        32.56.09
2 HLP/Superstore                                               0.27
3 Victorian Insitute of Sport Jayco                            0.36
4 AG2R Prevoyance                                              0.38
5 Cyclingnews.com                                              1.46
6 JellyBelly-Pool Gel                                          2.27
7 Davitamon-Lotto                                              2.32
8 Australia                                                    2.45
9 Recycling.co.uk/litespeed                                    3.05
10 Colnago -Caravello                                          3.14
11 FDJ                                                         3.47
12 Amore and Vita                                              3.55
13 Japan Presented byLatrobe City                              5.23
14 Bridgestone Anchor                                          6.23
15 MG Xpower Presented byBigpond                               7.18
16 Netherlands                                                10.42
17 Shimano                                                    14.33
18 Ireland                                                    16.00