Herald Sun Tour - 2.1
Australia, October 9-15, 2005
Record field for Sun Tour
2004 winner Jonas Ljungblad
Photo ©: Shane Goss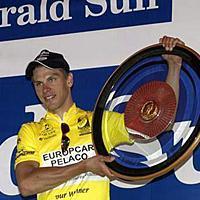 By John Trevorrow
The all new "revamped" Jayco Herald Sun Tour gets underway with a team time trial tomorrow in Williamstown. A record 114 riders from 17 countries will tackle two laps of a 4.8 km circuit making a total of 9.6 km. Teams will leave at four minute intervals, with the tight U turns providing an interesting challenge for riders.
The new look tour has been shortened to seven days, and with only one stage a day, this is sure to please the 72 international riders, most of whom will have had a long hard season. This year's tour doesn't include a major mountain such as Mt Baw Baw or Hotham as in previous tours, but Thursday's 140 km stage around the Yarra Valley should provide a tough day in the saddle. Friday's penultimate stage will almost certainly decide the winner; the 11 km climbing time trial from Monbulk to Skyhigh Mt Dandenong will certainly put some big time gaps between the riders, and with a field of this size, there's to be plenty of breaks. Defending champion Jonas Ljungblad will again be a serious contender, as last year, on the brutal slopes of Mt Buller, he proved he had the goods - and the time trial will certainly suit him very well.
Ljungblad won the Swedish road championship this year, and with seven members of his Italian Amore e Vita trade team to support him, he has a good chance of defending his title. "I've had a good season," Ljungblad said at the Tour launch in Williamstown on Thursday. "Seven days instead of 11 and no double-stage days, could mean a more competitive race. Maybe the teams will compete more with each other this year," he said.
Another import who should give the Tour a shake is American Danny Pate. The former U23 world time trial champion will be a hard man to beat in the time trial, but says his Jelly Belly team has a few good chances. "We have some good sprinters and the there is Aussie Ben Brooks who can do just about anything," he said. Brooks, who finished third last year, is one of the many Aussies with a realistic chance overall. "I am happy with my form over the year and the Jelly Belly guys are all in good spirits," said Brooks, "I reckon one of us will give it a shake."
Some of the favourites
Photo ©: Shane Goss

The favourite, as far as the Aussie contingent are concerned, must be Baden Cooke. The last Australian winner in 2002, Cooke has not had a great year. But he seems to have found form just in time for this year's Tour. "I'm happy with my form right now. The win in Poland was good for the morale and I've had good form in recent weeks," said Cooke. "When I last won this race I came off a good world's preparation and I've done the same this year."
But Cooke admits it won't be easy, saying, "It's going to be a tough race to win though. With a field this size, (144 riders from 18 teams) it will be hard to control. There are sure to be lots of breakaways and I am going to have to be very switched on to make sure I get in the right moves. I reckon that's where the race will be really won." There are plenty of obstacles along the way, not least the uphill time trial. "Of course I'm not a big fan of the uphill time trial." said Cooke. "It may be great for the spectators and a couple of specialists but most of us won't be looking forward to it. I would much prefer to just have all bunch sprints. Guess that's not going to happen - realistically I would like to have good lead to defend when it gets to the time trial."
Baden Cooke (Francaise Des Jeux)
Photo ©: Shane Goss

Cooke's promising early season came to an abrupt halt when Italian Olympic Champion Paolo Bettini knocked him down, just near the finish of stage four in last May's Giro d' Italia. "It's amazing how one incident can change your whole season. If I had managed to squeeze by the vicious left hand turn of Bettini, then it's a very different ball game. I would have won a very important stage in a Grand Tour and I'm sure it would have given me the confidence to win more and to hit the Tour de France in top shape." said Cooke. "Instead it was the opposite. I had lots of problems getting my body back into shape and then another fall out training just before the tour didn't help much. I wasn't going too bad in Le Tour. I got plenty of top 10s but you can't beat the best in the world when your riding at 90%."
Another two Aussies with a definite chance at overall glory are Tour de France debutant Simon Gerrans and Athens Gold Medallist Brett Lancaster. Both riders, as well as Cooke, are from country Victoria and know the terrain well. Gerrans rode a very strong Herald Sun Tour in 2003, but after a strong 2005, which included an exciting Tour de France ride he should be a contender. "I am not so sure," Gerrans said. "I feel like I'm running out of gas unfortunately. I am just getting a bit tired. This was my first year with the big guys and I am starting to feel a little weary. Also I haven't done a stage race in a while. I've done plenty of one-day races and the form was real good until just recently," he added "I guess I will have to try and take it easy in the first half of the Tour and see if I can bring myself up." One thing's for certain, however; whoever ends up winning this year's Herald Sun Tour, they're going to have to work for it.