88th Giro d'Italia - PT
Italy, May 7-29, 2005
Main Page Overall standings Previous Stage Next Stage
Rest Day - May 17: Ravenna
Rest day wrap-up: 10 down, 10 to go
By Anthony Tan & Les Clarke
Popping the cork day after day will be the least of Danilo Di Luca's challenges in days to come
Photo ©: Sirotti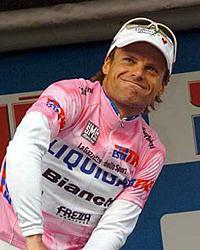 An interesting week and a half in Italia. It took eight swaps of the maglia rosa in eight days before it found a little more permanent place on the shoulders of Danilo Di Luca, but with the 29 year-old just nine seconds in front, it's bound to be a temporary resting spot.
Certainly, the opening week has shown the full benefit resulting from the controversial introduction of the ProTour. And no doubt, a number of its detractors will have changed their minds about UCI President Hein Verbruggen's master road plan, if they've seen the quality of racing so far.
In many minds, it's the closest - and best - Giro in over a decade, which, for years, has been dominated by Italians on Italian teams, simultaneously discouraging a serious bid from an outsider. However, in 2005, while there are still plenty of Italians to be found at the top of the leaderboard, there are now more challengers from more than one team, and not just Italian-registered squadre - but Danish, American, German and Spanish, with a little Belgian and French as well.
The competition's been exciting and outstanding - and it can only get better. Here's our wrap-up of the first 10 days.
Prologue - Saturday May 7: Reggio Calabria ITT, 1.150km
Brett Lancaster in the pink
Photo ©: Roberto Bettini
Yes, he was one of the favourites, but how often do favourites fail to live up to expectations?
A long-time member of the current world record-breaking team pursuit squad, and reigning Olympic champion in the event, 25 year-old Brett Lancaster knows all about pressure. Saturday evening in Reggio Calabria felt like a giant rice cooker, and the guy known as 'Big Bird' flew down the Lungomare Italo Falcomata like a chook out of hell, clocking a time fast enough to give him the first maglia rosa of the 2005 Giro. Three Australians also made the prologue top ten to kick off 'kangaroo week' in Italy.
Impressive, too, was third-placed super-sprinter Alessandro Petacchi and 2002 Giro champion Paolo Savoldelli in fourth; both finished one second behind and both showed they were nearing their best form for the three weeks to come.
Stage 1 - Sunday, May 8: Reggio Calabria-Tropea, 208km
Athens all over again for Paolo Bettini
Photo ©: Sirotti

Taking a leaf out of Lance's 'check out the course beforehand' book, Paolo Bettini knew even before this stage to Tropea started it was one tailor-made for him.
Coming into the final kilometer, it looked like Athens all over again, as Il Grillo sprung past the Fassa Bortolos, McEwen, Zabel, Cooke et al. like a grasshopper on 'roids. Sprinting to a easy victory, the 31 year-old from La California also leapt into the maglia rosa by the day's end, 12 second clear of McEwen and 14 clear of Petacchi.
None of the main contenders lost significant amounts of time in a day where most of them took it easy after a late evening the night before.
Stage 2 - Monday, May 9: Catanzaro Lido-Santa Maria Del Cedro, 182km
McEwen shows some good 'ol Aussie know-how
Photo ©: Sirotti

The first real bunch sprint finale had all of the world's best speedsters salivating at the prospect of a stage win, and with 150-odd riders screaming into Santa Maria del Cedro at breckneck speed, punters were certain they would see the imposing figure of Alessandro Petacchi first across the line.
But after the nine-stage domination that characterised his 2004 Giro, the Silver Train found their wheel falling off yet again. Monday was McEwen day, as the 32 year-old Queenslander restored order - and the race lead - back in favour of the Australians, unleashing the finishing speed that saw him as the best sprinter by far at the 2002 and 2004 Tours de France.
It was a tight finish to the stage after a gallant effort solo effort from Australian Russell Van Hout, who rode the better part of the stage out front alone. But the effort took its toll, and it was curtains for Russ with 30km to go.
Stage 3 - Tuesday, May 10: Diamante-Giffon Valle Piana, 205km
Di Luca discusses his cunning plan
Photo ©: Sirotti

Well, the third stage of to Giffoni Valle Piana was supposed to be one for the sprinters.
However, Danilo Di Luca and his Liquigas crew topped up their engines with a little extra liquid oxygen, blasting their way through the final 30 kilometres as if their lives depended on it. After victories at Pais Vasco, Amstel Gold, and Flèche Wallonne, the current ProTour leader continued his winning streak, and as a consequence, got to within striking distance of the maglia rosa, just nine seconds behind Paolo Bettini by the end of the day.
Stage 4 - Wednesday, May 11: Giffon Valle Piana-Frosinone, 211km
Back off, Bettini, just back right off
Photo ©: Sirotti

In any Grand Tour, controversy is never far away, and on Wednesday, May 11, the '05 Giro reached boiling point. Yet again, the staged was mucked up for the sprinters by Olympic road champ Bettini, but there was one sprinter who was simply floating on the pedals; his name Baden Cooke.
As the only rider capable of holding the maglia rosa's wheel into the final 200, Cooke had moved towards the short side, carrying plenty of momentum. Then, with 150 to go, the La Française des Jeux rider glued himself to Bettini's wheel, and began his own sprint, looking a certain winner...
... until Bettini deviated from his line and sent the Cookie crumbling to pieces, the 29 year-old Benalla Bullet hitting the barriers at full speed and executing a slightly comical somersault. It was a move that cost the Italian the win, a whole lotta tifosi, mostly bad press - and almost a punch in the head.
Luckily escaping serious injury and walking straight to the commissaires' area to protest, they ruled in favour of Cooke, and the Australian was having none of Bettini's attempts to reconcile their differences at the finish line.
Back to the racing thing: as a result of Bettini's relegation to fourth, Luca Mazzanti (Ceramica Panaria-Navigare) took the stage win by default, followed by Dario Cioni and Liberty Seguros' Michele Scarponi. Bettini retained the maglia rosa, but his post-race antics that included delaying the presentation ceremony by a good half-hour and pouring the champers 'down the drain' didn't win him any friends.
Stage 5 - Thursday, May 12: Celano-L'Aquila, 223km
Today's hero, Danilo Di Luca
Photo ©: Roberto Bettini

With Bettini's relegation the day before leaving a bad taste in the mouth, a new hero was needed fast, and Danilo Di Luca was only too happy to oblige.
Yep, this day was Dani Day. If the finale of Stage 2 looked like Athens, Stage 5 to L'Aquila may have well been La Flèche Wallonne, as the 29 year-old sensation from the keep his cool, watched for a wheel, jumped on it, then pounced past it. Bongiorno maglia rosa, arrivederci Bettini.
It was a tough day for the peloton, explaining the lack of sprinters featuring at the finish.
Stage 6 - Friday, May 13: Viterbo-Marina Di Grosseto, 153km
Paolo Bettini finds another use for spumante
Photo ©: Roberto Bettini

Only the second real sprinters' stage in the opening week, Friday, May 13 was a for the fast and the furious, but being Friday the 13th, it was prone to disaster...
Fassa Bortolo were determined to give their so far winningless sprinter Alessandro Petacchi his first victory of the the 2005 Giro, who was rapidly losing patience, and were all set to do so coming into the seaside village of Marina Di Grosseto. But unbelievably, the Silver Train went off rails yet again with just a few kilometres to go, a clip of wheels sending Ale-Jet and two of his team-mates plummeting to the ground.
The team from Davitamon-Lotto couldn't believe their luck, and in a show of Aussie mateship, Robbie McEwen tried to give the win to his loyal lead-out man Henk Vogels. However, the big guy for the Classics fell metres short of his first Grand Tour stage, which was evenutally won by McEwen himself.
Il Grillo Bettini also found fortune once again, as his six second bonus from the day's Intergiro sprint was enough to take the race lead back off Di Luca, and this time the spumante didn't end up in the Adriatic...
Stage 7 - Saturday, May 14: Grosseto-Pistoia, 211km
Koldo Gil Perez (Liberty Seguros)
Photo ©: Sirotti

After a week of trying, the Giro d'Italia witnessed its first successful breakaway. It was a 27 year-old from Pamplona by the name of Koldo Gil Perez, who rode as if he were back home "running the bulls", pedalling with the force of a man being chased for his life, and taking a bellissimo victory in Pistoia.
While many expected a breakaway would happen, most did not expect the stage to be decisive - but it was. Largely a result of the efforts of Lampre duo Gilberto Simoni and Damiano Cunego, who share three overall wins between them, just 12 riders finished in the group behind Gil, with the most notable absentee being Team CSC's Ivan Basso.
Danilo Di Luca was a guy not expected to be there, but he was, and deservedly found his way back into the maglia rosa before the following day's all-important time trial. None of the favourites lost too much time overall, although the winning break managed to split things up more than any other day.
Stage 8 - Sunday, May 15: Lamporecchio-Firenze ITT, 45km
"Well, how about that - my first Giro stage win!"
Photo ©: Sirotti

Sunday's 45 kilometre race of truth did not lie, as a number of favourites confirmed their tag, while others left questions unanswered.
But CSC was the team of the day. 26 year-old Dave Zabriskie, as one of the first off the rank, did exactly as ordered by his DS Bjarne Riis, setting a superb best time for his leader Ivan Basso to aim for. That superb best mark also stood the test of time for the rest of the day, with the American taking his second Grand Tour stage win, while Basso came back from his previous day's disappointment with vengeance, finishing second and jumping into second overall.
However, one rider who continued to impress was the maglia rosa of Danilo Di Luca, who simply would not give in, his top 10 placing keeping his hold on the race for yet another day. There weren't too many other surprises thrown up, with Savoldelli third, Cunego fourth and Garzelli sixth.
Stage 9 - Monday, May 16: Firenze-Ravenna, 140km
When one viewed the parcours from Firenze to Ravenna, it said one thing, and one thing only: bunch sprint. And if Alessandro Petacchi's the sprinter everyone says he is, it meant one thing, and one thing only: his victory.
Sven Krauss (Gerolsteiner), Mads Christensen (Quick.Step) and Eric Baumann (T-Mobile) got out to an early lead but never really got too far ahead; on the mostly flat course, the fast men were always going to feature at the end.
Yep, it was that simple, and in the end, it turned out exactly as predicted. Fassa Bortolo finally got their Silver Train a-chugging, Petacchi finally got his legs and arms a-pumping, and the tifosi finally saw their super-sprinter a winner in Ravenna.
Next up - Stages 10-15: Wednesday, May 18 - Monday, May 23
After a well-earned rest in Ravenna, the peloton slowly but surely makes their way north to the infamous peaks of the Dolomiti, the area that will invariably decide the race. Part II of the 2005 Giro d'Italia is comprised of six stages, taking place from Wednesday, May 18 to Monday, May 23. With half of these full-blown mountain stages - Stage 11, Stage 13 and Stage 14 - only the strongest scalatori (climbers) will prevail.
Standings

General classification after stage 9
 
1 Danilo Di Luca (Ita) Liquigas-Bianchi                        39.22.19
2 Ivan Basso (Ita) Team CSC                                        0.09
3 Paolo Savoldelli (Ita) Discovery Channel-Pro Cycling Team        0.35
4 Damiano Cunego (Ita) Lampre-Caffita                              1.15
5 Dario David Cioni (Ita) Liquigas-Bianchi                         1.27
6 Stefano Garzelli (Ita) Liquigas-Bianchi                          1.35
7 Marzio Bruseghin (Ita) Fassa Bortolo                             1.38
8 Serguei Gonchar (Ukr) Domina Vacanze                             1.39
9 Markus Fothen (Ger) Gerolsteiner                                 2.10
10 Gilberto Simoni (Ita) Lampre-Caffita                            2.11
11 Vladimir Karpets (Rus) Illes Balears                            2.24
12 Paolo Bettini (Ita) Quick.Step                                  2.25
13 Michele Scarponi (Ita) Liberty Seguros-Wurth Team               2.28
14 Emanuele Sella (Ita) Ceramica Panaria-Navigare                  3.09
15 Juan Manuel Garate (Spa) Saunier Duval-Prodir                   3.18
16 Mirko Celestino (Ita) Domina Vacanze                            3.21
17 Laurent Lefevre (Fra) Bouygues Telecom                          3.24
18 Andrea Noe' (Ita) Liquigas-Bianchi                              3.37
19 Christophe Brandt (Bel) Davitamon-Lotto                         3.44
20 Aitor Gonzalez Jimenez (Spa) Euskaltel-Euskadi                  3.48
21 Wladimir Belli (Ita) Domina Vacanze                             3.57
22 Cristian Moreni (Ita) Quick.Step                                3.59
23 Sven Montgomery (Swi) Gerolsteiner                              4.13
24 Haimar Zubeldia Agirre (Spa) Euskaltel-Euskadi                  4.22
25 Mauricio Alberto Ardila Cano (Col) Davitamon-Lotto              4.30
26 Evgeni Petrov (Rus) Lampre-Caffita                              4.35
27 Giampaolo Caruso (Ita) Liberty Seguros-Wurth Team               4.49
28 Matthias Kessler (Ger) T-Mobile Team                            4.59
29 Dariusz Baranowski (Pol) Liberty Seguros-Wurth Team             5.08
30 Luis Felipe Laverde Jimenez (Col) Ceramica Panaria-Navigare     5.10
31 Pietro Caucchioli (Ita) Credit Agricole                             
32 Alexandr Kolobnev (Rus) Rabobank                                5.11
33 Daniel Atienza Urendez (Spa) Cofidis-Le Credit Par Telephone    5.15
34 Tadej Valjavec (Slo) Phonak Hearing Systems                     5.38
35 Samuel Sanchez Gonzalez (Spa) Euskaltel-Euskadi                     
36 Luca Mazzanti (Ita) Ceramica Panaria-Navigare                   5.44
37 Sandy Casar (Fra) Francaise Des Jeux                            5.48
38 Patrice Halgand (Fra) Credit Agricole                           5.55
39 Guido Trentin (Ita) Cofidis-Le Credit Par Telephone             6.02
40 Jose' Rujano Guillen (Ven) Selle Italia-Colombia                6.04
41 Steve Zampieri (Swi) Phonak Hearing Systems                     6.26
42 Marco Fertonani (Ita) Domina Vacanze                            6.39
43 Jan Hruska (Cze) Liberty Seguros-Wurth Team                     6.56
44 Andrea Tonti (Ita) Lampre-Caffita                               7.04
45 Theo Eltink (Ned) Rabobank                                      7.06
46 Wim Van Huffel (Bel) Davitamon-Lotto                            7.26
47 Francisco J Vila Errandonea (Spa) Lampre-Caffita                7.58
48 Joan Horrach Rippoll (Spa) Illes Balears                        8.17
49 Unai Osa Eizaguirre (Spa) Illes Balears                         8.20
50 Paolo Tiralongo (Ita) Ceramica Panaria-Navigare                 8.29
51 Vladimir Miholjevic (Cro) Liquigas-Bianchi                      8.35
52 Roberto Laiseka Jaio (Spa) Euskaltel-Euskadi                    8.49
53 Johann Tschopp (Swi) Phonak Hearing Systems                     9.22
54 Manuele Mori (Ita) Saunier Duval-Prodir                         9.39
55 Jose Luis Carrasco Gamiz (Spa) Illes Balears                   10.34
56 Volodymyr Bileka (Ukr) Discovery Channel-Pro Cycling Team      10.43
57 Domenico Pozzovivo (Ita) Ceramica Panaria-Navigare             11.00
58 Grischa Niermann (Ger) Rabobank                                11.02
59 Oliver Zaugg (Swi) Saunier Duval-Prodir                        11.22
60 Christophe Le Mevel (Fra) Credit Agricole                      11.29
61 Gorazd Stangelj (Slo) Lampre-Caffita                           13.06
62 Addy Engels (Ned) Quick.Step                                   13.23
63 Leonardo Bertagnolli (Ita) Cofidis-Le Credit Par Telephone     13.34
64 Marco Pinotti (Ita) Saunier Duval-Prodir                       13.52
65 Erik Zabel (Ger) T-Mobile Team                                 13.57
66 Pavel Padrnos (Cze) Discovery Channel-Pro Cycling Team         14.48
67 Peter Luttenberger (Aut) Team CSC                              16.49
68 Alessandro Petacchi (Ita) Fassa Bortolo                        17.04
69 Frank Schleck (Lux) Team CSC                                   17.21
70 Fabio Sacchi (Ita) Fassa Bortolo                                    
71 Christian Werner (Ger) T-Mobile Team                           17.44
72 Koldo Gil Perez (Spa) Liberty Seguros-Wurth Team               18.09
73 Raffaele Illiano (Ita) Selle Italia-Colombia                   18.25
74 Marco Velo (Ita) Fassa Bortolo                                 18.36
75 Sylvester Szmyd (Pol) Lampre-Caffita                           18.50
76 Francesco Bellotti (Ita) Credit Agricole                       19.55
77 Marcel Strauss (Swi) Gerolsteiner                              21.05
78 Michael Barry (Can) Discovery Channel-Pro Cycling Team         21.19
79 Charles Wegelius (GBr) Liquigas-Bianchi                        21.31
80 Ivan Parra (Col) Selle Italia-Colombia                         22.28
81 Michael Blaudzun (Den) Team CSC                                22.46
82 Gorka Verdugo Marcotegui (Spa) Euskaltel-Euskadi               22.53
83 Christophe Kern (Fra) Bouygues Telecom                         23.10
84 Filippo Pozzato (Ita) Quick.Step                               24.11
85 Giovanni Lombardi (Ita) Team CSC                               24.47
86 Brett Lancaster (Aus) Ceramica Panaria-Navigare                24.58
87 Stuart O'Grady (Aus) Cofidis-Le Credit Par Telephone           25.04
88 Cyrille Monnerais (Fra) Francaise Des Jeux                     25.21
89 Francisco J. Ventoso Alberdi (Spa) Saunier Duval-Prodir        25.54
90 Jan Schaffrath (Ger) T-Mobile Team                             26.22
91 Ruslan Ivanov (Mda) Domina Vacanze                             26.25
92 Robbie McEwen (Aus) Davitamon-Lotto                            27.21
93 Thomas Ziegler (Ger) Gerolsteiner                              27.24
94 Ruben Lobato Elvira (Spa) Saunier Duval-Prodir                 27.46
95 Mirco Lorenzetto (Ita) Domina Vacanze                          28.01
96 Dmitriy Fofonov (Kaz) Cofidis-Le Credit Par Telephone          28.55
97 Andrea Peron (Ita) Team CSC                                    29.11
98 Igor Anton Hernandez (Spa) Euskaltel-Euskadi                   29.27
99 Juan Jose Cobo Acebo (Spa) Saunier Duval-Prodir                29.51
100 Cedric Vasseur (Fra) Cofidis-Le Credit Par Telephone          30.10
101 Lilian Jegou (Fra) Francaise Des Jeux                         30.11
102 Christian Vandevelde (USA) Team CSC                           30.13
103 Marius Sabaliauskas (Ltu) Lampre-Caffita                      30.26
104 Uros Murn (Slo) Phonak Hearing Systems                        31.32
105 Alberto Ongarato (Ita) Fassa Bortolo                          31.57
106 Stefano Zanini (Ita) Quick.Step                               32.01
107 Olivier Bonnaire (Fra) Bouygues Telecom                       32.02
108 Andrea Moletta (Ita) Gerolsteiner                             32.33
109 Matthew White (Aus) Cofidis-Le Credit Par Telephone           32.40
110 Carlos Dacruz (Fra) Francaise Des Jeux                        32.52
111 Volodymir Gustov (Ukr) Fassa Bortolo                          33.04
112 Yannick Talabardon (Fra) Credit Agricole                      33.07
113 Walter Beneteau (Fra) Bouygues Telecom                        33.35
114 Steven De Jongh (Ned) Rabobank                                34.02
115 Thomas Dekker (Ned) Rabobank                                  34.10
116 Javier Ramirez Abeja (Spa) Liberty Seguros-Wurth Team         34.11
117 Vicente Reynes Mimo (Spa) Illes Balears                       34.45
118 Nick Nuyens (Bel) Quick.Step                                  35.11
119 Matteo Tosatto (Ita) Fassa Bortolo                            36.07
120 Volker Ordowski (Ger) Gerolsteiner                            36.08
121 Bradley Wiggins (GBr) Credit Agricole                         36.30
122 Angel Gomez Gomez (Spa) Saunier Duval-Prodir                  36.46
123 Leonardo Scarselli (Ita) Selle Italia-Colombia                37.01
124 Dmitriy Muravyev (Kaz) Credit Agricole                        37.20
125 Benoit Joachim (Lux) Discovery Channel-Pro Cycling Team       37.23
126 Joaquin Rodriguez Oliver (Spa) Saunier Duval-Prodir           37.37
127 Julio Alberto Perez Cuapio (Mex) Ceramica Panaria-Navigare    38.00
128 David Navas Chica (Spa) Illes Balears                         38.13
129 Massimo Codol (Ita) Fassa Bortolo                             38.37
130 Thorwald Veneberg (Ned) Rabobank                              38.40
131 Antonio Tauler Llull (Spa) Illes Balears                      38.47
132 Gregory Rast (Swi) Phonak Hearing Systems                     38.58
133 Bjoern Leukemans (Bel) Davitamon-Lotto                        39.05
134 Michael Rasmussen (Den) Rabobank                              40.05
135 Dario Andriotto (Ita) Liquigas-Bianchi                        40.34
136 Fabio Baldato (Ita) Fassa Bortolo                             40.37
137 Bram Schmitz (Ned) T-Mobile Team                              41.06
138 Sergio Escobar Roure (Spa) Illes Balears                      41.15
139 Daniele Nardello (Ita) T-Mobile Team                          41.24
140 Daniel Schnider (Swi) Phonak Hearing Systems                  42.10
141 Baden Cooke (Aus) Francaise Des Jeux                          42.31
142 Thierry Marichal (Bel) Cofidis-Le Credit Par Telephone        42.48
143 Isaac Galvez Lopez (Spa) Illes Balears                             
144 Marco Milesi (Ita) Liquigas-Bianchi                           43.04
145 Rene' Andrle (Cze) Liberty Seguros-Wurth Team                 43.42
146 Joseba Beloki Dorronsoro (Spa) Liberty Seguros-Wurth Team          
147 Alessandro Vanotti (Ita) Domina Vacanze                       43.45
148 Franck Renier (Fra) Bouygues Telecom                          43.52
149 Nick Gates (Aus) Davitamon-Lotto                              43.57
150 Henk Vogels (Aus) Davitamon-Lotto                             44.10
151 Davide Bramati (Ita) Quick.Step                               44.14
152 David Zabriskie (USA) Team CSC                                45.17
153 Andre' Korff (Ger) T-Mobile Team                              45.32
154 Rory Sutherland (Aus) Rabobank                                45.46
155 Rony Martias (Fra) Bouygues Telecom                           45.50
156 Robert Forster (Ger) Gerolsteiner                             46.03
157 Simone Cadamuro (Ita) Domina Vacanze                          46.14
158 Antonio Cruz (USA) Discovery Channel-Pro Cycling Team         46.23
159 Freddy Bichot (Fra) Francaise Des Jeux                        48.50
160 Giovanni Bernaudeau (Fra) Bouygues Telecom                    49.13
161 Olaf Pollack (Ger) T-Mobile Team                              49.19
162 Ignacio Gutierrez Cataluna (Spa) Phonak Hearing Systems       49.22
163 Jaan Kirsipuu (Est) Credit Agricole                           49.23
164 Paride Grillo (Ita) Ceramica Panaria-Navigare                 49.54
165 Mark Renshaw (Aus) Francaise Des Jeux                         50.33
166 Roy Sentjens (Bel) Rabobank                                   51.10
167 Matthew Wilson (Aus) Francaise Des Jeux                       52.29
168 Jason McCartney (USA) Discovery Channel-Pro Cycling Team      52.40
169 Sven Krauss (Ger) Gerolsteiner                                52.48
170 Eric Baumann (Ger) T-Mobile Team                              52.52
171 Sascha Urweider (Swi) Phonak Hearing Systems                  53.58
172 Brian Vandborg (Den) Team CSC                                 54.06
173 Ryder Hesjedal (Can) Discovery Channel-Pro Cycling Team       54.16
174 Mads Christensen (Den) Quick.Step                             54.37
175 Unai Etxebarria Arana (Ven) Euskaltel-Euskadi                 54.45
176 Jose' Antonio Garrido Lima (Spa) Quick.Step                   57.42
177 Philippe Schnyder (Swi) Selle Italia-Colombia                 58.20
178 Trent Wilson (Aus) Selle Italia-Colombia                      58.48
179 Aurélien Clerc (Swi) Phonak Hearing Systems                   59.06
180 Paolo Fornaciari (Ita) Lampre-Caffita                       1.01.29
181 Moreno Di Biase (Ita) Selle Italia-Colombia                 1.02.04
182 Frank Hoj (Den) Gerolsteiner                                1.03.13
183 Mathieu Claude (Fra) Bouygues Telecom                       1.08.10
184 Aart Vierhouten (Ned) Davitamon-Lotto                       1.08.55
185 Russel Van Hout (Aus) Selle Italia-Colombia                 1.27.16
 
Points classification
 
1 Danilo Di Luca (Ita) Liquigas-Bianchi                              92 pts
2 Robbie McEwen (Aus) Davitamon-Lotto                                91
3 Paolo Bettini (Ita) Quick.Step                                     91
4 Damiano Cunego (Ita) Lampre-Caffita                                62
5 Alessandro Petacchi (Ita) Fassa Bortolo                            59
 
Mountains classification
 
1 Koldo Gil Perez (Spa) Liberty Seguros-Wurth Team                   21 pts
2 Jose' Rujano Guillen (Ven) Selle Italia-Colombia                   16
3 Thorwald Veneberg (Ned) Rabobank                                    7
4 Marco Fertonani (Ita) Domina Vacanze                                6
5 Dario David Cioni (Ita) Liquigas-Bianchi                            5
 
Intergiro classification
 
1 Sven Krauss (Ger) Gerolsteiner                               21.01.01
2 Paolo Bettini (Ita) Quick.Step                                   0.46
3 Stefano Zanini (Ita) Quick.Step                                  0.50
4 Paolo Savoldelli (Ita) Discovery Channel-Pro Cycling Team        1.24
5 Dariusz Baranowski (Pol) Liberty Seguros-Wurth Team              1.28
 
Most combative classification
 
1 Paolo Bettini (Ita) Quick.Step                                     29 pts
2 Sven Krauss (Ger) Gerolsteiner                                     22
3 Robbie McEwen (Aus) Davitamon-Lotto                                20
4 Danilo Di Luca (Ita) Liquigas-Bianchi                              18
5 Alessandro Petacchi (Ita) Fassa Bortolo                            16
 
Azzurri d'Italia classification
 
1 Robbie McEwen (Aus) Davitamon-Lotto                                10 pts
2 Danilo Di Luca (Ita) Liquigas-Bianchi                               9
3 Paolo Bettini (Ita) Quick.Step                                      6
4 Alessandro Petacchi (Ita) Fassa Bortolo                             5
5 Luca Mazzanti (Ita) Ceramica Panaria-Navigare                       4
 
Trofeo Fuga Piaggio classification
 
1 Sven Krauss (Ger) Gerolsteiner                                    334 pts
2 Thorwald Veneberg (Ned) Rabobank                                  189
3 Marco Pinotti (Ita) Saunier Duval-Prodir                          168
4 Cedric Vasseur (Fra) Cofidis-Le Credit Par Telephone              168
5 Russel Van Hout (Aus) Selle Italia-Colombia                       166
 
Trofeo Fast Team classification
 
1 Liquigas-Bianchi                                            118.06.51
2 Domina Vacanze                                                   2.13
3 Lampre-Caffita                                                   2.31
4 Liberty Seguros-Wurth Team                                       2.58
5 Discovery Channel-Pro Cycling Team                               5.49
 
Trofeo Super Team classification
 
1 Liquigas-Bianchi                                                  195 pts
2 Davitamon-Lotto                                                   178
3 Domina Vacanze                                                    130
4 Quick.Step-Innergetic                                             129
5 Fassa Bortolo                                                     118