Recently on Cyclingnews.com
Giro d'Italia feature, May 24, 2005
New wings for the Falcon
Il Falco finds flying form after two tough years
By Les Clarke
It's been three long years since Paolo Savoldelli tasted Giro success, and in that time there's really been nothing to cheer about. Broken bones and illness have replaced racing and kept the Italian off the bike for most of his stint at T-Mobile, and the disappointment has grown for this 32 year old. Now at Discovery Channel and leading the Giro, the man who flies downhill may finally be finding some luck and form that go his way and not against.
Looking contemplative
Photo ©: Sirotti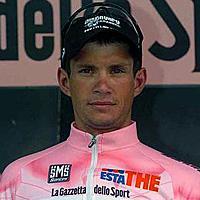 Plagued by injury and illness for the last two years, 2002 Giro d'Italia winner Paolo Savoldelli has shown that those lean years are well and truly behind him as he commands this year's edition of the Giro. Il Falco sits atop the general classification after stage 15, with 25 seconds to countryman Danilo Di Luca in second. With a new team, and the experience of recovering from major crashes, Savoldelli has trained hard to become a clear favourite to take overall honours in Milan this Sunday.
Savoldelli's win in 2002 came in similar circumstances to those he now finds himself in - after keeping himself close to the action during the early stages, he has proven his ability in the mountains to capture the lead after some tough climbing. In 2002 he maintained a stranglehold through the mountains and into Milan, and in 2005 he looks strong enough to repeat his feats of three years ago.
Events during those years in between are unforgettable for all the wrong reasons - spending more months than not recovering from accident or illness, especially after his training accident in 2003 while training with T-Mobile, the team he joined following his Giro win. He hit a moped head-on at speed on a descent and was left with multiple facial fractures, putting him out of action for months. This ruled him out of the Giro, so, focussing on the Tour de France became his main objective - this was shattered when he developed a serious virus and had to miss La Grand Boucle. Last year his Giro and Tour hopes were dashed, again, when he broke his wrist at the Tour of Cologne in April. Even early in 2005 he was recovering from a broken collarbone - it seems luck went missing for the youthful-looking lad from Bergamo.
Champagne spray in 2002
Photo ©: AFP/Maurizio Brambatti

It's something that still lingers in his mind, telling La Gazzetta dello Sport's Gigi Perna late last year, "When I won the Giro, I was convinced that I could be a top stage race rider but with my crash in 2003, I've wasted two of the best years of my career." At 32, time compounds any feelings of disappointment, but other aspects have helped when the going's been tough, "The experience has made me think...and the birth of my daughter Mariko has helped me too," he also said after sealing his move to Discovery Channel and becoming their leader for the Giro when Yaroslav Popovych, another Giro contender, signalled his intention to concentrate on the Tour de France.
The mild-mannered Bergamo native enjoys the Giro, taking second overall in the 1999 edition and ninth overall in 1998. Along the way he has beaten the likes of Cadel Evans, Tyler Hamilton and teammate Popovych, stamping his authority on the race in the mountains, where he's strong on the climbs and destroys the descents. His ability to ride downhill well earned him the nickname 'Il Falco', and although that horrific 2003 accident took place while descending, his reputation remains intact as a descender par excellence.
And again in 2005...
Photo ©: Sirotti

Savoldelli attacked the lead of this year's Giro on stage 11, staying with Ivan Basso up the Passo Duran as the CSC rider tried to put a clear gap between himself and the field. Savoldelli was having nothing of that and kept up until the descent, where he unleashed his trademark ability to head downhill fast - Simoni was the only man who could keep up. Basso caught the Discovery rider later as Simoni was dropped; Savoldelli wasn't going anywhere, however, and stuck with Basso until the finish, when he sprinted home for the win. It was a definitive day for the 32 year old, who celebrated his birthday just over two weeks ago. Discovery Directeur Sportif Johan Bruyneel realised this, and said post stage, "So to me, all the doubts about Savoldelli are gone. After today, I think a podium place for Savoldelli is realistic," confirming his belief that Savoldelli's comeback is complete.
It even appears Savoldelli himself is starting to believe that great things are possible in 2005, "At this point, I'm doing more than was expected, so that will make anyone happy. I prepared well for this Giro, even if I did have to stop for my broken collarbone. Maybe I raced too much in other years before the Giro and was already tired physically and mentally. I seem to be getting better every day. Now I have the maglia rosa, and let's see how it goes. My objective was to come back and be competitive...I've suffered quite a bit in the last two years."
Winning stage 11
Photo ©: Roberto Bettini

In 2002, Savoldelli was humble when he probably had reason to be very confident, saying, "I've been very close (to the Maglia Rosa) a few times, so today is a great satisfaction for me, even to have the Maglia Rosa for one day. I never thought of this when the stage started today; I was just trying to not lose time to riders who were stronger than me."
In '05 the sentiment is very similar, "I didn't have any plan today. On the last climb, no one is going to try and save energy. I had more energy today...that's part of cycling. Two days ago, Basso was better than everybody. Today it was me; tomorrow it might be Simoni; and the day after Basso. That's the spectacle of cycling."
If you believe in omens, the smart money would be on the Falcon flying high over Milan on the podium come Sunday afternoon.