First Edition Cycling News for September 6, 2005
Edited by John Stevenson & Les Clarke
Vuelta stage 10: Menchov holds on
Francisco Mancebo (Illes Balears)
Photo ©: Sirotti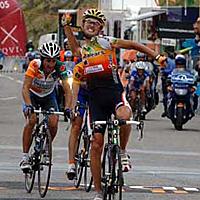 After Sunday's time trial win, Denis Menchov (Rabobank) has maintained his lead despite Stage 10 going to Francisco Mancebo (Illes Balears), who won ahead of Roberto Heras (Liberty-Würth) with Menchov glued to Heras' wheel in third. On a day for the climbers, Illes Balears' climbing sensation prevailed after a number of early breaks succumbed to the tough parcours before the protagonists up front fell by the wayside and allowed the big GC guns to take over.
It was virtually on from the gun on today's stage, with early attacks coming after 10km, when Miguel Martin Perdiguero (Phonak), Eladio Jimenez (Comunidad Valenciana), Joaquin Rodriguez (Saunier Duval), Oscar Pereiro (Phonak), Angel Vicioso (Liberty), David Lopez (Euskaltel-Euskadi), Adolfo Garcia Quesada (Comunidad Valenciana), David Bernabeu (Comunidad Valenciana), Stijn Devolder (Discovery Channel) and Aitor Osa (Illes Balears) went away gained an advantage of 1.20 after 29km.
This group was joined by another eight riders, including Quick Step's Rik Verbrugghe, Benjamin Noval (Discovery) and Michele Scarponi (Liberty). Aitor Osa, David Lopez and Rik Verbrugghe then broke from that bunch, later joined by Adolfo Garcia Quesada and then Juan Miguel Mercado (Quick Step). It was this small contingent that held off the GC heavyweights until the final kilometres, with Osa falling on the descent with 18 kilometres to go and breaking his collarbone.
Rabobank's Russian team leader never let Heras out of his sight during the day, and when the Liberty rider attacked with six kilometres to go Menchov wasn't taking any chances, staying with Heras to the finish. In the closing stages Heras, Menchov and Mancebo caught Quesada and Mercado, forming a small group that would fight it out for the stage victory. Mancebo managed to hold onto Heras and Menchov as they powered away from Quesada and Mercado to take the win at the ski station of Ordino-Arcalis.
Mancebo was understandably ecstatic with his stage win, saying at the finish, "I made a big effort to win and this victory is very important for me and for my team. This is the greatest victory in the world." Although isolated on the final climb, Menchov was pleased to hold onto the maillot oro, and was philosophical at the finish. "In the end, things went right... we saved [the jersey], so it was a very important day." the Russian rider said.
Tomorrow's stage is another huge day of climbing, with the Port del Canto (Category 1, 1730 m. above sea level, km 41), Coll de Bretui (Cat. 2, 1040 m., km 83), Coll de la Creu de Perves (Cat. 2, 1350 m., km 107.3), and Coll de la Espina (Cat. 2, 1410 m., km 140.3) sure to test out riders' legs before finishing at the ski station of Aramon Cerler (Cat. special, 1920 m.).
Also see:
Stage 10 full results, report & photos
Live report
Main
Stages & results
Map
Start List
History
Photos
Yus suspended – out of Vuelta
Basque rider Unai Yus has been suspended and is likely to be sacked by his team, Bouygues Telecom, after being found in possession of substances which are not on the team's official medicine list.
Jean-Rene Bernaudeau, whose team includes former Tour de France yellow jersey wearer Thomas Voeckler, said the team's rules on doping and illegal substances had to be respected to the letter.
"He was found in possession of a medicine which has not been prescribed by the team doctor, which is strictly forbidden by our own team rules," said Bernaudeau. "We've suspended him. The rules have to be respected. Bernadeau added that the 31-year-old Yus is now likely to receive paperwork telling him he has been sacked.
Yus, who has been a professional since 1999 and at the French outfit for the past two years, did not start Monday's 10th stage won by Spaniard Francisco.
Pound: "very high probability" of EPO use in 1999 Tour
Dick Pound, head of the World Anti-Doping Agency (WADA) has said that he trusts the findings of the French laboratory whose evidence provides the basis for L'Equipe's allegations that Lance Armstrong used EPO in the 1999 Tour de france.
Speaking to Germany's NetZeitung, Pound said, "After we looked at all the documents in this matter, I see a very high probability that there was performance-enhancing drugs activity."
Asked how trustworthy was the laboratory in Châtenay-Malabry that found traces of EPO in stored urine samples from the 1999 Tour, Pound said the lab was one of the leading centres in the world for investigation of EPO use. "I therefore have no reason to believe that the analysis of the samples was not regular. Yes, the laboratory found EPO traces in many samples. It may be that EPO traces disappear gradually from urine, but it cannot be that no EPO should be in them and then it emerges as if from nowhere."
Pound explained that WADA had not been supplied with any names of the riders whose samples had been tested. "We only got the report from the French laboratory. Our information about Lance Armstrong came from the sport newspaper L'Equipe."
However, Pound admitted that it would be "legally very problematic" for WADA to take any action against Lance Armstrong.
Cyclingnews coverage of the L'Equipe allegations
June 27, 2006 - Carmichael defends Armstrong, Armstrong answers L'Equipe & LeMond
June 26, 2006 - LeMond: "Armstrong threatened my life"
June 19, 2006 - Armstrong calls for Pound's exit
June 18, 2006 - Lance Armstrong's open letter against Dick Pound
June 4, 2006 - UCI hits back at WADA
June 3, 2006 - WADA slams the Vrijman report
June 2, 2006 - L'Equipe stands by its story, UCI supports Vrijman's findings
June 1, 2006 - UCI, WADA and Armstrong react to Vrijman's report
May 31, 2006 - UCI lawyer asks for Armstrong's name to be cleared
May 14, 2006 - Two more weeks for Armstrong investigation
Click here for full coverage of the L'Equipe allegations.
McQuaid: I'm still the UCI's choice
By Shane Stokes
Recent news that outgoing UCI president Hein Verbruggen was considering running again for office led to some surprise, given that Pat McQuaid had been nominated as the UCI's official choice to succeed the Dutchman this September. The nomination of Verbruggen by the Dutch federation meant that there are now four candidates for the post: he, McQuaid, Gregorio Moreno and Darshan Singh.
The appearance of Verbruggen's name on the list of contenders was seen by some as a fallback in case McQuaid is unable to run. He has been accused of receiving a salary, contrary to the UCI constitution, by people such as Sylvia Schenk and Singh Gill. Indeed the former has complained to the IOC ethic's commission about the matter and says she is determined to go to the Court of Arbitration in Sport, if necessary. McQuaid has responded by insisting that he has not broken any of the UCI rules, a statement backed by Verbruggen.
Cyclingnews talked to McQuaid at the finish of the Tour of Britain yesterday, and there the Irishman stressed that he is still the UCI's number one choice. "Once it comes to the 23rd of September and once I am still in there, then he [Hein Verbruggen] will not go [for election]. I am quite confident and quite comfortable, as is he, that if it comes to an election with the three candidates of myself, Moreno and Gill, that I will win out in the end. I reckon that I have enough support.
"His campaign is surely to protect the UCI. Because at the end of the day, the UCI must remain independent. There was a threat, and there continues to be a threat with Moreno, who was even declared in the Spanish press this week with the headline 'Moreno - candidate for the three Tours'.
McQuaid says this would be disastrous for the governing body. "If he were to come in he would not be independent - he is dependant on the three Tours and the UCI would be taken over by commercial interests. And that cannot be the case, it has got to be a separate entity.
"Hein is purely in there as a safety measure in case something were to happen to me. Not just technically, but even physically, if I weren't able to stand on the day. He has got to protect the interests of the UCI. Once everything is okay, he can step back on the day. He came in at the closing date for the nominations, but he can stay in the competition right until the very last moment."
McQuaid continues by stating that there is a busy time ahead. "Between now and the elections it is politics, continuous politics and lobbying. Last week the Irish federation sent a letter to the voting delegates. It was one of support for me, a letter outlining the position as they see it and saying that there is a very important decision for the voting delegates to take on the 23rd of September. They are asking them to reflect very strongly on the decision before they vote.
"In addition to that, on the week of the elections the federation and myself will be there in Madrid, talking to each one of the voting delegates in advance of the election. We will take things from there."
Despite the recent allegations, McQuaid states that he is still confident of victory. "I am supported by the board of the UCI," he says. " There are 15 members on the board, including five Continental Confederation presidents. Each one of those is committed to supporting me and each one will insure, inasmuch as he can, that his voting delegates will vote for me. So from that point of view, is all politics and we have got to work on the voting delegates to ensure that I get the maximum number of votes in there at the end of the day.
"Between my work on the board over the past 10 years, my work as president of the Road commission of the UCI and the work I have done in Asia, etcetera, I think I have enough support out there in the various parts of the world and the various confederations to ensure that I get good support in the election," he states.
Cyclingnews coverage of the UCI elections
September 24 - Spain's perspective on UCI election result
September 24 - Darshan Singh retires
September 23 - A wonderful moment for McQuaid
September 23 - McQuaid wins UCI presidential election
September 22 - IOC rejects complaints; Election to go ahead as planned
September 21 - World's opens, Spanish federation explains
September 20 - UCI committee exits Madrid
September 18 - Conflict between Schenk and UCI goes on
September 15 - Moreno not a Grand Tour stooge
September 8 - Baguet explains, Singh files third complaint
September 6 - McQuaid still UCI choice
September 3 - Verbruggen candidate for UCI presidency again
August 31 - Verbruggen nominated for UCI president
August 25 - UCI Ethics Commission meets
August 17 - Darshan Singh protests against UCI elections
Interview with Pat McQuaid: Next in line? Part II
Interview with Sylvia Schenk: Continuing her quest for Law & Order. Part II
August 6 - Moreno aims for presidency role
July 31 - UCI attacks Sylvia Schenk
Interview with Pat McQuaid: ProTour & Phonak, New teams & the UCI succession. Part II
CSC happy with Avenir
The CSC team executed a double triumph in yesterday's fifth stage of the Tour de l'Avenir, a 22km time trial, as Christian Müller won the stage and Lars Bak recaptured the yellow leader's jersey after finishing fourth
"A fantastic day for the team," said directeur sportif Scott Sunderland. "Of course Christian is extremely happy with his victory. He started early, before it started raining. Later on it also got windy, especially when Andy Schleck and Matti Breschel were out there. Luckily the rain eased up a bit when Lars Bak started, but the roads were still wet. It's fantastic to take back the yellow jersey and the whole team is on a high right now."
The team now aims to defend the jersey till the tour ends on Saturday in Blaye-les-Mines. "But we remain alert, we've still got a few hard days to go. With the form Lars is enjoying, I am positive and think he'll be able to keep up just fine on the climbs ahead." Said Sunderland.
Baguet to QuickStep
By Sabine Sunderland
Belgian national champion Serge Baguet (Davitamon-Lotto) will ride for rival belgian ProTour team QuickStep in 2006. Baguet recently won the final of a series of derny criteriums in Wetteren, Belgium, clinching the series. His team-mate and friedn Peter van Petegem was second, and it has been Van Petegem who has been the centre of recent transfer rumours.
Van Petegem's manager Paul De Geyter was reported to be talking to Cofidis about next season, but he has been confirmed as staying with Davitamon-Lotto. Instead, his training partner Baguet is the one changing jerseys. Baguet says was offered a renewal of his contract by Omega Pharma's big boss Marc Coucke and team manager Marc Sergeant but Baguet preferred the preposition made to him by Patrick Lefevere.
"When the team management didn't select me for the Tour de France this year; it was a clear sign for me to go and look for other pastures. It's not that I really want to ride the Tour de France every season, but this year there were a few stages where I really could have made a good result; the whole Tour parcours was to my liking," former TdF stage winner Baguet told Cyclingnews.
"I have ridden for the team of the National Lottery my whole career but I felt it was time for a change. I have always had a good understanding with manager Patrick Lefevere so I didn't have to think twice a bout a move to his team. Also, I'm looking forward to reward their confidence in me and as always I'll be giving it a 100 percent for my team leaders, to ride for someone like Boonen will be fun."
Kessler & Ivanov renew with T-Mobile
Matthias Kessler and Sergey Ivanov have both signed one-year renewals of their contracts with T-Mobile , the team has announced. However, T-Mobile has admitted that the process of retaining the 26-year-old Kessler was not without its speedbumps.
"An earlier round of negotiations between the team management and the cyclist broke down without resolution," said the team, adding that discussions had restarted in recent weeks and proved more fruitful.
"Matthias fits perfectly into the new team direction. He is young, but also possesses enough experience to take on a more responsible role within the team in future," said Ludwig.
Kessler said he had had "a few other offers" but added, ""My goal and wish were, however, to stay with the T-Mobile Team. I feel good here and I am convinced that together we can achieve a lot."
The renewal of Ivanov's contract was also the result of "intensive dialogue," according to Ludwig. The 30-year-old Ivanov is the reigning Russian road champion and recently won a stage of the Tour of Britain, but admits, "The current season has not been among my best. I will be giving it my all to play a key role in the new-look team and, in particular, to make an assault on the Spring Classics."
Ulmer part of New Zealand worlds squad
One of the biggest teams ever selected to represent New Zealand at a Road World Championships has been announced to compete at this year's event in Madrid. Included in the squad are a full complement of women and men's U23 riders, as BikeNZ will send a complete squad of 15 riders.
2004 Olympic Gold Medallist Sarah Ulmer is included in the team in her first outing at the Road World Championships to contest the individual time trial. After quitting track racing in April, Ulmer took ninth place overall in the Tour of Italy, and has been training with the New Zealand women's team at their base in Limoux, France under the guidance of national coach Jacques Landry.
One of her NZ-based coaches, Terry Gyde, told NZPA "It was a sensational result [in Italy] and we were quite surprised. But it knocked her socks off and we've just been helping her recuperate. Because she had not done a lot of foundation work - after the Olympics she had six to eight months off her bike - she ran out of base and it caught up with her."
According to Gyde, the focus for Ulmer will be on next year's worlds, but, "Madrid is an opportunity to see how she's going...it will disclose any frailties she's got." Gyde said he was hopeful of a strong result, but realistic about the Olympic champion's chances. "We would be dreaming if we thought she could go out and win it. If she could put on a top-10 effort we'd be pretty stoked. We would be amazed if she did anything better than that."
Although Ulmer's main aim is the time trial, she'll be joined by World Cup riders Joanne Kiesanowski, Michelle Hyland and Melissa Holt for the women's road race who ply their trade in Europe, as part of a women's squad with the potential to perform very well.
Making up the men's squad are Julian Dean, fully recovered from his pre-TdF crash; Heath Blackgrove, and top track rider Greg Henderson. Dean is currently riding the Vuelta a Espana, and Henderson is fresh off the North American season in the US, where he has had a number of top results.
The full squad
Elite Men - Road Race: Heath Blackgrove, Julian Dean, Greg Henderson; reserves - Fraser Macmaster, Jeremy Vennell, Glen Mitchell
Elite Women - Road Race: Tammy Boyd, Toni Bradshaw, Johanna Buick ,Michelle Hyland, Joanne Kiesanowski, Sarah Ulmer; reserves - Melissa Holt, Michelle Kiesanowski, Dale Tye
Individual Time Trial: Sarah Ulmer, Melissa Holt
Under 23 Men - Road Race: Tim Gudsell, Logan Hutchings, Troy Klink, Peter Latham, Scott Lyttle; Reserves - Luke McCarthy
Individual Time Trial: Peter Latham, Tim Gudsell
Colombian Under 23 world team
The Colombian Cycling Federation has named its under 23 roster for the World Championships that begin in Madrid (Spain) on September 21. The national coach Oliverio Cardenas named the following seven riders: Miguel Rubiano, Fabio Duarte, Juan P. Suarez, Julian Muñoz, William Aranzazu, Diego Tamayo and Wbeimar Roldan.
Muñoz, Roldan and Aranzazu will race the individual junior time trial to be ridden in a 35km-long course on September 21. Duarte, Suarez, Rubiano, Tamayo and Julian Muñoz will take part in the road competition over 170 kilometers on the Madrid area on September 24.
Australian under-19 team to ride nationals
Members of the Australian junior team will ride this week's 2005 National Road Cycling Championships on the Sunshine Coast for the first time. The separation this year of the senior and junior world championships has enabled the top young riders to return home in time for their national championships.
Riders from the current National Road Team include Western Australian Cameron Meyer; NSW riders Luke Cridland from Sydney and Mitch Chapman from Orange, while the impressive Tiffany Cromwell from Upper Sturt in South Australia will be a rider to watch in the U19 women's category.
The Australian junior Track Team will also be supplying some of the big stars. Last year cycling prodigy Scott Sunderland of Busselton, WA was simply unbeatable in the Under 17's winning the National Title in all three individual titles (Road Race, Time Trial and Criterium) and silver in the Pairs Time Trial. This year he moved to the Under 19s and has won medals in the World Kilo and Team Sprint Championships.
Sunderland is joined by fellow track representatives Todd Dawson, of Willowbank, Qld and Skye-Lee Armstrong, Bella Vista, Sydney.
For more information see www.usmevents.com.
Bike shop owner semi paralysed after crash
Tom McCurry, owner of Two Wheel Transit in Johnson City, Tennessee has been severely injured in a crash while descending a local mountain. While entering a turn at high speed Tom's front tyre lost air, sending him straight across the road into a ditch as his head hit an embankment. He has been hospitalised for two weeks and is making slow progress in the Vanderbilt Rehab Hospital in Nashville, TN. However, McCurry has no health insurance.
McCurry has been a popular figure of the local cycling community for 25 years, and friends and customers are trying to keep Two Wheel Transit open to ensure some income, but greater financial support is required. Anyone who would like to help is encouraged to visit the site established by the North East Tennessee cycling community, which has raised about $4500 already.
(All rights reserved/Copyright Knapp Communications Pty Limited 2005)