An interview with Pat McQuaid, February 24, 2005
Looking ahead, thinking big: Part I
Pat McQuaid
Photo ©: Shane Stokes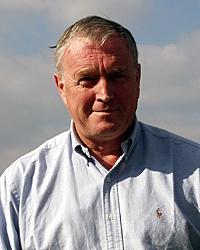 As a former professional rider, successful race promoter and, more recently, member of the board of the UCI, Pat McQuaid is a well-known figure within the cycling world. The Irishman was part of the successful campaign to bring the start of the 1998 Tour de France to his home country and, since then, has worked as race director on events such as the Tour de Langkawi and Tour of Britain. This year's edition of the Malaysian tour marked an official end to such a role, with UCI matters now his main focus.
McQuaid has been President of the UCI's Road Commission for the past few years and as such, oversaw the introduction of the new continental calendars. Together with the new ProTour, cycling is going through a time of big reforms which he and the other UCI members hope will help the sport expand and increase its popularity on a global level.
In this two-part interview, McQuaid sat down with Cyclingnews' Shane Stokes to give his opinion on a number of matters, including these reforms, the UCI's efforts to get the Grand Tour organisers on board, Phonak's successful appeal to CAS regarding their ProTour licence, and his hopes of becoming the next UCI President when Hein Verbruggen retires this autumn.
Cyclingnews: What is the current situation with the ProTour?
Pat McQuaid: The situation is that it starts in a couple of weeks time with Paris-Nice. The 27 events are listed there. It is true that the three big Tours have expressed certain reservations about aspects of it but, by the same token, they are going ahead with it. I think it will certainly happen this year and, depending on how it happens, we will see what develops through the winter of next year and what other demands the Tours start making in relation to it. But it is going ahead this year and I would have no doubt that it will continue.
CN: For what reasons do you think the Grand Tours are being a bit reluctant about it?
PMcQ: For a start, I don't think they fully understand or comprehend what is exactly involved in the whole thing. Secondly, they have this problem with their historical rights and they think that the UCI are chasing their historical rights, which is not the case at all. But they have this feeling that and unfortunately they have gone to their lawyers about it, and the lawyers are typical legal people who are trying to make a case out of it. If it was just left to sporting people to sort it out, there wouldn't be a problem.
CN: You think it can be done a different way, if everybody sat down and worked it out together?
PMcQ: It could exactly, it could be. If the sporting will is there to do it, it could be done.
"You can't cook omelettes without breaking eggs."
- A pragmatic McQuaid on the initial negative reaction from the Grand Tour organisers on the ProTour
CN: I have read some quotes where Hein Verbruggen has said 'the ProTour is going ahead and that is that'. Is there an element of stubbornness on both sides, do you think?
PMcQ: No... Well, you may call it stubbornness on both sides. I think there is no doubt that Hein Verbruggen has a vision, and has a plan. The UCI are the people who lead and direct cycling and he feels that for the future, in order to compete against other sports etc etc, that this is the way forward for cycling and that it has to go this route. So therefore he is implementing the plan. You can't cook omelettes without breaking eggs. Obviously not everybody is going to be happy with the plan, a couple of people are going to be dissatisfied with it, but the UCI have got to take the decision in the overall good of the sport and what they feel is right. So he certainly has a plan, he is going forward with that and is not prepared to be diverted off that plan.
CN: One of the things that there was disagreement over was this notion of teams being there for four years...
Don't mess with McQuaid!
Photo ©: Shane Stokes

PMcQ: Again, you have got to understand the full situation. Teams are there for four years but riders are not there for four years. The teams may not change themselves but riders will change, so there is progression. Riders who are progressing through the ranks, from continental teams to continental professional teams and who succeed will get opportunities to do the ProTour. It is not closed off to them for four years. Riders in the ProTour who don't perform will be dropped out of the team so there will be a constant evolution within the ProTour. Like everything else, you have got to give... one of the reasons for this is guarantees to the sponsors. You have got to give guarantees to the sponsors that they will ride all the big races and that they can sponsor that team for a minimum of four years in order to put in the type of investment that they need to and to support the team as well.
Most big companies now would spend as much money on the support of the team as they do directly on the team, like in most sports. In order to do that, you couldn't have a system whereby there would be promotion/relegation, where the bottom teams this year will be relegated down to the top of the next division. There are a lot more factors to being in the ProTour than just your performance; there is your financial stability, the size of the team, the ethical values of the team and so forth. There are a lot of things, so you can't just knock people down and bring people up on the basis of their performances. And as I say, riders would continuously change throughout the four years anyway.
CN: If a person is a head of a large corporation and wants to get involved in cycling, is this not an issue? Okay, there are two factors; one, it is providing stability for the existing sponsors in that they will have a guaranteed amount of time in the ProTour, but equally there seems to be an obstacle to a big sponsor who wants to come in and get involved in cycling? It looks like he will have to wait four years...
PMcQ: Well, not necessarily four years. Remember, one of the teams has a one-year license and one of the other teams has a two-year license, and it is envisaged that as the thing progresses, there will be a natural changing of licences on an annual basis. If a big international sponsor wants to come in to cycling, there will definitely be an avenue for him.
"If a big international sponsor wants to come in to cycling, there will definitely be an avenue."
- McQuaid on the ability of a potential ProTour sponsor entering the sport within the next four years
CN: CAS recently reversed the decision with regards to Phonak. What is the UCI reaction to that?
PMcQ: The UCI accepts that. The UCI has worked quite closely with CAS for the last few years. It is the authority, and very neutral authority, on the sport's affairs. They take a very legal view, a very correct legal view, of all the things that they do. They viewed and gave a very complete reading - I think it was 31 pages - that because of the fact that it is a very legal situation and because those two riders are under appeal, that the rest of the team shouldn't suffer as a result. The UCI accepts that. On the other hand, the UCI excluded the team for a variety of reasons, one of them being that those riders are suspended for doping and it was a sporting decision that the UCI made. But it accepts the legal decision.
CN: They looked at the fact that, okay, Camenzind had tested positive but that Perez and Hamilton hadn't yet been found guilty. In the event that they are found guilty, does that then mean that Phonak can then be excluded?
PMcQ: No, I don't think so. They are in there for two years, and a lot will depend on what they do for the next two years. I think that it may also have helped Phonak that when CAS were deliberating on its judgement, Phonak had made a lot of changes to the structure of the team and got rid of several personnel, actually sacking the riders as well. When the UCI made its decision, those things hadn't taken place so the dynamics have changed a bit. But I think that Phonak have made it quite clear... bearing in mind too that Phonak were, in the early stages, refuting the UCI's position and the UCI's decision, but then they went and accepted the decision. So a lot of the dynamics have changed.
But as I said, I don't think if the two riders are suspended that will make any difference to Phonak at this stage.
CN: With this appeal, with CAS effectively reversing a decision of the UCI, does that then threaten the new ethical considerations that have been built into the granting of ProTour licences? In other words, does that threaten the UCI's ability to exclude a team or riders from the ProTour, under the new code of conduct?
PMcQ: No, it doesn't. The UCI has the power to do it. But the UCI will only exclude people under very valid reasons - sporting reasons, ethical reasons, financial reasons. There could be a whole variety of reasons. It is an independent commission of three Swiss lawyers that are the people deliberating over this, so the UCI doesn't get involved in the actual deliberations. We take recommendations from those lawyers and go by what they say, and we will always do that. So in the future, whatever happens in relation to the exclusion or the non-exclusion of a team, the UCI will make the ultimate decision but based on a lot of factors.
CN: If there is a situation where a ProTour team is involved in a large-scale doping offence, do you think CAS could come back and block the UCI?
PMcQ: No, I don't think so. Again, it depends on each situation. But if there is a big scandal around a team, then I think the UCI could suspend it and I think CAS would support that decision. A team at that stage would find it very difficult to go to CAS and try to justify its position of being in the ProTour.
In Part II, McQuaid speaks more on the new reforms, explaining the thinking behind the new Continental Calendars and how they will benefit the sport, and talks about his own future within the UCI.