Recently on Cyclingnews.com
60th Vuelta a España - GT
Spain, August 27-September 18, 2005
Anything but plain in Spain
By Les Clarke
In gold at the finish, 2004.
Photo ©: Unipublic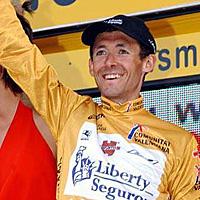 This year's Vuelta a España, as in previous years, has no clear favourite, and nothing is a certainty. Except, of course, that riders will face heat, winds and plenty of climbing in a race that is unforgiving and usually dominated by climbers. Held over 3368.5km, the 60th edition of the 'Spanish loop' features three individual time trials, nine days of climbing with 11 cat 1 climbs and a quality field of riders intent on making a mark on the Pro Tour in the final Grand Tour of the year.
Last year's winner, Roberto Heras, has already said that "the Ordino-Arcalís, Lados de Covadonga and Pajares stages are going to be the hardest." Most climbers are pleased with the race route, and according to Liberty Seguros' Joseba Beloki, although there are "no explosive summit finishes, it should be good for the climbers." He also believes that "the race will be hard throughout, but the second week looks particularly tough. The stages to Valdelinares, Andorra and Aramón Cerler will be real deciders."
The usual Spanish suspects are there, including Heras, Mancebo, Beltran, Sevilla and Gonzalez de Galdeano, plus a host of Pro Tour stars including Tom Danielson and Erik Zabel are scheduled to be making appearances in Spain after a disappointing July. Floyd Landis is back after wearing gold in 2004, where he reveled in his role as a senior team member. After the hype and glamour of the Tour riders are faced with an extremely tough test, with harsh conditions and partisan crowds.
The echelons are formed
Photo ©: Unipublic

It's a cliche in Grand Tour descriptions, but the Vuelta is often the most difficult race on many riders' calendars, and a battle for the overall win usually comes down to the last few days. In 2004 Perez and Heras were separated by just 30 seconds at the finish, and in 2003 Heras was challenged by Isidro Nozal until the final few days, the ONCE young gun rose from obscurity to vie for the win, just falling short of an upset win. Heras and Nozal are now teammates at Liberty, but a high hematocrit for Nozal, and its implications, forced him away from racing for while. Nozal does form part of Liberty's line up in this Vuelta.
This team has traditionally performed well in its home tour, but this year may be lean for them as the Nozal incident has led to critcism of Saiz's management style and the insular nature of this squad - look to another Spanish team to take over as Spain's number one pro outfit, which could in fact turn out to be Saunier Duval, with high team spirits and wins under their belt in 2005. They took out stages in last year's edition of the Vuelta and should do so again this year.
Igor Gonzalez de Galdeano (Liberty Seguros)
Photo ©: AFP

For several years, Erik Zabel has been almost untouchable in the sprinter's competition, but in 2005 the presence of additional top-line sprinters, including Tom Steels, should provide some excellent battles for sprinting supremacy. And of course exponents of the breakaway such as Juan Antonio Flecha and Miguel Martin Perdiguero will be taking all their chances on home territory - Spanish riders love to perform well in races at home, so expect some special displays of strength in tough conditions.
In 2005 Roberto Heras, three-time winner of this event, has come under fire for under-achieving, especially at the Tour de France. It could be that Floyd Landis holds onto the golden fleece for a longer time this year, perhaps taking it into Madrid and onto the final podium. He should be ably assisted by Phonak teammates Santiago Botero, Oscar Pereiro and Victor Hugo Peña. In fact, Phonak's team looks the strongest on paper, able to mix it up in the mountains and dominate the time trials.
Perez and Heras
Photo ©: Unipublic

There's always the possibility, however, that Phonak have so many good riders a clear leader won't be apparent until it's too late, and their chances of a win may be skittled by an abundance of talent. One thing's for certain - the green, yellow and white of the Swiss team should be prominent on the climbs and subsequently on the podium. And with yet another doping scandal hitting the team, there may be other things on the minds of management - but hopefully this won't be passed onto the riders, and they'll stll be able to perform well.
Euskaltel-Euskadi has had a poor season by their normally high standards, and wins at the Tour de Suisse and Dauphine Libere have salvaged their year, otherwise there hasn't been much to cheer about. Iban Mayo has been like the proverbial mouse all season, and maybe he'll leave it late in 2005 to assert himself, away from the glamour of the Tour de France, putting on a show for his legions of fans in the home country. These fans are probably hoping for the same thing, and hopefully Mayo can deliver when the roads point towards the heavens. The Basque squad is a strong one this year, with Tour de Suisse winner Aitor Gonzalez riding - he'll be looking to prove his exclusion from their Tour de France roster was a mistake - and Roberto Laiseka should looking to deliver the goods.
Manuel Beltran happy in the lead
Photo ©: AFP

Discovery Channel's Tom Danielson has recovered from a knee injury during the Giro d'Italia, and with the likes of José Azevedo, Manuel Beltran and José Luis Rubiera, the team is determined to wrap up all three Grand Tours in 2005, in the process winning back the Vuelta crown they won with Roberto Heras in 2003. It's a very strong climbing lineup, and look to Discovery's super domestiques to hurt the opposition in the Asturias and the Pyreness, allowing one of the team to step up and push for overall victory.
And as always, there are a host of local riders who'll want to make a name for themselves with stage wins along the plains or near their home towns. 'Fringe' riders such as Communidad Valenciana's Ruben Plaza or Angel Luis Casero, winner of the 2001 edition will most likely appear out of the peloton to snatch a win - that's how it goes in the Vuelta!
Floyd Landis talks to Johan Bruyneel
Photo ©: AFP

Hopefully, in 2005, there won't be a repeat of the stomach virus that made its way through the peloton last year, and all riders will remain healthy - T-Mobile management will especially be hoping this is the case as they were worst affected by the illness, which forced three of their riders to abandon and most to perform poorly over the three weeks.
What is guaranteed, however, is that the heat will be intense and the famed crosswinds will see plenty of echelons formed throughout the peloton. Riders always find the combination of these two conditions hard to deal, and it naturally acts as a selector. Stages 10, 11, 14 and 15 will add big mountains to the mix, just to make it tougher for riders and to sort out those who'll be up for a fight coming into Madrid and the final time trial. Whichever way you look at it, this year's Vuelta should be another interesting offering full of drama right to the end.