85th Tre Valli Varesine - 1.HC
Italy, August 16, 2005
2004 Results Results Past winners
Trittico Lombardo
Tre Valli Varesine - August 16
Coppa Agostoni - August 17
Coppa Bernocchi - August 18
Garzelli in good form
Stefano Garzelli (Liquigas-Bianchi)
Photo ©: Sirotti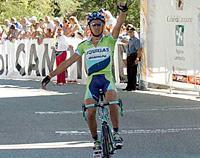 Stefano Garzelli (Liquigas-Bianchi) has capitalised on his good form that saw him finish fourth in last Saturday's Clasica San Sebastian by winning the 85th edition of Tre Valli Varesine. On the uphill finish, Garzelli proved to be too strong for Lorenzo Bernucci (Fassa Bortolo) and a returning to form Damiano Cunego (Lampre-Cafitta). It was Garzelli's first win since Stage 19 in the Giro d'Italia in 2004.
"I have to thank the whole team that worked in an excellent way," said Garzelli on the podium. "I dedicate this win to my mother, who was born here in Campione d'Italia, and to all my family."
The 190 km race, which forms the first of the Trittico Lombardo series, came down to the final 2 km ascent up from Lake Lugano to Campione d'Italia. After Sergio Barbero (Naturino - Sapore di Mare) and Andrea Masciarelli (Acqua & Sapone) attacked early, Eddy Mazzoleni took over to set the pace for his teammate Cunego. The latter's attack wasn't good enough, and he was countered by Bernucci. But Garzelli saved the best until last and overhauled the pair to win by a comfortable margin.
The second race in the series is tomorrow's Coppa Agostoni.
Photography
For a thumbnail gallery of these images, click here
Images by Fotoreporter Sirotti
Results - 190 km
1 Stefano Garzelli (Ita) Liquigas-Bianchi                      5.01.01 (37.872 km/h)
2 Lorenzo Bernucci (Ita) Fassa Bortolo                            0.02
3 Damiano Cunego (Ita) Lampre-Caffita                             0.03
4 Eddy Mazzoleni (Ita) Lampre-Caffita                             0.06
5 Rinaldo Nocentini (Ita) Acqua & Sapone-Adria Mobil              0.07
6 Massimo Giunti (Ita) Fassa Bortolo                              0.11
7 Paolo Bailetti (Ita) Team Androni Giocattoli-3C Casalinghi      0.13
8 Luca Mazzanti (Ita) Ceramica Panaria-Navigare                       
9 Andrea Masciarelli (Ita) Acqua & Sapone-Adria Mobil             0.24
10 Luca Solari (Ita) Domina Vacanze                                   
11 Francesco Failli (Ita) Naturino-Sapore di Mare                 0.28
12 Valerio Agnoli (Ita) Naturino-Sapore di Mare                   0.32
13 Mirko Celestino (Ita) Domina Vacanze                           0.35
14 Domenico Pozzovivo (Ita) Ceramica Panaria-Navigare             0.36
15 Simon Gerrans (Aus) Ag2r Prevoyance                            0.42
16 Massimo Iannetti (Ita) Naturino-Sapore di Mare                 0.45
17 Ruslan Pidgornyy (Ukr) Tenax-Nobili Rubinetterie               0.48
18 Leonordo Giordani (Ita) Team Universal Caffe' - Styloffice     0.53
19 Daniele De Paoli (Ita) Team L.P.R.                             0.59
20 Salvatore Commesso (Ita) Lampre-Caffita                            
21 Konstantin Klyuev (Rus) Team Androni Giocattoli-3C Casalinghi      
22 Kristjan Fajt (Slo) Tenax-Nobili Rubinetterie                      
23 Ivan Fanelli (Ita) Team L.P.R.                                     
24 Matteo Carrara (Ita) Team Barloworld-Valsir                        
25 Maurizio Varini (Ita) Ceramica Flaminia                        1.04
26 Bo Hamburger (Den) Acqua & Sapone-Adria Mobil                  1.10
27 Giuseppe Muraglia (Ita) Team L.P.R.                            1.14
28 Filippo Simeoni (Ita) Naturino-Sapore di Mare                  1.34
29 Igor Astarloa (Spa) Team Barloworld-Valsir                     1.36
30 Cristiano Frattini (Ita) Tenax-Nobili Rubinetterie             1.44
31 Kyrylo Pospyeyev (Ukr) Acqua & Sapone-Adria Mobil                  
32 Sergio Barbero (Ita) Naturino-Sapore di Mare                       
33 Pavel Tonkov (Rus) Team L.P.R.                                     
34 Fabio Sacchi (Ita) Fassa Bortolo                                   
35 Giovanni Visconti (Ita) Domina Vacanze                             
36 Fortunato Baliani (Ita) Ceramica Panaria-Navigare                  
37 Emmanuele Sella (Ita) Ceramica Panaria-Navigare                    
38 Ryan Cox (RSA) Team Barloworld-Valsir                              
39 Fabio Gilioli (Ita) Team Universal Caffe' - Styloffice             
40 Paolo Longo Borghini (Ita) Team Barloworld-Valsir                  
41 Daniele Contrini (Ita) Team L.P.R.                                 
42 Marco Velo (Ita) Fassa Bortolo                                     
43 Andrea Noe' (Ita) Liquigas-Bianchi                                 
44 Dario Andriotto (Ita) Liquigas-Bianchi                         6.31
45 Oscar Mason (Ita) Liquigas-Bianchi                                 
46 Philip Deignan (Irl) Ag2r Prevoyance                           7.45
47 Inigo Chaurreau B. (Spa) Ag2r Prevoyance                       7.59
48 Matteo Tosatto (Ita) Fassa Bortolo                                 
49 Giuseppe Di Grande (Ita) Team Universal Caffe' - Styloffice        
50 Alberto Ongarato (Ita) Fassa Bortolo                          10.18
51 Guido Trombetta (Ita) Ceramica Flaminia                            
52 Philippe Schnyder (Swi) Colombia-Selle Italia                      
53 Antonio D'aniello (Ita) Miche                                      
54 Paolo Tiralongo (Ita) Ceramica Panaria-Navigare                    
55 Massimo Amichetti (Ita) Miche                                      
56 Simone Masciarelli (Ita) Acqua & Sapone-Adria Mobil                
57 Ruggero Borghi (Ita) Domina Vacanze                                
58 Massimo Mazzanti (Ita) Team Androni Giocattoli-3C Casalinghi       
59 Giairo Ermeti (Ita) Miche                                          
60 Gabriele Bosisio (Ita) Tenax-Nobili Rubinetterie                   
61 Marco Osella (Ita) Team Androni Giocattoli-3C Casalinghi      10.55
 
Starters: 121
Classified: 61

Courtesy of Antonio Dias


Past winners
2004 Fabian Wegmann (Ger) Gerolsteiner
2003 Danilo Di Luca (Ita) Saeco
2002 Eddy Ratti (Ita) Mapei-Quick Step
2001 Mirko Celestino (Ita) Saeco Macchine per Caffe
2000 Massimo Donati (Ita)
1999 Sergio Barbero (Ita)
1998 Davide Rebellin (Ita)
1997 Roberto Caruso (Ita)
1996 Fabrizio Guidi (Ita)
1995 Roberto Caruso (Ita)
1994 Claudio Chiappucci (Ita)
1993 Massimo Ghirotto (Ita)
1992 Massimo Ghirotto (Ita)
1991 Guido Bontempi (Ita)
1990 Pascal Richard (Swi)
1989 Gianni Bugno (Ita)
1988 Giuseppe Saronni (Ita)
1987 Franco Ballerini (Ita)
1986 Guido Bontempi (Ita)
1985 Giovanni Mantovani (Ita)
1984 Pierino Gavazzi (Ita)
1983 Alessandro Paganessi (Ita)
1982 Pierino Gavazzi (Ita)
1981 Gregor Braun (Ger)
1980 Giuseppe Saronni (Ita)
1979 Giuseppe Saronni (Ita)
1978 Francesco Moser (Ita)
1977 Giuseppe Saronni (Ita)
1976 Francesco Moser (Ita)
1975 Fabrizio Fabbri (Ita)
1974 Costante Conti (Ita)
1973 Enrico Paolini (Ita)
1972 Giacinto Santambroggio (Ita)
1971 Giancarlo Polidori (Ita)
1970 Gianni Motta (Ita)
1969 Marino Basso (Ita)
1968 Eddy Merckx (Bel)
1967 Gianni Motta (Ita)
1966 Gianni Motta (Ita)
1965 Gianni Motta (Ita)
1964 Marino Vigna (Ita)
1963 Italo Zilioli (Ita)
1962 Giuseppe Ferrardi (Ita)
1961 Willy Vannitsen (Bel)
1960 Nino Defilippis (Ita)
1959 Dino Bruni (Ita)
1958 Carlo Nicolo (Ita)
1957 Germain Derijcke (Bel)
1956 Gastone Nencini (Ita)
1955 Fausto Coppi (Ita)
1954 Giorgio Albani (Ita)
1953 Nino Defilippis (Ita)
1952 Giuseppe Minardi (Ita)
1951 Guido De Santi (Ita)
1950 Antoni Bevilacqua (Ita)
1949 Nedo Logli (Ita)
1948 Fausto Coppi (Ita)
1947 Fiorenzo Magni (Ita)
1946 Enrico Mollo (Ita)
1945 Adolfo Leoni (Ita)
1942 Luciano Succi (Ita)
1941 Fausto Coppi (Ita)
1940 Cino Cinelli (Ita)
1939 Olimpio Bizzi (Ita)
1938 Gino Bartali (Ita)
1937 Olimpio Bizzi (Ita)
1936 Cesare Del Cancia (Ita)
1935 Piero Chiappini (Ita)
1934 Severino Canavesi (Ita)
1933 Alfredo Bovet (Ita)
1932 Domenico Piomontesi (Ita)
1931 Luigi Giacobe (Ita)
1930 Albino Binda (Ita)
1929 Ambrogio Morelli (Ita)
1928 Battista Visconti (Ita)
1927 Renato Zanone (Ita)
1926 Mario Bonvicini (Ita)
1925 Giovanni Tizzoni (Ita)
1924 Libero Ferrario (Ita)
1923 F. Brusatori (Ita)
1922 Domenico Pieomontesi (Ita)
1921 Adriano Zamaga (Ita)
1920 R. Rosa (Ita)
1919 Piero Bestetti (Ita)

Past winners by Mario Stiehl, www.world-of-cycling.com