Tour de Georgia - 2.1
USA, April 19-24, 2005
Main Page Results Stage Details Live report Previous Stage Next Stage
Stage 3 - April 21: Rome time trial, 29.9km
Landis Takes Overall Lead In Rainy GeorgiaTime Trial
Armstrong shows glimpse of questionable form in ninth
by Mark Zalewski in Rome, Georgia with Eddie Monnier
Floyd Landis (Phonak)
Photo ©: Jon Devich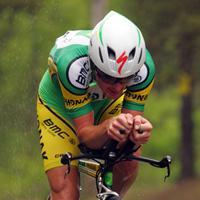 Phonak's Floyd Landis was one of two riders on his team that was able to ride the stage three time trial on the specific time trial machine -- and his team is glad they brought it. Landis rode the rain-soaked time trial in just 39:58, ahead of his nearest competitor by nineteen seconds and just six seconds off of Lance Armstrong's 2004 winning time. When told by Cyclingnews that he was over a minute ahead of Armstrong at the finish, Floyd replied, "A minute? Well, how would you feel? (laughing) [Today was] as good as I could have hoped, but it's not over yet. We'll see!"
The former domestique of Armstrong negotiated the rolling time trial and had the fastest split at the top of Mount Alto. "My idea was to go see how well the first half went, and if I had the possibility to win, take some risks on the downhill," Landis explained. "If I wasn't doing so well, obviously I would not have taken the risks."
Defending champion Lance Armstrong certainly did not have the best time trial of his career, finishing in ninth. "Clearly disappointed," Armstrong revealed right after the race. "I didn't feel great, but I thought I would do better. "I think something to consider with Lance is that it's his first time trial this year," Director Sportif Johan Bruyneel explained. "Last year [prior to the Tour de Georgia] he did a long time trial in [Vuelta ao] Algarve and Criterium International." Nonetheless, this performance will be noted around the professional peloton. "Today was definitely not a great ride from him and you can definitely see he didn't have it."
Levi Leipheimer (Gerolsteiner)
Photo ©: Jon Devich

Armstrong cited fitness as the biggest reason for today's performance. "Last year I definitely got a jump on fitness. This year I was behind. I thought I caught up, but like I said now I know I haven't and it's time to review the season." Bruyneel further echoed Armstrong's thoughts, saying that the six-time Tour de France winner has enough time to get his form back to where it needs to be come July. "His basic condition is pretty good but he hasn't done any specific training yet. I'm confident we have enough time to work and get ready."
Regardless, Armstrong -- along with the rest of the world -- has a good idea of where he and the rest of the team stands. "we have to improve from here. It means gaining fitness, and losing weight -- focusing on every little aspect of the sport -- the diet, the bike, the training, the team... I even think they are a little bit behind."
But everyone still remembers that Armstrong and Bruyneel are master strategists, whether for this race or for a certain race taking place in July. CSC's Director Sportif Scott Sunderland remarked, "Don't write him off. There's still a long way to go to the Tour [de France]. Lance is lance."
Another product of the former U.S. Postal program, David Zabriskie, came in a strong second place for his CSC team, moving him in nineteen seconds behind Landis on the overall. "I was a little surprised," said the native of Utah. "It's good for the team -- Bobby and I both. We can play with it a little and see what happens."
Bobby Julich (CSC)
Photo ©: Jon Devich

CSC teammate and fellow American Bobby Julich didn't fare as well as Zabriskie, but still managed a fourth place -- moving him up to fourth overall. "[Bobby is] disappointed," explained CSC's Director Sportif Scott Sunderland. "He thought he did a better time. Maybe he should have had the radio. It's also the weather, with the rain it's hard to say where you are really." Regardless, Sunderland is happy with CSC's strong presence, with Brian Vandborg also in the top ten. "It gives us a joker to play with!"
Coming in third was Navigators Insurance's and former US time trial champion Chris Baldwin, who hopes that this strong set-up for the mountains will wash away a poor performance last year. "I hope it's going to be good here. I had such a failure on Brasstown last year that I really need to get that out of my head." Team director Ed Beamon is very happy to have Baldwin and current Australian time trial champion Nathan O'Neill in the top five overall. "Chris is one of the better climbers on the team and is sitting in really good position. Nathan is also really solid. The steeper pitches may give him some trouble but he's a great lieutenant."
Further disappointing for Discovery Channel was the performance of the young-gun Tom Danielson. "I had expected a little better from us -- from Lance, from Tom," director Bruyneel said after all had finished. But the team is not hanging it up just yet, with Bruyneel predicting some action over the next two mountain stages. "We're definitely not going to sit back and watch now. Tomorrow and the day after are two hard stages and I think we can still try and do something. We're going to be aggressive."
Saul Raisin (Credit Agricole).
Photo ©: Jon Devich

Armstrong agreed with his director's thoughts, saying, "We have to be aggressive. We'll just play it by ear. Now the race is on the shoulders of Phonak and CSC and we'll just be secondary players, and see if we can mix things up a little."
Tomorrow's stage four from Dalton to Dahlonega is the same as last year, featuring many steep climbs and many long inclines not categorized, but equally as painful. Race leader Floyd Landis has a lot on his plate for the next stage, and he knows it. "There are some big mountains and some teams like Discovery that have quite a few climbers. I'm certain their tactic will be to attack and have guys up the road. I know we won't be able to control the whole thing."
Photography
For a thumbnail gallery of these images, click here
Images by Jonathan Devich/epicimages.us
Images by Trish Albert/Southeasterncycling.com
Images by Mark Zalewski/Cyclingnews.com
Images by Alicia Frese/www.freseframephotography.com
Images by Brad Rittenhouse
Images by Bill Parsons/www.sceniccityvelo.com
Results
1 Floyd Landis (USA) Phonak Hearing Systems                    39.58 (44.89 km/h)
2 David Zabriskie (USA) Team CSC                                0.19
3 Christopher Baldwin (USA) Navigators Insurance                0.22
4 Bobby Julich (USA) Team CSC                                   0.28
5 Nathan O'Neill (Aus) Navigators Insurance                     0.43
6 Levi Leipheimer (USA) Gerolsteiner                            0.50
7 Tom Danielson (USA) Discovery Channel                         1.00
8 Viatcheslav Ekimov (Rus) Discovery Channel                    1.21
9 Lance Armstrong (USA) Discovery Channel                       1.46
10 Brian Vandborg (Den) Team CSC                                1.47
11 David O'Loughlin (Irl) Navigators Insurance                  1.49
12 José Azevedo (Por) Discovery Channel                         1.53
13 Michael Rich (Ger) Gerolsteiner                              2.01
14 Danny Pate (USA) Jelly Belly - Pool Gel                      2.12
15 Robert Hunter (RSA) Phonak Hearing Systems                   2.16
16 Michael Blaudzun (Den) Team CSC                              2.18
17 Marco Pinotti (Ita) Prodir - Saunier Duval                   2.24
18 José Luis Rubiera Vigil (Spa) Discovery Channel              2.29
19 Christian Vandevelde (USA) Team CSC                          2.35
20 Chris Wherry (USA) Health Net pb Maxxis                      2.49
21 Christian Müller (Ger) Team CSC                              2.57
22 Jeff Louder (USA) Navigators Insurance                       3.00
23 Trent Lowe (Aus) Jittery Joe's - Kalahari                    3.02
24 Justin England (USA) Health Net pb Maxxis                        
25 Manuel Quinziato (Ita) Prodir - Saunier Duval                3.03
26 Matthias Russ (Ger) Gerolsteiner                             3.09
27 Eric Wohlberg (Can) Symmetrics Cycling Team                  3.12
28 David Canada Gracia (Spa) Prodir - Saunier Duval             3.13
29 Geoff Kabush (Can) Jittery Joe's - Kalahari                  3.18
30 Gordon Fraser (Can) Health Net pb Maxxis                     3.22
31 Svein Tuft (Can) Symmetrics Cycling Team                     3.23
32 Andy Schleck (Lux) Team CSC                                  3.25
33 Mark Walters (Can) Navigators Insurance                      3.29
34 Saul Raisin (USA) Credit Agricole                            3.33
35 William Frischkorn (USA) Team TIAA - CREF                    3.35
36 Jason McCartney (USA) Discovery Channel                      3.40
37 Michael Barry (Can) Discovery Channel                            
38 Nicolas Fritsch (Fra) Prodir - Saunier Duval                 3.41
39 Glen Mitchell (NZl) Kodak Gallery - Sierra Nevada            3.44
40 Scott Moninger (USA) Health Net pb Maxxis                    3.49
41 Ben Jacques-Maynes (USA) Kodak Gallery - Sierra Nevada       3.50
42 Phil Zajicek (USA) Navigators Insurance                          
43 Timothy Duggan (USA) Team TIAA - CREF                        3.55
44 Cory Lange (Can) Symmetrics Cycling Team                     4.07
45 Michele Maccanti (Ita) Team L.P.R.                           4.09
46 Craig Lewis (USA) Team TIAA - CREF                           4.12
47 Lars Ytting Bak (Den) Team CSC                               4.18
48 Aaron Olsen (USA) Colavita Olive Oil - Sutter Home           4.19
49 Daniele Contrini (Ita) Team L.P.R.                           4.24
50 Christian Meier (Can) Symmetrics Cycling Team                4.28
51 Todd Herriot (USA) Colavita Olive Oil - Sutter Home          4.31
52 Dominique Perras (Can) Kodak Gallery - Sierra Nevada             
53 Jonathan Sundt (USA) Jittery Joe's - Kalahari                4.34
54 Benjamin Brooks (Aus) Jelly Belly - Pool Gel                 4.36
55 Jackson Stewart (USA) Kodak Gallery - Sierra Nevada          4.37
56 Daniele Masolino (Ita) Team L.P.R.                           4.39
57 Elia Aggiano (Ita) Team L.P.R.                               4.41
58 Sascha Urweider (Swi) Phonak Hearing Systems                 4.42
59 Antonio Cruz (USA) Discovery Channel                             
60 Timothy Johnson (USA) Jittery Joe's - Kalahari                   
61 Andrea Tafi (Ita) Prodir - Saunier Duval                     4.50
62 Mauro Santambrogio (Ita) Team L.P.R.                         4.51
63 Kevin Bouchard-Hall (USA) USA National Team                  4.56
64 Gregory Henderson (NZl) Health Net pb Maxxis                     
65 John Lieswyn (USA) Health Net pb Maxxis                      4.59
66 Jeremy Powers (USA) Jelly Belly - Pool Gel                   5.00
67 Sven Krauss (Ger) Gerolsteiner                               5.04
68 John Devine (USA) USA National Team                          5.06
69 Mads Kaggestad (Nor) Credit Agricole                         5.13
70 Vassili Davidenko (Rus) Navigators Insurance                 5.23
71 Peter Wrolich (Aut) Gerolsteiner                             5.24
72 Davide Frattini (Ita) Colavita Olive Oil - Sutter Home       5.25
73 David Robinson (USA) Team TIAA - CREF                        5.26
74 Cyril Lemoine (Fra) Credit Agricole                              
75 Portal Sébastien (Fra) Credit Agricole                       5.28
76 Scott Zwizanski (USA) Kodak Gallery - Sierra Nevada          5.30
77 Juan Jose Cobo Acebo (Spa) Prodir - Saunier Duval                
78 Niki Aebersold (Swi) Phonak Hearing Systems                  5.35
79 Ivan Fanelli (Ita) Team L.P.R.                                   
80 Cesar Augusto Grajales (Col) Navigators Insurance            5.37
81 Aurélien Clerc (Swi) Phonak Hearing Systems                      
82 Matthew Rice (Aus) Jelly Belly - Pool Gel                        
83 Brice Jones (USA) Jelly Belly - Pool Gel                     5.42
84 Bruno Langlois (Can) Jittery Joe's - Kalahari                5.44
85 Geoffroy Lequatre (Fra) Credit Agricole                      5.46
86 Caleb Manion (Aus) Jelly Belly - Pool Gel                    5.54
87 Michael Lange (USA) Team TIAA - CREF                         6.07
88 Jonathan Page (USA) Colavita Olive Oil - Sutter Home         6.08
89 Mariano Friedick (USA) Jelly Belly - Pool Gel                    
90 Mike Sayers (USA) Health Net pb Maxxis                       6.11
91 Edward King (USA) USA National Team                          6.15
92 Gustavo Artacho (Arg) Colavita Olive Oil - Sutter Home       6.16
93 Tomasz Nose (Slo) Phonak Hearing Systems                     6.24
94 Will Routley (Can) Symmetrics Cycling Team                   6.25
95 Kilian Patour (Fra) Credit Agricole                          6.27
96 Kirk Albers (USA) Jelly Belly - Pool Gel                     6.34
97 John Murphy (USA) USA National Team                          6.36
98 Craig Wilcox (USA) Jittery Joe's - Kalahari                      
99 Steven Cozza (USA) USA National Team                         6.39
100 Jacob Erker (Can) Symmetrics Cycling Team                   6.41
101 Dan Bowman (USA) Team TIAA - CREF                               
102 Mark McCormack (USA) Colavita Olive Oil - Sutter Home       6.47
103 Alessandro Maserati (Ita) Team L.P.R.                       6.54
104 René Haselbacher (Aut) Gerolsteiner                         6.59
105 Russell Hamby (USA) Kodak Gallery - Sierra Nevada           7.01
106 Hayden Godfrey NZ' Kodak Gallery - Sierra Nevada            7.07
107 Chad Hartley (USA) Team TIAA - CREF                         7.08
108 Danilo Napolitano (Ita) Team L.P.R.                         7.13
109 Juan José Haedo (Arg) Colavita Olive Oil - Sutter Home      7.16
110 Andrew Pinfold (Can) Symmetrics Cycling Team                7.38
111 Ivan Dominguez (Cub) Health Net pb Maxxis                   7.43
112 Ian Macgregor (USA) Team TIAA - CREF                        7.49
113 Andy Guptill (USA) USA National Team                        7.51
114 Rafael Casero Moreno (Spa) Prodir - Saunier Duval           7.56
115 Michael Wolf (USA) USA National Team                        7.57
116 Evan Elken (USA) Jittery Joe's - Kalahari                   8.08
117 Nick Waite (USA) USA National Team                          8.29
118 Derek Wilkerson (USA) Colavita Olive Oil - Sutter Home      9.32
119 Marsh Cooper (Can) Symmetrics Cycling Team                 10.20
DNF Jose Enrique Gutierrez Cataluna (Spa) Phonak Hearing Systems    
 
General classification after stage 3
 
1 Floyd Landis (USA) Phonak Hearing Systems                 11.14.19
2 David Zabriskie (USA) Team CSC                                0.19
3 Christopher Baldwin (USA) Navigators Insurance                0.22
4 Bobby Julich (USA) Team CSC                                   0.28
5 Nathan O'Neill (Aus) Navigators Insurance                     0.43
6 Levi Leipheimer (USA) Gerolsteiner                            0.50
7 Tom Danielson (USA) Discovery Channel                         1.00
8 Viatcheslav Ekimov (Rus) Discovery Channel                    1.21
9 Lance Armstrong (USA) Discovery Channel                       1.42
10 Brian Vandborg (Den) Team CSC                                1.47
11 José Azevedo (Por) Discovery Channel                         1.53
12 Robert Hunter (RSA) Phonak Hearing Systems                   2.06
13 Danny Pate (USA) Jelly Belly - Pool Gel                      2.12
14 Michael Blaudzun (Den) Team CSC                              2.18
15 Michael Rich (Ger) Gerolsteiner                              2.23
16 Marco Pinotti (Ita) Prodir - Saunier Duval                   2.24
17 José Luis Rubiera Vigil (Spa) Discovery Channel              2.29
18 Christian Vandevelde (USA) Team CSC                          2.35
19 Chris Wherry (USA) Health Net pb Maxxis                      2.49
20 David O'Loughlin (Irl) Navigators Insurance                  2.52
21 Manuel Quinziato (Ita) Prodir - Saunier Duval                2.57
22 Trent Lowe (Aus) Jittery Joe's - Kalahari                    3.02
23 Eric Wohlberg (Can) Symmetrics Cycling Team                  3.12
24 David Canada Gracia (Spa) Prodir - Saunier Duval             3.13
25 Geoff Kabush (Can) Jittery Joe's - Kalahari                  3.18
26 Svein Tuft (Can) Symmetrics Cycling Team                     3.23
27 Andy Schleck (Lux) Team CSC                                  3.25
28 Mark Walters (Can) Navigators Insurance                      3.29
29 Matthias Russ (Ger) Gerolsteiner                             3.31
30 Saul Raisin (USA) Credit Agricole                            3.33
31 William Frischkorn (USA) Team TIAA - CREF                    3.35
32 Jeff Louder (USA) Navigators Insurance                       3.36
33 Michael Barry (Can) Discovery Channel                        3.40
34 Nicolas Fritsch (Fra) Prodir - Saunier Duval                 3.41
35 Glen Mitchell (NZl) Kodak Gallery - Sierra Nevada            3.44
36 Phil Zajicek (USA) Navigators Insurance                      3.50
37 Justin England (USA) Health Net pb Maxxis                    3.57
38 Michele Maccanti (Ita) Team L.P.R.                           4.05
39 Ben Jacques-Maynes (USA) Kodak Gallery - Sierra Nevada       4.12
40 Gordon Fraser (Can) Health Net pb Maxxis                     4.21
41 Daniele Contrini (Ita) Team L.P.R.                           4.24
42 Benjamin Brooks (Aus) Jelly Belly - Pool Gel                 4.30
43 Dominique Perras (Can) Kodak Gallery - Sierra Nevada         4.31
44 Craig Lewis (USA) Team TIAA - CREF                           4.34
45 Elia Aggiano (Ita) Team L.P.R.                               4.41
46 Timothy Johnson (USA) Jittery Joe's - Kalahari               4.42
47 Jason McCartney (USA) Discovery Channel                      4.46
48 Timothy Duggan (USA) Team TIAA - CREF                        4.49
49 Mauro Santambrogio (Ita) Team L.P.R.                         4.50
50 Scott Moninger (USA) Health Net pb Maxxis                    4.52
51 Jonathan Sundt (USA) Jittery Joe's - Kalahari                4.56
52 Antonio Cruz (USA) Discovery Channel                         5.04
53 Mads Kaggestad (Nor) Credit Agricole                         5.13
54 Peter Wrolich (Aut) Gerolsteiner                             5.14
55 Christian Meier (Can) Symmetrics Cycling Team                5.18
56 Gregory Henderson (NZl) Health Net pb Maxxis                 5.19
57 Jackson Stewart (USA) Kodak Gallery - Sierra Nevada          5.32
58 Aurélien Clerc (Swi) Phonak Hearing Systems                  5.36
59 Cesar Augusto Grajales (Col) Navigators Insurance            5.37
60 Matthew Rice (Aus) Jelly Belly - Pool Gel                        
61 Geoffroy Lequatre (Fra) Credit Agricole                      5.46
62 Cyril Lemoine (Fra) Credit Agricole                          5.48
63 Portal Sébastien (Fra) Credit Agricole                       5.50
64 John Lieswyn (USA) Health Net pb Maxxis                      5.54
65 Caleb Manion (Aus) Jelly Belly - Pool Gel                        
66 Brice Jones (USA) Jelly Belly - Pool Gel                     6.03
67 John Devine (USA) USA National Team                          6.09
68 Tomasz Nose (Slo) Phonak Hearing Systems                     6.24
69 Scott Zwizanski (USA) Kodak Gallery - Sierra Nevada              
70 Andrea Tafi (Ita) Prodir - Saunier Duval                     6.28
71 Mike Sayers (USA) Health Net pb Maxxis                       6.33
72 Christian Müller (Ger) Team CSC                                  
73 Edward King (USA) USA National Team                          6.37
74 Ivan Fanelli (Ita) Team L.P.R.                               6.38
75 Gustavo Artacho (Arg) Colavita Olive Oil - Sutter Home           
76 Cory Lange (Can) Symmetrics Cycling Team                     6.43
77 Todd Herriot (USA) Colavita Olive Oil - Sutter Home          6.45
78 Alessandro Maserati (Ita) Team L.P.R.                        6.54
79 Jacob Erker (Can) Symmetrics Cycling Team                    7.03
80 Kirk Albers (USA) Jelly Belly - Pool Gel                     7.06
81 Sascha Urweider (Swi) Phonak Hearing Systems                 7.08
82 Danilo Napolitano (Ita) Team L.P.R.                          7.11
83 Vassili Davidenko (Rus) Navigators Insurance                 7.16
84 Kevin Bouchard-Hall (USA) USA National Team                  7.17
85 Russell Hamby (USA) Kodak Gallery - Sierra Nevada            7.33
86 Sven Krauss (Ger) Gerolsteiner                               7.40
87 Hayden Godfrey NZ' Kodak Gallery - Sierra Nevada             8.01
88 Chad Hartley (USA) Team TIAA - CREF                          8.16
89 Bruno Langlois (Can) Jittery Joe's - Kalahari                8.19
90 Aaron Olsen (USA) Colavita Olive Oil - Sutter Home           8.36
91 Nick Waite (USA) USA National Team                           8.51
92 Michael Lange (USA) Team TIAA - CREF                         8.53
93 Lars Ytting Bak (Den) Team CSC                               8.54
94 Jeremy Powers (USA) Jelly Belly - Pool Gel                   9.00
95 Juan Jose Cobo Acebo (Spa) Prodir - Saunier Duval            9.02
96 John Murphy (USA) USA National Team                          9.20
97 Daniele Masolino (Ita) Team L.P.R.                           9.48
98 Davide Frattini (Ita) Colavita Olive Oil - Sutter Home      10.01
99 Andrew Pinfold (Can) Symmetrics Cycling Team                10.27
100 Rafael Casero Moreno (Spa) Prodir - Saunier Duval          10.31
101 Andy Guptill (USA) USA National Team                       10.37
102 Will Routley (Can) Symmetrics Cycling Team                 10.45
103 René Haselbacher (Aut) Gerolsteiner                        10.51
104 Dan Bowman (USA) Team TIAA - CREF                          11.08
105 Juan José Haedo (Arg) Colavita Olive Oil - Sutter Home     11.52
106 Craig Wilcox (USA) Jittery Joe's - Kalahari                12.00
107 Niki Aebersold (Swi) Phonak Hearing Systems                12.03
108 David Robinson (USA) Team TIAA - CREF                      12.36
109 Kilian Patour (Fra) Credit Agricole                        12.59
110 Derek Wilkerson (USA) Colavita Olive Oil - Sutter Home     13.00
111 Ivan Dominguez (Cub) Health Net pb Maxxis                  13.42
112 Ian Macgregor (USA) Team TIAA - CREF                       13.48
113 Marsh Cooper (Can) Symmetrics Cycling Team                 14.32
114 Michael Wolf (USA) USA National Team                       14.46
115 Steven Cozza (USA) USA National Team                       16.38
116 Mark McCormack (USA) Colavita Olive Oil - Sutter Home      17.01
117 Evan Elken (USA) Jittery Joe's - Kalahari                  17.18
118 Mariano Friedick (USA) Jelly Belly - Pool Gel              17.56
119 Jonathan Page (USA) Colavita Olive Oil - Sutter Home       18.42
 
Other classifications to follow