Tour de Georgia - 2.1
USA, April 19-24, 2005
2005 Dodge Tour de Georgia set to rock
America's premier stage race showcases America's premier cyclists
By Mark Zalewski in Augusta, Georgia and Les Clarke
Lance Armstrong in 2004
Photo ©: Bob Badalucco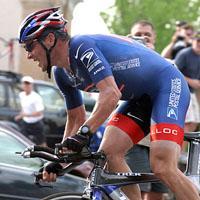 In 2004 it was all Lance Armstrong at the Dodge Tour de Georgia - Big Tex showed everyone he was on song for the Tour de France where he went on to smash his way to a sixth consecutive win. Armstrong was in yellow for most of the 2004 Tour de Georgia, and in 2005 the expected one million plus spectators will be looking at him again to gauge his form for a second consecutive Georgia crown and his chances for July in France.
But this year's event also serves as a showcase as to how far Americans have gone in the European peloton. The four Pro Tour teams in attendance at this year's race are all led by American's - and not just because the race is on US soil. Phonak's new team leader and former US Postal rider Floyd Landis will be making the trip home to the US, along with strong Swiss rider Aurelien Clerc and talented South African Robert Hunter. Another team to look out for will be CSC, who bring three American riders to the event, led by Bobby Julich, who has enjoyed great early season form in Paris-Nice and Criterium International, winning both events. Dave Zabriskie will be looking to assert himself on home ground as will Christian Vande Velde.
A huge drawcard for the event is the participation of Levi Leipheimer, Gerolsteiner's new 2005 signing. "To be honest it wasn't always part of my plan. It wasn't until we were invited, immediately I thought it was a positive thing to come here. It's always great to come home of course, and to support cycling in the US." Levi will be bringing us insights into the event with his daily diaries, exclusive to Cyclingnews. He hasn't been that busy racing in the early season, but all reports suggest he's been training hard and keen to perform at the Tour de Georgia.
The foreign legion includes Saunier Duval-Prodir, minus local favourite and 2003 winner Chris Horner, but with classics legend Andrea Tafi in one of his last races as a professional. Leipheimer's Gerolsteiner teammates include talented Under 23 rider Matthias Russ, who'll be keen to make a name for himself on the big stage. Credit Agricole will be appearing at the start in Augusta on April 19, and are keen to test their rider's legs on the tough stages four and five. A new face for the French team is American U-23 Saul Raisin, who attributes his leap to Europe to his strong riding in the 2003 race.
There's a big showing from local teams, including Navigators Insurance, HealthNet/Maxxis, Jelly Belly/Pool Gel and Jittery Joe's, who are sure to feature on home territory and capture the imagination of the huge crowds that will gather on each stage. The big teams aren't guaranteed top places in each stage, as Cesar Grajales of Jittery Joe's pointed out last year, winning the race to Brasstown Bald.
A look at the week to come
Augusta is well-known as the home of the US Masters golf tournament, but in 2005 it's the start for what looks like an intriguing Tour de Georgia. Reduced to six stages and 530 miles for 2005, the race makes it's way from Augusta to Macon, Fayetteville and Rome, before the 18 mile ITT in that city, where the traditionally strong crowds will be looking to Armstrong to assert his authority on the event.
It's then into the tough terrain with two days of hill climbing, including some killer gradients to sort out the contenders. Stage four covers five mountain passes, with four KOM intermediates on offer for the climbers to strive for and plenty of historical territory on show in North America's premier road racing event. Stage five is considered the toughest day of racing, as riders make their way over four mountain passes, including Unicoi Gap and the legendary Hogpen Gap. Stage five ends on top of Brasstown Bald, at 4784 feet, and is sure to have made a brutal selection by the time riders reach it on Saturday afternoon.
Stage six is an opportunity for spectators to get a glimpse of the quality field on show as they hook onto a 4.1 mile finishing circuit around Blairsville at the end of a 125 mile stage. It's possible the race will come down to the final day, and with the calibre of riders attending in 2005, it's sure to add to Georgia's reputation as the best event in North American road cycling. With foreigners, big names, and plenty of local intrigue, this reputation is sure to continue.
Pre-race favorites Vox Pop
Bobby Julich, CSC (USA): "This year I feel a lot better. I've had some good successes already - it's nice to have a few race wins in the pocket.
"Maybe have the Europeans come over and see what it's like to live in America for eight months out of the year! (laughs) See how their wives deal with it, their kids and dogs deal with it, and see how tough they think they are. I would much rather have some races where there is at least a decent calendar over here. I was flipping through the eighty-odd cable channels in the hotel and I saw about forty were of sports! America is a sport country, we love the distraction that sports provide. And it would be great to have more races like the Dodge Tour de Georgia in America, so that it could become a much bigger sport.
"Most of the guys up here on the stage, as well as Mr. Armstrong, are not getting any younger, and we need someone to come up and take our place.
"I think there are a couple of other Americans leading teams here, not just us three. This is a way for us to give back to the sport that has given us so much. We're all around that age where we were inspired by the Tour DuPont - it's just a natural thing where we get more responsibilty and move on to the leadership roles.
"Don't really realize how hard it is for us to live in Europe eight months a year away from our family and friends. To come back and to come to America for a little break in between and a little rest as well - to continue our training in a race of this caliber, I think it definitely helps us. Just coming back to recharge the batteries helps for sure - it gives us more motivation to finish the second part of our season."
Levi Leipheimer, Gerolsteiner (USA): "To be honest it wasn't always part of my plan. It wasn't until we were invited, immediately I thought it was a positive thing to come here. It's always great to come home of course, and to support cycling in the US - be part of the biggest race in America, the Tour de Georgia. On top of that, with the great weather, long stages, hard racing from what I hear, I think it's great preparation. Especially when you look at the alternative of racing in the freezing cold rain of Belgium and Holland! I'm happy to be here - the sun is shining - I think we are gonna see a great race this week.
"This is a very special moment, because the three of us leading these division one teams, I don't think you've seen that ever before. The fact that we're all here in Georgia and we're all motivated to race, it says a lot about the Tour de Georgia and American cycling. For me, I'm actually very proud to be a part of that.
Floyd Landis, Phonak Hearing Systems (USA): "Coming from a different perspective from Bobby or Levi - this is a new position for me this year. I can't really make any predictions, but I am certainly learning as we go. Obviously, to be here racing in the US in the Tour de Georgia is, like Levi said, a better option than the other ones. We're all excited.
"I don't think it's much of an issue for riders to come back from Europe and race over here. It's a much bigger problem is the logistics for the teams that are normally based in Europe. We have to fly with everything... and I think the hard part is on the mechanics and the souigners. For us as cyclists, it's a minor inconvenience and the worst.
Saul Raisin, Credit Agricole (USA): "It's great to be back! Last year I spent all year racing in Europe and I found out we were going to be coming this year - I told my team we definitely have to come to this race. I've been home for a week to see my family and friends. Just coming back means a lot to me and I'm really excited.
"I think I am living proof that bigger races in the US help young guys get over to Europe - help out cycling in the US. After the 2003 Tour de Georgia I did well in Europe, and ended up making my way up to the Pro Tour team this year."
Andrea Tafi, Suanier Duval-Prodir (Ita): "I am very happy to be able to finish my career here, after seven years as a professional. I've always had the idea to finish my career at this point - it's a long time coming.
"I've seen the course and I think it's a good course - very difficult and I hope for a good showing."
Gord Fraser, HealthNet/Maxxis (Can): "For HealthNet/Maxxis, if we can even come close to what we did last year, we'd be very happy. It was a pleasant surprise last year. At this level, you have to take whatever you can get - and we got more than we thought we would get. As far as myself, coming off Sea Otter, it's not the easiest double to do. But we have a pretty deep team, both sprinter and climber-wise, so if I'm not feeling up to it, I'm sure Ivan Dominguez will be very good, as well as Greg Henderson."
Nathan O'Neill, Navigators Insurance (Aus): It's really important for me - this is my home adopted state now. It's nice to be back here racing in front of my home crowd. Last year I missed it with an injury - I had surgery ten days before the race. But I'm back. I had an up and down year last year, and the motivation is there to come back and prove a point. I hope to at least win a stage, and perhaps figure in the final GC."
Ben Brooks, Jelly Belly/Pool Gel (Aus): "The competition has gotten better every year. There are world class riders here. As far as our guys, we haven't got a Lance Armstrong or a Bobby Julich for that matter. We're more a team who has to take opportunities on stages that really suit our team. We've got an agrressive team, and this is like the Tour de France for the Jelly Belly team. It's the biggest race we do."